Are you a fan of fish and chips, but need a gluten-free version? Then look no further than our gluten-free and Paleo-friendly Crispy Fish Stick fish meal prep recipe! We dredge pieces of flaky cod fillets in herb-seasoned Paleo powder, bake them to crispy perfection, and serve with lemon wedges along with a side of sweet potato fries. Our crispy fish sticks are a filling and healthy meal for lunch or dinner, and this fish meal prep recipe is easy peasy.
This childhood favorite gets a grown-up reboot using Paleo-friendly almond flour coating that's full of herb and lemon flavor. A side of sweet potato fries adds fiber and staying power, keeping you full. 
How long will Crispy Fish Sticks last for?
Your crispy fish sticks will last up to 4 days in the refrigerator. Store your four crispy fish sticks meals in airtight containers for maximum freshness.
Can Crispy Fish Sticks be frozen?
You can! If you want to freeze the entire meal, use containers, not freezer bags. Our MPOF meal prep containers are freezer safe and keep your meals together for easy reheating and eating on the go.
Crispy Fish Sticks
Ingredients:
For Fish Sticks
20 oz. cod fillets

2 large eggs, beaten 

1/4 cup tapioca flour 

1/2 tsp sea salt 
For Sweet Potato Fries
1 lb. sweet potatoes

1

tbsp

olive oil 

1/2 tsp sea salt 

1/4 tsp cracked black pepper 
For Serving 
4 lemon wedges 

1/2 cup Paleo ketchup (we used primal kitchen)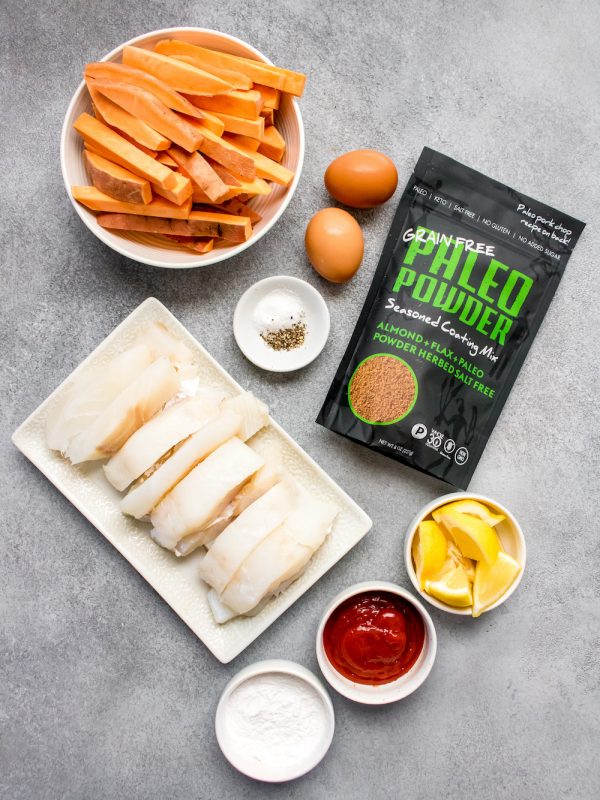 How do you make Crispy Fish Sticks?
Here comes the fun part! Cooking this fish meal prep recipe is short and easy. You don't need many ingredients and we cook everything using one pan. Plus, your oven does most of the work and you spend less than 30 minutes preparing the meal.
Gather your ingredients, grab your sheet pan, and some bowls for dipping and dredging the fish. Preheat your oven, line your sheet pan with parchment paper, and cut half-inch thick sweet potato fries. Toss them in a bowl of olive oil, black pepper, & sea salt then place them on the baking sheet. Now, it's time to prepare the fish sticks. You need three bowls for dipping and dredging. Cut your cod filets into 1 1/2-inch thick pieces and cover in tapioca flour, egg, and Paleo powder. Add the fish to the sheet pan with the fries and cook for 30 minutes total, tossing and flipping the sweet potato fries halfway through cooking. Once your 30 minutes are up, remove your crispy fish and fries from the oven and get ready to plate it up!
How to portion Crispy Fish Sticks?
Get four dual-compartment meal prep containers. Place fish, lemon wedges, and Paleo ketchup in the bigger compartment and the sweet potato fries in the smaller compartment. Store and enjoy!
More fish meal prep recipes:
Baked Fish and Chips Meal Prep
Baked Salmon with Blackberry Quinoa Salad
Cauliflower Tabouli and Salmon Meal Prep
Sheet Pan Sriracha Honey Glazed Salmon
Cauliflower Rice Salmon Poke Bowl Meal Prep
Teriyaki Salmon & Pineapple Skewer Meal Prep
Turmeric Ginger Salmon in Foil Meal Prep
Smoked Salmon & Lentil Breakfast Salad
SELFStarter Review + Salmon Tacos w/ Beets Recipe
Coconut Sugar Sriracha Shrimp Meal Prep
Sesame Salmon with Baby Bok Choy and Mushrooms
Easy Avocado + Mango Sushi Roll
Shrimp Quinoa Broccoli Meal Prep | Garlic Shrimp Recipe
Easy Chile Lime Salmon Meal Prep
Perfectly Seared Scallops Meal Prep
Ghost Pepper & Tamarind Salmon Meal Prep
Apricot Sesame Chicken & Shrimp Meal Prep Recipe
Other tips for making Crispy Fish Sticks:
We use cod, but you can also use halibut or catfish.
If you don't want to dip your fish in eggs, you can use heavy cream or only olive oil.
Don't overcrowd your sheet pan so everything can cook evenly.
This fish meal prep recipe doesn't have to be Paleo or gluten-free if you don't want it to be. Replace the Paleo powder and tapioca flour with all-purpose flour and Panko breadcrumbs. You can even use crushed up potato chips or cereal as "breadcrumbs."
Ingredients
For Fish Sticks
20

oz.

cod fillets

2

large

eggs

beaten

1/4

cup

tapioca flour

1/2

tsp

sea salt
For Sweet Potato Fries
1

lb.

sweet potatoes

1

tbsp

olive oil

1/2

tsp

sea salt

1/4

tsp

cracked black pepper
For Serving
4

lemon wedges

1/2

cup

Paleo ketchup

primal kitchen
Instructions
Preheat oven to 375F and line a large baking sheet with parchment paper. Slice sweet potatoes into 1/2-inch-thick strips and toss in olive oil, sea salt, and black pepper in a medium mixing bowl, spread on the bottom half of pan.

Add tapioca flour to a shallow bowl, beaten egg to another, and Paleo Powder and sea salt to a third bowl. Blot cod fillets with a paper towel and slice into 1 ½ -2-inch-thick pieces.

Coat each piece lightly with tapioca flour then dip in egg, shaking off excess and finally dredge in Paleo Powder. Place fish sticks on baking sheet 1/2 inch apart. Bake for 15 minutes. Gently toss sweet potato fries and return to oven for 15 minutes longer.

Divide sweet potato fries between 4 1-cup compartments of teal MPOF containers. Add 3-4 fish sticks to the large compartments and add ketchup and lemon wedges alongside fish sticks.
Nutrition
Calories:
540
kcal
|
Carbohydrates:
65
g
|
Protein:
25
g
|
Fat:
14
g
|
Fiber:
6
g