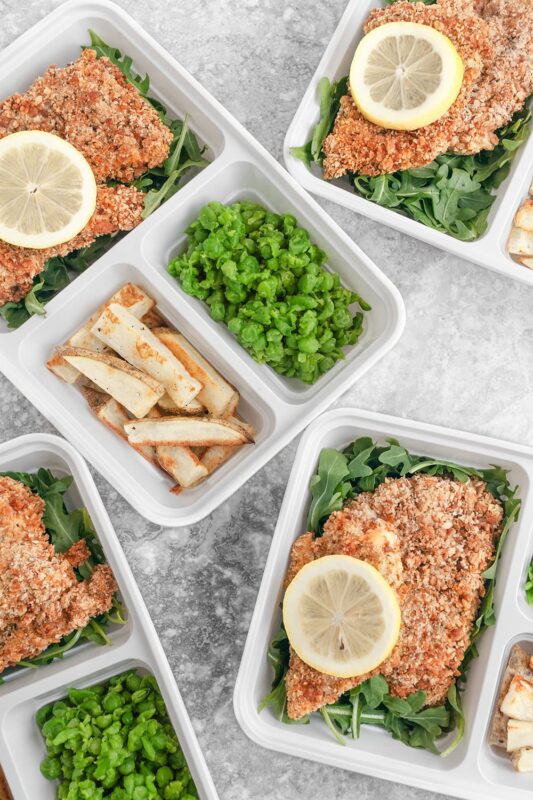 Baked Fish and Chips Meal Prep. This recipe is packed with flavor and a satisfying, fry-free crunch. You're sure to enjoy this baked and gluten free take on classic fish and chips!

Baked Fish and Chips Ingredients:
2.5 lbs. Wild Atlantic Cod Fillets (fresh or thawed; cut into half/thick strips)
1 Large Russet Potato (cut into thick fries)
2 Eggs (beaten)
1 Lemon (quartered into wedges)
2 C. Frozen Peas
5 C. Gluten Free Panko Breadcrumbs (dry toasted in oven until golden brown)
1 C. Gluten Free All-purpose Flour
1 Tbsp. Dried Dill
1 Tbsp. Avocado Oil.
1/2 tsp. Pink Himalayan Salt (or Sea Salt)
1/2 tsp. Ground Black Pepper
*Optional: 2 C. arugula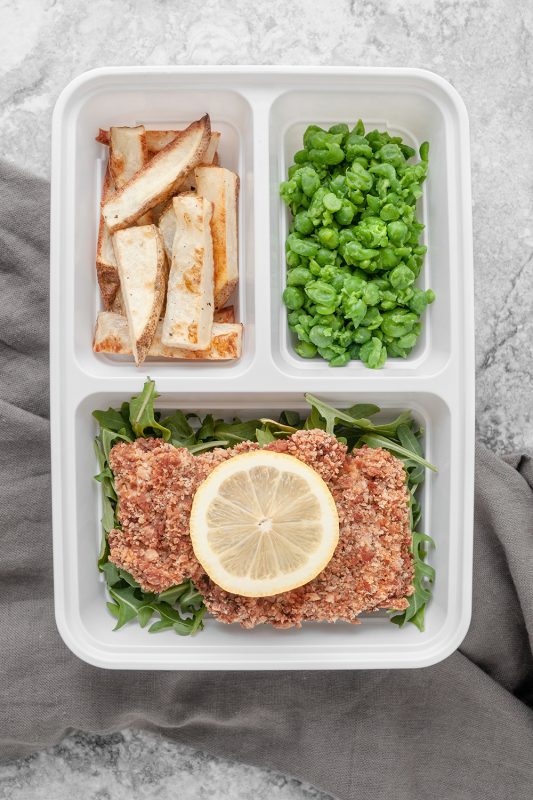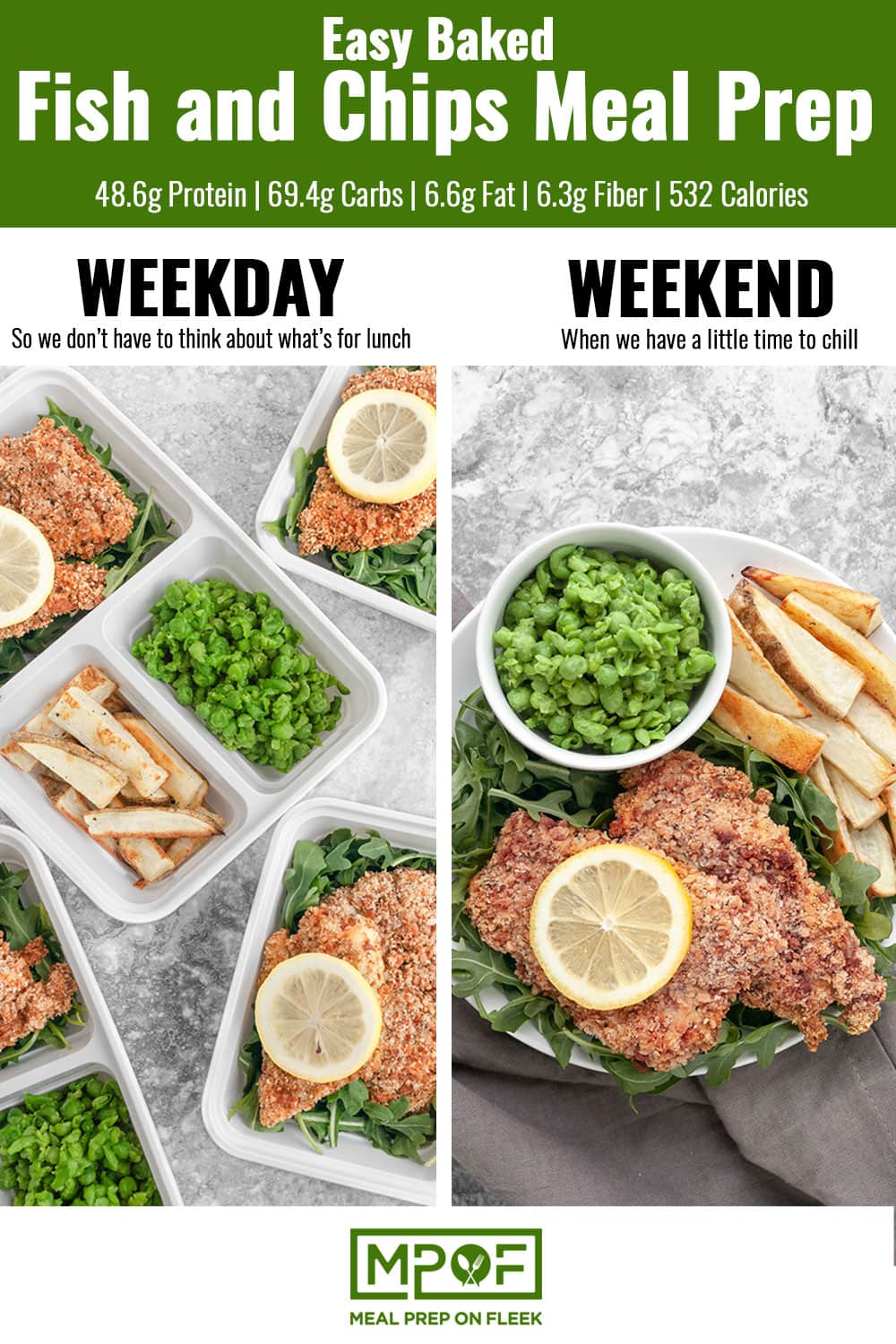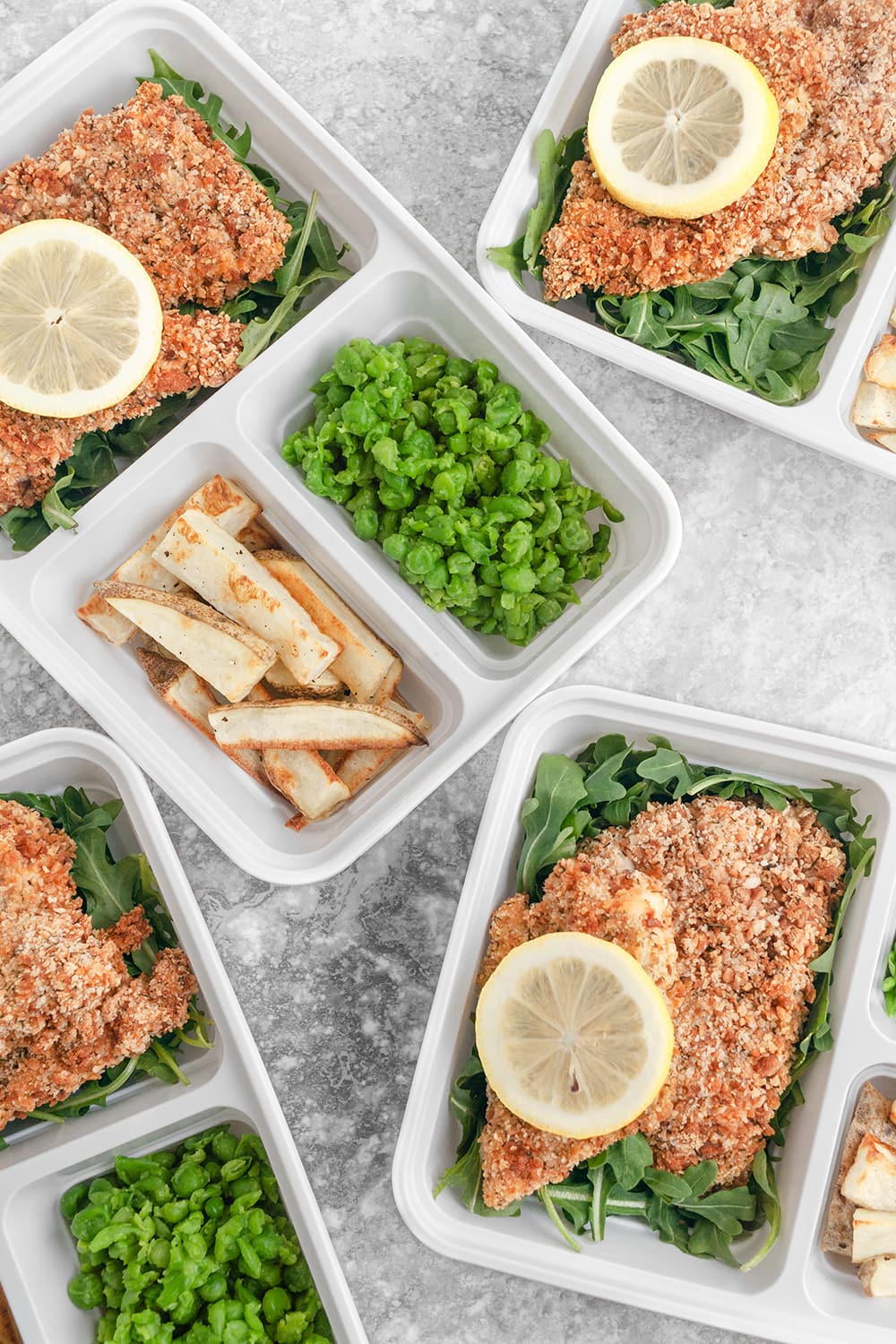 Ingredients
2.5

pounds

wild Atlantic cod

fresh or thawed, cut into thick strips

1

large

russett potato

cut into thick fries

2

large

eggs

beaten

1

Lemon

2

cups

frozen peas

1.5

cups

gluten free panko bread crumbs

dry toasted in the oven until golden

1

cup

gluten free all-purpose baking flour

1

tbsp

dried dill

1

tbsp

avocado oil

1/2

tsp

Sea Salt

1/2

tsp

Ground Pepper

2

cup

arugula
Instructions
Preheat oven to 450℉.

Line 2 sheet pans with foil. Set aside.

In a medium bowl, toss oil and potatoes until well-coated. Evenly spread potatoes onto one of the foil-lined sheet pans.

Place in oven and bake for ~10-15 minutes, or until lightly golden, tender inside, and crisp outside.

Next, designate 3 dishes for breading fish — one flour, one toasted panko, one beaten egg. Incorporate seasonings into panko mixture.

Coat one piece of fish at a time in egg, then flour, then egg again, and finally toasted panko. Place breaded fish onto remaining foil-lined sheet pan in a single layer and place in oven. Bake for 10-12 minutes, flipping half-way through.

While the fish and chips bake, in a medium bowl, microwave peas until bright green and heated through (~4-5 minutes). Next, gently mash peas with a fork and set aside.

Divide fish, chips, peas, and lemon into 4 portions. Optionally serve over a bed of arugula.

Serve, store, and enjoy!
Notes
Nutrition for 1 out of 4 servings:
48.6g Protein | 69.4g Carbs | 6.6g Fat | 6.3g Fiber | 532 Calories