Meal Prep Ideas: Baked Fish and Chips
Are you ready for this flavourful and satisfying meal prep ideas recipe? Prepare to be amazed at the fry-free crunch of our gluten-free Baked Fish and Chips recipe. Plus, this tasty feast can be savored for lunch or dinner, as a weekday or weekend treat or as a homemade main dish the entire family can enjoy. Within an hour, our meal prep ideas recipe can be prepped, baked and served! How about that for a quick healthy meal?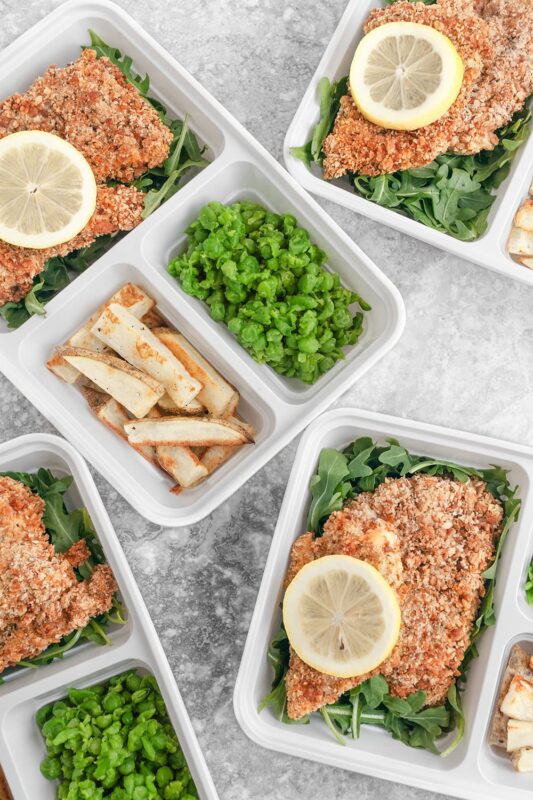 How Long Will Baked Fish And Chips Last For?
Our meal prep ideas recipe can last for one to three days in the refrigerator, in an airtight 3 compartment Meal Prep on Fleek container. However, to regain that fresh crispy taste, reheat in an uncovered bake pan for a few minutes. You won't get quite the same texture if you pop it into the microwave to reheat.
Can Baked Fish and Chips be frozen?
For sure! Your baked fish and chips can last up to one month when stored in the freezer in an airtight container.

How do you make Baked Fish and Chips?
Gather your measured ingredients, mixing and baking utensils and let's create our meal prep ideas baked fish and chips recipe. Preheat your oven to 450℉ and line 2 sheet pans with foil. Use a medium bowl to coat and toss your potatoes in oil. Spread your potatoes evenly onto one of your foil-lined sheets. Bake for about 10 to 15 minutes until crispy but tender inside.
Dip and coat your fish to create breaded fish. Place onto your remaining foil-lined sheet and put it to bake for about 12 minutes. Remember to flip when halfway through. That's it, people. Done and ready to serve.
How to portion Baked Fish and Chips?
This gluten-free twist on classic fish and chips serves 4 deliciously healthy portions.
More Baked Fish Meal Prep Recipes
After this awesome meal prep ideas recipe, we're sure you're ready to try out a few others. We've got you covered. Here are a few other delicious baked fish recipes for your pleasure:
Other Tips For Making Baked Fish And Chips
Fish and chips are great, but with the right sides, a sumptuous meal emerges. Consider:
Serving over a bed of arugula

Adding some green mashed peas which you can heat in the microwave while your fish and fries bake.

Using olive oil, if you have no avocado oil, to add that unique flavor to your dish.
That's it peeps! Another meal prep recipe to enjoy! Have any tasty substitutions of your own to suggest? Let us know.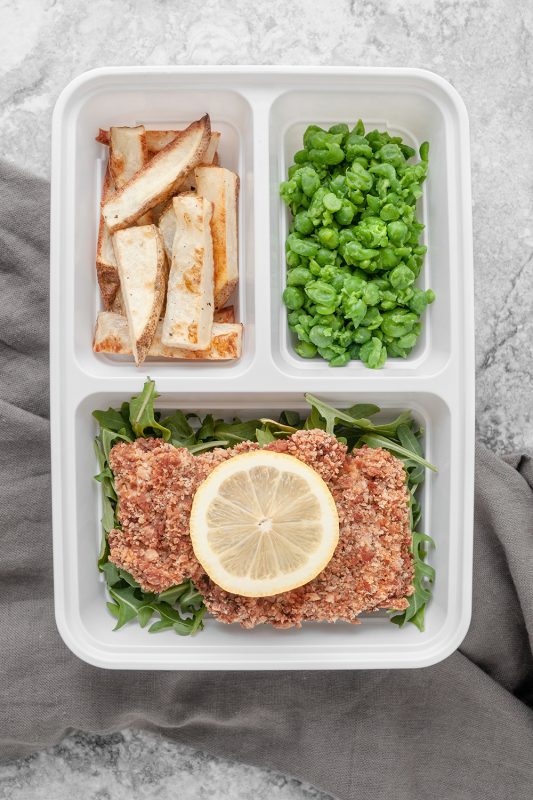 Baked Fish and Chips Ingredients:
2.5 lbs. Wild Atlantic Cod Fillets (fresh or thawed; cut into half/thick strips)
1 Large Russet Potato (cut into thick fries)
2 Eggs (beaten)
1 Lemon (quartered into wedges)
2 C. Frozen Peas
5 C. Gluten-Free Panko Breadcrumbs (dry toasted in the oven until golden brown)
1 C. Gluten-Free All-purpose Flour
1 Tbsp. Dried Dill
1 Tbsp. Avocado Oil.
1/2 tsp. Pink Himalayan Salt (or Sea Salt)
1/2 tsp. Ground Black Pepper
*Optional: 2 C. arugula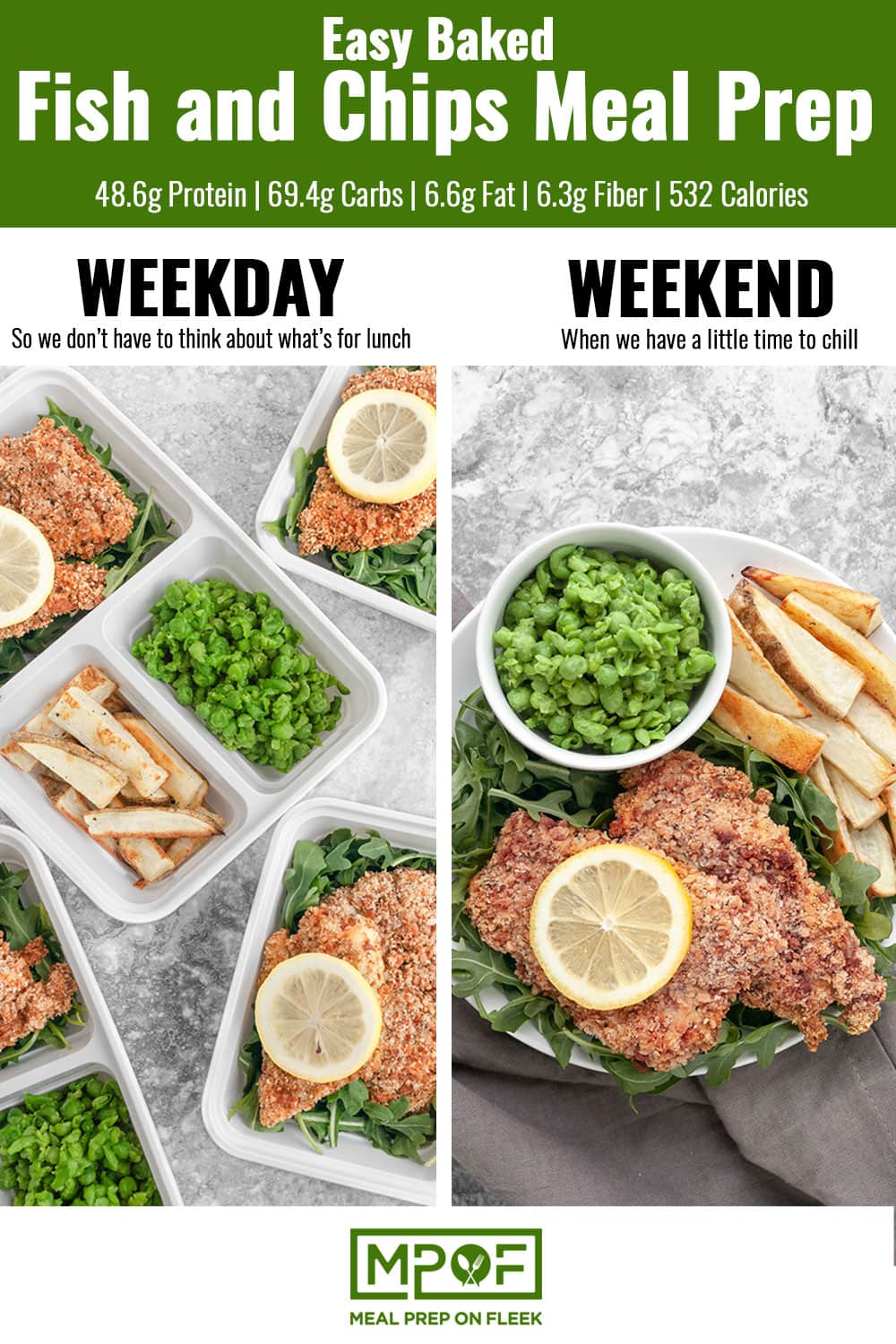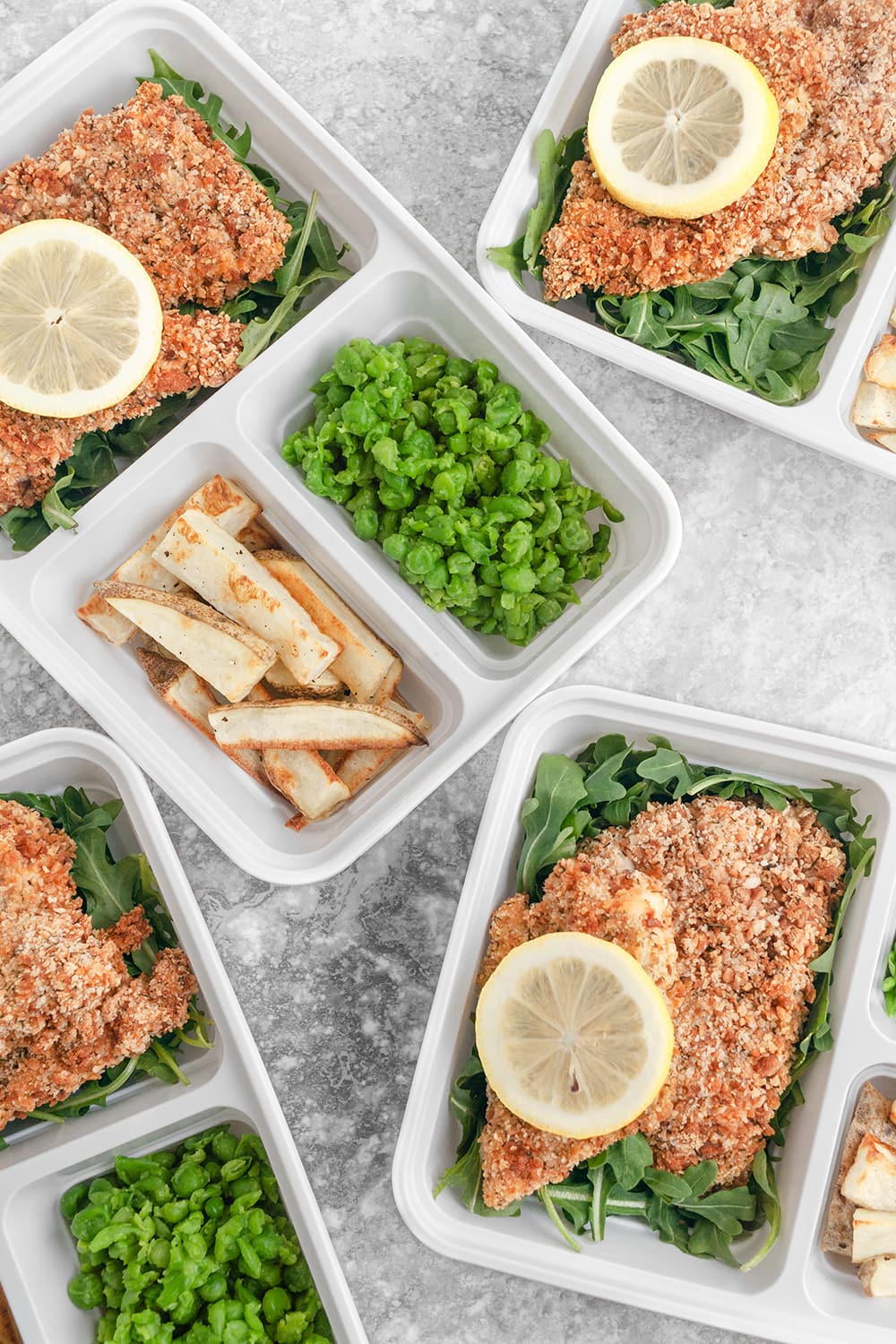 Ingredients
2.5

pounds

wild Atlantic cod

fresh or thawed, cut into thick strips

1

large

Russett potato

cut into thick fries

2

large

eggs

beaten

1

Lemon

2

cups

frozen peas

1.5

cups

gluten-free panko bread crumbs

dry toasted in the oven until golden

1

cup

gluten-free all-purpose baking flour

1

tbsp

dried dill

1

tbsp

avocado oil

1/2

tsp

Sea Salt

1/2

tsp

Ground Pepper

2

cup

arugula
Instructions
Preheat oven to 450℉.

Line 2 sheet pans with foil. Set aside.

In a medium bowl, toss oil and potatoes until well-coated. Evenly spread potatoes onto one of the foil-lined sheet pans.

Place in oven and bake for ~10-15 minutes, or until lightly golden, tender inside, and crisp outside.

Next, designate 3 dishes for breading fish — one flour, one toasted panko, one beaten egg. Incorporate seasonings into the panko mixture.

Coat one piece of fish at a time in the egg, then flour, then egg again, and finally toasted panko. Place breaded fish onto the remaining foil-lined sheet pan in a single layer and place it in the oven. Bake for 10-12 minutes, flipping half-way through.

While the fish and chips bake, in a medium bowl, microwave peas until bright green and heated through (~4-5 minutes). Next, gently mash peas with a fork and set aside.

Divide fish, chips, peas, and lemon into 4 portions. Optionally serve over a bed of arugula.

Serve, store, and enjoy!
Notes
Nutrition for 1 out of 4 servings:
48.6g Protein | 69.4g Carbs | 6.6g Fat | 6.3g Fiber | 532 Calorie
Nutrition
Serving:
1
meal
|
Calories:
532
kcal
|
Carbohydrates:
69.4
g
|
Protein:
48.6
g
|
Fat:
6.6
g
|
Fiber:
6.3
g