Teriyaki Salmon & Pineapple Skewer Meal Prep
Do you like your food to be bland and tasteless? Does a cold, unappealing slab of canned mystery meat on Wonder bread sound delicious to you? If you answered yes to either or both of these questions, we're afraid you're not going to like what we have for you today—A teriyaki salmon and pineapple skewer meal prep recipe that's absolutely bursting with complimentary flavors!
Do you like Pineapple on Pizza?
You know the old debate about whether or not pineapple belongs on pizza? Well, whether you think it does or not, we can assure you that pineapple definitely belongs on these teriyaki salmon skewers. It adds a really incredible sweet flavor profile to this dish, and we were amazed how perfectly it paired with the salty and savory teriyaki sauce.
Better for you Teriyaki Sauce:
Which brings us to another aspect that we love about this teriyaki salmon and pineapple skewer meal prep recipe—The fact that it includes the use of a health-conscious teriyaki sauce! A traditional teriyaki contains soy sauce, which can pose serious health risks. Did you know that, along with being loaded with sodium, lower quality soy sauces are made by putting soybeans in hydrochloric acid? That's a powerful industrial solvent! Do you really want to put that in your body? We didn't think so. The great news is, not only does the teriyaki sauce used in this recipe have 8 times less sodium than a traditional soy-based teriyaki—It's also 100% free from industrial solvents. ?
Summer Grilling Idea:
This teriyaki salmon and pineapple skewer meal prep recipe is also a fantastic way to enjoy our emerging summer! We loved being able to grill each skewer to perfection, and give them that "straight off the grill" flavor you can't get any other way—And in summer, grilling is practically a sport! Wow your friends with these teriyaki salmon skewers at your next social event. Or, if it's impractical for you to grill, consider baking them on a sheet pan instead!
Salmon Nutrition Benefits:
Of course, we couldn't go without mentioning our favorite part of this recipe—The salmon, of course! Salmon has an abundance of nutrients, and has been linked to decreased risk of obesity, cancer, and heart disease due to high levels of omega-3s and Vitamin D! Omega-3s are considered a "good" type of cholesterol because they help reduce triglyceride levels and are very important for regulating things like your heartbeat, blood pressure, and possibly even your mood!
Sockeye salmon, the salmon we used when making this teriyaki salmon and pineapple meal prep recipe, also contains high amounts of vitamin B-12, potassium, and phosphorus, all of which are important to your energy, fluid balance, and protein synthesis, respectively. We recommend putting your favorite vegetables on each skewer and serving with a simple zoodle salad.
Teriyaki Salmon & Pineapple Skewer Meal Prep Ingredients:
Skewers
1 1/2 pounds salmon
2 cups pineapple, fresh, cut into cubes
1 bell pepper, cut in chunks (we used ½ green, ½ red)
½ red onions, cut into chunks
Whole30 Teriyaki Sauce
½ cup coconut aminos

2 medjool dates, pitted and chopped
2 teaspoons white wine vinegar
1 clove garlic, minced
1 teaspoon sesame seeds
½ teaspoon arrowroot
½ teaspoon ginger powder
¼ teaspoon sea salt
water, optional, to thin to desired consistency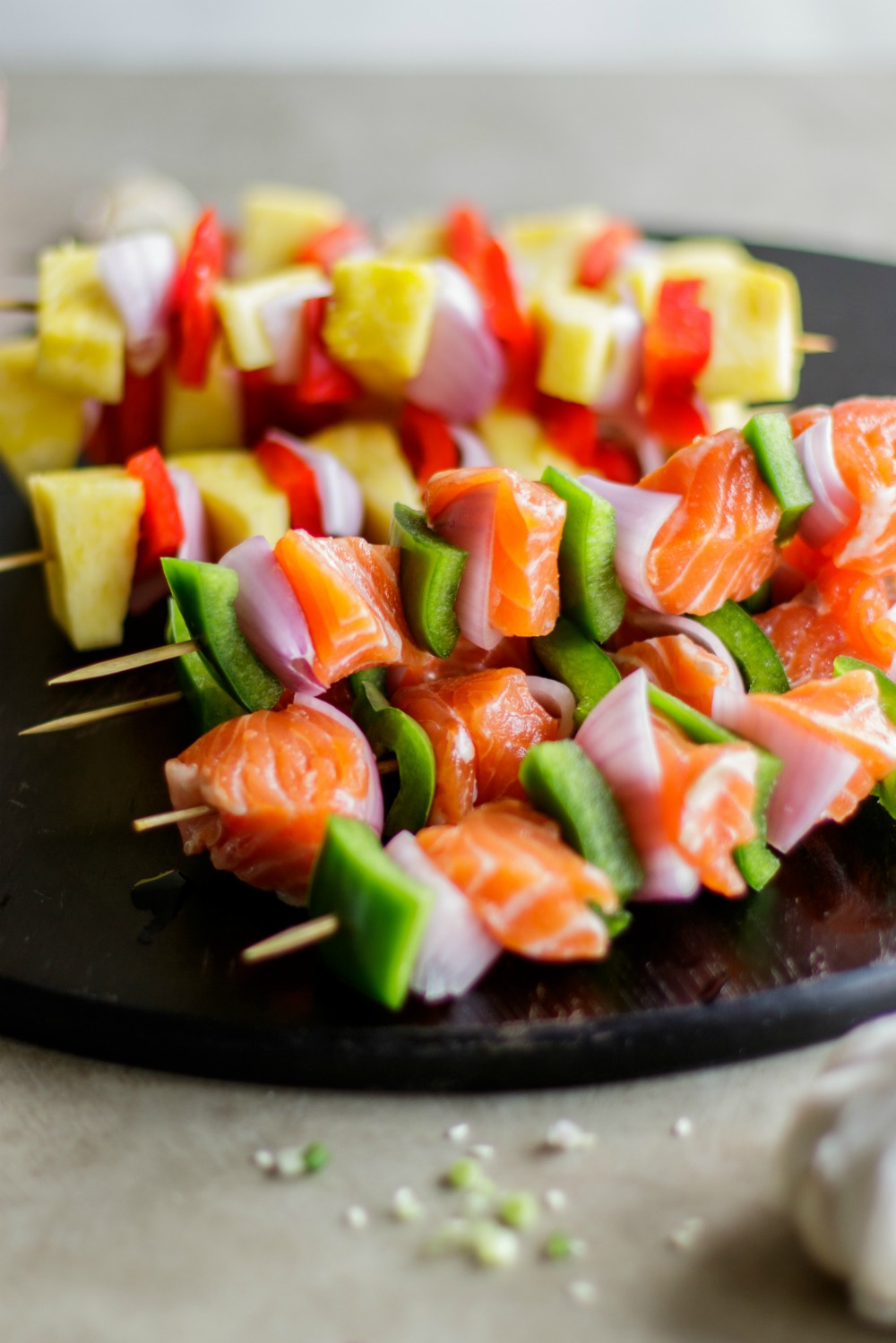 Ingredients
Salmon
1.5

pounds

Sockeye Salmon

or salmon of choice

2

cups

fresh pineapple

pitted and chopped

1

medium

bell pepper

cut into chunks

1/2

medium

red onion

cut into chunks
Whole30 Teriyaki Sauce
1/2

cup

Coconut Aminos

2

medjool dates

pitted and chopped

2

tsp

white wine vinegar

1

clove

garlic

minced

1

tsp

Sesame Seeds

1/2

tsp

arrowroot powder

1/2

tsp

Ground Ginger

1/2

tsp

seas salt

Water

optional to thin sauce to desired consistency
Instructions
Soak wooden skewers in water for at least 1 hour prior to using. Alternately, use metal skewers.

Add all ingredients for the teriyaki sauce (except the water) to a blender, and process for 3-4 minutes, until the mixture is very smooth.

Add the teriyaki sauce to a small saucepan, and bring to a low boil. Allow to simmer for 1-2 minutes to thicken. If the mixture becomes too thick, thin to desired consistency with water (1-2 tablespoons should be enough).

Add salmon, onion, and peppers alternating to 4 skewers.Use a brush or a spoon to spread teriyaki sauce on the salmon, reserving some for dipping.

Add pineapple, onion and peppers alternating to 4 skewers. Grill the skewers over high heat for 4-6 minutes on one side, flip, and cook for 4-6 minutes on the other side, or until desired doneness.

Serve skewers with a simple zoodle salad.
Notes
Nutrition for 1 out of 4 servings:
33g Protein | 30g Carbs | 17.5g Fat | 3.2g Fiber | 415 Calories
Nutrition
Serving:
1
meal
|
Calories:
415
kcal
|
Carbohydrates:
30
g
|
Protein:
33
g
|
Fat:
17.5
g
|
Fiber:
3.2
g