You've heard of street tacos and you've seen the bulging burritos, but have you indulged yourself in low-fat, high-health shrimp fajitas on your own terms? Now you can! Sheet Pan Shrimp Fajitas adds to your strategic meal preparation with 4 portions of zest at just 246 kcal per meal! You'll be in and out of the kitchen in just 23 minutes for one of the easiest meal prep recipes, ready to focus on what you do best.
Fajitas have really only been around since the 1930s or 40s, created by Mexican ranch workers near the Rio Grande on the Texas-Mexican border. They invented fajitas as a way to use some pretty tough steak. But today's meal prep recipe is going to savor the shrimp instead!
Shrimp are lower in fat and calories than pork, beef and even lean beef. They're faster and easier to cook than fish and are a go-to protein source for athletes and top-performers. They bring omega-3 fatty acids and antioxidants too. There's something to be said that great things come in small packages!

This sheet pan shrimp fajita dinner requires minimal prep with plenty of veggies and protein to keep you full! Best of all, it's ready in under 30 minutes!

How long will Sheet Pan Shrimp Fajitas last for?
We've got you covered with this meal prep recipe! Cooked shrimp will easily last for 3-4 days in your refrigerator. With 32g protein, Sheet Pan Shrimp Fajitas can solve your snack problems perfectly right out of the fridge or become an amazing appetizer for a larger meal.
Can Sheet Pan Shrimp Fajitas be frozen?
You can absolutely freeze Sheet Pan Shrimp Fajitas though your tortillas will always be best fresh. Use glass meal prep containers for easy reheating. Cooked shrimp can maintain their best quality for 10-12 months in a freezer, but why would you want to wait that long? You'll just be dreaming of your next bite!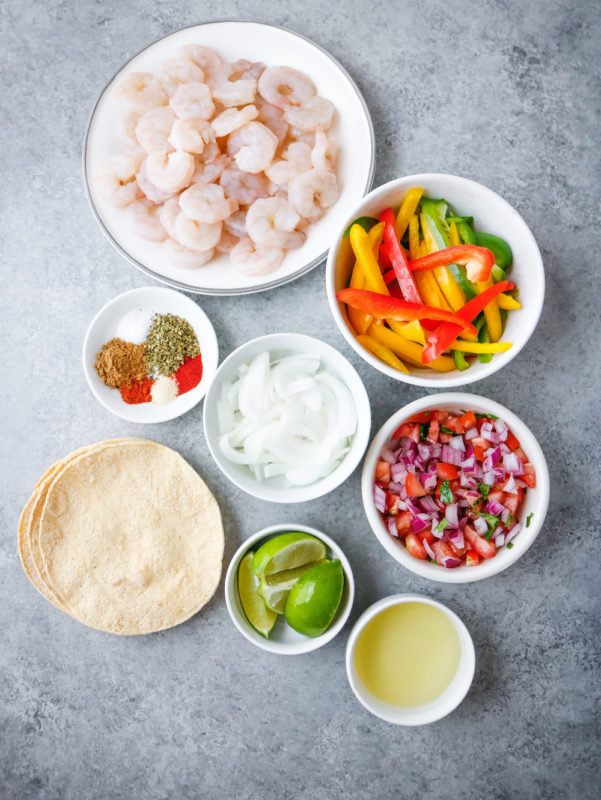 How do you make Sheet Pan Shrimp Fajitas?
Cooking Sheet Pan Shrimp Fajitas is super easy, especially when you get all your ingredients ready. Preheat the oven to 425°F and roast as per the instructions. You'll have everything ready to eat before you know it.
How to portion this Shrimp Fajitas Meal Prep Recipe?
Sheet Pan Shrimp Fajitas portion perfectly into three sections: shrimp, pico de gallo and tortilla. Keep the tortilla separate from the pico de gallo and shrimp so it will stay firm enough for your meal at the right time. A three-compartment meal prep container is perfect for this meal prep recipe.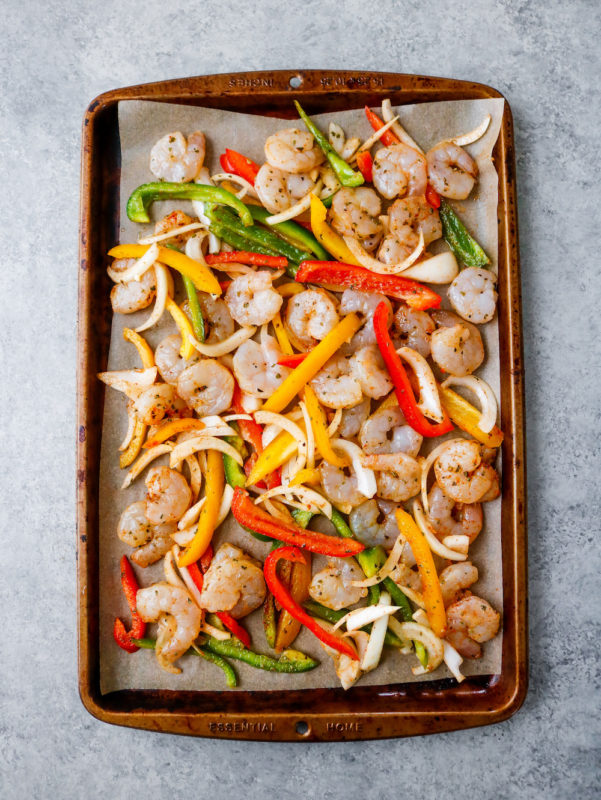 More Shrimp & Fajita meal prep recipes:
Satisfy your shrimp cravings with:
For more Mexican and Latin-American inspiration, try out these recipes from MPOF:
Other tips for making Shrimp Fajitas Meal Prep Recipe:
Limes are the gold standard for many fajitas and tacos, but feel free to get creative with oranges or grapefruits

Go for a 9×13 cake pan if you are out of sheet pans, no problem!

Fine-tune the macros for this Shrimp Fajitas recipe by increasing healthy fat with avocado or adding carbs with additional tortillas

You have total control over your meal prep recipes! Remember that some people don't love cilantro. Check-in with anyone you are cooking for before you chop up your Pico de Gallo ingredients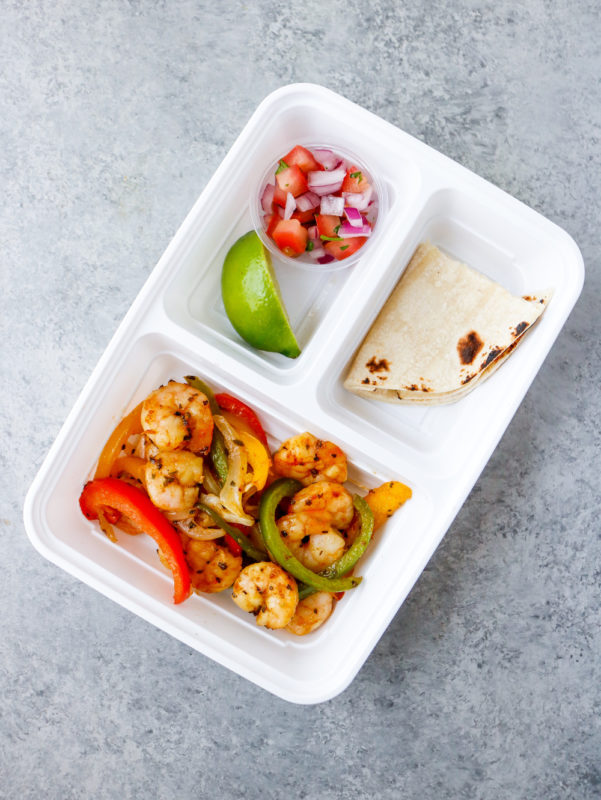 Sheet Pan Shrimp Fajitas Ingredients:
For Fajitas
1 lb. raw shrimp, peeled and deveined
2 cups julienned bell peppers
1 cup thinly sliced white onion
2 tbsp olive oil
1 tsp ground cumin
1 tsp dried oregano
1/2 tsp smoked paprika
1/4 tsp onion powder
1/2 tsp sea salt
1/8 tsp cayenne pepper
For Pico de Gallo
1 cup chopped tomatoes
1/4 cup chopped red onion
1/4 cup chopped cilantro
1 tbsp lime juice
1/4 tsp sea salt
For Serving
1 lime, sliced into wedges
4 corn tortillas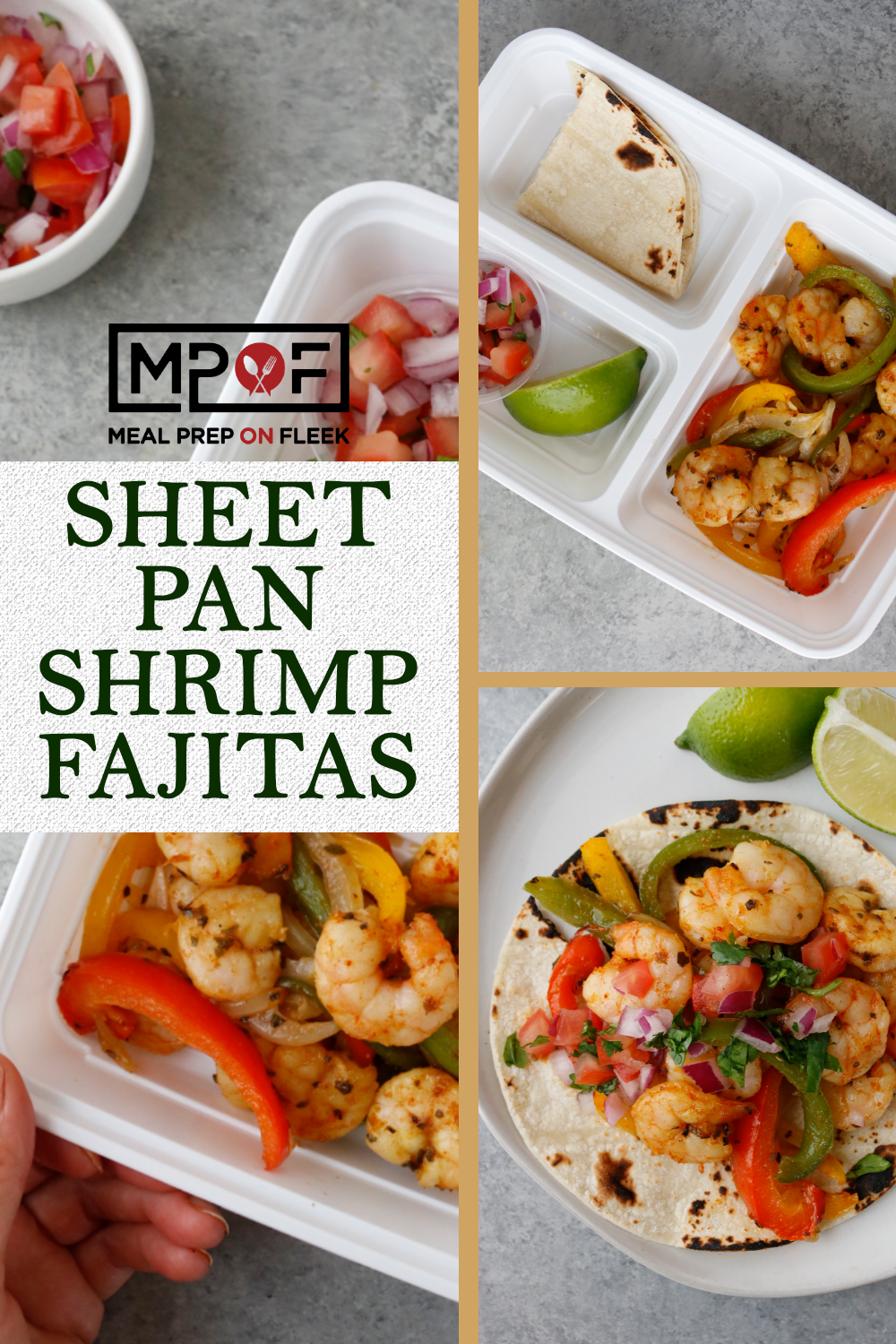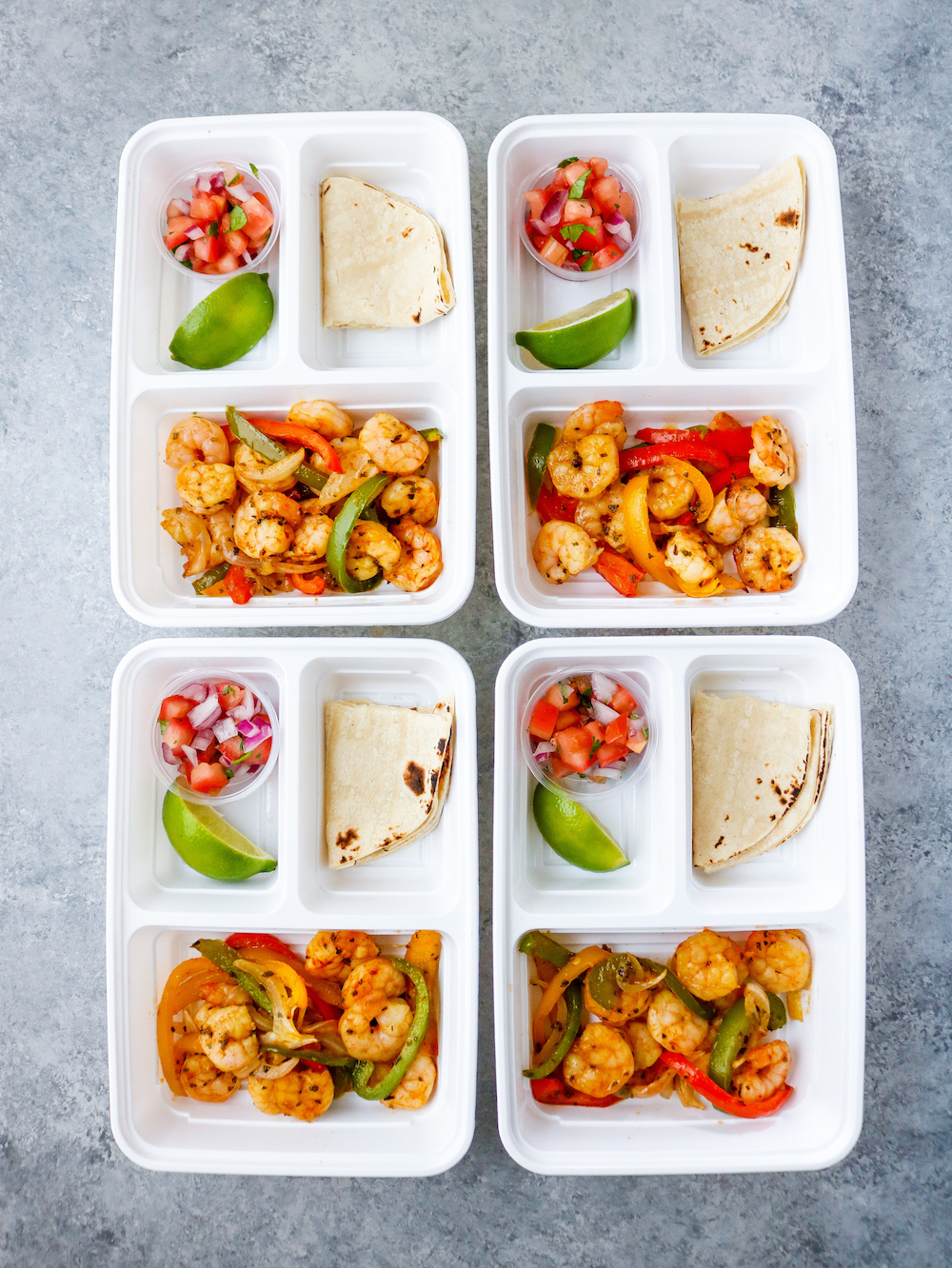 Ingredients
For Fajitas
1

lb.

raw shrimp

peeled and deveined

2

cups

julienned bell peppers

1

cup

thinly sliced white onion

2

tbsp

olive oil

1

tsp

ground cumin

1

tsp

dried oregano

1/2

tsp

smoked paprika

1/4

tsp

onion powder

1/2

tsp

sea salt

1/8

tsp

cayenne pepper
For Pico de Gallo
1

cup

chopped tomatoes

1/4

cup

chopped red onion

1/4

cup

chopped cilantro

1

tbsp

lime juice

1/4

tsp

sea salt
For Serving
1

lime

sliced into wedges

4

corn tortillas
Instructions
Preheat oven to 425ºF and line a medium baking sheet with parchment paper. In a medium mixing bowl, combine shrimp bell peppers and onions with olive oil and dried seasonings. Stir to coat. Spread onto the baking sheet. Roast for 8 minutes. Stir and roast an additional 5 minutes.

Serve shrimp and vegetables over tortillas topped with pico de gallo, lime and cilantro.
Nutrition
Calories:
246
kcal
|
Carbohydrates:
22.6
g
|
Protein:
32
g
|
Fat:
9.4
g
|
Fiber:
4.5
g