Cauliflower Rice Salmon Poke Bowl Meal Prep (Whole30 compliant)
Poke (pronounced, "po-kay") is a dish made of raw diced fish, veggies, chili peppers, and spices. It's also one of the main dishes of Native Hawaiian cuisine! There are two traditional kinds of poke—A fatty tuna (known as aku), and octopus (known as he'e). In this poke bowl meal prep recipe, we put a modern twist on the traditional by incorporating a cheaper, equally-delicious alternative—Salmon! Salmon is packed with omega-3s, vitamin D, choline, and selenium—a combo sure to boost brain and immune functions. There are many more health benefits too, such as anti-inflammatory properties, lowered stroke risk, and improved bone health!
Ingredients commonly found in traditional poke (like soy sauce, honey, and white rice) can potentially threaten a state of ketosis. So for you keto peeps, we've substituted some of those ingredients for healthier alternatives! In this poke bowl meal prep recipe, in place of white rice, we use cauliflower rice. You can get this one of two ways: 1) Buy 1 package of frozen riced cauliflower, or 2) Make your own Cauliflower Rice. Cauliflower has impressive nutritional value in itself, boasting high potassium, calcium, and dietary fiber levels
You'll notice that this salmon poke bowl meal prep recipe calls for the use of rice vinegar. Well, rice vinegar does a couple of different things. First of all, it adds some of the sweet acidity of honey and soy sauce—While second of all preserving your meals for as long as possible!
Cauliflower Rice Salmon Poke Bowl Meal Prep Ingredients:
1 tsp avocado oil
1 head cauliflower, grated, or cub one package frozen cauliflower rice
2 carrots, shredded
2 cucumbers, thinly sliced
1 avocado, thinly sliced
1 TBS rice vinegar
1 green onion, thinly sliced
Sesame seeds, for serving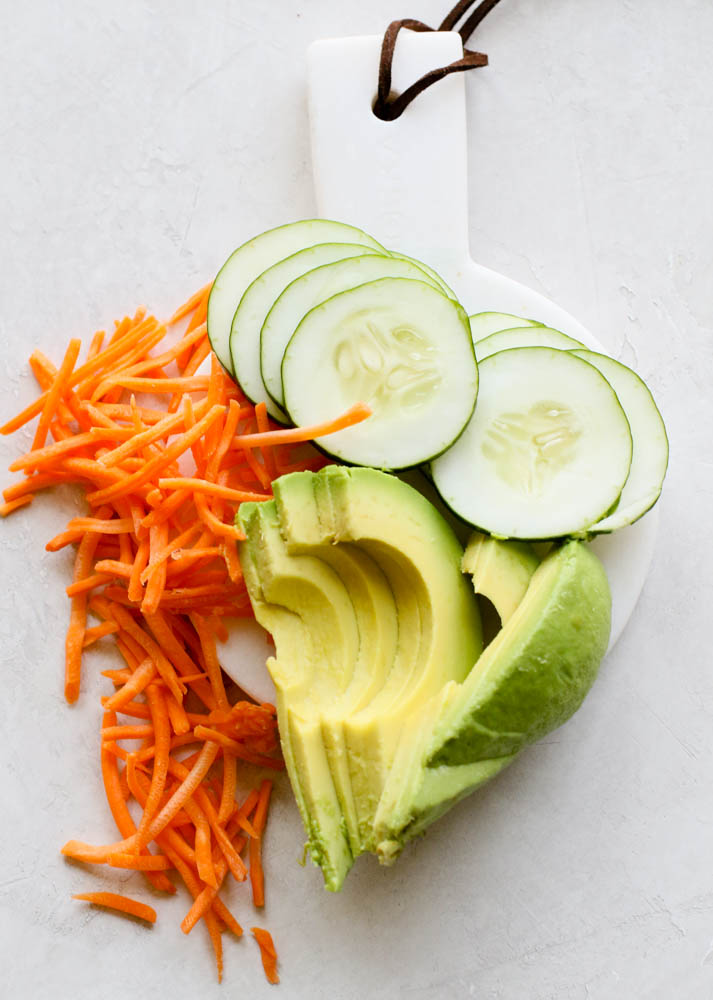 Health Benefits of this Cauliflower Rice Salmon Poke Bowl Meal Prep
One of the tastiest parts of our poke bowl meal prep is its use of fresh avocado and avocado oil. Avocado has amazing velvety flavor, but it's an amazing superfood! In fact, they have a whole host of health benefits to reap. For example, did you know that avocados have more potassium than bananas? Other nutrients include folate and vitamins B, C, E, and K—And best of all, they're packed with fiber! Fiber is a kind of carbohydrate that is insoluble to your body that is essential for feeling full for longer and healthy blood sugar regulation.
Because most of the ingredients in this salmon poke bowl meal prep recipe are fresh and raw, all the time you'll need to prep it will be around 20 minutes! This recipe makes 4 servings, which we recommend storing in separate one-compartment meal prep containers.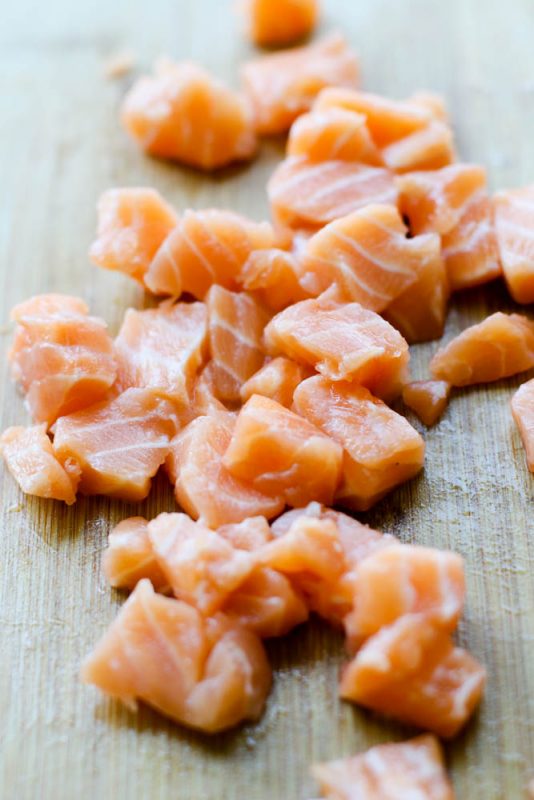 Another reason we love this recipe is that its veggies galore! Not only do you get a healthy serving of cauliflower in this poke bowl meal prep, but a big helping of cucumbers and carrots, too. Cucumbers have amazing nutritional value! With high anti-inflammatory, and anti-cancer benefits, cucumbers are known to aid high blood pressure, weight loss, and diabetes. Ever heard that old saying, "Carrots are good for the eyes"? Well, they are, but they also make for perfect skin, and a healthy heart and kidneys!
Reign in the summer with this cauliflower rice salmon poke bowl meal prep recipe! We recommend garnishing it with green onions and sprinkling with sesame seeds. For more delicious salmon ideas, check out our article, 35 Simple Salmon Meal Prep Recipes!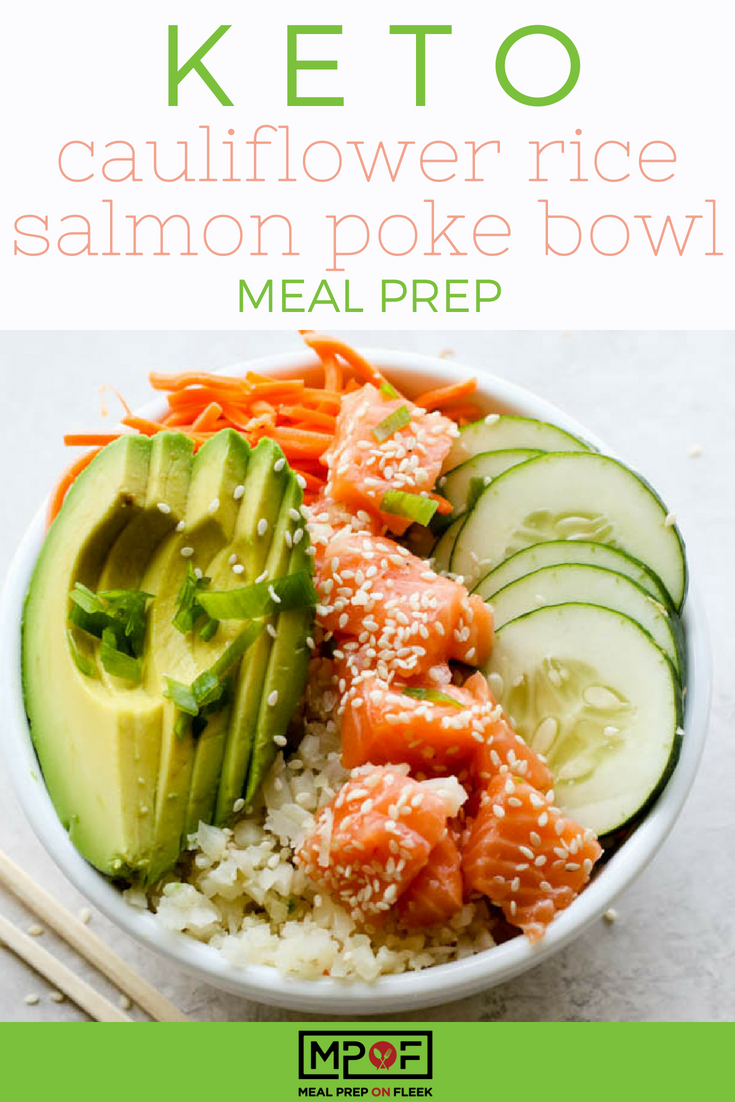 Ingredients
1

tsp

avocado oil

1

head

cauliflower

grated (can use one package of frozen riced cauliflower, if desired)

16

ounces

wild caught salmon

2

Carrots

shredded

1

medium

Avocado

thinly sliced

1

tbs

rice vinegar

1

green onion

thinly sliced

Sesame Seeds

for serving, optional
Instructions
Prepare cauliflower rice on the stovetop by cooking over medium heat in a bit of avocado oil for 8-10 minutes, until lightly browned and softened. Set aside.

Cube the raw salmon into small chunks and season with a bit of Himalayan sea salt and a splash of rice vinegar.

Wash clean and chop all the veggies and avocado.

To assemble, divide cauliflower rice between containers and top with sliced veggies, avocado, raw salmon, green onion, and a splash more of rice vinegar and white sesame seeds. Keeps in the fridge for 4 days.
Notes
WW Smart Points= Green:7  Blue:4  Purple:4
__
Nutrition for 1 out of 4 meals:
24g Protein | 16.1g Carb | 20g Fat | 7.2g Fiber | 334 Calories
Nutrition
Serving:
1
meal
|
Calories:
334
kcal
|
Carbohydrates:
16.1
g
|
Protein:
24
g
|
Fat:
20
g
|
Fiber:
7.2
g