Are you sick of summer yet? Yeah, didn't think so. Motivation to cook is admittedly harder to come by when the weather is extra-hot, but the good thing about summer food is that most of it can be made without an oven.
One of the things that I'm more and more conscious of is the amount of time I spend looking for recipes or combinations that I want to meal prep for the upcoming week (especially during the summer). In fact, a recent study shows, people spend an average of 2 hours and 13 minutes every day thinking about hunger and meal choices, which adds up to 34 days each year. WHAT?! Crazy right? On top of that, I commute for about 100 miles per day, Mon-Fri, which calculates out to 637 hours, or 27 days, in my car. That's 61 days of my life that are limiting my productivity…. and lets not talk about sleep! OK, rant over.
I signed up for SELFStarter because, hey, they will send me what to make each week, which will significantly cut back the amount of time I spend looking for and testing new recipes.
So, what was the outcome?
SELFStarter Reviwe + Recipe:
Well, I've been doing SELFStarter for about a month now and I've noticed a few things that led me to write this review.
Pros:
There are some great flavor combinations that I would have never thought to put together. Making me smarter. =)
Recipes on the desktop are easy to sift through and line up for the week.
Nutritional information for each recipe is provided and all the macros are pretty solid. Get started measuring your macros!
The recipe index is a solid place to find past recipes that I loved (i.e. these salmon tacos). I've found this to be the most useful part of the site tbh.
Cons:
Some of the recipes get recycled, so I don't actually get new recipes each week
The recipes have more ingredients than I normally use or keep around the house (not your problem tho)
Lots of bread and tortilla  recipes and I usually don't meal prep breads or tortillas because they get soggy by Wed/Thurs
The mobile app isn't the easiest to use when grocery shopping
They do send suggestions, but I have found myself only using 1-3 recipes from Self Starter each week. This means it's not really decreasing theamount of time I spend searching for things to prep for the coming week.
Overall, I'm going to hang on to my subscription for a little longer to see how things play out. This is a new platform for Self and I think it could be super cool!
This week, I made salmon tacos with roasted corn and beets, however since I'm not a fan of beets, I left them out.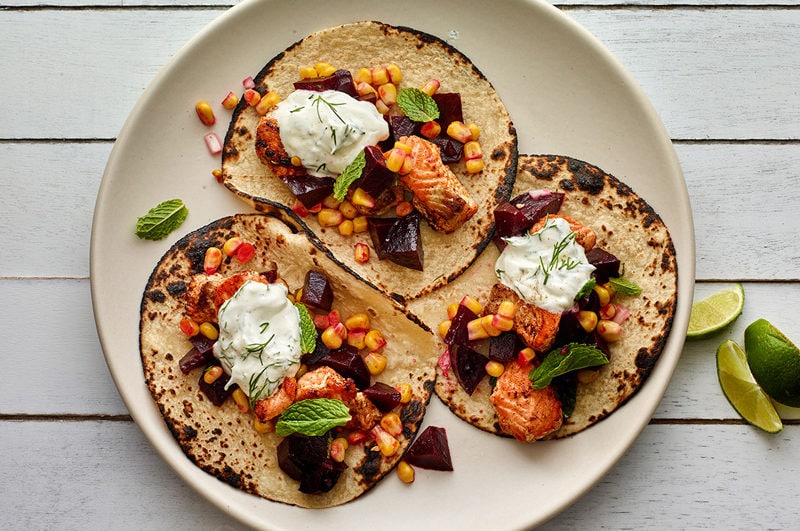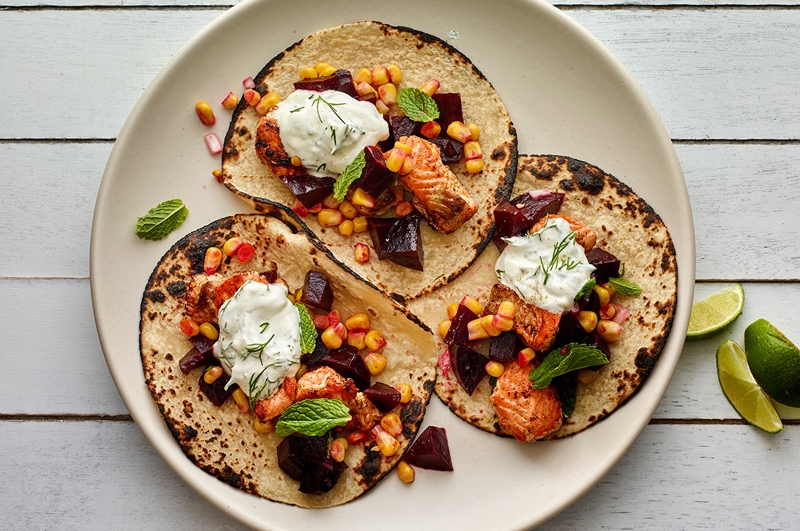 Salmon Tacos With Beets and Corn
This recipe calls for steamed beets. You can steam them yourself or buy them pre-steamed in the refrigerated section at the supermarket. Start getting recipes like this emailed to you each week by clicking here
Servings 1
Cooking Time: 20 min
NUTRITION FACTS
537 calories, 19 g fat (3 g saturated), 59 g carbs,12 g fiber, 32 g protein
Ingredients:
1 salmon fillet (about 3 oz), skin removed, cut into 9 bite-sized pieces
¼ tsp cumin, plus more for yogurt sauce
1 sprinkle paprika
salt
pepper
1 tsp canola oil
¼ cup plain 2-percent-fat Greek yogurt
1 tsp fresh dill, chopped
½ lime, zest and juice, divided
2 medium steamed beets, cut into rough ½-inch pieces
¼ cup fresh corn kernels (from about ½ small ear)
1 Tbsp fresh mint, torn
3 small corn tortillas
Directions:
Season salmon with cumin, paprika, salt, and pepper.
In a large skillet over medium-high heat, heat 1 tsp oil.
Add salmon and cook, turning occasionally, until lightly browned on all sides, about 4 minutes.
Remove from skillet and set aside.
In a bowl, stir together yogurt, dill, lime zest, half the lime juice, and a sprinkle of cumin.
In another bowl, stir together beets, corn, mint, and salmon.
Wipe out skillet and return to medium heat.
Warm tortillas, about 1 minute per side.
Top tortillas with salmon and vegetables.
Garnish with yogurt sauce and remaining lime juice.