There's no need for you to swim upstream when it comes to your meal prep recipes with MPOF! The Baked Salmon Meal Prep with Blackberry Quinoa is a fast, delicious and gluten-free way to enjoy your daily macros. Salmon is one of the most popular varieties of seafood for high performers at the gym and work because it is so rich in omega-3 fatty acids, vitamin B12, selenium, and choline. These nutrients are great for your brain and heart and skin and will keep you going when others are fading.
The second not-so-secret ingredient in this meal-prep recipe is quinoa, a flowering plant related to the super tiny amaranth. Each morsel is a seed packing protein, dietary fiber, B vitamins, and more dietary minerals than most grains. It's also free of gluten and makes a unique alternative to rice, corn, pasta or other carb choices. With a bit of protein too, quinoa is often more satisfying than rice or potatoes – and definitely fluffier! Are you ready for your fill?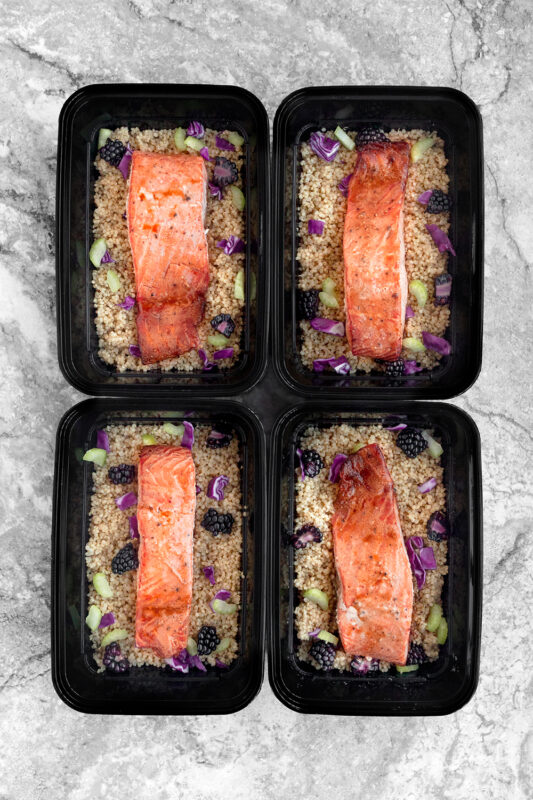 Bursting with flavor, you'll love this easy and healthy baked salmon and blackberry quinoa salad!
How long will Baked Salmon Meal Prep last for?
Salmon is amazing when freshly cooked, but it is not it's freshest when saved in the fridge for too long. Keep Baked Salmon Meal Prep's refrigeration time to 2 days, tightly sealed and properly stored, of course!
Can Baked Salmon Meal Prep be frozen?
Keep Baked Salmon Meal Prep in the freezer for up to 3 months. Freezing is the way to go with salmon when you know you're not going to eat it after the next day. A single compartment meal prep container works really well!
How do you make Baked Salmon Meal Prep Recipe?
Total time is just 13 minutes for the Baked Salmon Meal Prep with a little extra to cook your quinoa! There are just a few steps with minimal work. Start with whisking together the ingredients for salmon-glaze and then glazing said salmon. Bake for the win, and serve salmon on the salad or next to it as you like.
How to portion Baked Salmon with Blackberry Quinoa Salad?
Some MPOF meal-preppers love to place their Baked Salmon right on top of the Blackberry Quinoa Salad in a single compartment glass meal prep container or plastic meal prep container. Others choose to store them side by side in a two-compartment meal prep container. Which style is going to be your choice for this meal prep recipe?
More Salmon and Quinoa Meal Prep Recipes:
Other tips for making Baked Salmon Meal Prep:
Wild Alaskan salmon is known to be the healthiest salmon option because of its diet in the wild, calorie and fat content.

For fluffier quinoa, do this: rinse, then strain, then toast the quinoa in light oil before adding liquid to boil. Don't worry if you don't take this extra step: quinoa will still be incredible and healthy!

For the freshest blackberries, set them in a bowl with cold water and a teaspoon of salt to kill any itsy-bitsy bugs. Let it sit for a few hours, then rinse and pick out the leaves and stems.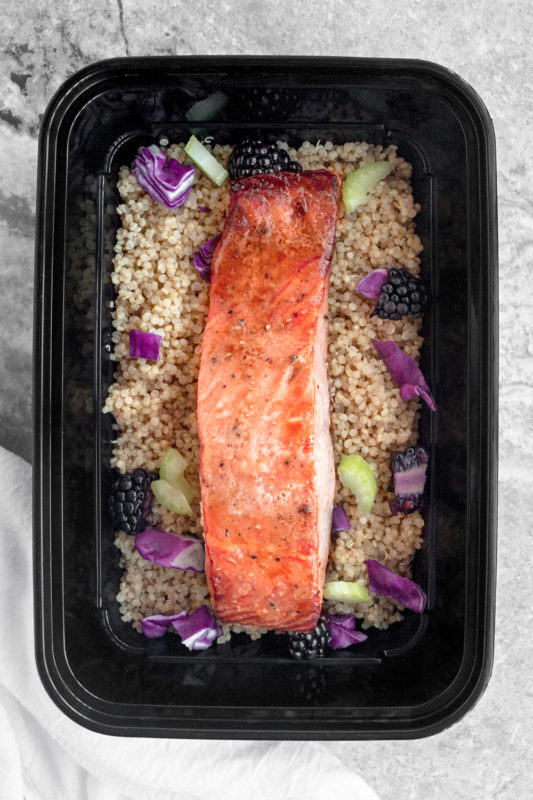 Baked Salmon with Blackberry Quinoa Salad Ingredients:
4 Cup Cooked Quinoa (sub water for chicken broth)
1/2 Cup Blackberries, halved
1/4 Cup Red Cabbage, diced
2 Celery Stalks, sliced
1 Tbsp. Avocado Oil
1 Tbsp. Dijon Mustard
1 Tbsp. Honey
1 Tbsp. Coconut Aminos
1/2 tsp. Garlic Granules
1/4 tsp. Pink Himalayan Salt
1/4 tsp. Ground Black Pepper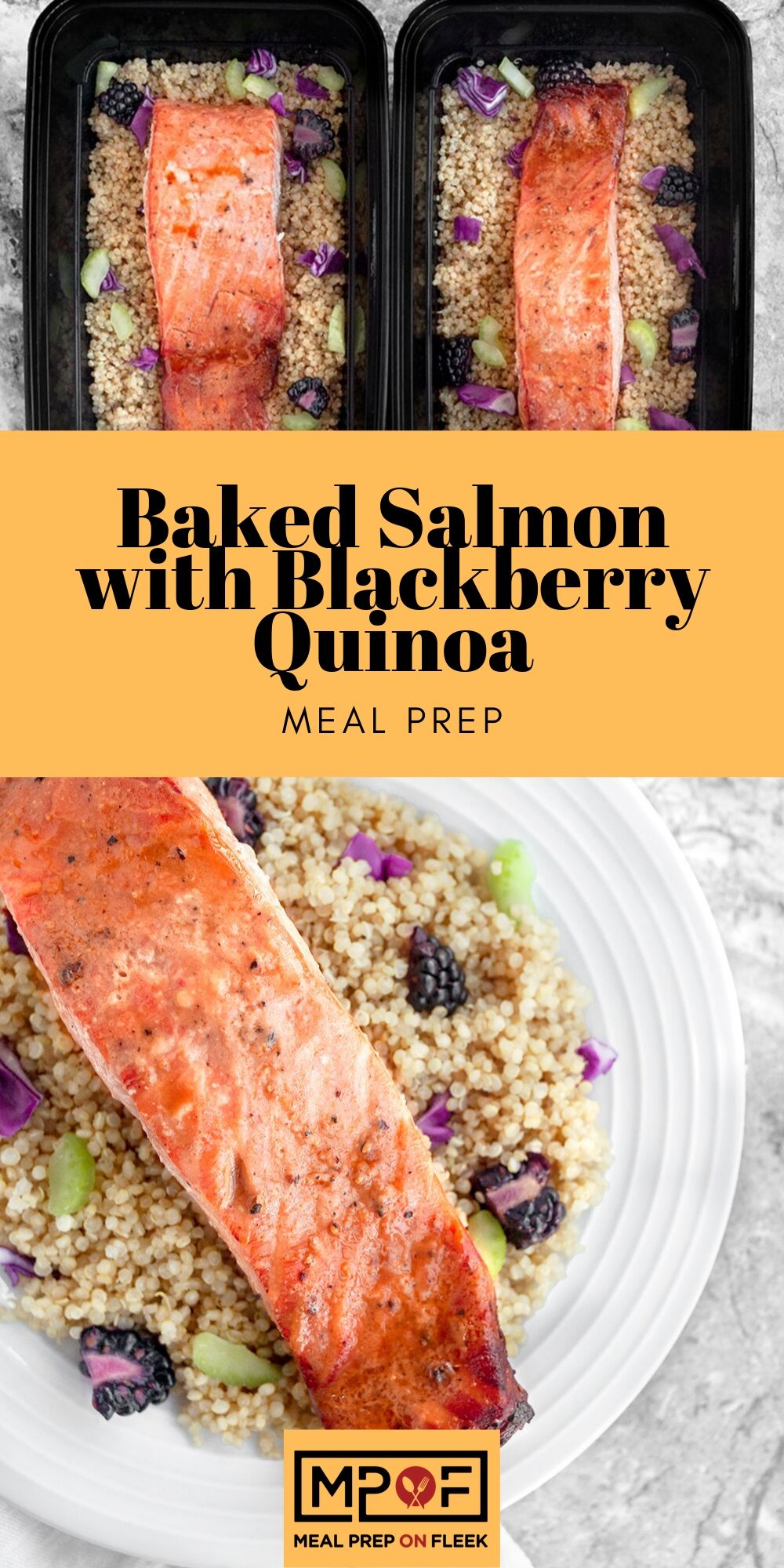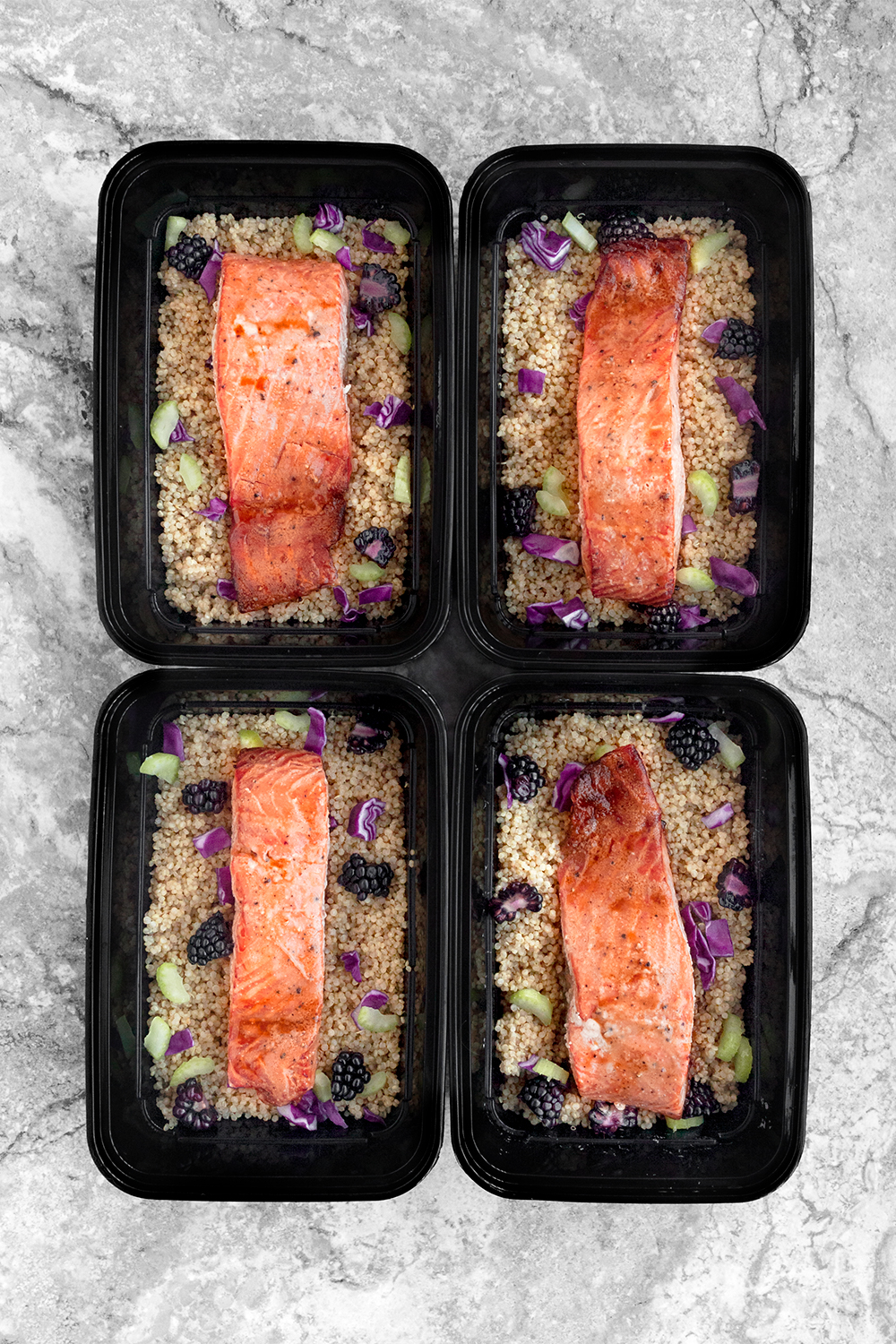 Ingredients
4

4-ounce

Wild-caught Salmon Fillets

we used Sockeye Salmon

4

Cups

Cooked Quinoa

sub water for chicken broth

1/2

Cup

Blackberries

halved

1/4

Cup

Red Cabbage

diced

2

large

Celery Stalks

sliced

1

Tbsp.

Avocado Oil

1

Tbsp.

Dijon Mustard

1

Tbsp.

Honey

1

Tbsp.

Coconut Aminos

1/2

tsp.

Garlic Granules

1/4

tsp.

Pink Himalayan Salt

1/4

tsp.

Ground Black Pepper
Instructions
Preheat oven to 400℉ and line a sheet pan with parchment paper, set aside.

Whisk together avocado oil, dijon, honey, coconut aminos, and seasonings until well-combined to create a glaze.

Place fillets onto a prepared sheet pan and brush or spoon-coat the fillets in the glaze.

Place sheet pan on a middle-high rack and let bake ~8 minutes or until glaze has caramelized and salmon is cooked through.

While that bakes, combine cooked quinoa, red cabbage, blackberries, celery — set aside.

Serve salmon over quinoa salad, store, and enjoy!
Nutrition
Calories:
430
kcal
|
Carbohydrates:
38.8
g
|
Protein:
31.6
g
|
Fat:
13
g
|
Fiber:
4.2
g