Turmeric Ginger Salmon in Foil Meal Prep is a dish you'll want to make again and again using mostly pantry staples and a well-stocked freezer. Gluten free and paleo!
This meal prep is your dinner that happens to also be gluten-free, paleo, and incredibly easy. This Turmeric Ginger Salmon in Foil ain't playin' around, y'all. And what's better than a delicious salmon meal prep? This one comes with the added benefit of cruciferous broccoli, which is rich in Vitamin C (immune system support) and Vitamin K (a necessary nutrient for healthy blood). We also paired it with sweet potatoes, which are high in fiber and Vitamin A, and are also just plain delicious. We think this is one of our best meal prep ideas yet!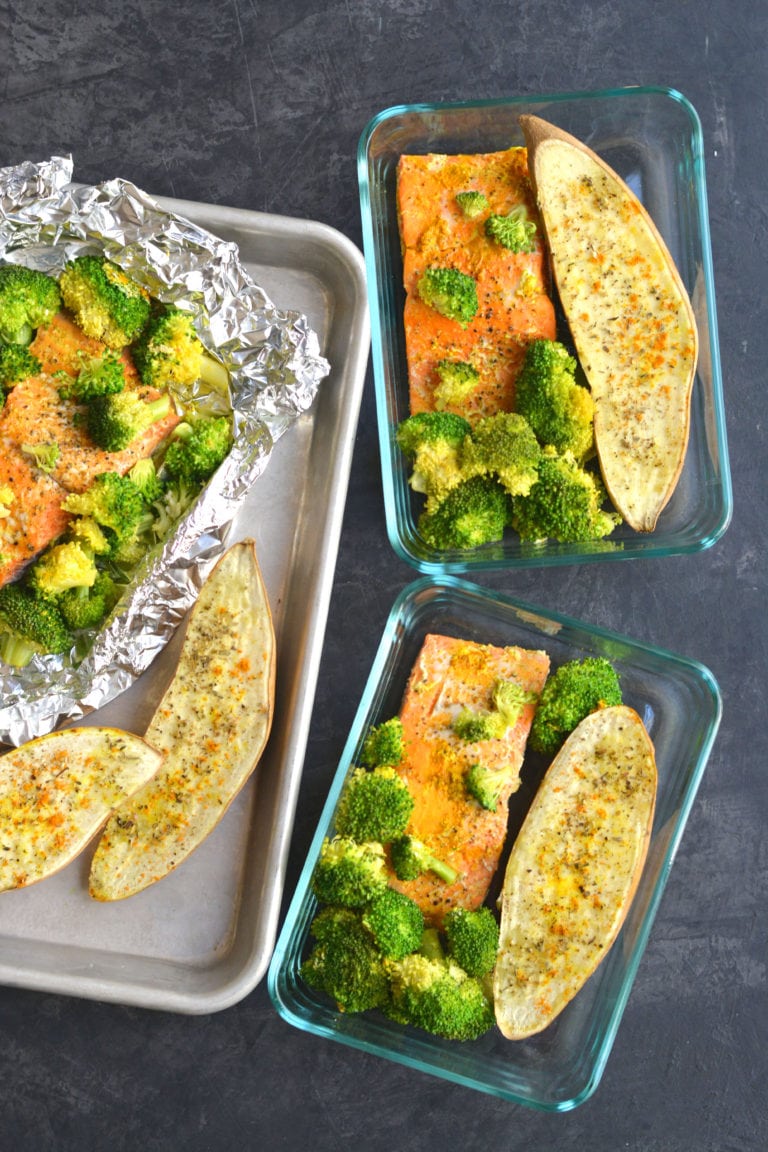 Why Is Salmon So Healthy?
You guys know we love salmon around here, and we're always looking for opportunities to incorporate it into our meal prep ideas. Because salmon has some of the highest amounts of omega-3s of any other type of fish (about 1-2 grams per 3 oz serving), we love enjoying it as a delicious means of getting our daily essential fatty acids. In addition to that, salmon also provides more than half your recommended daily value of selenium, and significant servings of B12, B6, and other trace minerals. Salmon is also an excellent source of lean protein, offering approximately 21 grams per 3 oz serving. And in case we haven't already convinced you, one single serving of salmon can also account for your entire daily Vitamin D needs! OH YEAH!
Turmeric Ginger Salmon in Foil Meal Prep Ingredients
3 (4 oz). salmon filets
2 sweet potatoes, sliced in half lengthwise
5 ounces broccoli florets
4 tbsp. extra virgin olive or coconut oil
1 tsp. ground ginger
1 ½ tsp. turmeric
1 tsp. black pepper
What's the story with turmeric and ginger?
This salmon meal prep is already killing it, we know. But we've added in even more benefits. Turmeric and ginger are delicious, yes, but did you know they're also incredibly supportive? The main bioactive compound in ginger is called gingerol, and is the source of many of the plant's health benefits, from offering antioxidants to supporting a healthy inflammatory response. It's also a delicious ally for soothing indigestion! Or in this case, when added to meals- preventing it before it even starts. From the same family of plants, turmeric is a spice that has also long been utilized for its supportive health benefits. Its primary bioactive compound is called curcumin, and it can be an incredible ally for chronic pain and muscle inflammation. The Arthritis Foundation now even lists it as a supportive tool against inflammation! Both of these herbs have wonderfully pungent spicy flavors and really complement the richness of the salmon, the fresh crunch of broccoli, and the silky sweet potato.
The more we talk about this salmon meal prep, the more we want to just get in the kitchen and make it. Who's with us?
How to Make Turmeric Ginger Salmon
Here's how this goes. You start off by roasting the sweet potatoes; they need a head start because they're going to take longer. Then, you get the broccoli ready and the salmon, too, brushed with oil and then ginger and turmeric. Place the broccoli on squares of foil that are large enough to hold both broccoli and salmon. Wrap them up and roast them along with the potatoes once a bit of time has passed. This meal prep is incredibly hands-off, which we really appreciate, especially on a busy weeknight.
How to Store and Serve Tumeric Ginger Salmon Meal Prep
Once you've prepped this meal, it'll keep, covered in the fridge, for 2-3 days. (Fish is a bit more perishable than chicken or other proteins, and that's why we've got only three servings for this prep. In case you were wondering.) Reheat everything in the oven, covered in foil, at about 325. You don't want to dry out the salmon; this is why we're not recommending the microwave for this, either.
Variations on this Salmon Foil Meal Prep
Serve with cauliflower and broccoli instead of broccoli, or just cauliflower. Brussels sprouts would also be super good here. You can also make this with chicken (it will need a little longer to cook).
Feel free to use freshly grated ginger and freshly grated turmeric if you can get your hands on it. It'll make the flavors that much more vibrant, but it's not necessary if you don't have it. The beauty of this healthy meal prep is its reliance on jarred spices.
More Salmon Meal Preps You'll Love!