Turmeric Ginger Salmon in Foil Meal Prep
It's dinner. It's gluten free. It's paleo. It's incredibly easy. This Turmeric Ginger Salmon in Foil ain't playin' around, y'all. And what's better than a delicious salmon dinner? A salmon meal prep. This one comes with the added benefit of cruciferous broccoli, which is rich in Vitamin C (immune system support) and Vitamin K (a necessary nutrient for healthy blood). We also paired it with sweet potatoes, which are high in fiber and Vitamin A, and are also just plain delicious. We think this is one of our best meal prep ideas yet!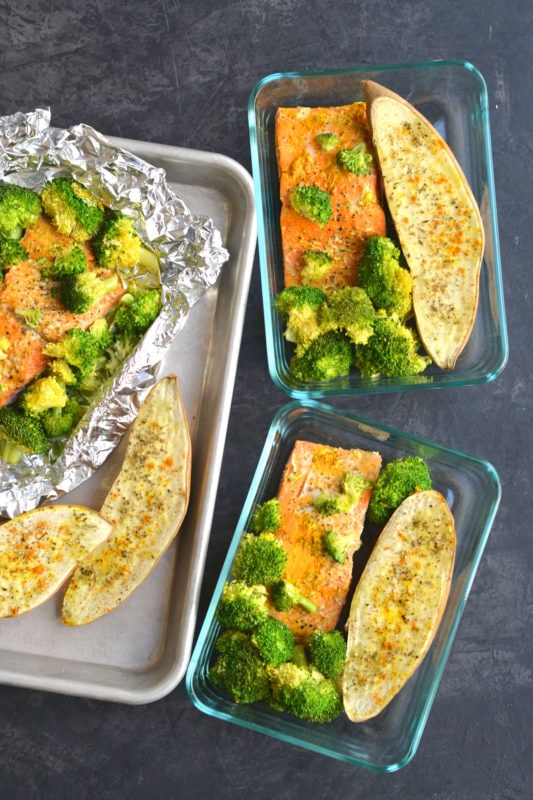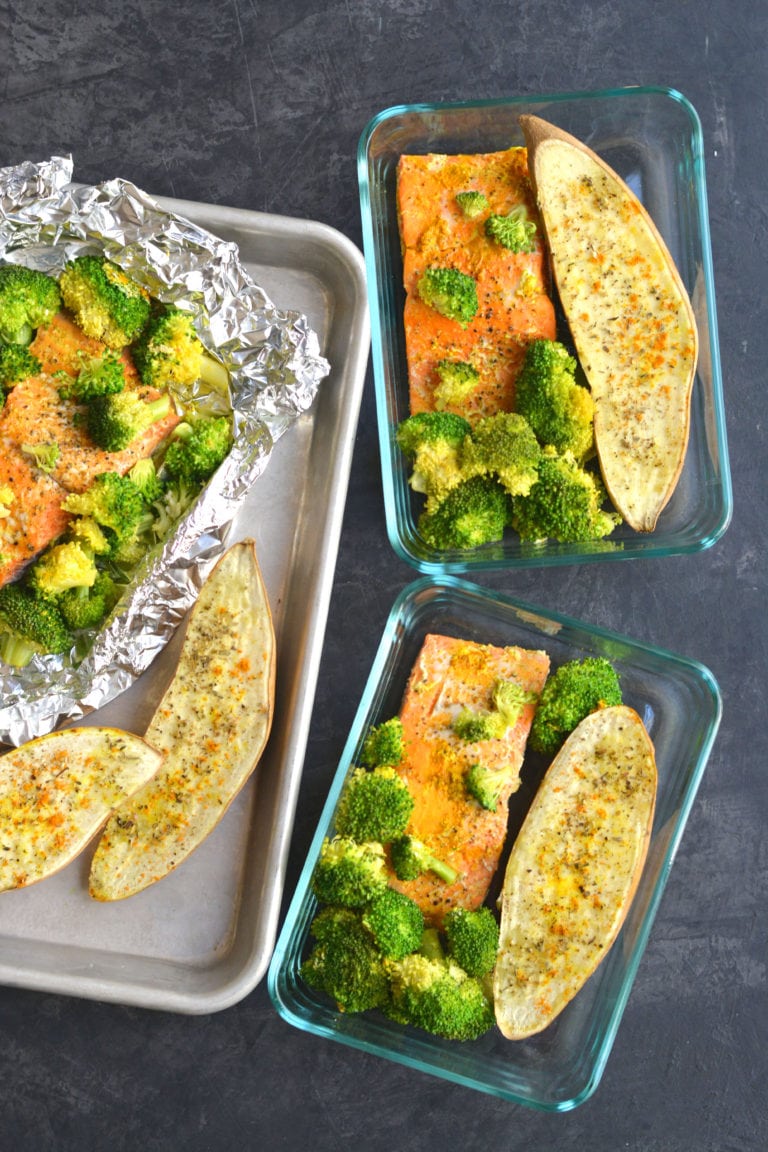 You guys know we love salmon around here, and we're always looking for opportunities to incorporate it into our meal prep ideas. Because salmon has some of the highest amounts of omega-3s of any other type of fish (about 1-2 grams per 3 oz serving), we love enjoying it as a delicious means of getting our daily essential fatty acids. In addition to that, salmon also provides more than half your recommended daily value of selenium, and significant servings of B12, B6, and other trace minerals. Salmon is also an excellent source of lean protein, offering approximately 21 grams per 3 oz serving. And in case we haven't already convinced you, one single serving of salmon can also account for your entire daily Vitamin D needs! OH YEAH!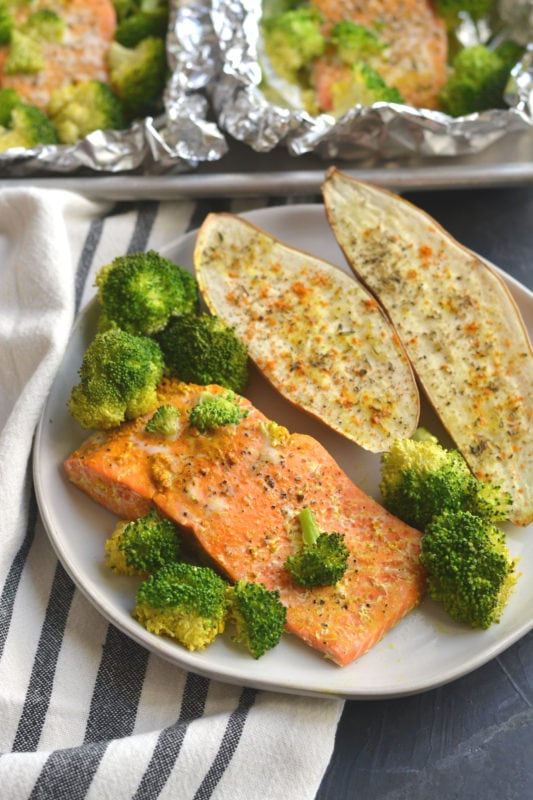 This salmon meal prep is already killing it, we know. But we've added in even more benefits. Turmeric and ginger are delicious, yes, but did you know they're also incredibly supportive? The main bioactive compound in ginger is called gingerol, and is the source of many of the plant's health benefits, from offering antioxidants to supporting a healthy inflammatory response. It's also a delicious ally for soothing indigestion! Or in this case, when added to meals- preventing it before it even starts. From the same family of plants, turmeric is a spice that has also long been utilized for its supportive health benefits. Its primary bioactive compound is called curcumin, and it can be an incredible ally for chronic pain and muscle inflammation. The Arthritis Foundation now even lists it as a supportive tool against inflammation! Both of these herbs have wonderfully pungent spicy flavors and really complement the richness of the salmon, the fresh crunch of broccoli, and the silky sweet potato. Source
The more we talk about this salmon meal prep, the more we want to just get it the kitchen and make it. Who's with us?
Turmeric Ginger Salmon in Foil Meal Prep Ingredients
3 – 4 oz. salmon filets
2 sweet potatoes, sliced in half lengthwise
5 ounces broccoli florets
4 tbsp. extra virgin olive or coconut oil
1 tsp. ground ginger
1 ½ tsp. turmeric
1 tsp. black pepper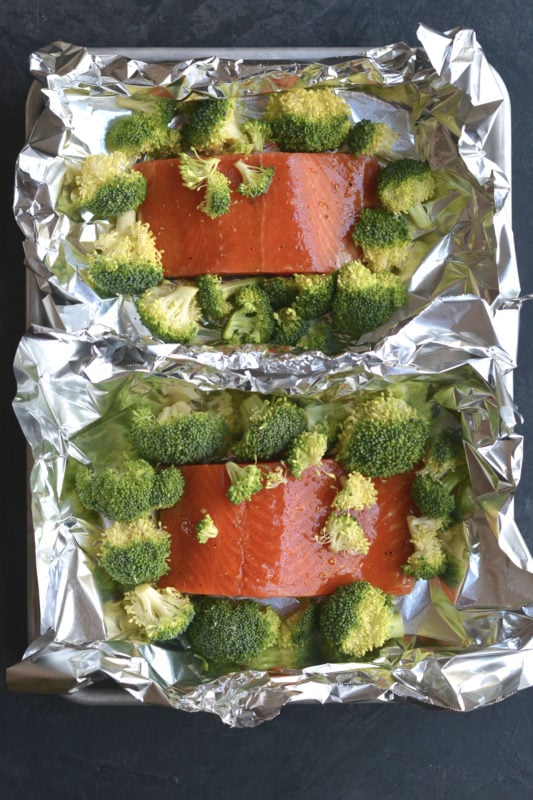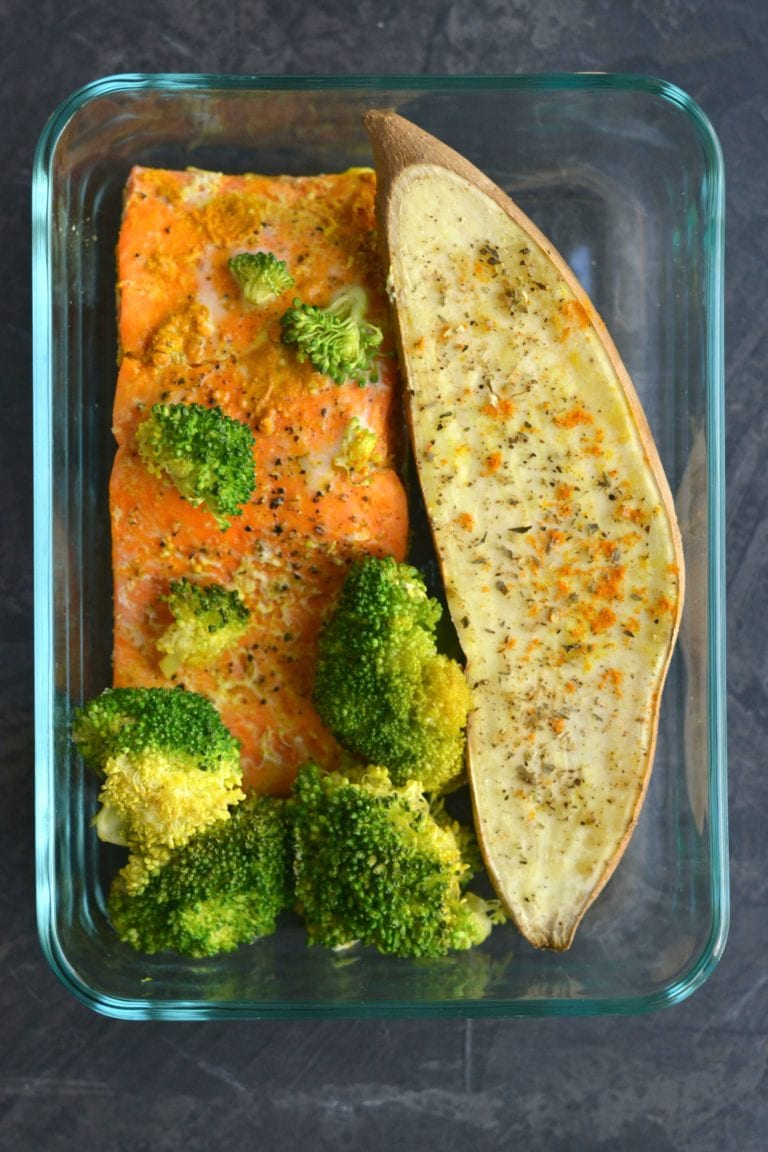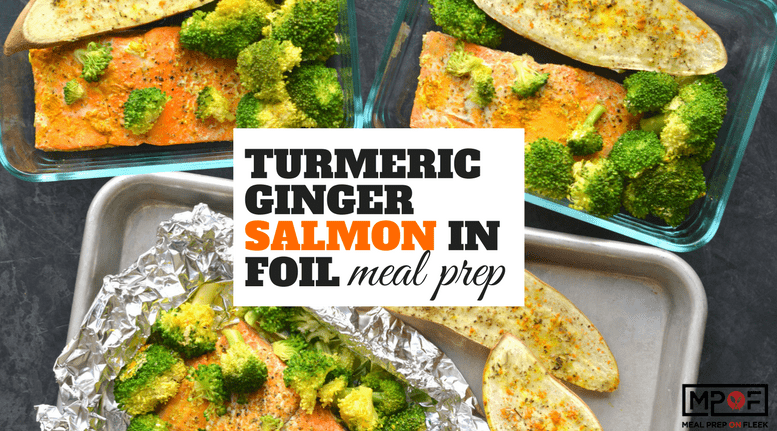 Ingredients
3

4-ounce

salmon filets

2

medium

sweet potatoes

sliced in half lengthwise

5

ounces

broccoli florets

4

tbs

oil

1

tsp

Ground Ginger

1 1/2

tsp

turmeric

1

tsp

black pepper
Instructions
Preheat oven to 375 F. Place sliced sweet potatoes on a large baking sheet.

Spoon one tablespoon of the oil over the salmon filets. Sprinkle with black pepper and ½ teaspoon of turmeric.

Place the sweet potatoes in the oven and bake at 375 F 30 minutes.

Next place the 3 salmon filets in the center of 3 large squares of foil.

Divide the broccoli evenly among the 3 packs, placing it around the salmon.

In a ramekin, mix together the remaining oil, ginger, turmeric and black pepper.

Using a pastry brush, brush the oil over the salmon and broccoli.

Wrap the ends of the foil closed and place on a baking sheet.

Bake at 375 F for the remaining 20 minutes with the sweet potatoes.

Remove from the oven and divide into 3 meal prep containers.
Notes
Nutrition for 1 out of 3 meals:
26g Protein | 22g Carbs | 26g Fat | 426 Calories
Nutrition
Serving:
1
meal
|
Calories:
426
kcal
|
Carbohydrates:
22
g
|
Protein:
26
g
|
Fat:
26
g