Looking make the best Salmon Burgers? Here's a meal prep recipe for creating some incredible sheet pan salmon burgers.
With so many fish to choose from, salmon has a reputation as one of the healthiest, most-sought after fish. How many praises can we sing for these upstream-swimmers? Salmon are rich in Omega-3 Fatty Acids, a healthy source of protein, and are full of B vitamins and potassium and selenium and antioxidants. What does this mean? Salmon helps your stress get lower, your hair get nicer, your heart beat stronger, your bones get solid, and boosts your energy.
When it comes to which salmon to choose, there are many! In this Sheet Pan Salmon Burgers, we recommend Sockeye Salmon. It has a bit more healthy oils than other salmons and has a deep red flesh. Sockeye are known as "reds" because their flesh turns deep red when they swim against the stream to spawn. In case you're curious, a few other salmon types include: Chinook, Coho, Humpback, Atlantic and Silverbrite. Are you hungry yet?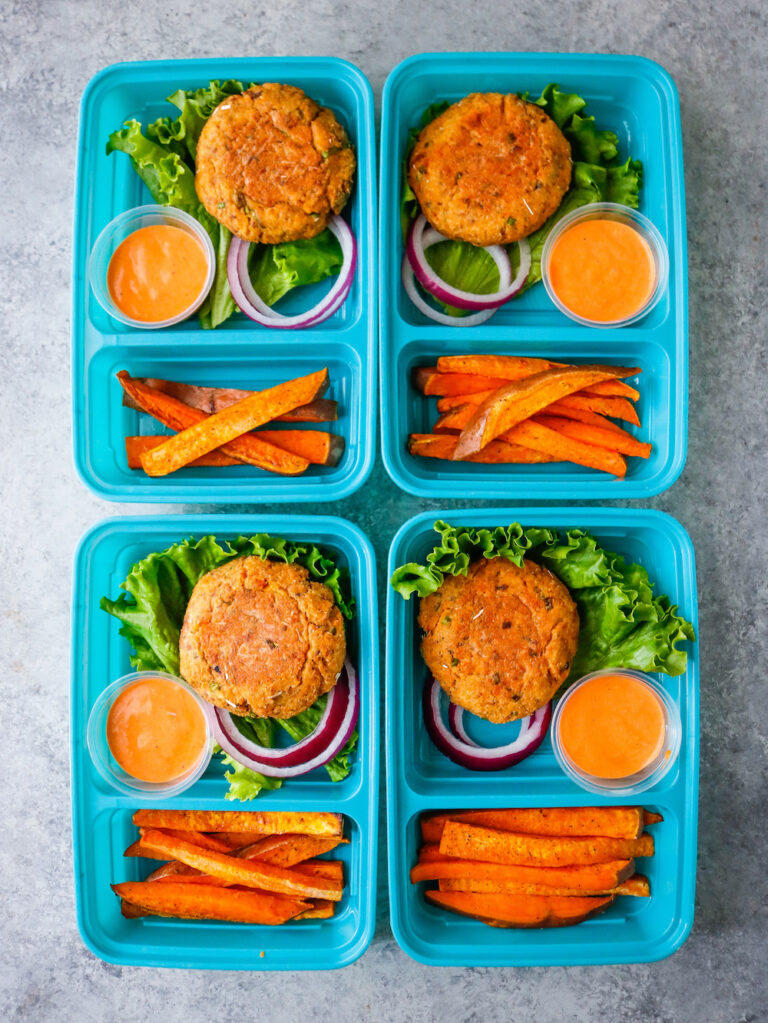 Switch up your usual burger routine with these Paleo salmon burgers! Almond flour steps in for breadcrumbs along with fresh herbs and a creamy red pepper aioli that doubles as a dipping sauce for sweet potato fries!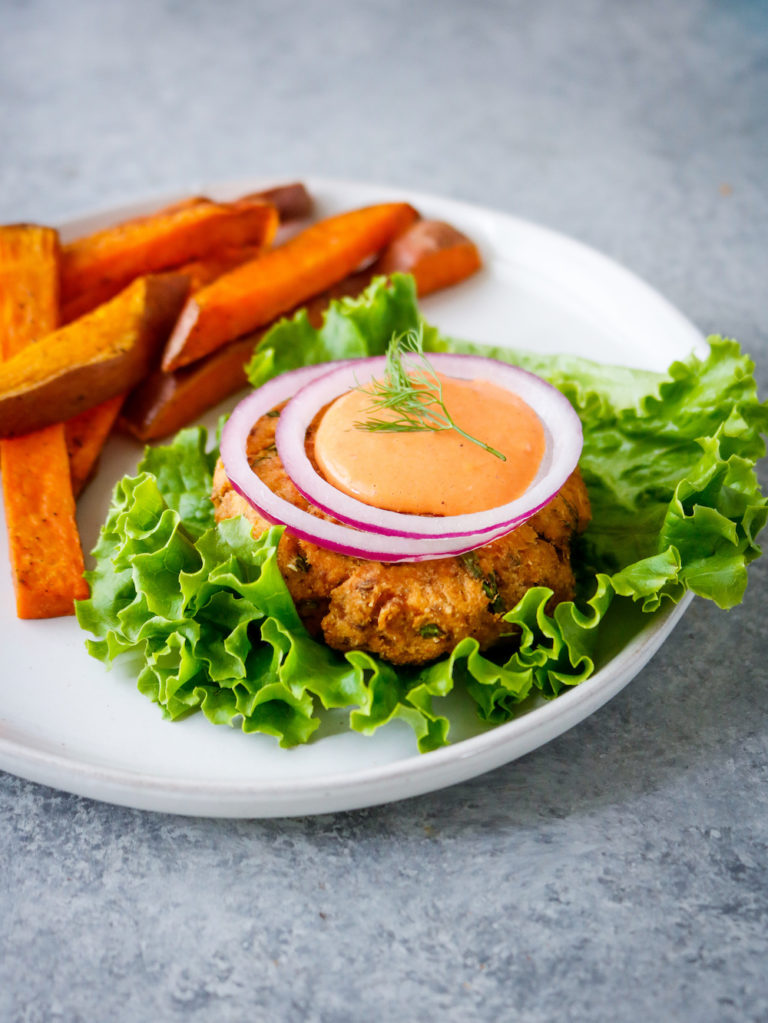 Sheet Pan Salmon Burgers Ingredients:
For Salmon Burgers 
12 oz cooked sockeye salmon 
½ cup blanched almond flour
1 large egg
1 tablespoon lemon zest
1 tablespoon minced chives
1 tablespoon fresh chopped dill
½ teaspoon minced garlic
½ teaspoon sea salt
¼ teaspoon paprika
4 leaf lettuce leaves for serving
¼ a red onion, thinly sliced
For Sweet Potato Fries
2 medium sweet potatoes
1 tablespoon olive oil
½ teaspoon sea salt
¼ teaspoon black pepper
For Roasted Red Pepper Aioli
⅔ cup mayonnaise, dairy free for paleo/whole30
¼ cup jarred roasted red bell peppers, drained
1 teaspoon lemon juice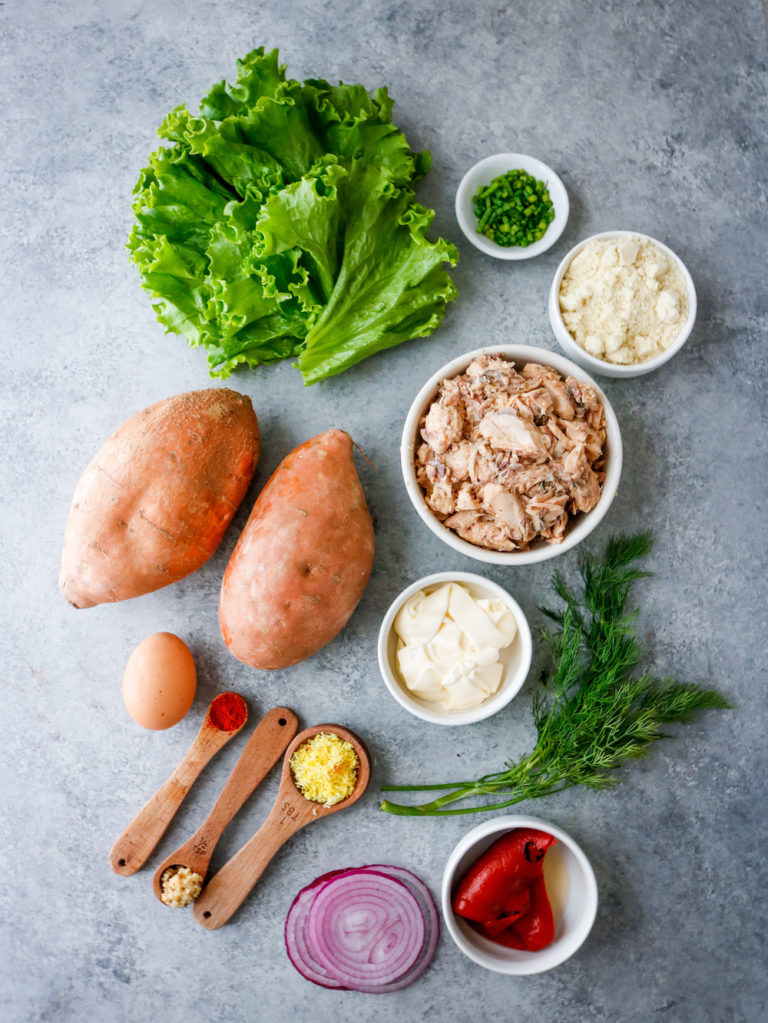 How long will Sheet Pan Salmon Burgers last for?
First, you have two days of fridge-time to cook your salmon burgers if it's raw and in the fridge. Once your Sheet Pan Salmon Burgers are cooked, count on eating your meal prep in two days or less. If you need more time, move them to the freezer!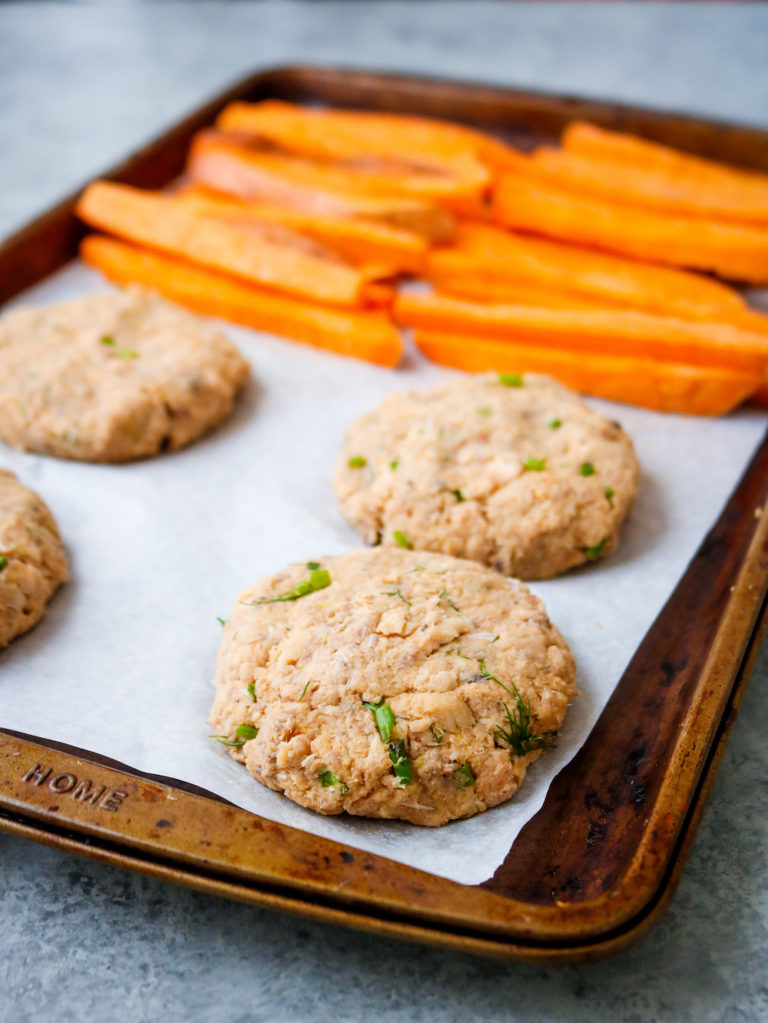 Can Sheet Pan Salmon Burgers be frozen?
Yes! Cooked salmon can be frozen for four to six months, according to the U.S. Food and Drug Administration.
How do you make Sheet Pan Salmon Burgers?
First, you'll form the patties in a mixing bowl with all the ingredients. Second, bake the Salmon Burgers for 15 minutes, turn them over, and bake for another 15. This gives you time to take care of the Sweet Potato Fries.
Parchment paper works great to line your baking sheet for the Sweet Potato Fries. Make sure to toss them gently to coat with a drizzle of olive oil.
For Roasted Red Pepper Aioli - it couldn't be easier! Combine ingredients for red pepper aioli in a blender and blend.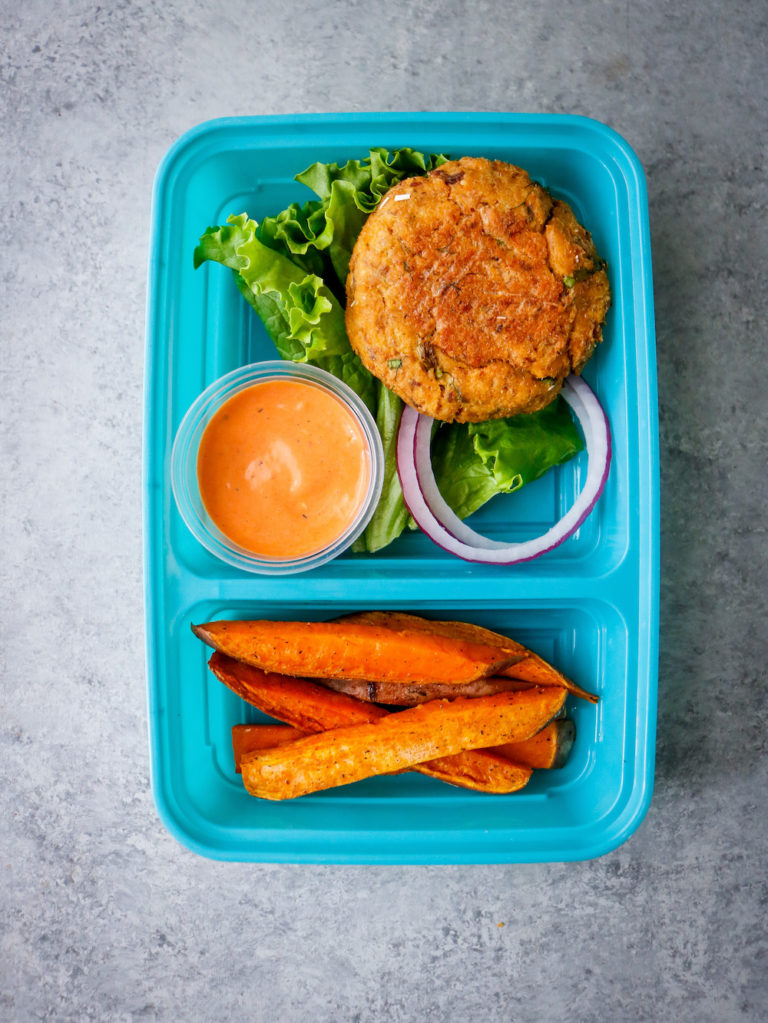 How to portion Sheet Pan Salmon Burgers?
This meal prep recipe has three complementary parts - the burger, the fries and the side of Roasted Red Pepper Aioli. When you're ready to go, Sheet Pan Salmon Burgers would travel well in Dual Compartment Meal Prep Containers to keep everything separate. If you're using bread or lettuce as a bun, consider the Three Compartment Meal Prep Container.
More Salmon meal prep recipes:
Other tips for making Sheet Pan Salmon Burgers:
Remember to store your bun separately from your salmon burger to prevent the bun from getting soggy. To stay paleo - use lettuce as your bun!

This meal prep recipe is a great way to use leftover salmon from one of our other MPOF recipes.

If you are purchasing large orders of salmon to stock up, get it vacuum-sealed and store it in your freezer for up to eight months.

When thawing cooked salmon burgers, pat them dry with a paper towel before reheating. We suggest using an oven to reheat your sheet pan salmon burgers to preserve the flavor and firmness. After thawing, eat cooked salmon within 24 hours.