There are plenty of other fish in the sea. For example, Broiled Cod with Mango Relish
Oh my Cod Becky – look at that fish! It looks sooooo good! And yes, cod tastes as good as it looks. Once cooked, the flaky texture will melt in your mouth. We know you'll be pleasantly surprised with our Broiled Cod with Mango Relish meal prep recipe.
Although cod isn't as popular as salmon or tuna, it's delicious and good for you. Cod contains less mercury than other fish and is also leaner. But just because cod is lean doesn't mean it's flavorless! Trust us, this is a flavorful fish, especially when paired with mango relish. Add vegetables, and rice and you've got yourself a satisfying meal that rivals a trip to your favorite seafood restaurant, and is gluten-free!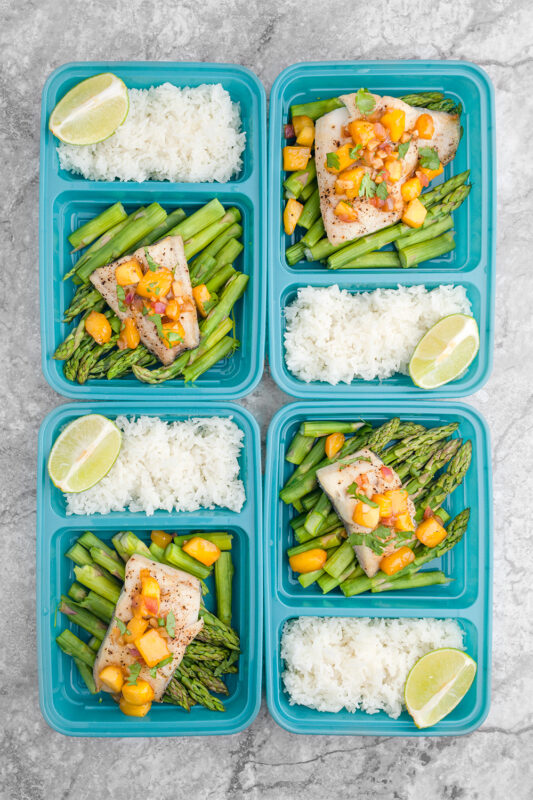 Perfectly broiled cod dressed in a mouthwateringly delicious mango relish along with sides of asparagus and white rice…what's not to love?!
How long will Broiled Cod with Mango Relish last for?
Broiled cod will last for 3 to 4 days. Mango relish keeps its original consistency for three days. The longer mango sits in the refrigerator, the softer it becomes. When storing mango relish for meal prep, use a mini plastic cup with a lid.
Can Broiled Cod with Mango Relish be frozen?
Yes, you can freeze Broiled Cod with Mango Relish. For the fish, store it in a high-quality freezer bag, letting excess air out before freezing. You can also use an airtight container, but make sure you wrap the container in plastic wrap for extra flavor sealing. The mango relish can go into a container or jar. The recipe flavors will last for 4 months in the freezer. Thaw, reheat, and enjoy for lunch or dinner within 4 months.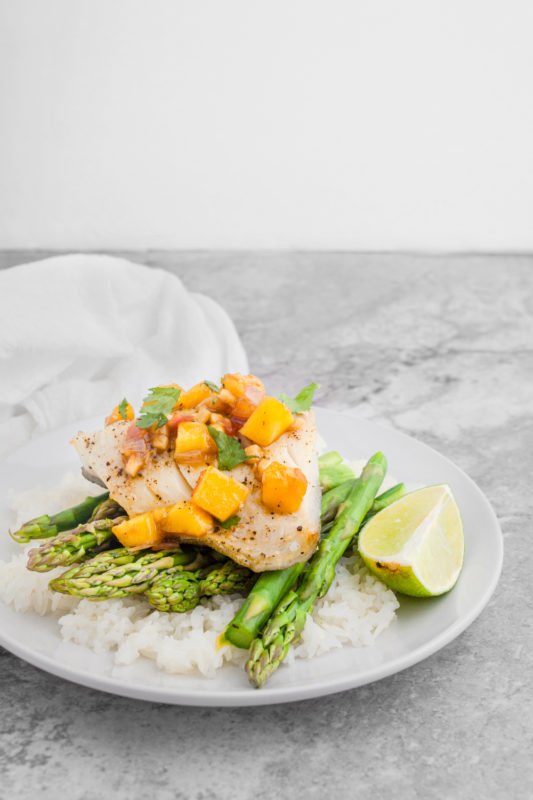 Broiled Cod with Mango Relish Ingredients:
4 Cod Fillets (1 pound)
4 C. Cooked White Rice
2 Asparagus Bunches, steamed
2 tsp. Avocado Oil, divided
1 Small Fresh Mango, diced
1 Clove Fresh Garlic, chopped
1.5 Tbsp. Chopped Red Onion
1 Tbsp. Coconut Aminos
1 Tbsp. Fresh Cilantro
1 Lime, quartered into wedge slices
Juice of 1 Lime
1/2 tsp. Pink Himalayan Salt
1/2 tsp. Ground Black Pepper
How do you make Broiled Cod with Mango Relish?
For being such a fancy-looking dish, you will find that it's a simple meal prep recipe. Preheat the oven broiler and place your cod fillets on a lined sheet pan. Drizzle and coat the fish in 1 tsp. oil, then season with salt and pepper. Broil the fillets on the top rack for 10 to 15 minutes.
While the fish is broiling, make the mango relish, asparagus, and rice. If you want everything done at the same time, start the rice before the fish. For the relish, start by heating a saucepan. Then add the rest of the avocado oil along with red onion and garlic. Sauté for 3 minutes. Add liquid aminos, mango, and lime juice. Sauté for 2 minutes, stirring frequently so the mango doesn't stick to the pan.
Plate asparagus and top with fish and mango relish. Add rice on the side and you've got yourself a fancy seafood dinner in 30 minutes. Easy, right?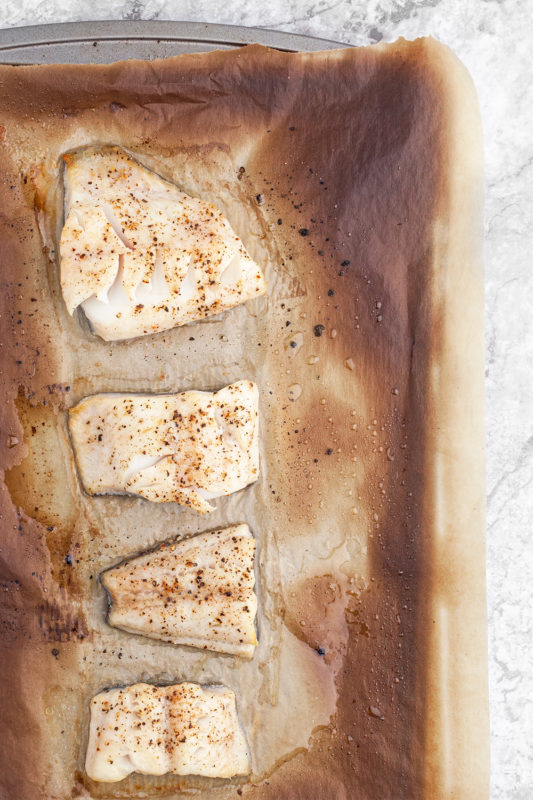 How to portion Broiled Cod with Mango Relish?
Using a two-compartment MPOF meal prep container, put the asparagus, broiled cod, and mango relish in the 2 c. compartment and the rice in the 1 c. compartment. You should be able to fit a mini cup for the relish on the 2-cup side if you choose to store the relish separately.
More fish meal prep recipes:
If you're a big seafood fan, you'll appreciate our other fish meal prep recipes.
Baked Fish and Chips Meal Prep
Baked Salmon with Blackberry Quinoa Salad
Cauliflower Tabouli and Salmon Meal Prep
Sheet Pan Sriracha Honey Glazed Salmon
Teriyaki Salmon & Pineapple Skewer Meal Prep
Turmeric Ginger Salmon in Foil Meal Prep
Smoked Salmon & Lentil Breakfast Salad
One Pan Fajita Salmon Meal Prep
Coconut Sugar Sriracha Shrimp Meal Prep
Sesame Salmon with Baby Bok Choy and Mushrooms
Easy Avocado + Mango Sushi Roll
Shrimp Quinoa Broccoli Meal Prep | Garlic Shrimp Recipe
Perfectly Seared Scallops Meal Prep
Ghost Pepper & Tamarind Salmon Meal Prep
Apricot Sesame Chicken & Shrimp Meal Prep Recipe
And there are more seafood meal prep ideas here: 35 Simple Salmon Meal Prep Recipes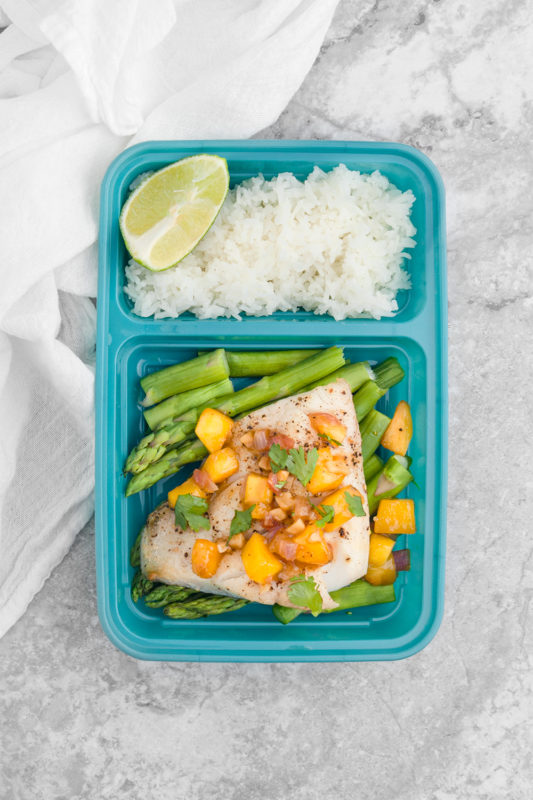 Other tips for making Broiled Cod with Mango Relish:
It all starts with your cod. Atlantic cod is sweet with large flakes. Pacific cod is savory with firm and chunky flakes. Either one would pair well with mango relish.

You can cook cod in a pan or bake it in the oven. You can even add it to fish stews!

When shopping for mangoes, test ripeness by squeezing it. A slight squishiness is best. A fruity smell at the stem ends is another indicator of ripeness.

The ripeness of mangoes is the same as avocados and apricots.

Store ripe mangoes in the refrigerator ASAP.

Cut mangoes lengthwise, around the stem. Then cut the centers into cubes. Spoon out the cubes.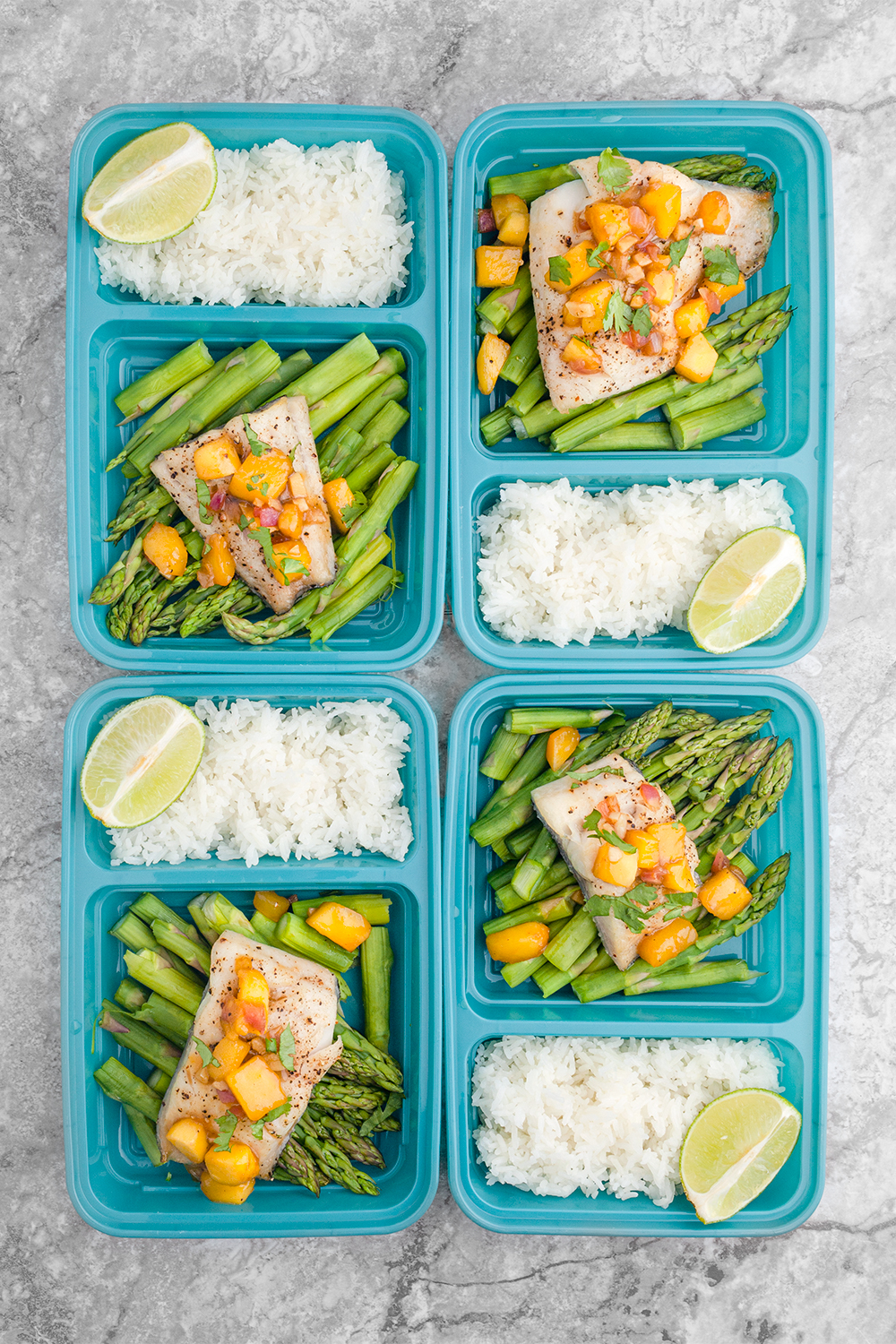 Ingredients
4

Cod Fillets

1 pound

4

Cups

Cooked White Rice

2

bunches

Asparagus

steamed (about 1.5 lbs)

2

tsp.

Avocado Oil

divided

1

small

Fresh Mango

diced

1

Clove

Fresh Garlic

chopped

1.5

Tbsp.

Chopped Red Onion

1

Tbsp.

Coconut Aminos

1

Tbsp.

Fresh Cilantro

1

Lime

quartered into wedge slices

1

Lime

juiced

1/2

tsp.

Pink Himalayan Salt

1/2

tsp.

Ground Black Pepper
Instructions
Preheat oven broiler and a line sheet pan with parchment paper or foil, set aside.

Place fillets onto a prepared sheet pan and drizzle 1 tsp. oil over, flipping until coated. Then, season with salt and pepper. Place onto upper rack and let broil 10-12 minutes or until cooked.

While that is cooking, prepare mango relish by heating a saucepan over medium-high heat. Then add remaining teaspoon oil, red onion, and garlic — sauté ~3 minutes. Add coconut aminos, mango, lime juice — sauté ~2 minutes or until liquid has slightly thickened, stirring often to prevent mango from burning/sticking to the pan.

Top fillets with mango relish and cilantro alongside asparagus, rice, and lime wedges — store and enjoy!
Nutrition
Calories:
400
kcal
|
Carbohydrates:
60.8
g
|
Protein:
27.9
g
|
Fat:
4.5
g
|
Fiber:
4.7
g