If you are a spicy food lover, our new sriracha shrimp meal prep recipe is just for you! The whole family can enjoy a comfort meal with a kick of garlic anytime for lunch or dinner. We also love some sriracha in this dish because of the extra spiciness and tangy sweetness. The shrimp and veggies are quick, easy, and look stunning. All paired with coconut sugar and served with cauliflower rice. Yum! This meal will leave you salivating and looking forward to your next meal. We hope we've given you enough reason to make this incredibly delicious dish! See how fun meal prepping is? Plus, if you're watching your weight, coconut sugar Sriracha shrimp is your absolute go-to meal because it's low in calories and Paleo-friendly.
This Coconut Sugar Sriracha Shrimp Meal Prep recipe is fast, easy and incredibly delicious! It is the perfect balance of sweet and spicy to satisfy your taste buds! Made in less than 10 minutes, this Paleo-friendly, gluten-free meal prep recipe will leave you plenty of time to still enjoy your weekend.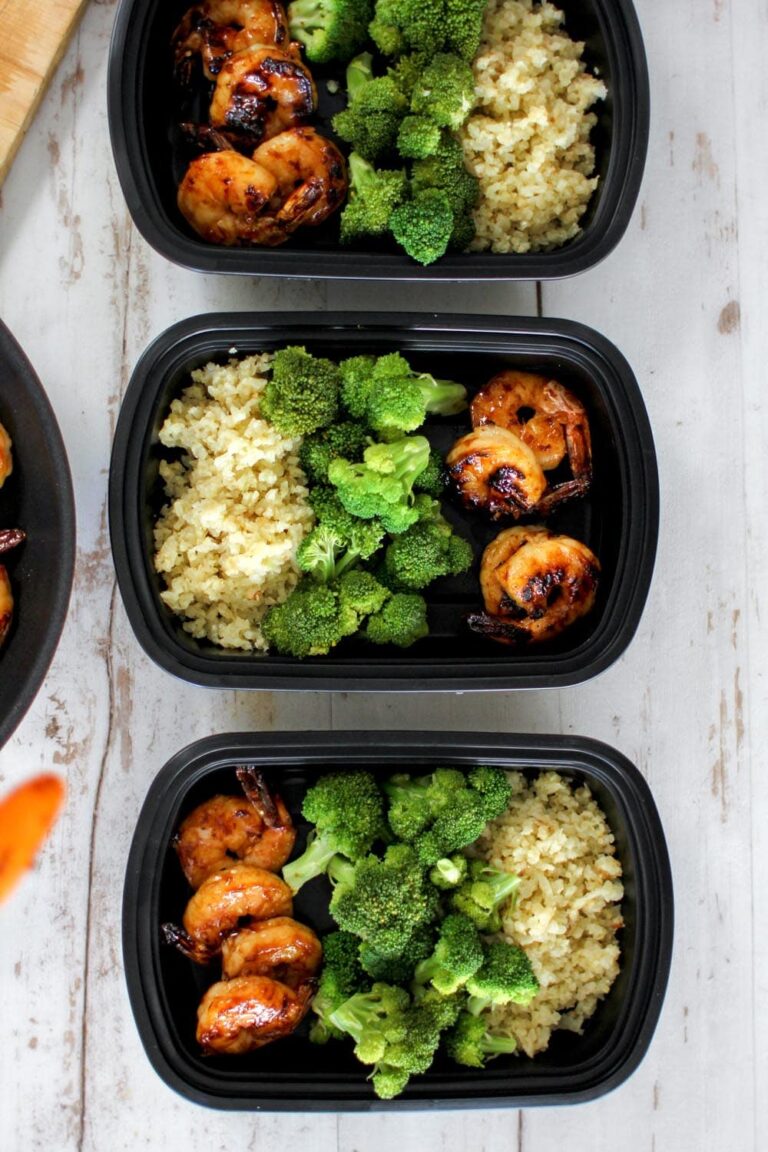 Coconut Sugar Sriracha Shrimp Meal Prep Ingredients:
¼ cup coconut sugar
3 tbps. sriracha
2 tbsp. olive oil
salt & pepper, as desired
2 cloves garlic, minced
1 pound shrimp
2 tbsp. chives, optional
2 cups cauliflower rice
2 cups broccoli
How long will Coconut Sugar Sriracha Shrimp Meal Prep last for?
Our coconut sugar sriracha shrimp meal prep recipe will last in the fridge for around 3-4 days when stored in an airtight container.
Can Coconut Sugar Sriracha Shrimp Meal Prep be frozen?
You can freeze leftover coconut sugar sriracha shrimp meal prep, but eating it soon enough ensures you enjoy the spiciness and flavors. When shrimp stays frozen for a long time, it becomes rubbery upon reheating. Storing your food in high-quality meal prep containers will ensure the dish maintains its freshness. You can also use a labeled freezer bag for easy reheating in a pot. However you decided to store your shrimp meal prep recipe, you'll need to quick freeze the shrimp first.
How do you make Coconut Sugar Sriracha Shrimp Meal Prep?
Start by putting the shrimp, coconut sugar, sriracha, olive oil, salt, pepper, and garlic into a medium-sized bowl. Mix all of the ingredients well until the shrimp is fully coated in marinade. Cook the marinated shrimp in a nonstick skillet over medium heat for 3 minutes. Flip shrimp and cook for another 2 minutes or until opaque with pink and bright red accents.
It's finally time to plate and/or eat our delicious shrimp meal prep recipe! Serve over cauliflower rice and broccoli. Store the leftovers in the refrigerator for up to 4 days.
How to portion Coconut Sugar Sriracha Shrimp Meal Prep
Our Good Cook® Meal Prep Containers are adequate for storing this flavorsome shrimp meal prep recipe. Serve alongside cauliflower rice and steamed broccoli, then garnish with chives for an herby flavor.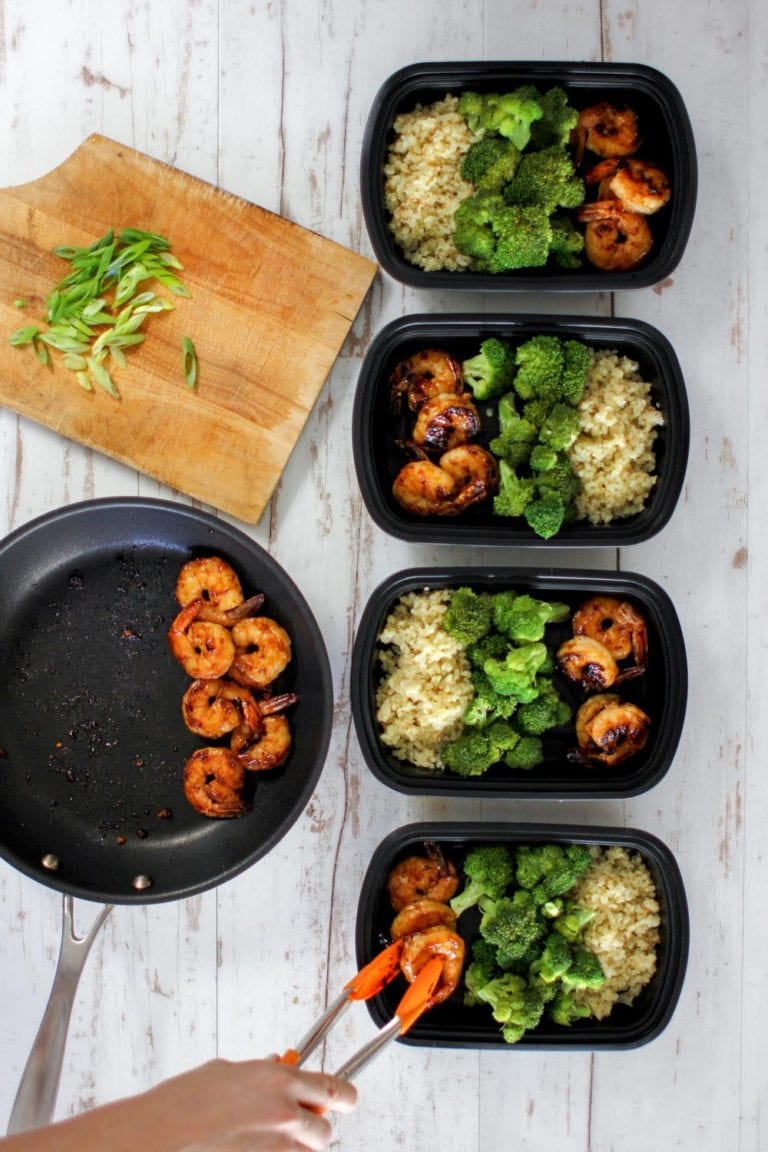 More Shrimp meal prep recipes:
Sheet Pan Butter Herb Shrimp Corn and Potato Bake
Sheet Pan Arugula Pesto Shrimp Meal Prep
Garlic Shrimp and Broccoli Meal Prep
Shrimp Quinoa Broccoli Meal Prep | Garlic Shrimp Recipe
Skillet Shrimp with Tomato and Avocado
Cauliflower & White Bean Soup with Shrimp Meal Prep
Other tips for making Coconut Sugar Sriracha Shrimp Meal Prep:
Substitute sriracha with cayenne pepper, crushed chili flakes, chili paste, or sambal oelek. They will serve the same purpose; the only downside is they won't have the thick consistency or hotness of sriracha. You can also use hot sauce, although the flavor will be slightly different.
You can use frozen shrimp and thaw them in the refrigerator overnight for easier cooking.
Make the broccoli and cauliflower rice 30 minutes before cooking this shrimp meal prep recipe.
Brown sugar works as a perfect substitute for coconut sugar.
Pin this Meal Prep Recipe for later: