Cobb Salad Meal Prep is even better than the classic, thanks to the addition of salmon. Super high protein gluten-free meal prep!
Meal prep fam, we know you're all out here just trying to live your best life. But sometimes #thestruggleisreal and you accidentally promise your co-worker you'll do Whole30 with them? You have good intentions, we know- you really are a gem. But now what? If you don't have any easy meal prep ideas, and you're getting hangry.
what if we told you we had a killer lunch (or healthy dinner) recipe that is gluten free, low carb, paleo, and Whole30-friendly? And will actually leave you feeling full and satisfied? Would you believe us? We came up with this delicious Salmon Cobb Salad Meal Prep so you'd have to!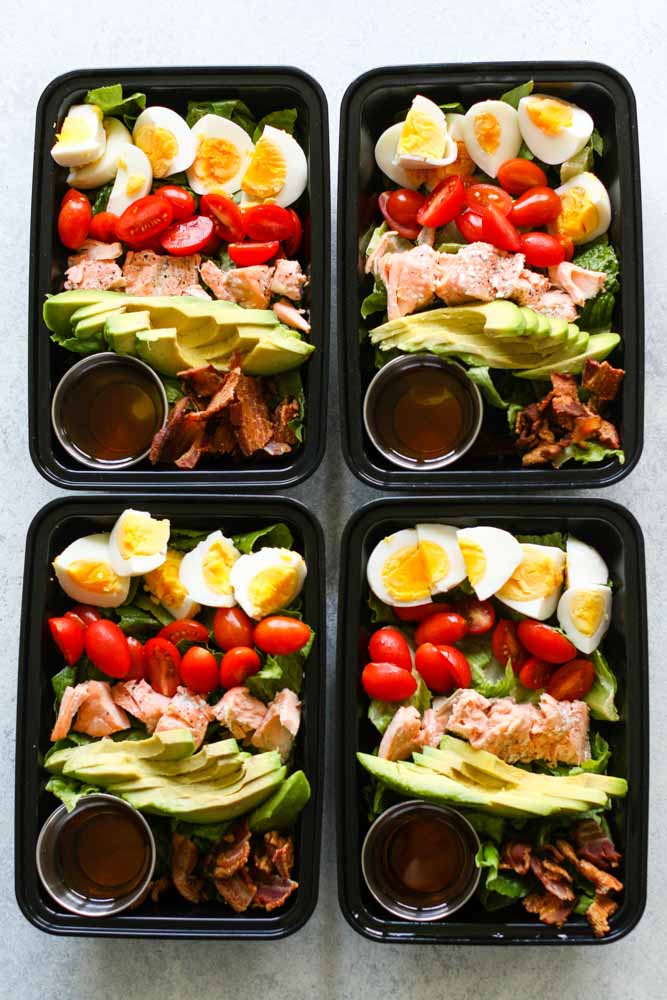 What's in this Cobb Salad?
A classic Cobb salad has eggs, bacon, and chicken as its protein sources, but we decided to sub the chicken for wild-caught salmon for an extra boost of varied nutrition. A single serving of salmon has some of the highest amounts of omega-3s (in the form of DHA and EPA) of any other type of fish: an impressive 2-4 times what most organizations recommend as the daily intake for a healthy individual! In addition to these essential fatty acids, one serving of salmon offers an entire day's worth of Vitamin D, more than half your recommended daily value of selenium, and significant servings of B12, B6, and other trace minerals. Don't go thinking you necessarily need to start having salmon for every meal, but if you love it as much as we do we have a few other salmon meal prep ideas for you. Check out this delicious Apricot Salmon Meal Prep and super easy Turmeric Ginger Salmon. You're welcome.
How to Make Salmon Cobb Salad Meal Prep
This salad is a bit of prep, and then mostly just assembly. Cook the hard boiled eggs ahead of time; they can be done a day or so before you want to make the rest, if you like. The only other real "cooking" involves baking the salmon at 350 for a bit in the oven and cooking the bacon. Again. all of this can be broken into other steps. Veggies get washed and chopped as usual, and the dressing is a simple red wine vinaigrette.
How to Store this Salmon Cobb Salad Meal Prep
Once you've made this, it keeps great, but we recommend as usual to store the salad dressing separately so it doesn't get soggy. Keep it all in the fridge in meal prep containers until you're ready to eat. Should be great for 4 days or so. You won't have a problem eating this for lunch or dinner. Just look at those colors, right?
If for some reason you want to freeze any leftover salmon, you can. Just wrap it tightly, date it and label it, and use within 3 months!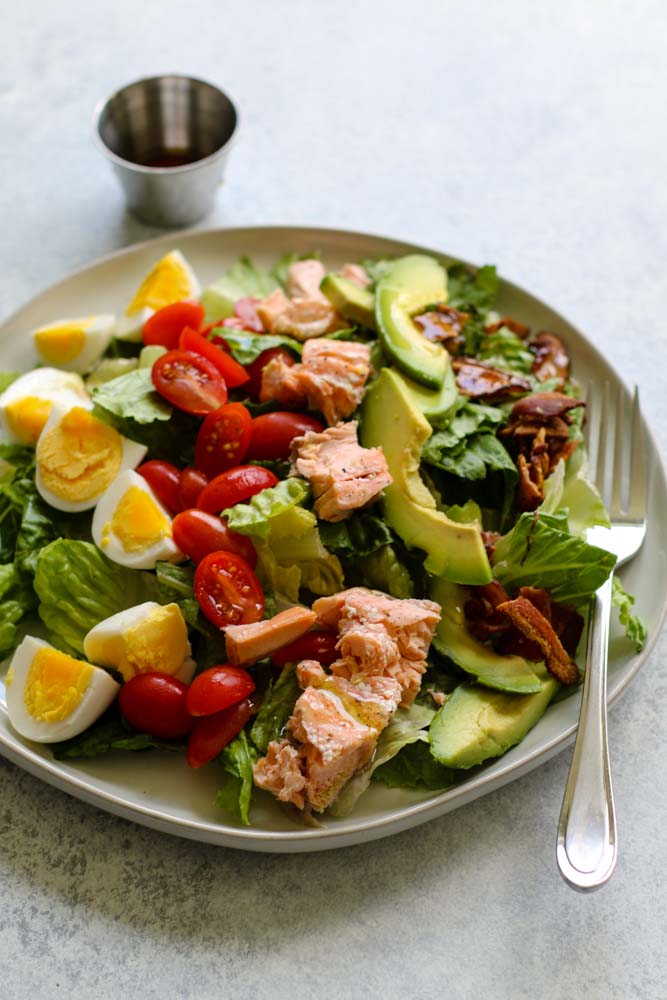 How to Serve Cobb Salad Meal Prep
We suggest a classic simple Red Wine Vinaigrette for this Salmon Cobb Salad. There are finally clean and delicious salad dressings on the market these days, many of which are suitable for all of the diets we build our meal prep ideas around. But a lot of them will cost you upwards of $6/bottle. Yikes. Having a go-to DIY salad dressing recipe like this one can save you lots of calories and lots of money over the years. And hey, we get it... sometimes you just don't want another salad! If that's the case, here are 25 healthy meal prep recipes for people who hate salads...
Let us know in the comments below what you think of this salmon meal prep!
Salmon Cobb Salad Meal Prep Ingredients: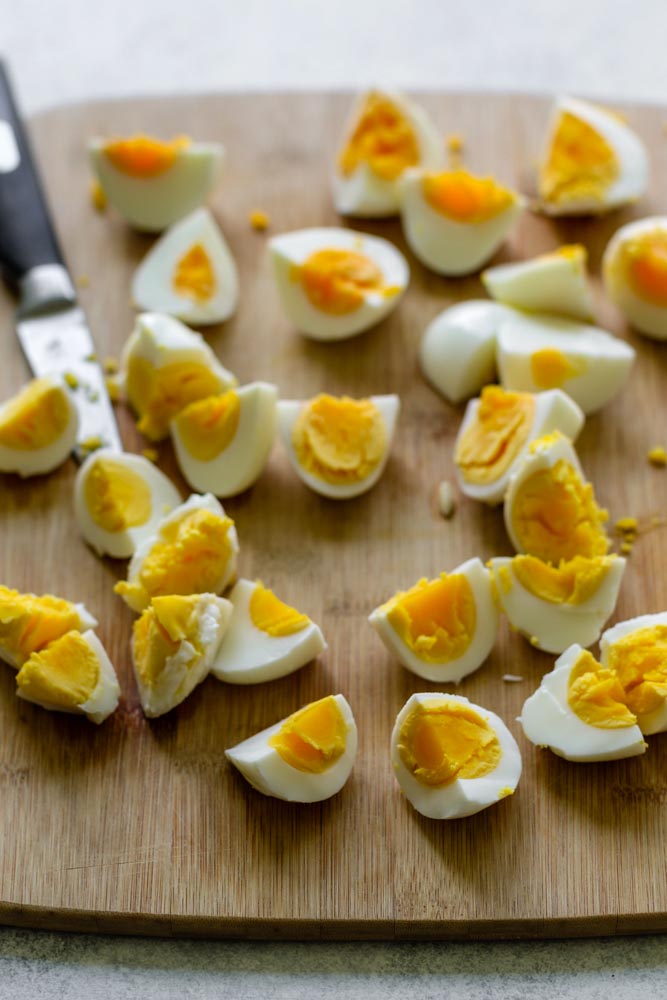 4 eggs
8 slices bacon
2-3 wild Alaskan salmon filets
8 cups romaine lettuce
1 pint grape tomatoes, halved
1 avocado, sliced
Himalayan sea salt
Black pepper
4 TBS red wine vinegar
4 TBS olive oil