Paleo Apricot Salmon Meal Prep brings together fruit and fish for a refreshing and light meal prep you'll want to put on repeat!
We kind of can't ever get enough of salmon, and behind chicken and pasta, it's a very popular and in-demand protein. It is easy to cook, hard to screw up, plentiful, and many people like it. Plus, it's super good for you (more on that in a minute). If you're looking for gluten-free and paleo meal prep ideas, too, look no further. How about something delicious, healthy, and satisfying, all for under 500 calories per serving? Look no further than this Apricot Salmon Meal Prep- one of our favorite meal prep ideas for stone fruit season!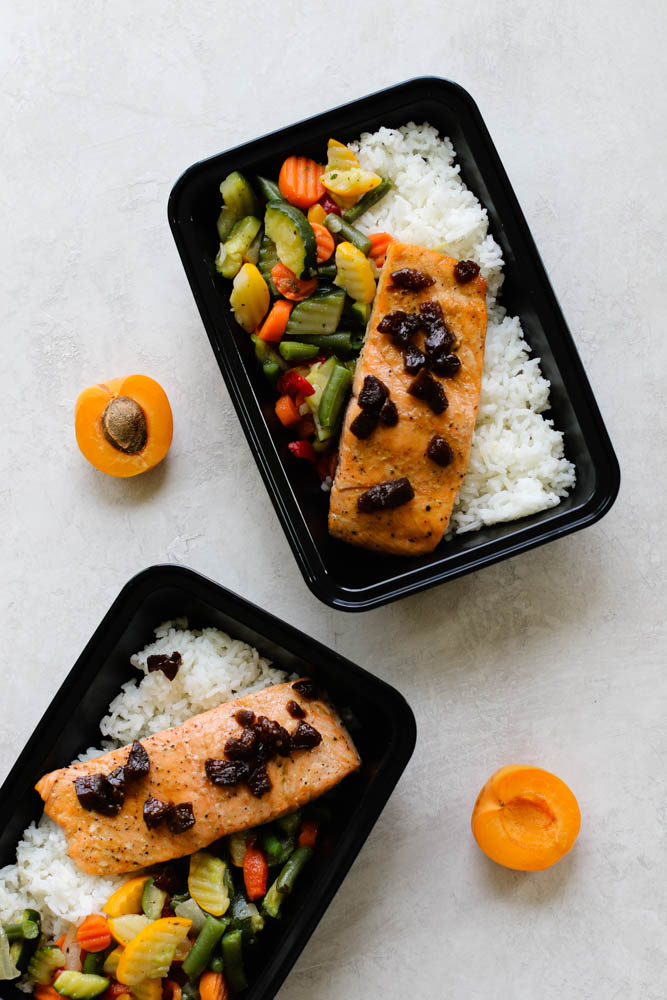 We all know that fish is an incredibly healthy protein source, but what's all the hype about salmon? A quick aside before we dive into that: whenever possible, buy wild rather than farmed salmon! First of all, most of the recorded health benefits of salmon are specifically from wild-caught fish. That means the fish grew in a natural environment without any human-added growth hormones, antibiotics, or sunlight restrictions. (Yeah, that's a thing!) Okay, now on to the good stuff.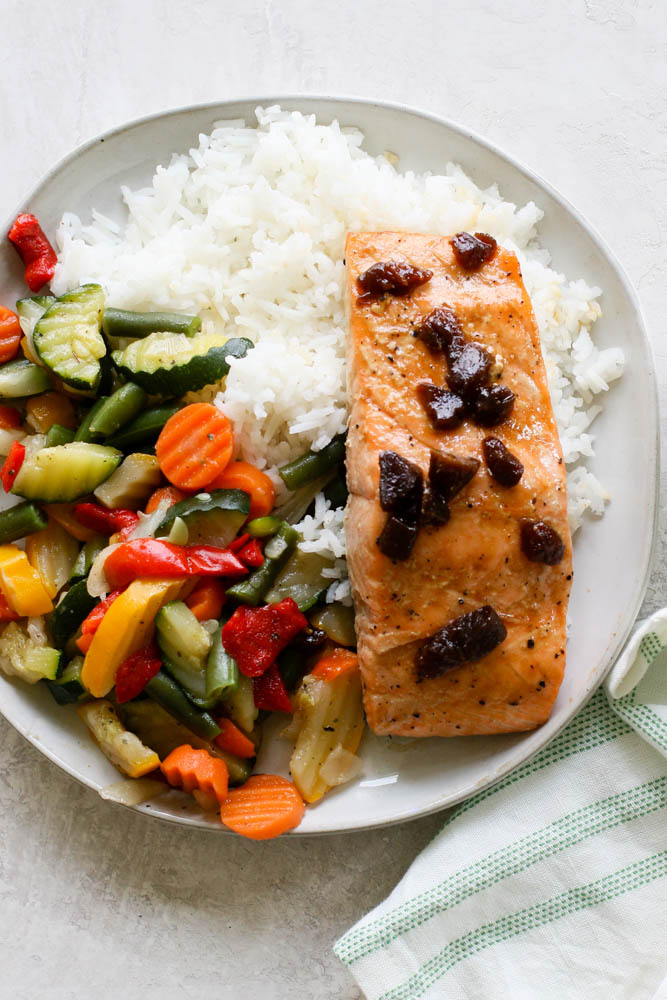 Nutrition Benefits of Salmon
First off, salmon has some of the highest amounts of omega-3s when compared to any other type of fish, about 1-2 grams per 3 oz serving. That might not sound like a lot, but it's actually 2-4 times what most health organizations recommend as the daily intake for a healthy individual!
In addition, these essential fatty acids, salmon also provides a significant amount of protein per serving (approximately 21 grams)! It also provides more than half your recommended daily value of selenium, and significant servings of B12, B6, and other trace minerals. And if you're one of the many Americans that doesn't get quite enough Vitamin D into your diet, one serving of salmon can account for your entire daily need!
In addition to the incredible health benefits of salmon, we love this meal prep idea because it allows you to truly eat seasonally. Stone fruit season happens when every farmer's market and produce aisle is alive with the bounty of summer. To round off the carbs and protein, we used green beans, zucchini, and carrots. However, please do what feels best. Use whatever vegetables you love, or whatever is bountiful from your local farms (or your own garden!). This delicious Apricot Salmon Meal Prep is an elevated mid-week lunch or a nutritious family dinner. We hope you love it as much as we do!
Read More: 35 Meal Prep Recipes with Salmon!
Paleo Apricot Salmon Meal Prep Ingredients
8 oz. fresh salmon (2 filets)
1 tablespoon maple syrup
1 tablespoon coconut aminos (or sub soy sauce)
1 tablespoon avocado oil
¼ teaspoon garlic powder
1 apricot, diced
4 cups of seasonal veggies: green beans, zucchini, carrots, etc.
pinch of Himalayan sea salt
1 cup cooked jasmine rice, optional for serving (do not use if following a paleo diet)
How to Make Paleo Apricot Salmon Meal Prep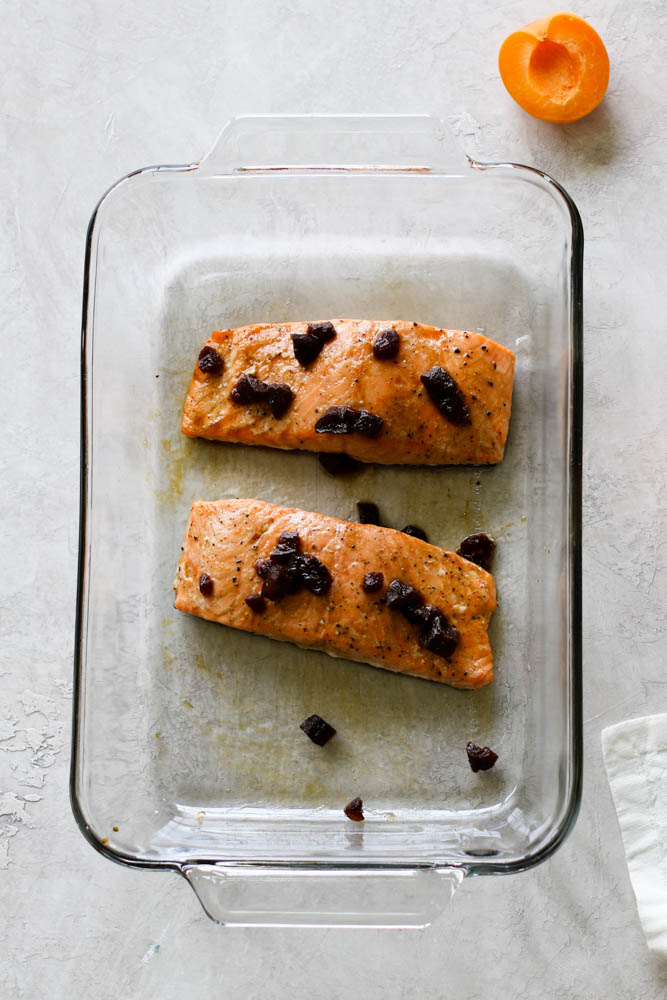 Combine the apricot with the coconut aminos and maple syrup in a small bowl along with the avocado oil and garlic powder. Set it aside. Transfer the salmon to a baking dish and top with the apricot marinade. Bake it in the oven and get the rice started while that's going on. If using, cook the jasmine (or maybe even cauliflower rice!) rice while the salmon bakes and you're assembling some veggies to steam. You can even used bagged frozen mixed veggies in a pinch; there's no shame in that and a well-stocked freezer is one of our favorite things.
How to Store and Serve Paleo Apricot Salmon Meal Prep
You can either store this in containers that are just one big compartment or ones that are multiple compartments. Serving this all tossed together is equally as good as eating the veggies, rice, and salmon separately. Keep it in the fridge for up to 4 days and reheat gently; you don't want to overcook the salmon! The whole thing can be frozen, too, if desired. Just defrost in the fridge first or pop it in the oven, tented with foil over it. Use any kind of veggies you want!
Pro tip: It's probably a good idea, however, to freeze the rice separately if you're going to freeze leftovers or a couple of servings. Rice should be reheated on its own and not in the oven; it will dry out too much.