Healthy, gluten-free Tex Mex with Sheet Pan Salmon Fajitas
Fajitas are a popular dish in Mexican cuisine. Fajitas are versatile, simple, and flavorful - everything we love in a meal prep recipe! As you know, we make delicious meals more nutritious and diet-inclusive. Today, we're doing that with fajitas -- presenting you with Sheet Pan Salmon Fajitas!
The fajitas dish history dates back to the 1930s and 40s when cowboys led the wild west of Texas. However, credit for the creation of fajitas goes to the Mexican ranch workers along the Rio Grande. Ranch workers received partial payment for their work in the form of food. After a day's work, ranchers received skirt steak - the toughest and least desirable part of a butchered steer. The workers made the best of the meat by cooking it up and serving it on a flour tortilla with onions and peppers. The term "fajita" comes from "faja," meaning belt or girdle - in this case, skirt. As time went on, fajitas turned into anything with meat and peppers stuffed in a flour tortilla. But today's fajitas sheet pan meal prep idea is gluten-free, so no flour tortillas here. We also swapped skirt steak for a juicy cut of salmon. Technically, these aren't fajitas -- but we won't tell if you don't.
This sheet pan style fajita recipe adds a dose of healthy fats thanks to salmon along with antioxidant-rich veggies for a complete meal with easy cleanup!
How long will Sheet Pan Salmon Fajitas last for?
When properly stored, Sheet Pan Salmon Fajitas will last for 3 to 4 days. Both the cooked salmon and vegetables will last at least 3 days in the refrigerator, so you can store them together. Store cooked salmon and vegetables in a shallow plastic airtight container. You can also portion the salmon and veggies to wrap in aluminum foil packets.
Can Sheet Pan Salmon Fajitas be frozen?
Yes, you can freeze this sheet pan meal prep idea. Cooked salmon will last for 6-9 months in the freezer, no problem. If you plan on freezing this recipe, don't cook the vegetables all the way; you want them to still have their crunch when freezing. Since this is a sheet pan recipe and everything is cooked together, it's best if you only freeze the cooked salmon. Wrap each piece of salmon on parchment paper and store them in a freezer bag.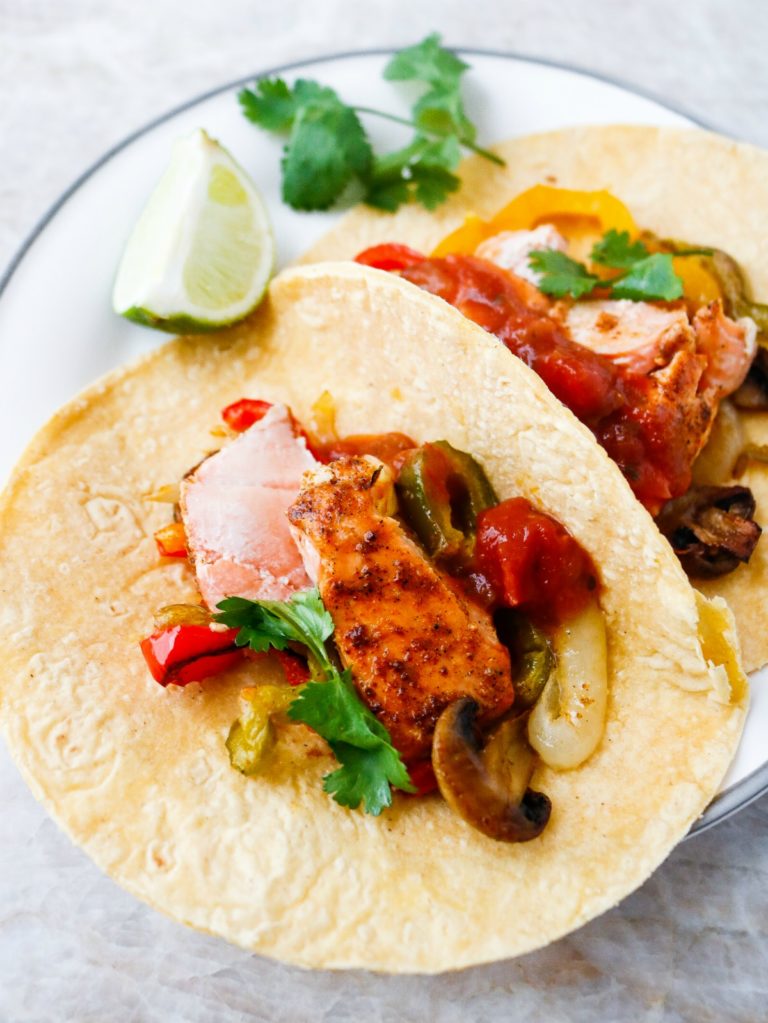 Sheet pan Salmon Fajitas Ingredients:
For Salmon
1 lb. salmon, sliced into 4 pieces

2 teaspoon olive oil

1

tablespoon

lime juice

½ teaspoon cumin

½ teaspoon chili powder

¼ teaspoon onion powder

¼ teaspoon sea salt
For Vegetables
1

tablespoon

olive oil

3 cups sliced bell peppers

1 cup sliced white button mushrooms

1 cup sliced sweet white onion

¼ teaspoon sea salt

⅛ teaspoon cracked black pepper
For serving
8 gluten-free tortillas

⅓ cup cilantro

4 lime wedges

⅔ cup salsa
We also love this Homemade Fajita Seasoning, if you'd like to try making it for yourself.
How do you make Sheet Pan Salmon Fajitas?
Here's the fun part! The ease, short time, and hassle-free clean up make this sheet pan recipe a fun fajita fan favorite (say that five times fast for extra fun).
First things first - preheat your oven to 400 degrees and line a medium sheet pan (9" x 13" x 1") with parchment paper. If you haven't already done so, cut your salmon into four pieces and place them on the sheet pan skin side down. Then grab a small bowl and stir lime juice, olive oil, cumin, chili powder, onion powder, and sea salt together. Brush or spoon the seasoning mixture onto each piece of salmon.
Once the salmon is prepped, grab a medium bowl and mix the onions, peppers, and mushrooms with olive oil, sea salt, and black pepper. Arrange the vegetables around the salmon and bake for 20 minutes. For added texture and burst of flavor, char the veggies; set your oven to broil for an additional 3-4 minutes.
As your sheet pan meal cools, heat your tortillas, and get your salsa, lime wedge, & cilantro ready for a delicious gluten-free Tex Mex meal in under 35 minutes.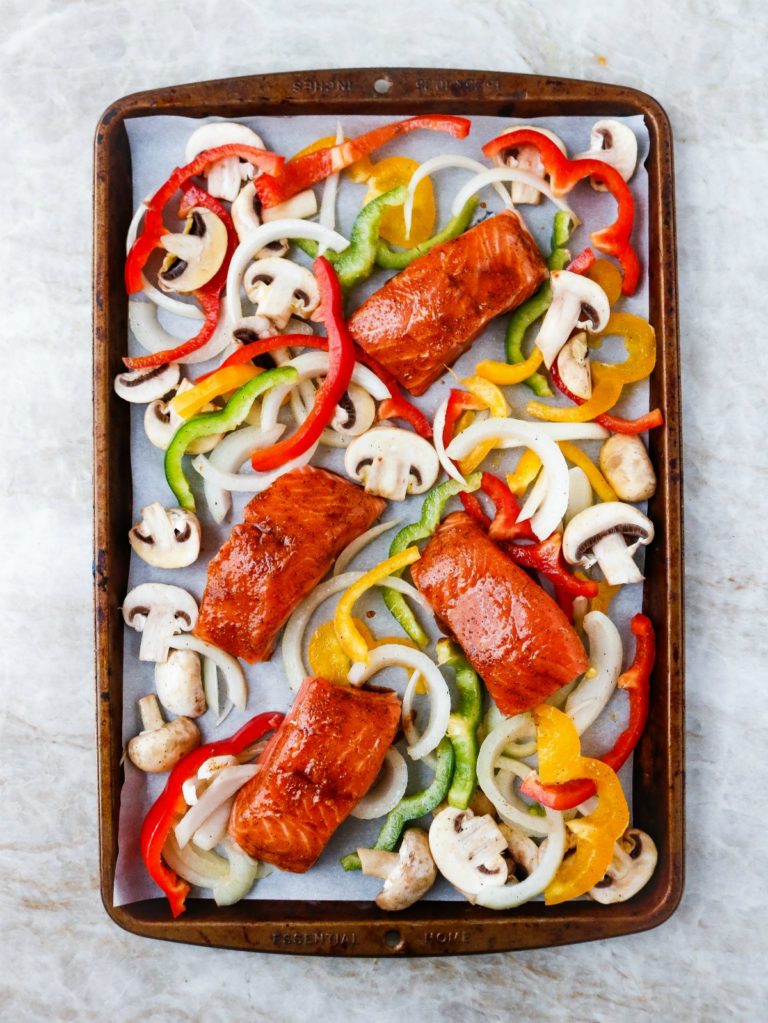 How to portion Sheet Pan Salmon Fajitas?
Our Sheet Pan Salmon Fajitas recipe gives you 4 healthy and savory meals. Grab four three-compartment meal prep containers and distribute tortillas with salsa, a lime wedge, & cilantro, salmon, and veggies. Your gluten-free tortillas go into the biggest compartment with lime, cilantro, and cupped salsa on top. Fill the two remaining compartments each with one piece of salmon and roasted peppers, onions, and mushrooms.
More Sheet Pan Fajitas meal prep recipes:
This isn't our first sheet pan fajitas rodeo! Try these other mouth-watering sheet fajitas recipes - Sheet Pan Shrimp Fajitas and Sheet Pan Chicken Fajitas. You can also try similar sheet pan Mexican cuisine inspired recipes
Sheet Pan Zesty Stuffed Poblano Peppers
Sheet Pan Chimichurri Chicken and Veggies
If you're looking for more sheet pan recipes in general, check out our favorite 35 Sheet Pan Meal Prep Recipes (That Will Change Your Life)
Other tips for making Sheet Pan Salmon Fajitas:
As with any sheet pan recipe, do not overcrowd the pan. Doing so results in unevenly cooked food.

If you want to char your vegetables, check the salmon first. Thoroughly cooked salmon is flaky with an internal temperature of 145 degrees.

If you plan on freezing this recipe, make sure the salmon is completely cooled - no steam should be coming from it. Steam evaporating from the fish creates moisture, leading to bacteria. Thaw frozen salmon in the refrigerator for a few hours to overnight when you're ready to eat.

Trader Joe's Brown Rice Gluten-Free Tortillas are some of the best gluten-free tortillas around!

For more cuisine authenticity, make fresh salsa and tortillas. Make gluten-free tortillas with white rice flour and tapioca starch.