Sweet Potato Wedges With Tahini
Let's face it...Fries are delicious. We know we love them at MPOF! While this is certainly true, unfortunately, traditional fries contain very unhealthy levels of saturated and trans fats. The good news is that you aren't completely prohibited from having fries on a paleo meal program, and that's what makes today's meal prep recipe so exciting!
Consisting of just two main ingredients, this sweet potato wedge meal prep recipe is the embodiment of simplicity! Simple, and simply delicious! Just because it's simple doesn't mean it lacks nutritional value, though. Did you know that sweet potatoes are loaded with vitamins and minerals? A single sweet potato contains 20,000IU of vitamin A, 4 times your suggested daily value! Vitamin A is an essential nutrient for healthy lungs, heart, and kidneys. The health benefits don't stop there though, because sweet potatoes also regulate blood sugar levels, aid in weight loss, and enhances brain function too. Plus, their skins are totally rich in antioxidants!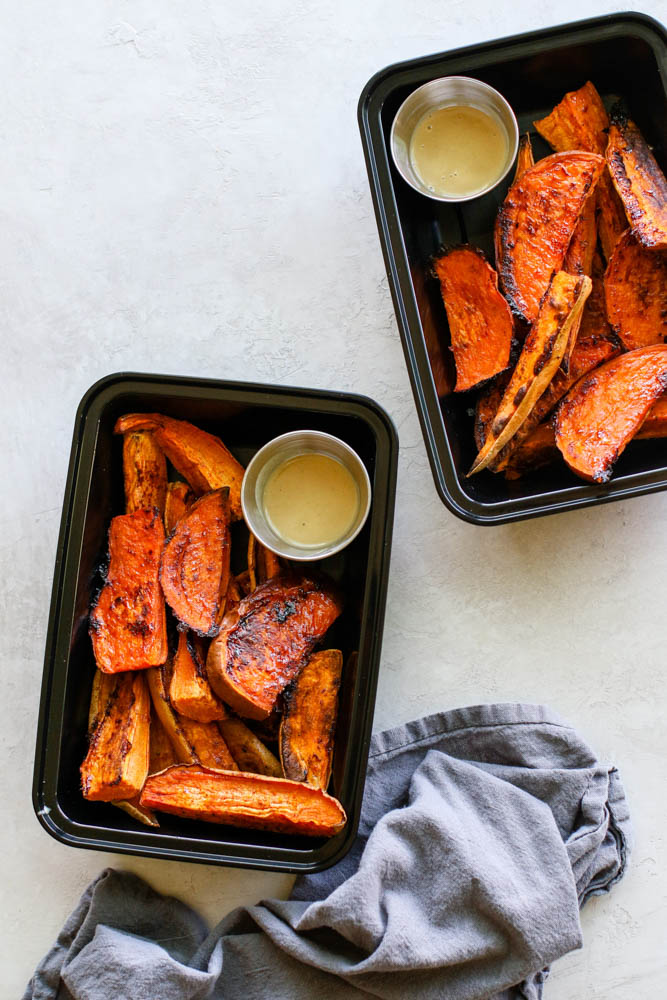 Enjoy healthy fries and dip for a different take on snacking! Sweet potato wedges with an addicting spice blend dipped in runny tahini.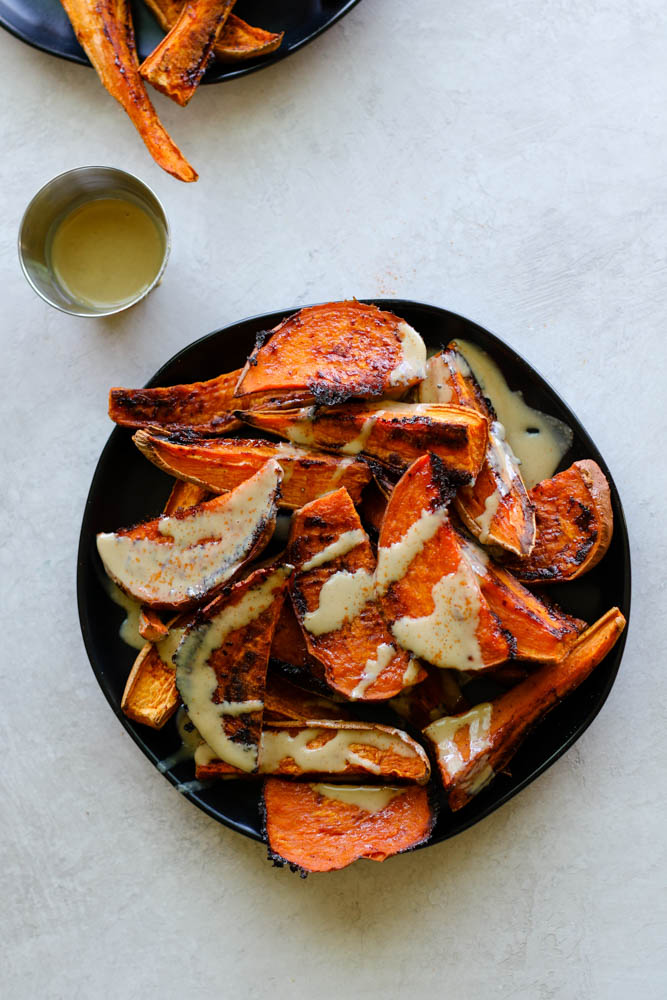 Meal Prep Snack
We know these sweet potato wedges are good because they are paleo diet-compliant! If you're wondering what that means, no sweat—We were all beginners once too! The paleo diet, also known as the caveman or stone-age diet, is based on archeological evidence that suggests what our ancestors were eating up to 2.5 million years ago. The main concept of paleo is that only raw, unprocessed foods should be eaten, which means that it prohibits the consumption of grains, dairy, and beans. Because the sweet potatoes are minimally-processed in this meal prep recipe, they are considered paleo-compliant! Check out more Paleo Recipe HERE
One of our favorite flavors in this sweet potato wedge meal prep recipe is the runny tahini sauce! Tahini is, of course, delicious, but it's the nutritional facts that really impress us. Tahini is rich in nutrients like potassium, magnesium, and calcium, and is known to have anti-inflammatory benefits. It can also aid in weight loss and liver detoxification, and his high in vitamins B and E.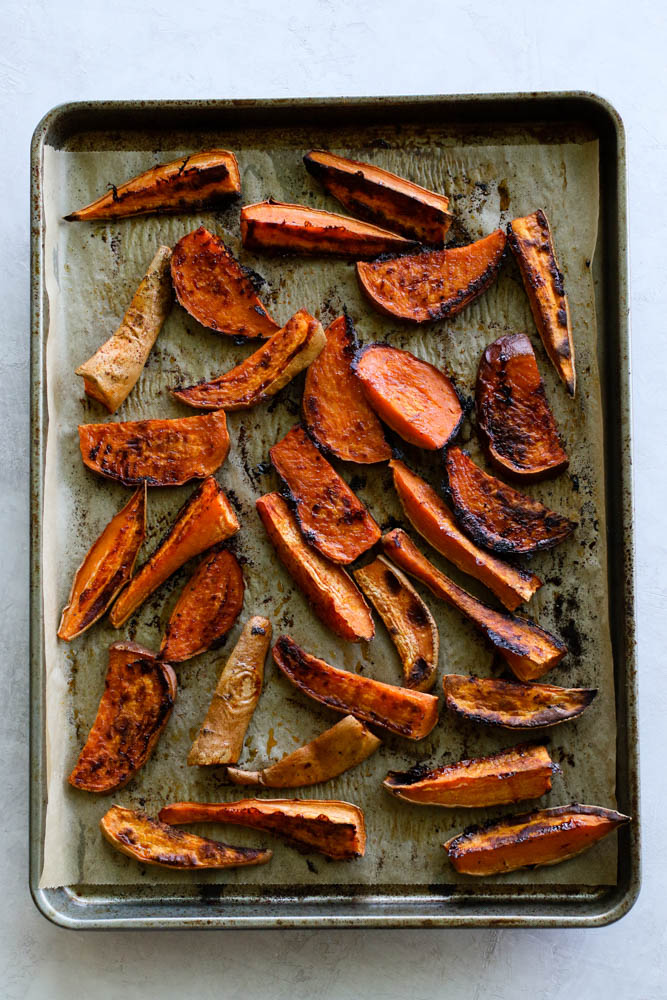 Nutrition Details:
Tahini has a rich history, dating back at least 4000 years! The first recorded mention was found in ancient Egyptian cuneiform texts. The word 'tahini' itself comes from the Arabic word 'tahana', which means "to grind". This is presumably because tahini is made entirely of ground sesame seeds. Sesame paste, the base of tahini, is also used in some Japanese, Chinese, and Indian cuisine.
Do you love sweet potatoes as much as we do? If so, we've got you covered. For your healthy meal prep options next week, consider our Sheet Pan Sweet Potato Breakfast Hash meal prep recipe, Gluten Free Sweet Potato Pizza, or even these delectable Baked Lentil Sweet Potato Falafels with Avocado Cream Sauce!
This sweet potato recipe makes two servings, so consider taking some as a snack or doubling your recipe. Each serving is excellent body fuel, providing 6g of protein, 44g of carbs, 12g of fat, and an impressive 8g of dietary fiber! Eat these sweet potato wedges for lunch, and you'll be full and energized for the rest of your day.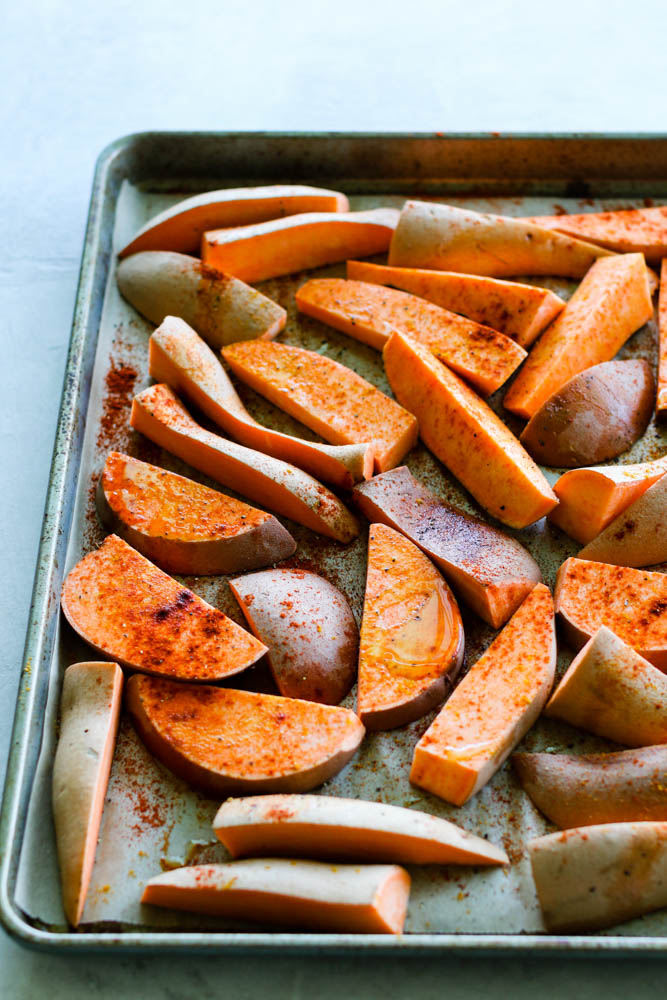 Sweet Potato Wedges With Tahini Ingredients:
2 sweet potatoes
olive oil
Himalayan sea salt
Black pepper
½ teaspoon chili powder
½ teaspoon cumin
½ teaspoon smoke paprika
2 TBS runny tahini