Penne pasta is the centerpiece of this Chicken Penne Meal Prep recipe. Many kinds of pasta are named after the thing they look the most like. This case is no different! Penne pasta is named after 'penna' which means 'pen' in Italian. This pasta do look like those old-fashioned pens or quills. Penne is usually cooked with meat and tomato sauce but also goes extremely well with lighter meats and veggies like chicken and asparagus.
Speaking of lighter meats, this recipe is lighter on your waist. We made this ingredient list with a lighter pasta that also delivers the protein by being made from chickpeas instead of the traditional wheat flour. The chickpea, or garbanzo bean, has fiber and protein as well as carbohydrates, optimizing this meal prep recipe for your weight and fitness goals. Drop in the asparagus, shallots, and pistachios and you have a well-rounded, highly nutritious meal!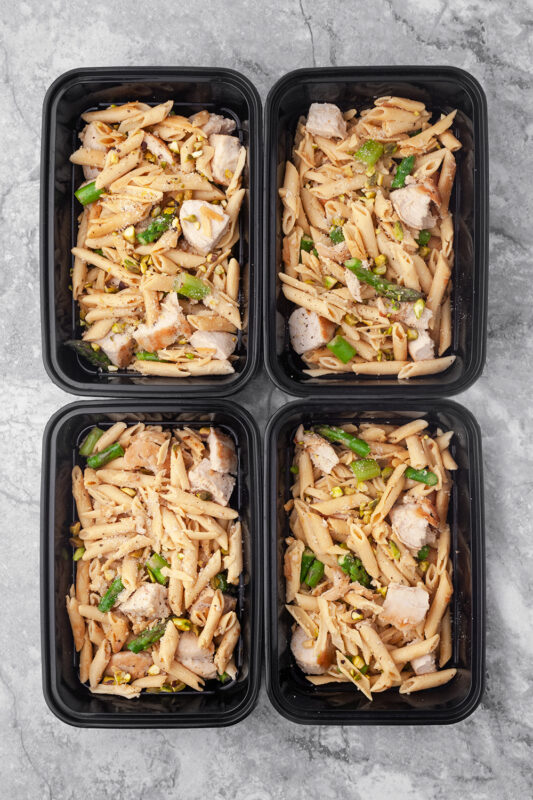 How long will Chicken Penne Meal Prep last for?
Your Chicken Penne Meal Prep is great in the fridge for up to 3-4 days which is just right if you eat one portion or more per day.
Can Chicken Penne Meal Prep be frozen?
Absolutely! This is a perfect meal prep recipe for the freezer if you want to store your Chicken Penne Meal Prep for 2-3 months. Go on and space them out while experimenting with other pasta-rich, or pasta-free lunches and dinners you make yourself.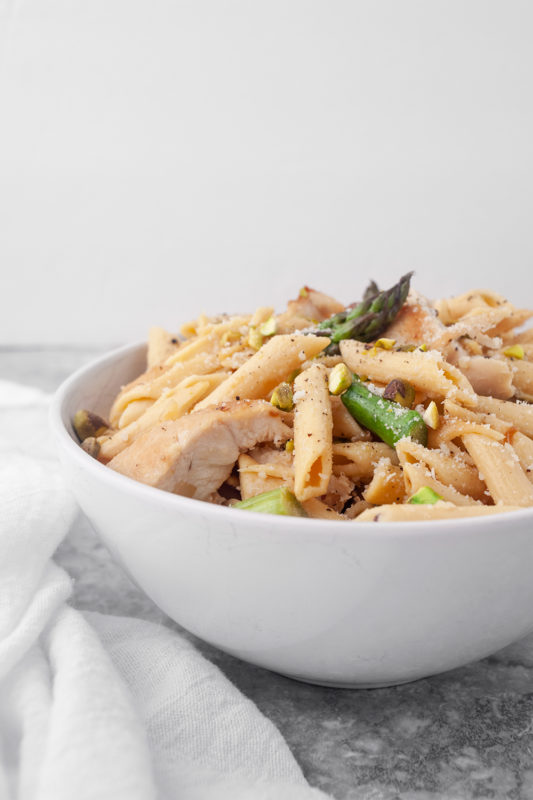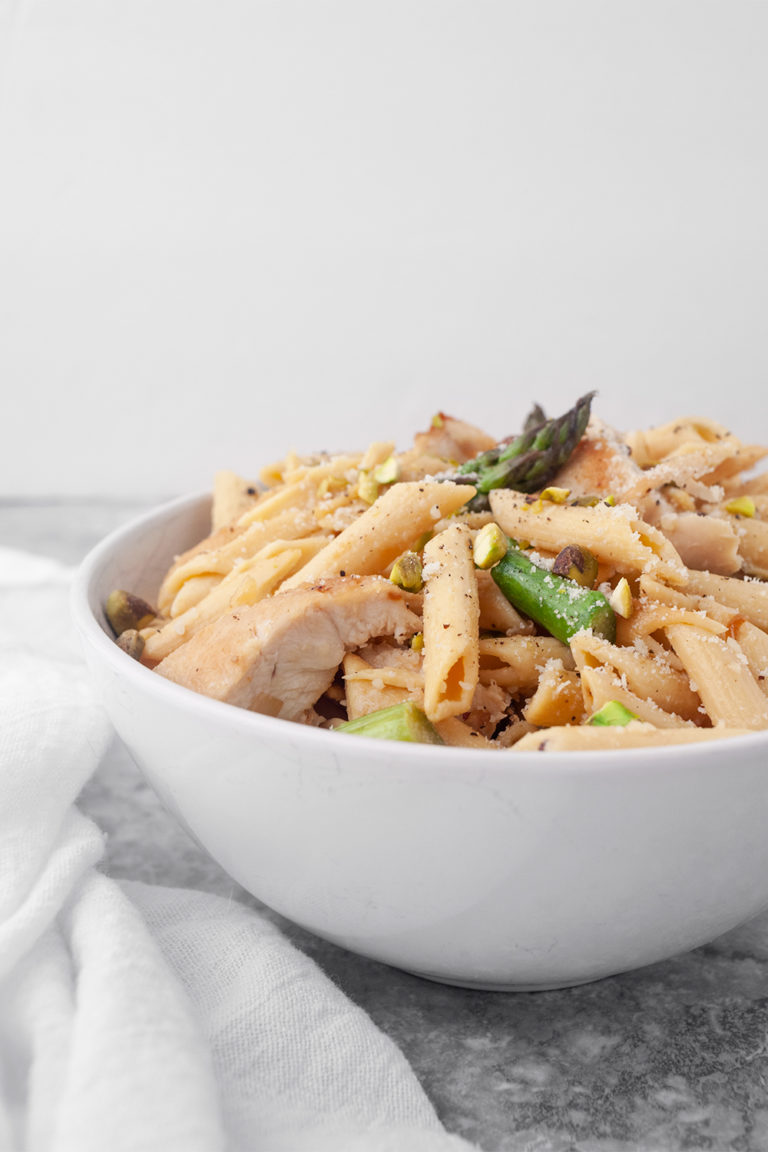 How do you make Chicken Penne Meal Prep?
This dish takes just 5 minutes to prep and 20 minutes to cook for four portions of 620kcal Chicken Penne Meal Prep – with Asparagus and Pistachios! There are three fundamental steps. First, cook the chicken. Second, sauté the vegetables. Third, add butter to the pasta and then add all the rest. We love it at MPOF when a meal prep recipe has bite-sized instructions!
How to portion Chicken Penne Recipe?
Portion the cooked Chichen Penne Meal Prep into four equal servings with four single-compartment meal prep containers. If you're more of a stay-at-home meal-prepper, enjoy glass containers which are a better long-term investment.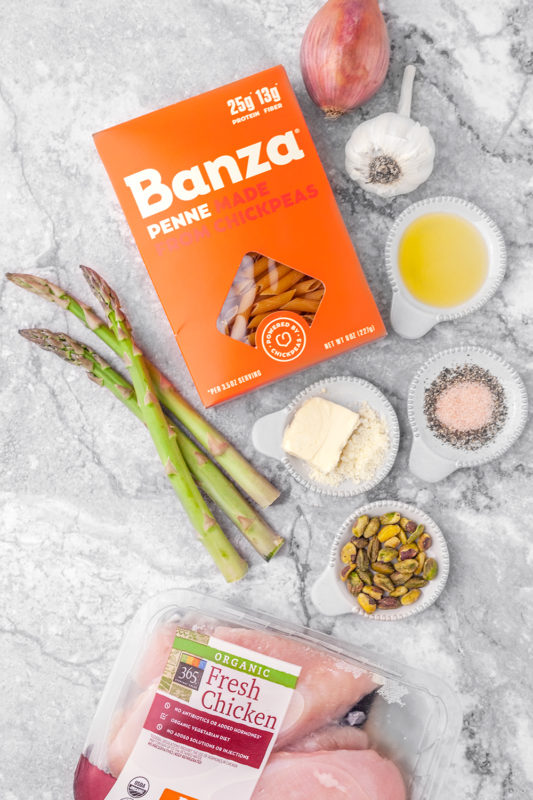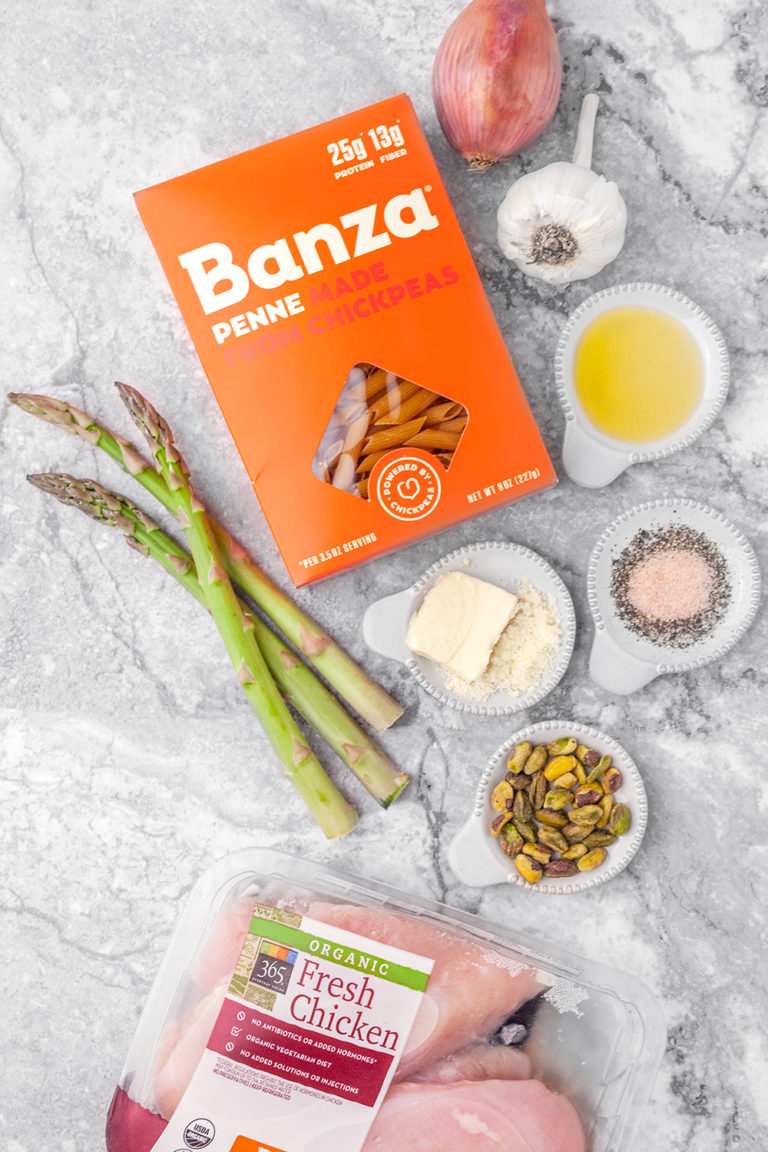 More Chicken meal prep recipes: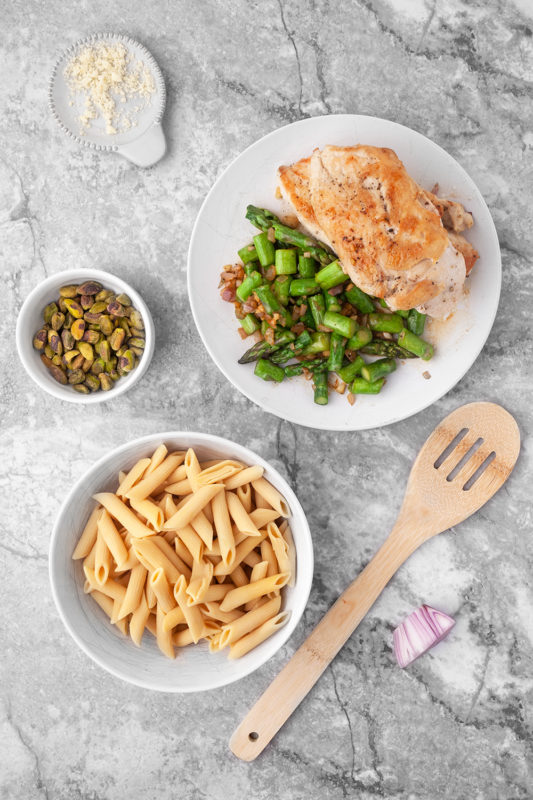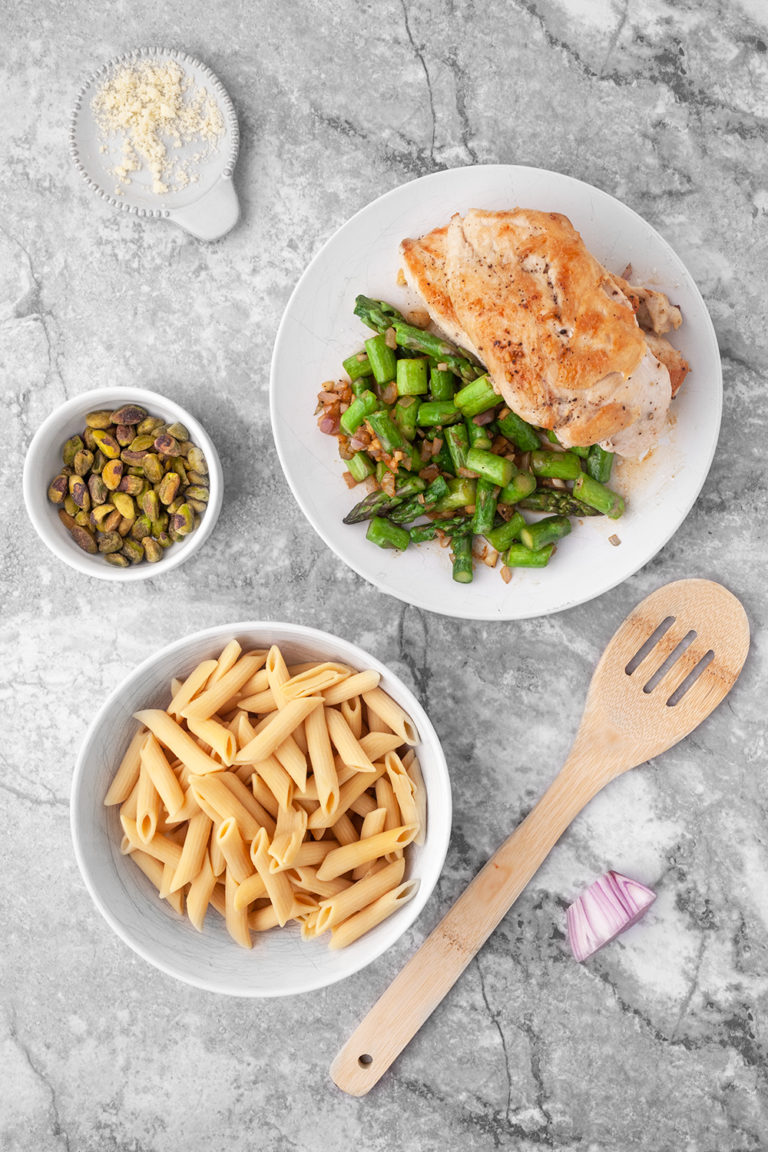 Other tips for making Chicken Penne Meal Prep:
Use organic asparagus and shallots, if possible. If you have a farmer's market available, take advantage of it!

Create your meal prep with fewer calories and carbohydrates – according to your goals – by using ½ the listed amount of pasta

Use thicken thighs if you prefer dark meat over the light meat of chicken breasts for this meal prep recipe.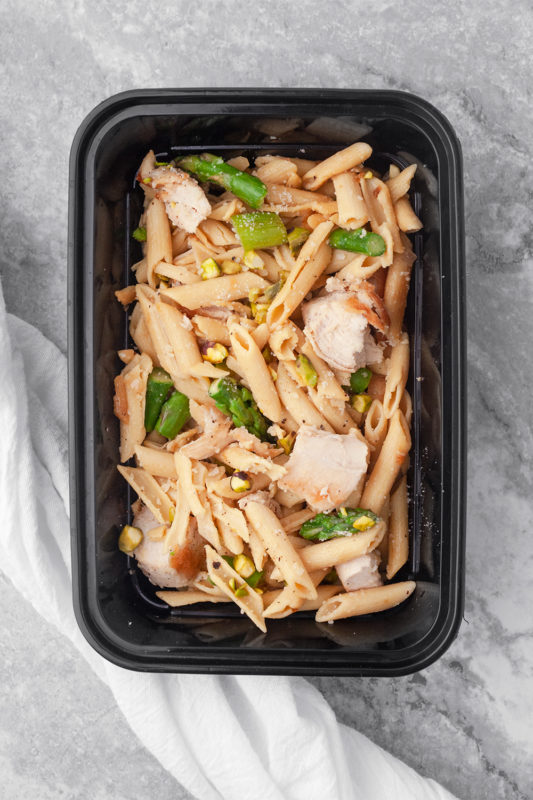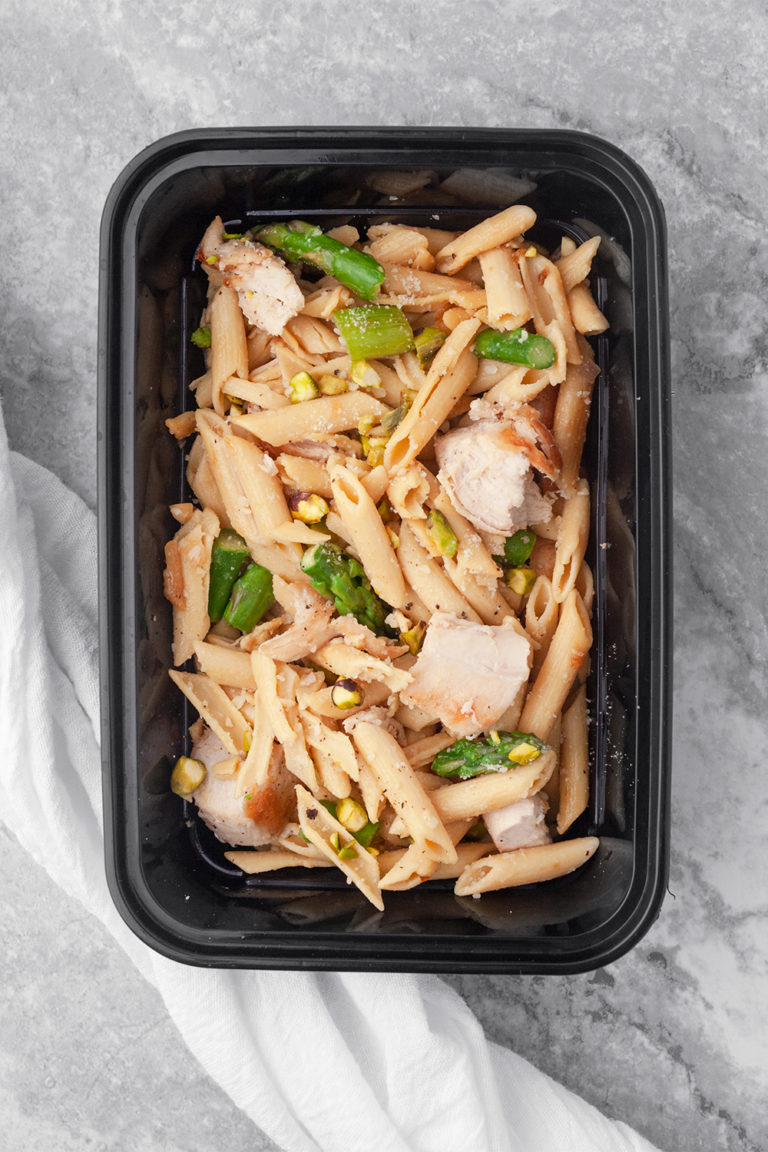 Chicken Penne With Asparagus and Pistachios Ingredients:
16 ounces Banza Penne Chickpea Pasta, cooked and rinsed
1 lb. Boneless Skinless Chicken Breast
1 cup Cut Asparagus
¼ cup Grated Parmesan
2 Tbsp. Finely Chopped Shallot
1 Tbsp. Minced Garlic
1 Tbsp. Extra Virgin Olive Oil
1 Tbsp. Butter
4 tsp. Chopped Shelled Pistachios
1/2 tsp. Ground Black Peper
1/4 tsp. Pink Himalayan Salt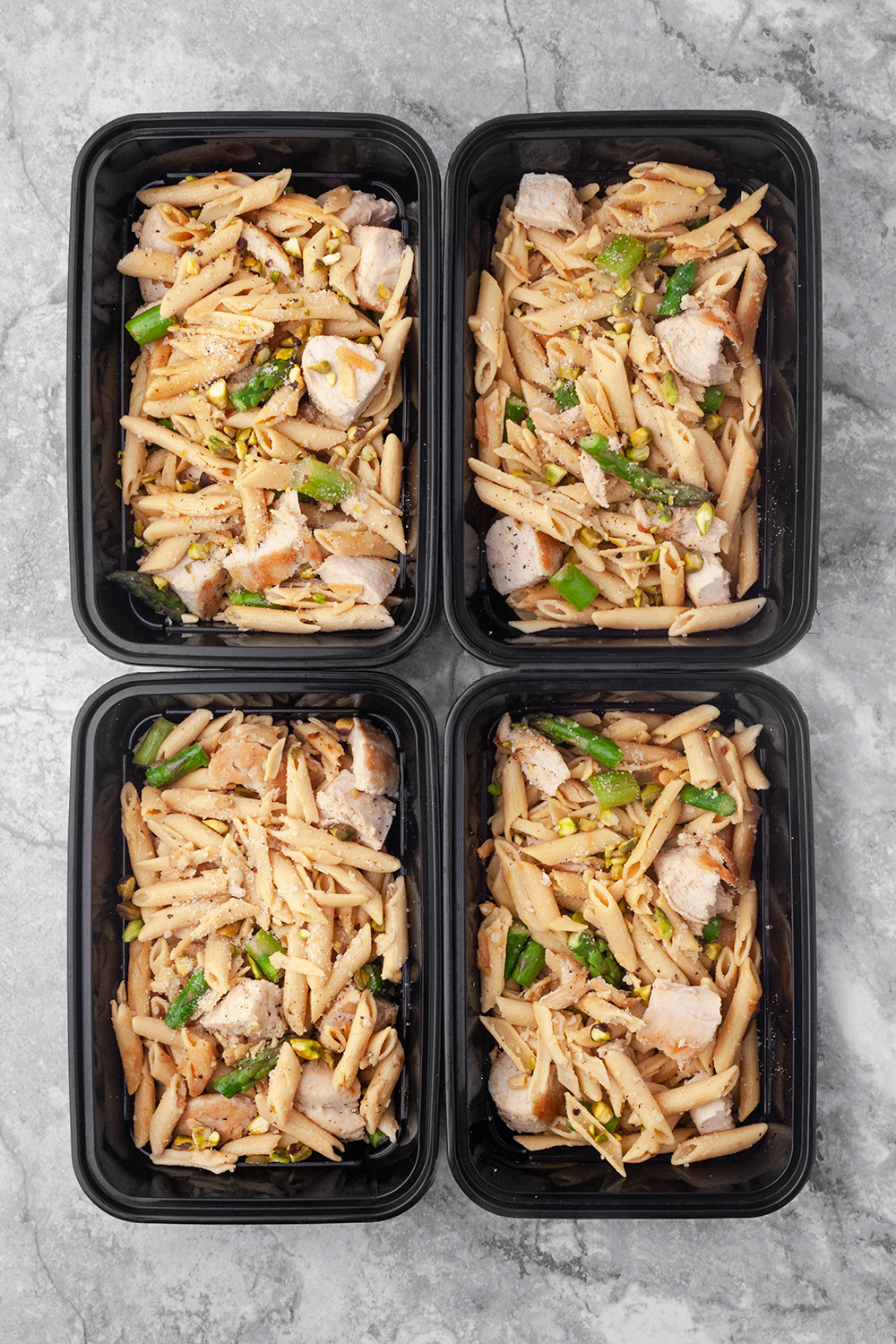 Ingredients
16

ounces

Banza Penne Chickpea Pasta

cooked and rinsed

1

lb.

Boneless Skinless Chicken Breast

1

cup

Cut Asparagus

¼

cup

Grated Parmesan

2

Tbsp.

Finely Chopped Shallot

1

Tbsp.

Minced Garlic

1

Tbsp.

Extra Virgin Olive Oil

1

Tbsp.

Butter

4

tsp.

Chopped Shelled Pistachios

1/2

tsp.

Ground Black Peper

1/4

tsp.

Pink Himalayan Salt
Instructions
Heat skillet over medium-high heat, then adds oil.

Place chicken breasts in pan and let cook ~6-8 minutes on each side. Once fully cooked (reaching an internal temp of 165℉), set aside onto a plate to rest a few minutes, then cut into bite-sized pieces.

Next, add to the pan minced garlic, cut asparagus, shallots — sauté until asparagus is bright green and tender (~3 minutes). Once cooked, remove and place in a bowl.

Now, add butter and pasta — toss until pasta is coated.

Add chicken, sautéed vegetables, seasonings, pistachios, and parmesan — gently toss until well-combined.

Serve, store, and enjoy!
Notes
*You can reduce the calories by using only 1 box (4 servings of pasta) 
Nutrition
Calories:
620
kcal
|
Carbohydrates:
68.8
g
|
Protein:
52.3
g
|
Fat:
21
g
|
Fiber:
17.6
g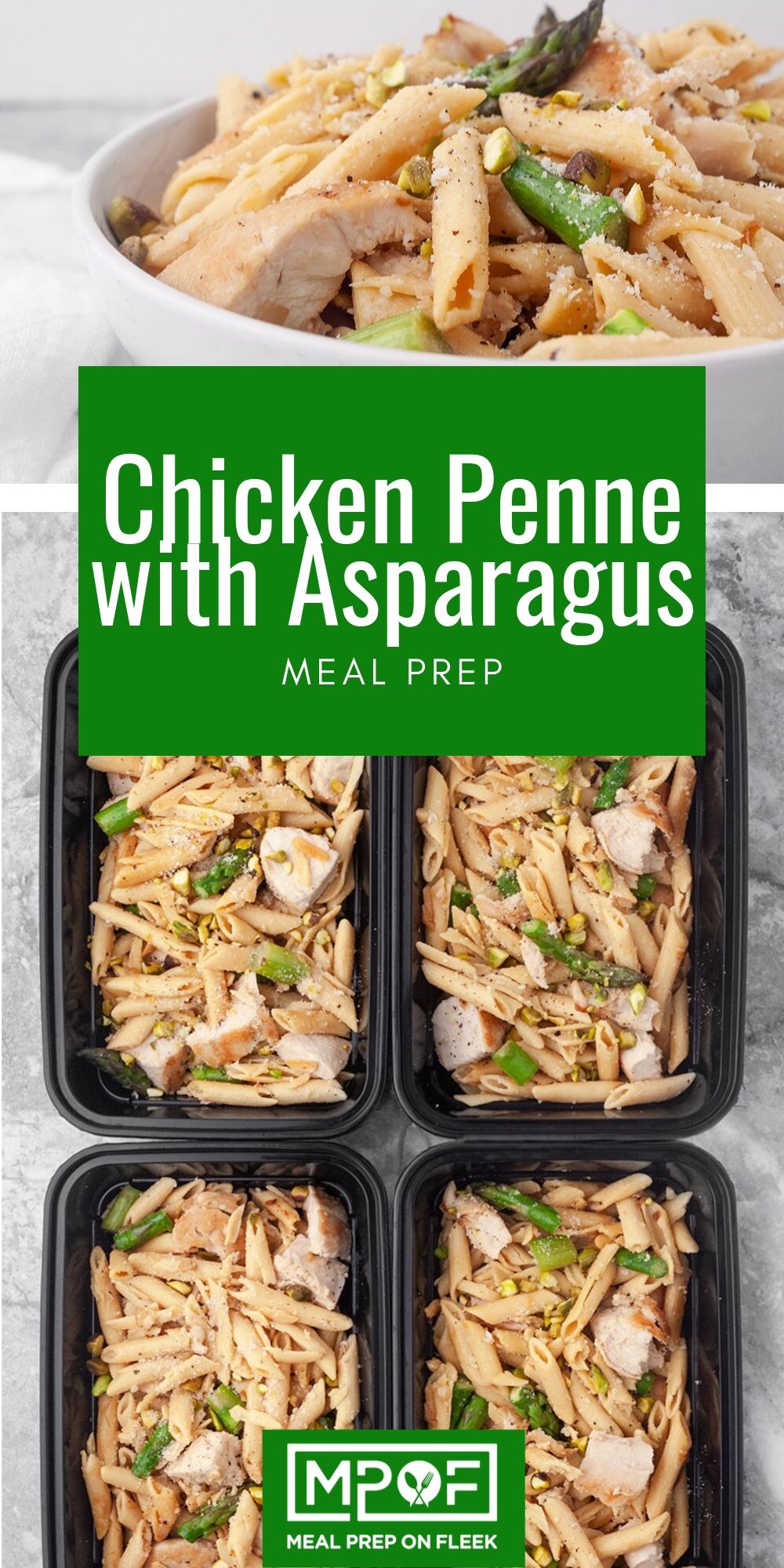 Original recipe via Meal Prep Mondays