Imagine yourself coming home to the smoky and fragrant smells of instant pot beef barbacoa! Made with chuck beef roast, garlic, cumin, and chipotle powder, our Instant Pot Beef Barbacoa recipe is an easy dinner idea that will warm your soul. Barbacoa is known as a traditional Mexican dish, but it originated in the Caribbean. Barbacoa refers to the way we cook the meat, which is slow until the meat is tender and succulent. You can slow cook beef, goat, or sheep and call it barbacoa.
How long will Instant Pot Beef Barbacoa last for?
The shredded chuck beef roast will last for 4 days in the refrigerator. Store your beef barbacoa in an airtight container and put it in the fridge to enjoy with sides or as tacos!
Can Instant Pot Beef Barbacoa be frozen?
Yes. Store your beef barbacoa in freezer bags for up to 3 months. We recommend labeling the bags before storing the meat.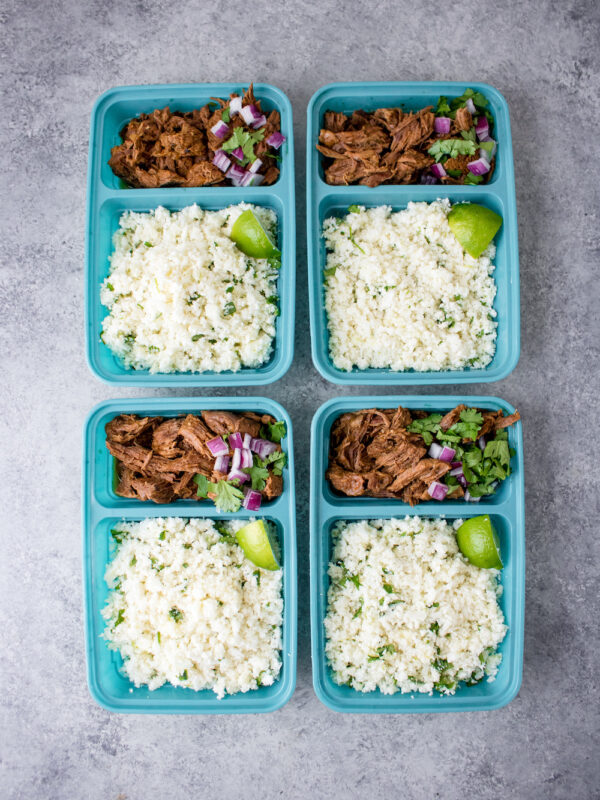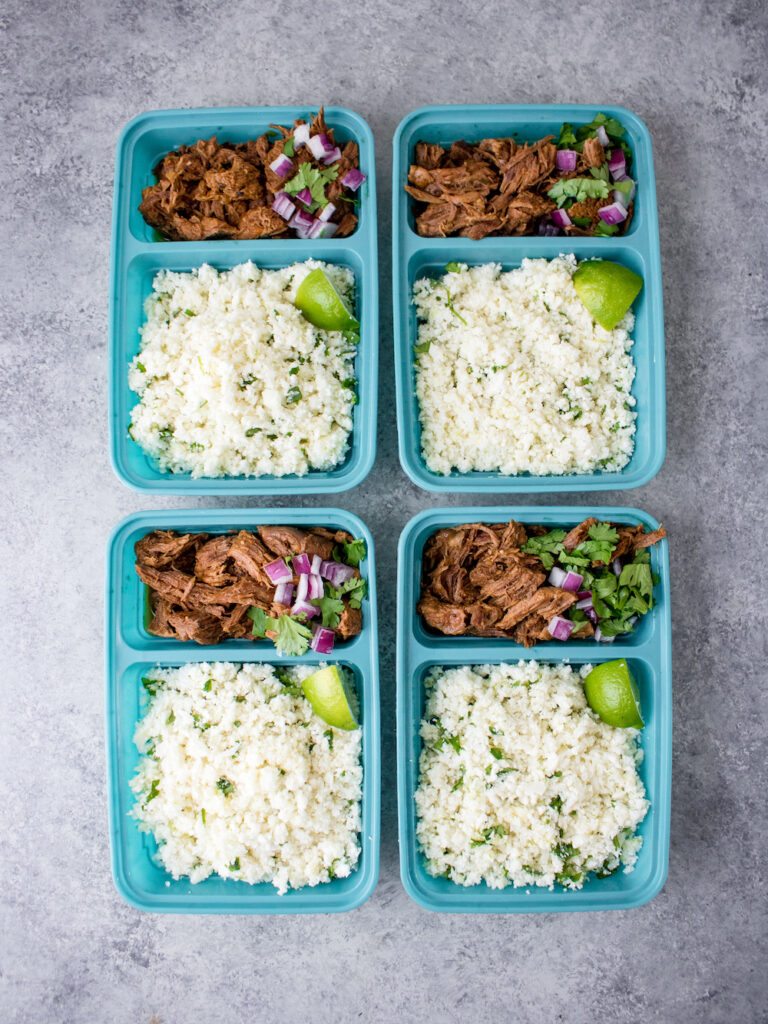 This fall apart smoky beef barbacoa is made in the instant pot for a quick-cooking Keto meal that satisfies.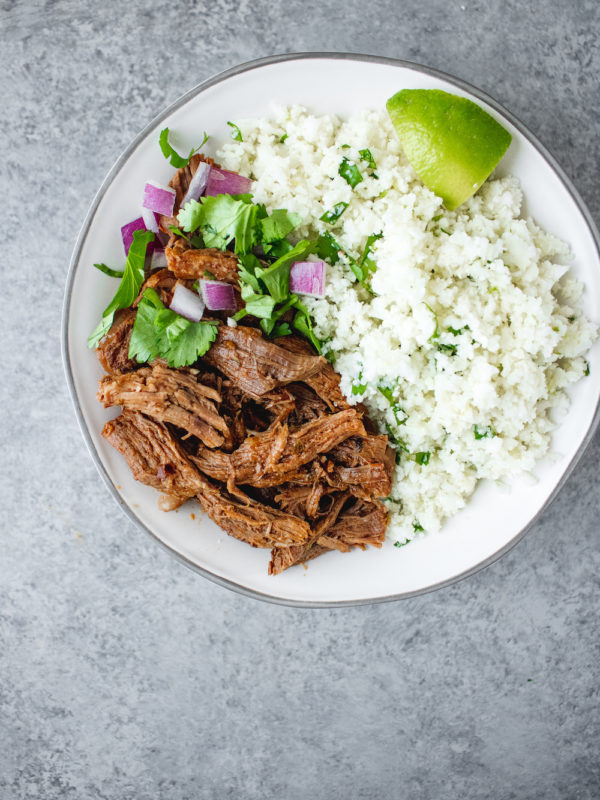 Instant Pot Beef Barbacoa Ingredients:
2 lbs. chuck beef roast
1 tsp olive oil
1 cup sliced white onion
2/3 cup beef stock
1 tbsp tomato paste
2 tsp ground cumin
1 tsp minced garlic
1 tsp dried oregano
1 tsp sea salt
1/2 tsp chipotle powder
For serving
4 cups cilantro lime cauliflower rice
1/3 cup chopped cilantro
1/3 cup chopped red onion
4 lime wedges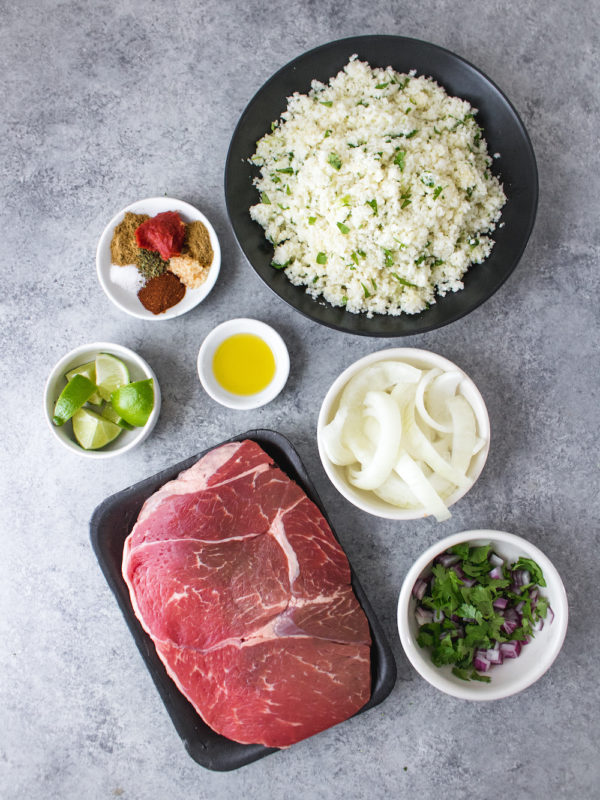 How do you make Instant Pot Beef Barbacoa?
Start by getting ready to prep our easy dinner idea. Grab your ingredients and get ready for a simple, 10-minute prep.
Turn your instant pot on and set it to "sauté." Add olive oil. Then cut the chuck beef roast into 5-6 chunks and remove excess fat. Blot the beef with a paper towel and place it into your instant pot for 8 minutes total, stirring the meat at the 4-minute mark. When the meat is brown, press "cancel" on your instant pot. Start adding your warming spices and fragrant vegetables for flavoring; so add the garlic, onions, oregano, cumin, tomato paste, chipotle powder, and sea salt. Stir all of that flavorful goodness together and add the beef stock to it. Secure the lid and close the vent cap. Use the "manual" or "meat/chicken" setting to cook the chuck beef roast for 60 minutes. Your instant pot beef barbacoa will be ready for shredding after the pot depressurizes.
While the beef barbacoa is cooking, heat your lime cilantro cauliflower rice in a lightly oiled skillet over medium heat for 6-7 minutes. Stir the cauliflower rice while cooking. Set the rice aside and wait for the beef to be done. (If you're making yourself a plate, we recommend cooking the cauliflower rice when the beef barbacoa is almost done, around the 45-minute mark). When the barbacoa finishes cooking and the pot depressurizes, remove the beef from the pot for shredding. Shred the meat with two forks on a cutting board, then place the beef back into the pot for additional stirring for complete flavoring.
That's it! A satisfying meal after those busy days. We told you this was an easy dinner idea!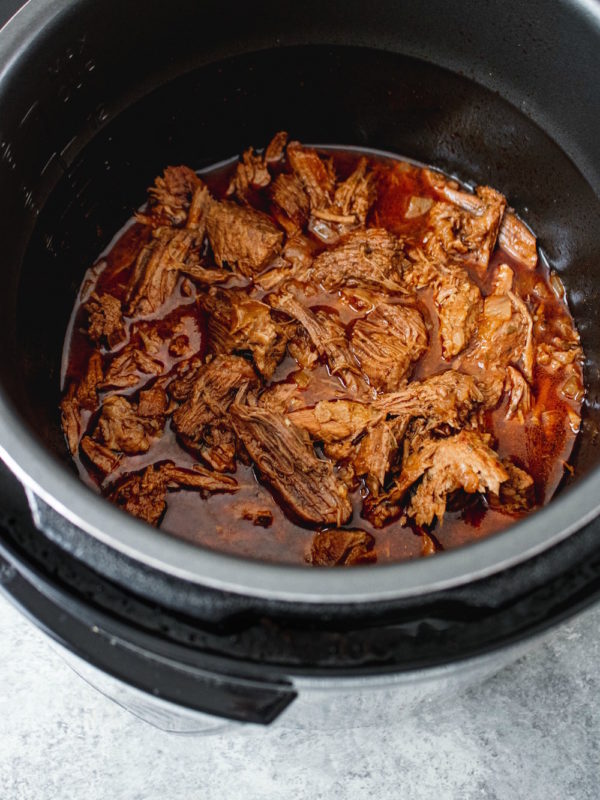 How to portion Instant Pot Beef Barbacoa?
Grab 4 MPOF dual-compartment meal prep containers. Add the beef barbacoa to the smaller compartment and the cauliflower rice to the bigger compartment. Top your beef barbacoa with red onion, cilantro, and a lime wedge.
More Instant Pot meal prep recipes:
Having an instant pot makes meal prepping so easy! That's why we feature instant pot recipes often.
Instant Pot Roast with Mashed Potatoes
Instant Pot Chicken Enchilada Soup
Instant Pot Moroccan Chicken Meal Prep
Check out these recipes and more in our 20+ Meal Prep Instant Pot Recipes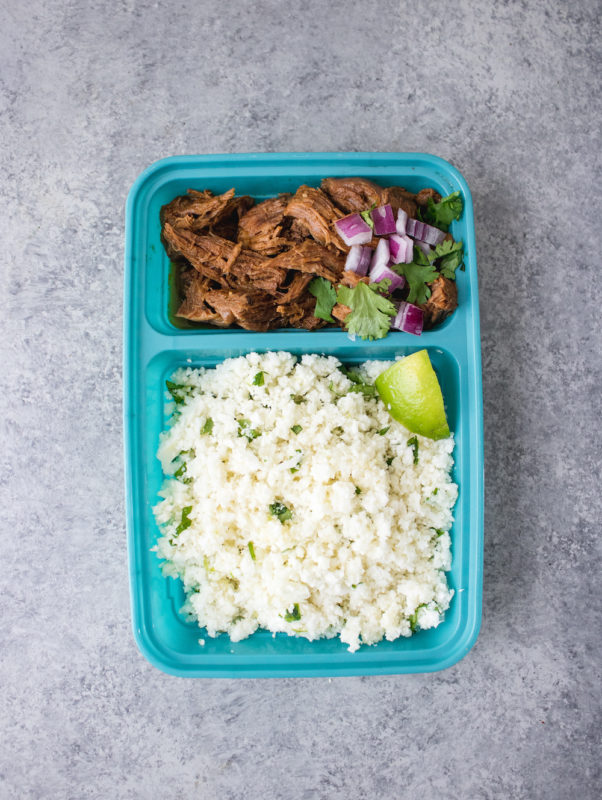 Other tips for making Instant Pot Beef Barbacoa:
Mix in some fresh lime juice after shredding and let the beef rest on "warm" for 20 minutes.
For an extra spicy kick, use chipotle chilies.
You can use beef barbacoa for tacos, burritos, salads, nachos, quesadillas, and enchiladas.
Top beef barbacoa with lettuce, cheese tomatoes, radishes, guacamole, or salsa.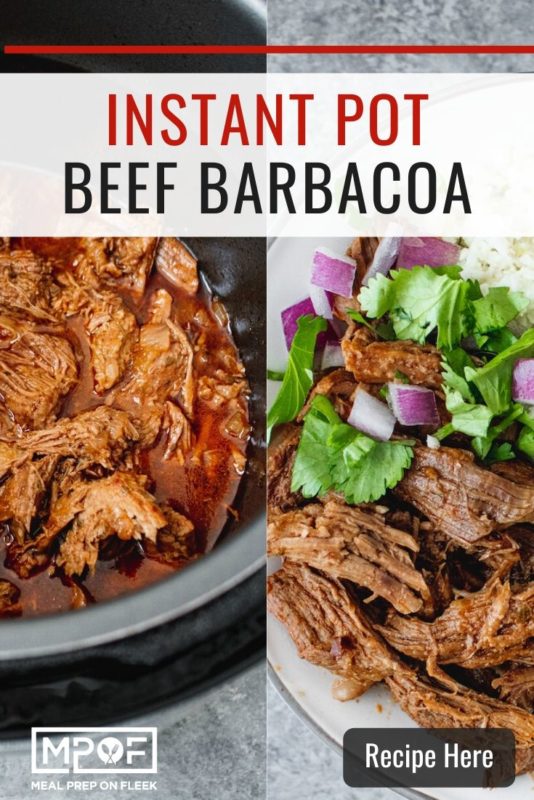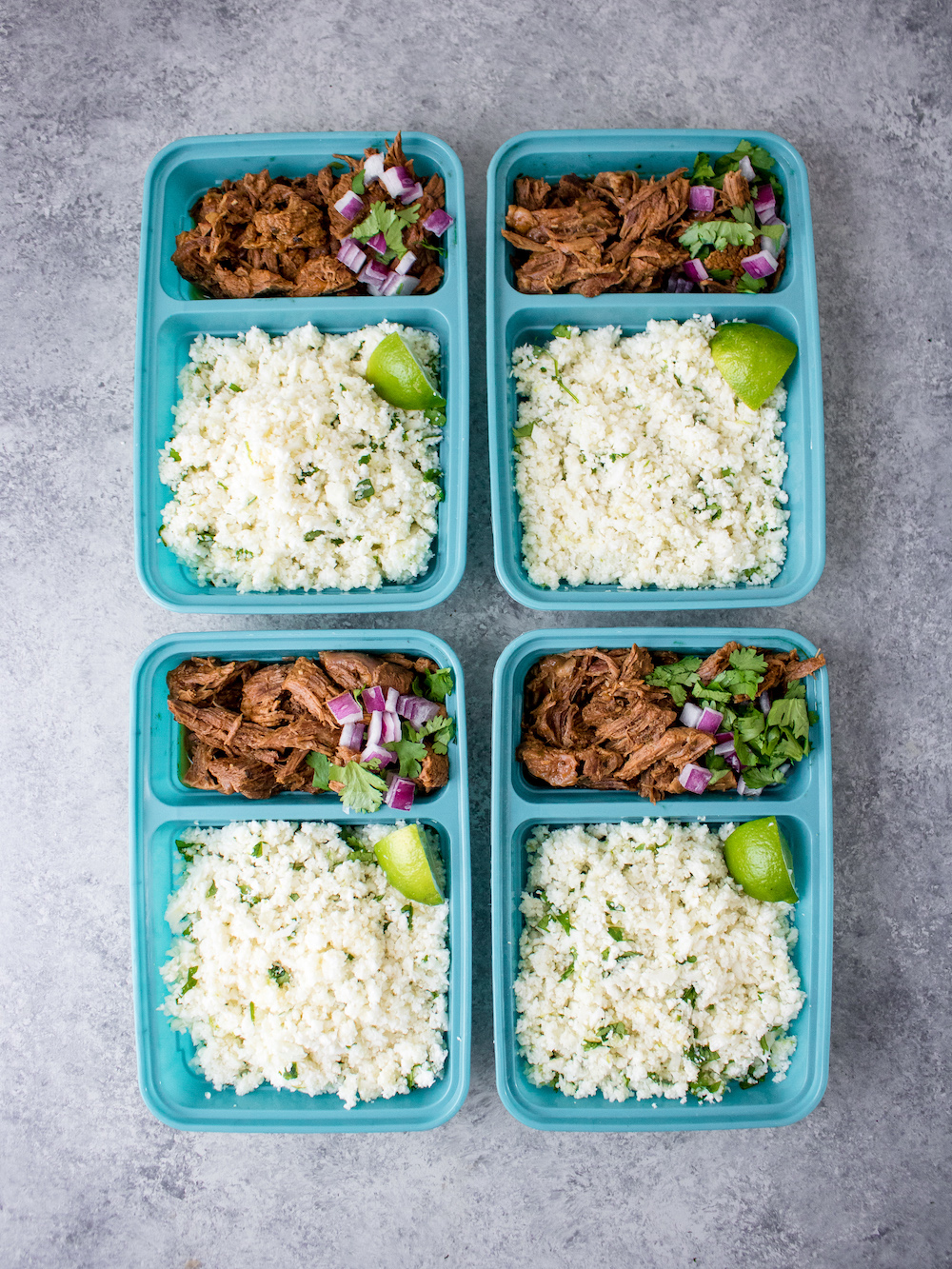 Ingredients
2

lbs.

chuck beef roast

1

tsp

olive oil

1

cup

sliced white onion

2/3

cup

beef stock

1

tbsp

tomato paste

2

tsp

ground cumin

1

tsp

minced garlic

1

tsp

dried oregano

1

tsp

sea salt

1/2

tsp

chipotle powder
For Servings:
4

cups

cilantro lime cauliflower rice

1/3

cup

chopped cilantro

1/3

cup

chopped red onion

4

lime wedges
Instructions
Turn instant pot to sauté setting and add olive oil. Cut beef into 5-6 chunks and remove any excess fat. Blot dry with a paper towel. Place beef in instant pot and sauté for 8 minutes, turning after 4 minutes to brown meat. Press cancel. Add onions, tomato paste garlic, oregano, cumin, chipotle powder, and sea salt to pot and stir. Pour in beef stock. Secure lid and close vent cap. Press meat/chicken or manual setting for 60 minutes.

While beef cooks, heat cilantro lime cauliflower rice over medium heat in a large pan for 6-7 minutes, stirring occasionally. Divide rice between 4 teal MPOF 2 cup compartments.

Allow the instant pot to depressurize before removing the lid. Place beef on cutting board and shred with 2 forks. Return to pot and stir. Divide the beef between 4 teal MPOF 1 cup compartments and top with cilantro, red onion, and lime wedges.
Nutrition
Calories:
407
kcal
|
Carbohydrates:
16
g
|
Protein:
52
g
|
Fat:
19
g
|
Sodium:
728
mg
|
Fiber:
4
g