Instant Pot Chicken Enchilada Soup
Instant Pot Chicken Enchilada Soup – just imagine all the savory flavors of chicken enchiladas served in a warm bowl of soup. This instant pot meal prep recipe takes only 15 minutes to put everything together. It's one of those heart-healthy soups that can be enjoyed year-round. It's a go-to soup especially on the days you feel you need that extra boost of energy. I'm sure this is gonna make your family's favorite list after just one bowl.
So you don't own an electric pressure cooker and you're thinking maybe this is not for you – think again. This delicious instant pot meal prep recipe can be made using a pressure cooker, slow cooker or stovetop. Whatever you have available use it.
How long will this
I
nstant Pot Chicken Enchilada Soup last for?
We did some investigation and we've found that this super easy instant pot meal prep recipe will last about 3 to 4 days in the refrigerator if properly stored. We recommend that you use these glass meal prep containers.
These meal prep containers are microwave, fridge, and freezer safe. It makes getting lunch organizer pretty easy. Just portion it up and you're good to go. The airtight and leakproof lids help keep it fresher for longer.
Can Instant Pot Chicken Enchilada Soup be frozen?
This awesome Instant Pot meal prep recipe can definitely be frozen. Ensure that the soup has completely cooled down. Once it has cooled, transfer it into your meal prep containers and pop them into the freezer. Also, we advise that you save your garnishes for after you warm it up.
To reheat, allow it to thaw out on its own and then pop it into the microwave. Top it off with your choice of a dollop of plain non-fat Greek yogurt and lunch is served. Yum!!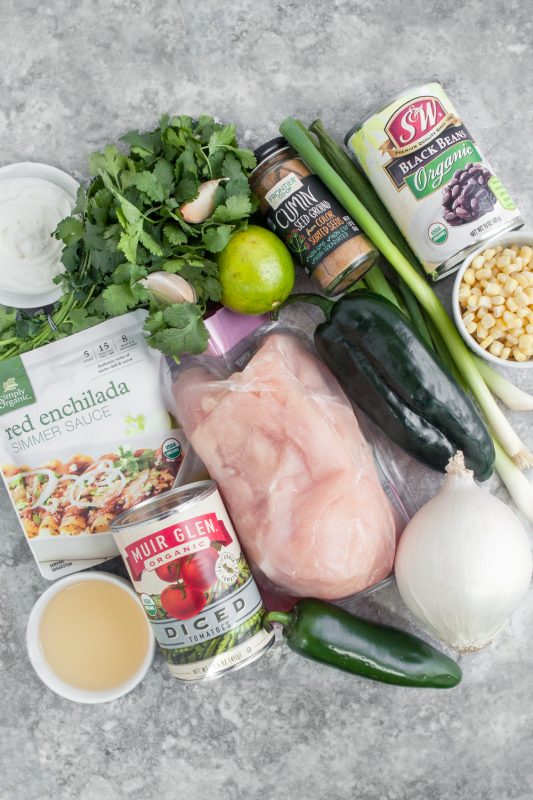 How do you make Instant Pot Chicken Enchilada Soup?
Creating this mouth-watering instant pot meal prep recipe is fairly easy. It's so simple yet so satisfying. It's like throwing everything into the pot and let it do the work for you while you work on prepping another meal prep recipe for the upcoming week.
You start by sauteing the onions, poblano peppers and corn until the onions are slightly brown. Then you add in the protein-packed black beans, chunky red tomatoes, the chicken broth, and enchilada sauce. Afterward, you throw in the chicken breasts and all of your herbs and spices to which enhances the flavor and smell of the soup.
Once that is done if you're using a pressure cooker you set it on high for 20 minutes and let it do its stuff. Fusing and combing all the delicious flavors into one wholesome meal.
Next step is to remove the chicken breasts and shred it up and add it back to the pot. Now it's time to garnish with your favorite topping and serve. If you're not going to enjoy a bowl right away, just portion and store once it has cooled down properly.
How to portion Instant Pot Chicken Enchilada Soup?
This flavorsome instant pot meal prep recipe produces 4 servings which are both hearty and healthy.
More Instant Pot Chicken meal prep recipes:
Want to spice up your weekly menu with more amazing instant pot meal prep recipes, go check out our 20+ meal prep instant pot recipes. You will have a variety of options you can create for your family for weeks to come.
Other tips for making Instant Pot Chicken Enchilada Soup:
This soup can also be transformed into a dairy-free option by eliminating the Greek yogurt altogether.

You can swap out the Greek yogurt for a dollop of low fat or non-fat sour cream if that's your preference.

If you're not comfortable using chicken stock/ broth, swap it out for vegetable stock instead.

This wholesome Instant Pot meal prep recipe can be paired with a few slices of avocado or some crunchy tortilla chips.
This instant pot chicken enchilada soup is a perfect gluten-free option to add to your list. It's packed with protein to help provide your family with that energy boost they need to handle the challenges for the upcoming week. It is also a great source of fiber which helps maintain a healthy digestive tract and promote low cholesterol levels.
Have you tried Instant Pot Chicken Enchilada Soup before? We'd love to know if it was a hit will your family. Feel free to comment below.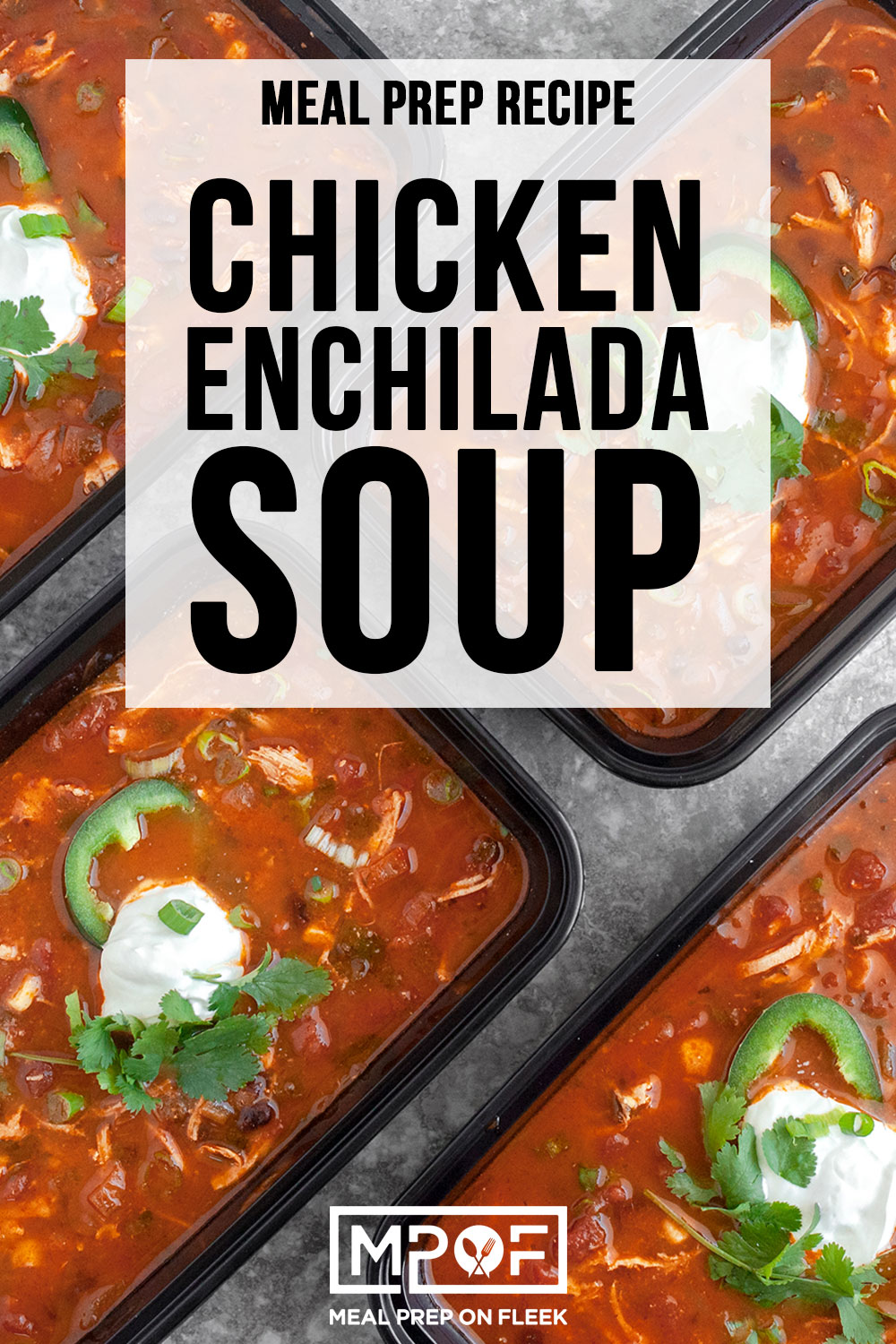 Instant Pot Chicken Enchilada Soup Ingredients:
2 Small Boneless, Skinless Chicken Breasts (~1lb.)
32 oz. Chicken Broth or Stock
5 oz. Canned Diced Tomatoes (inc. liquid)
15 oz. Canned Black Beans (rinsed and drained)
8 oz. Package Red Enchilada Sauce
1/2 C. Water
1/2 C. Frozen Corn
1/4 C. Plain, Unsweetened Greek Yogurt
1/2 Medium Onion (diced)
1 Large Pablano Pepper (diced)
2 Tbsp. Avocado Oil
3 Tbsp. Fresh Cilantro (chopped; for cooking) + 2 Tbsp. for garnish
2 Tbsp. Grated Garlic
5 Tbsp. Ground Cumin
5 Tbsp. Dried Oregano
1 tsp. Pink Himalayan Salt
1 tsp. Ground Black Pepper
Juice of 1 Lime
Optional: Sliced Green Onions, Sliced Jalapeño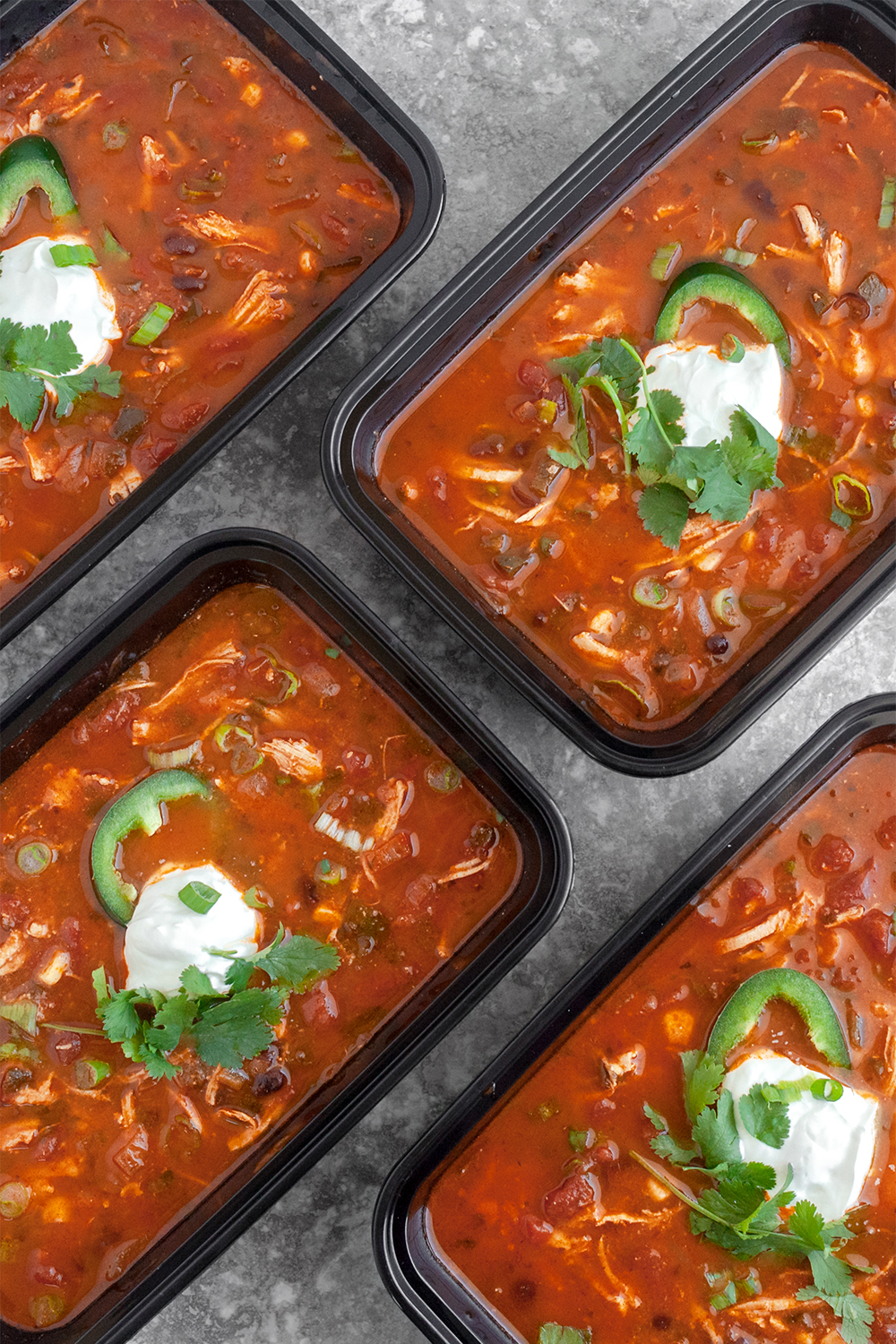 Ingredients
1

pound

Chicken Breast

skinless and boneless

32

ounces

chicken broth or stock

14.5

ounces

canned diced tomatoes

including liquid

15

ounces

canned black beans

rinsed and drained

8

ounces

red enchilada sauce

1/2

cup

Water

1/2

cup

Frozen corn

1/4

cup

plain, non-fat Greek Yogurt

1/2

medium

onion

diced

1

large

poblano pepper

diced

2

tbsp

avocado oil

3

tbsp

Fresh cilantro

chopped for cooking + 2 tbsp for garnish, if desired

2

tbsp

grated garlic

1.5

tbsp

ground cumin

1.5

tbsp

Dried oregano

1

tsp

Sea Salt
Instructions
Heat Instant Pot to Sauté on high mode, then once hot, add avocado oil.

Next, sauté onions, garlic, pablano pepper, and frozen corn for ~7-10 minutes, or until onions are slightly browned.

Add canned and liquid ingredients as well as chicken breasts, seasonings, and herbs.

Turn off sauté mode and cover with the instant pot lid. Set to pressure cook on high for 20 minutes. Let naturally release pressure for 5 minutes, then manually release remaining pressure.

Remove chicken breasts and place onto a cutting board.

Using 2 forks, shred chicken breasts and return shredded chicken to the soup.

Once ready to enjoy, serve with greek yogurt, cilantro garnish, and optional toppings.

Serve, store, and enjoy!
Notes
Nutrition for 1 out of 4 servings:
36.6g Protein | 37.7g Carbs | 11.5g Fat | 10g Fiber | 366 Calories
Nutrition
Serving:
1
meal
|
Calories:
366
kcal
|
Carbohydrates:
37.7
g
|
Protein:
36.6
g
|
Fat:
11.5
g
|
Fiber:
10
g