There's a surprising bit of trivia when it comes to Chicken Tikka Masala. It's not quite Indian and it's not quite British. Why? The rumor-filled history is that this meal prep recipe was created in – gasp – Glasgow, Scotland! Did you know? Not many do!
A Pakistani chef, Ali Ahmed Aslam, was the chef and owner of the Shish Mahal restaurant Glasgow, Scotland. He created Chicken Tikka Masala in the 1950s by getting creative with his sauce using yogurt, cream, and spices. Many years later, there are more than 50 variations of Chicken Tikka Masala around the world!
In Punjabi, 'Tikka' refers to the small pieces of meat and 'masala' means mixture. Chicken Tikka Masala is was originally cooked in a 'tandoor', an outdoor clay oven with spices. Many, many spices! But today, this dish calls for an Instant Pot so so no tandoor oven or wood fire is needed. This Instant Pot version of the creative Chicken Tikka Masala is easy to make and completely scrumptious!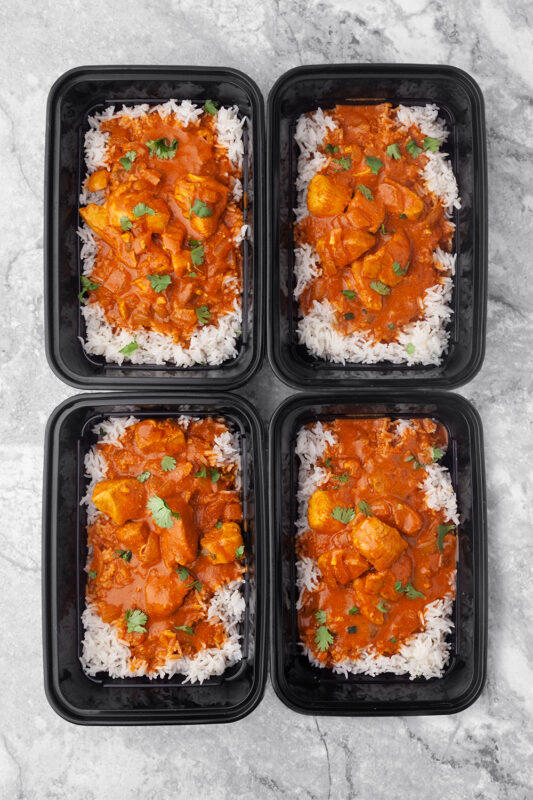 This Instant Pot take on classic chicken tikka masala is a cinch to make and completely scrumptious!
How long will Chicken Tikka Masala last for?
You can properly store cooked chicken in the refrigerator for 3 to 4 days. The best containers are airtight, especially when you want to store moisture from the rice so it reheats nicely. Use a dual compartment meal prep container if you like your chicken and rice side by side until it's time to eat.
Can Chicken Tikka Masala be frozen?
Yes, you can freeze Chicken Tikka Masala with two considerations. First, the chicken can freeze and last up to two months. Make sure to store it in a properly sealed meal prep container.
Second, the rice can last just as long but, as you know if you have ever refrigerated rice, rice can become hard and dry when reheated. Make sure to store the rice as soon after cooking as possible so that later it will reheat as moist as possible.
How do you make Chicken Tikka Masala?
This dish is notorious for being so challenging to get right, and we're confident our MPOF team has made it easy in just 5 steps. You'll combine most of the ingredients for this meal prep recipe, cook them in your Instant Pot on sauté mode, and then add the remaining ingredients for some final cooking. All together, cooking time is just 35 easy minutes for the meal prep recipe.
How to portion Chicken Tikka Masala?
There are two types of people – those who love their meat on rice and those who love them side by side. With this Chicken Tikka Masala, you decide! If you like your rice well-soaked in sauce, use a single compartment meal prep container. On the other hand, if you like your rice fluffy and free, use a dual compartment meal prep container.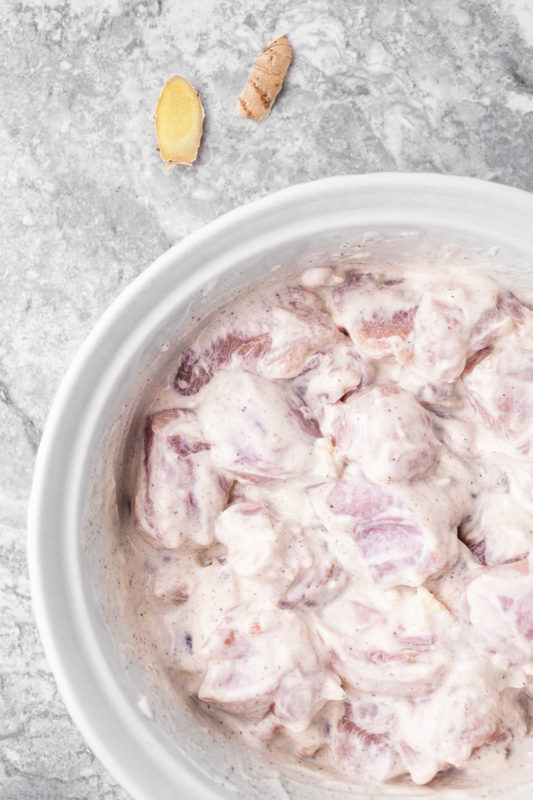 More Chicken meal prep recipes:
Other tips for making Chicken Tikka Masala:
Many people use chicken breast when making this meal prep recipe if they have their choice of chicken, but consider using thighs as an alternative if you prefer dark meat to light meat.

This recipe suggests letting the chicken marinate at least 20 minutes, or even overnight. Unless you're in a rush, try giving it more time so the flavors get infused deeper and more satisfying.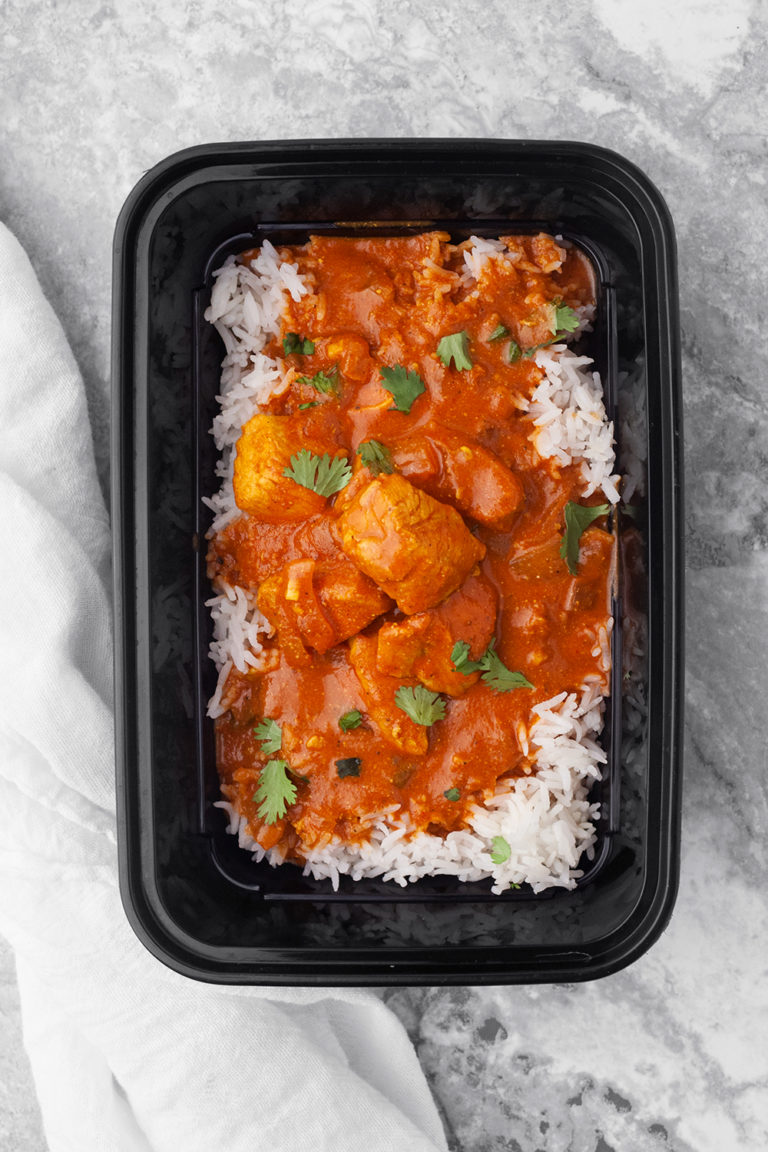 Ingredients
1

lb.

Boneless Skinless Chicken Breasts

cut into bite-sized pieces

30

oz.

Canned Tomato Sauce

7

oz.

Canned Full Fat Coconut Milk

1

Lime

juiced

1

Serrano Pepper

finely diced

1/2

large

Onion

diced

4

Cups

Cooked White Basmati Rice

1/2

Cups

Plain Greek Yogurt

3

Tbsp.

Fresh Cilantro

chopped

2

Tbsp.

Grated Ginger

reserve 1 tsp.

2

Tbsp.

Minced Garlic

reserve 1 tsp.

1

Tbsp.

Avocado Oil

4

tsp.

Garam Masala

reserve 1 tsp.

2

tsp.

Fenugreek

1.5

tsp.

Paprika

1.5

tsp.

Turmeric

1/2

tsp.

Ground Coriander

1/4

tsp.

Pink Himalayan Salt

1/4

tsp.

Ground Black Pepper

1/4

tsp.

Cayenne Pepper
Instructions
In a medium bowl, combine yogurt, lime juice, reserved 1 teaspoon each of garam masala, grated ginger, minced garlic. Then add cut chicken, toss until coated — cover and set in the fridge for a minimum of 20 minutes (or even overnight).

Next, heat instant pot on sauté mode then add the oil, and marinaded chicken (including any extra marinade), stir and let cook ~5 minutes.

Add remaining ingredients (except for coconut milk and cilantro), stir until combined. Cover with lid and set to pressure cook mode for 10 minutes, then manually release pressure.

Once cooked, stir in coconut milk, serve over rice, and garnish with cilantro.

Store and enjoy!
Nutrition
Calories:
591
kcal
|
Carbohydrates:
67.2
g
|
Protein:
40.3
g
|
Fat:
19.9
g
|
Fiber:
6.6
g