The perfect pot roast meal in 3, 2, 1... NOW!
Did someone say instant pot roast?! Wouldn't that be nice! Well, it would be and IS possible with our Instant Pot Roast with Mashed Potatoes gluten-free meal prep recipe!
With our Instant Pot Roast meal prep recipe, you will have a hearty dish in under two hours. Traditional pot roast recipes take at least four hours. The recipe is simple - throw everything in a slow-cooker and it will be done in time for dinner. But with an Instant Pot, pot roast is done a few hours sooner. And you can even make the mashed potatoes in the instant pot, so fewer dishes to wash. Instant Pot meals 2, other meals 0. AND this meal is Paleo friendly and Whole30 compliant. New score: 3-0.
So if you're looking for an easy twist on a comfort food classic, you've come to the right place.
Simple, delicious, and ready in just over an hour - you're going to love this instant pot roast complete with mashed potatoes!
How long will Instant Pot Roast with Mashed Potatoes last for?
Instant Pot Roast with Mashed Potatoes will last for 4 days in the refrigerator when properly stored. The best way to store this recipe is in a shallow, airtight container. You can also store the meal in separate containers or tightly wrap your pot roast in aluminum foil.
Can Instant Pot Roast with Mashed Potatoes be frozen?
Yes, you can freeze this belly-warming meal and enjoy it months later! Cooked pot roast maintains its flavor for up to 3 months in the freezer. The best way to store Instant Pot Roast with Mashed potatoes is to seal the roast in a heavy-duty freezer bag. You can also wrap it in foil and then store it in the bag. The same rule applies for the mashed potatoes, minus the foil of course. If you plan on freezing your mashed potatoes, add a little extra milk and butter. When the potatoes cool, put them in a freezer bag, label, and store. The potatoes will last for at least 2 months in the freezer.
Instant Pot Roast with Mashed Potatoes Ingredients:
Pot Roast
1 pound Chuck Roast
4 Sprigs Fresh Rosemary
4 Garlic Cloves, crushed
1 medium Yellow Onion (cut into chunks)
4 cups Carrots, cut into 2" pieces
1 cup Beef Broth
½ teaspoon Pink Himalayan Salt
2 teaspoons Ground Black Pepper
Mashed Potatoes
1 pound Yukon Gold Potatoes, quartered
1 cup Oat Milk (or coconut milk for whole30)
4 tablespoons Butter
1 teaspoon Pink Himalayan Salt
1 teaspoon Ground Black Pepper
2 Garlic Cloves, crushed
Gravy Slurry
2 teaspoons Arrowroot Powder
2 teaspoons water
How do you make Instant Pot Roast with Mashed Potatoes?
Easy! First up, the mashed potatoes. Cut and peel your potatoes. Place the potatoes in your Instant Pot. Add water until just covering the potatoes. Cover with the pot lid and pressure cook for 10 minutes. Strain and mash the potatoes. Then add oat milk, salt, pepper, and garlic cloves. The potatoes are already done! Pour them into another dish and set aside. Clean out your Instant Pot for round two!
Round two is the pot roast. Set your Instant Pot to "sauté mode (high)" and add olive oil. Add your chuck roast and sear each side. This should take about 2 minutes. Once the roast is seared, add beef broth, garlic cloves, and half of the prepared onion. Place rosemary sprigs on top of the roast, cover, and set to "pressure cook" mode for 1 hour and 30 minutes. When time is up, manually release the Instant Pot pressure.
Now, for the vegetables - the home stretch! Add carrots and remaining onion. Cover with lid and pressure cook for 1 minute. Remove the roast and veggies from the pot and discard rosemary sprigs. Place the food on a plate or dish. Get ready for the gravy, baby! Heat the roast's juices in "sauté mode." Combine arrowroot powder and water in a small bowl to make a slurry. Add your slurry to the heated juices in the Instant Pot and stir until thick. Turn off the heat. Transfer the gravy or leave it in the pot until cool.
There you go. One and done instant pot roast dinner (or lunch later)!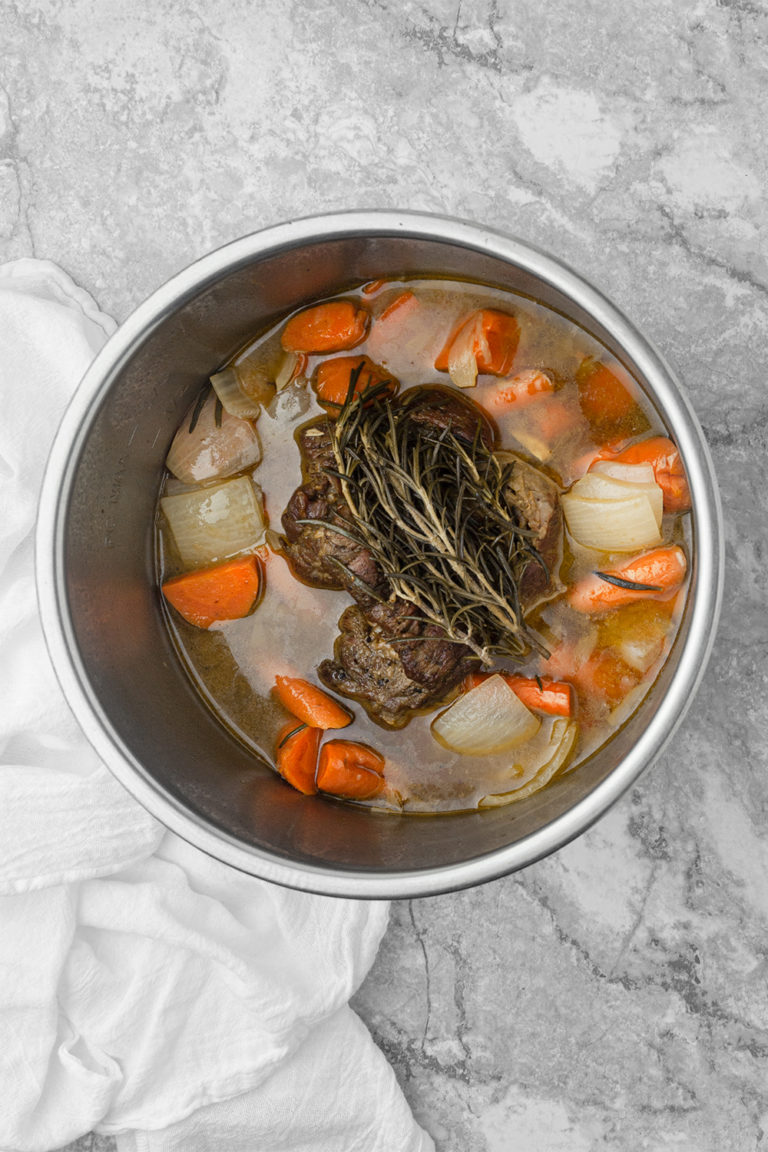 How to portion Instant Pot Roast with Mashed Potatoes?
Shred your pot roast with two forks. Grab 4 meal prep containers and 4 sauce cups. Put your mashed potatoes in the middle of the container and surround them with veggies and pot roast. Divvy up gravy in the sauce cups and squeeze one cup into the container between the roast and potatoes.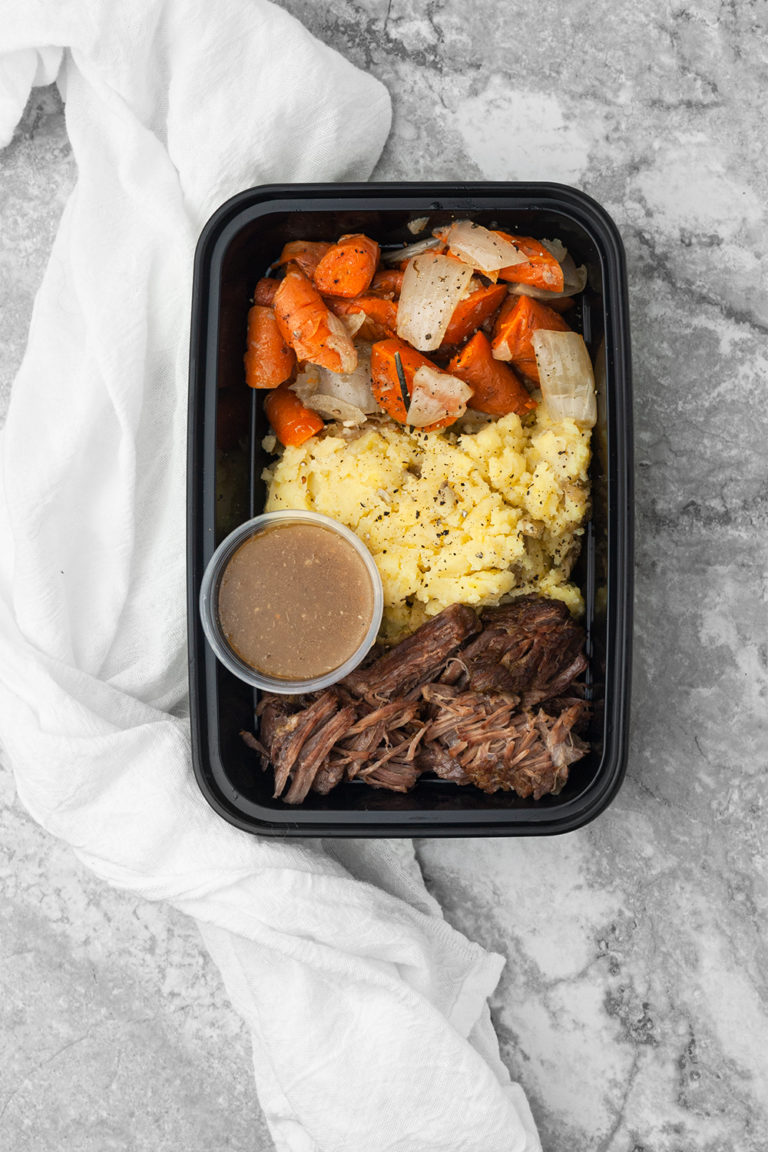 More Instant Pot meal prep recipes:
The Instant Pot is a meal prep live saver! Tell us what you think of this recipe and others.
Instant Pot Chicken Enchilada Soup
Instant Pot Beef Barbacoa Meal Prep Bowls
Instant Pot Moroccan Chicken Meal Prep
Still hungry? We've got plenty of Instant Pot meal prep recipes to go around! 20+ Meal Prep Instant Pot Recipes
Other tips for making Instant Pot Roast with Mashed Potatoes:
Read our blog on optimal Instant Pot cooking Top 10 Instant Pot Mistakes – That You're Probably Making

Try other cuts of beef for your Instant Pot Roast. Shoulder steak, boneless chuck roast, chuck shoulder pot roast, chuck seven-bone pot roast, or beef chuck arm.

You can use half the amount of butter and use unsweetened almond milk in place of oat milk to reduce calories. Unless you plan on freezing your mashed potatoes.

Let your roast marinate in a pot roast rub a few hours before cooking for extra bursts of flavor!