Instant Pot Moroccan Chicken Meal Prep
Morocco is a North African country nestled right between Spain and Algeria, with the majority of its coastline hugging the Atlantic ocean. Its position between so many varying cultures is evident in its cuisine, which is an exciting mix of Arabic and Mediterranean flavors, and sometimes with a slight European and/or Subsaharan influence. How this presents itself is a wonderful blend of spices such as cinnamon, turmeric, and saffron, with complementing flavors like dried stone fruits, olive oil, mint, and lemon. This sounds amazing, right? We love any opportunity to add global flavors to the MPOF repertoire, and we wanted to try our hand at making something inspired by this beautiful region. So, an easy meal prep recipe featuring these unique and delicious flavors? Yup, this instant pot Moroccan chicken is here to stay!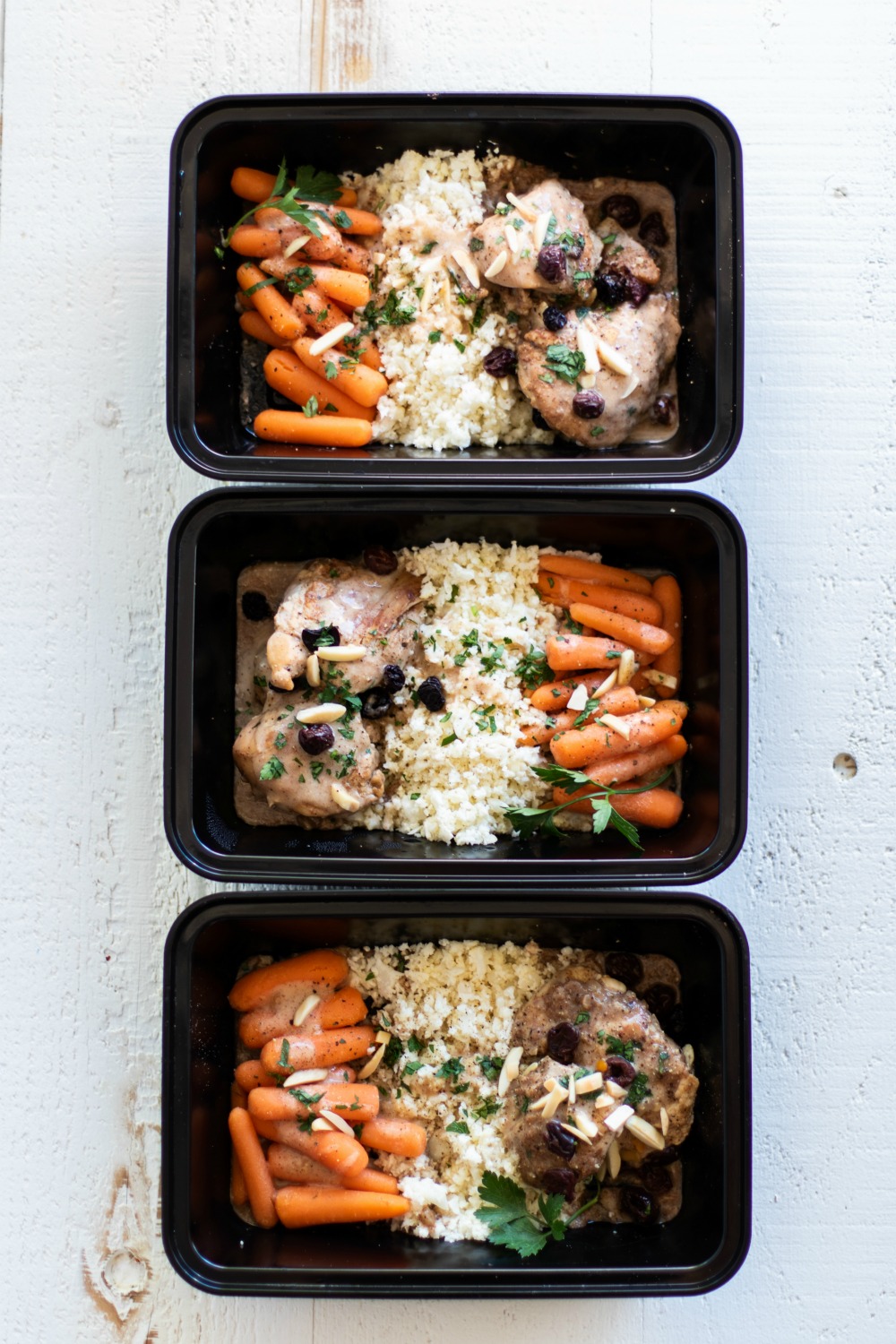 With only 15 minutes of prep and 15 minutes of cook time, this easy meal prep is definitely one to keep on hand for busy summer nights or those chilly and dark winter ones that call for something saucy and satisfying. Warming and rich, the almond butter sauce is smooth and creamy with a wonderful kick of spices: ginger, cumin, cinnamon, and cayenne. This delicious sauce generously coats tender chicken, and sweet dried raisins or tart cherries make the perfect flavor contrast. Everything comes together beautifully over a bed of cauliflower rice, which makes this Moroccan chicken Whole30 and paleo approved!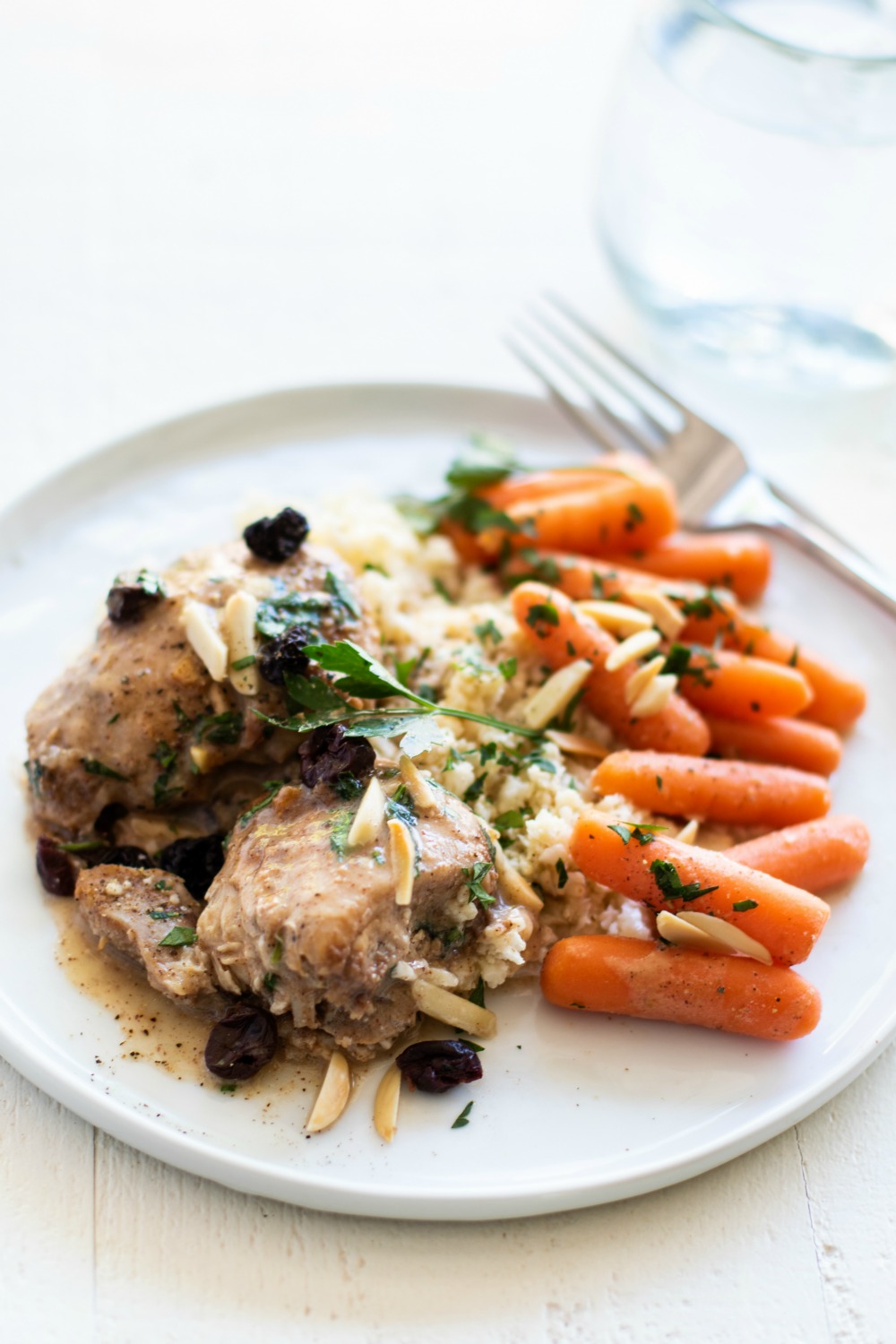 Though the spice list might sound intimidating at first, we've found that even kids enjoy this spice blend! Everything is mild enough to be approachable and agreeable for sensitive palettes, but complex enough to still be fun and exciting for those of you that might be more versed in global flavors. Whether this is your first or fortieth foray into African food, we hope you love this Moroccan chicken as much as we do!
Instant Pot Moroccan Chicken Meal Prep Ingredients:
1 ½ pounds chicken thighs (about 8 thighs)
Sea salt and pepper, to taste
1 tablespoon olive oil
1 onion, chopped
3 cloves garlic, minced
1 teaspoon sea salt
1 teaspoon ginger
1 teaspoon cumin
½ teaspoon cinnamon
¼ teaspoon cayenne
1 cup chicken broth
¼ cup almond butter
¼ cup unsweetened dried cherries or golden raisins
1 lb baby carrots
Cilantro and slivered almonds, to garnish, optional
4 cups cauliflower rice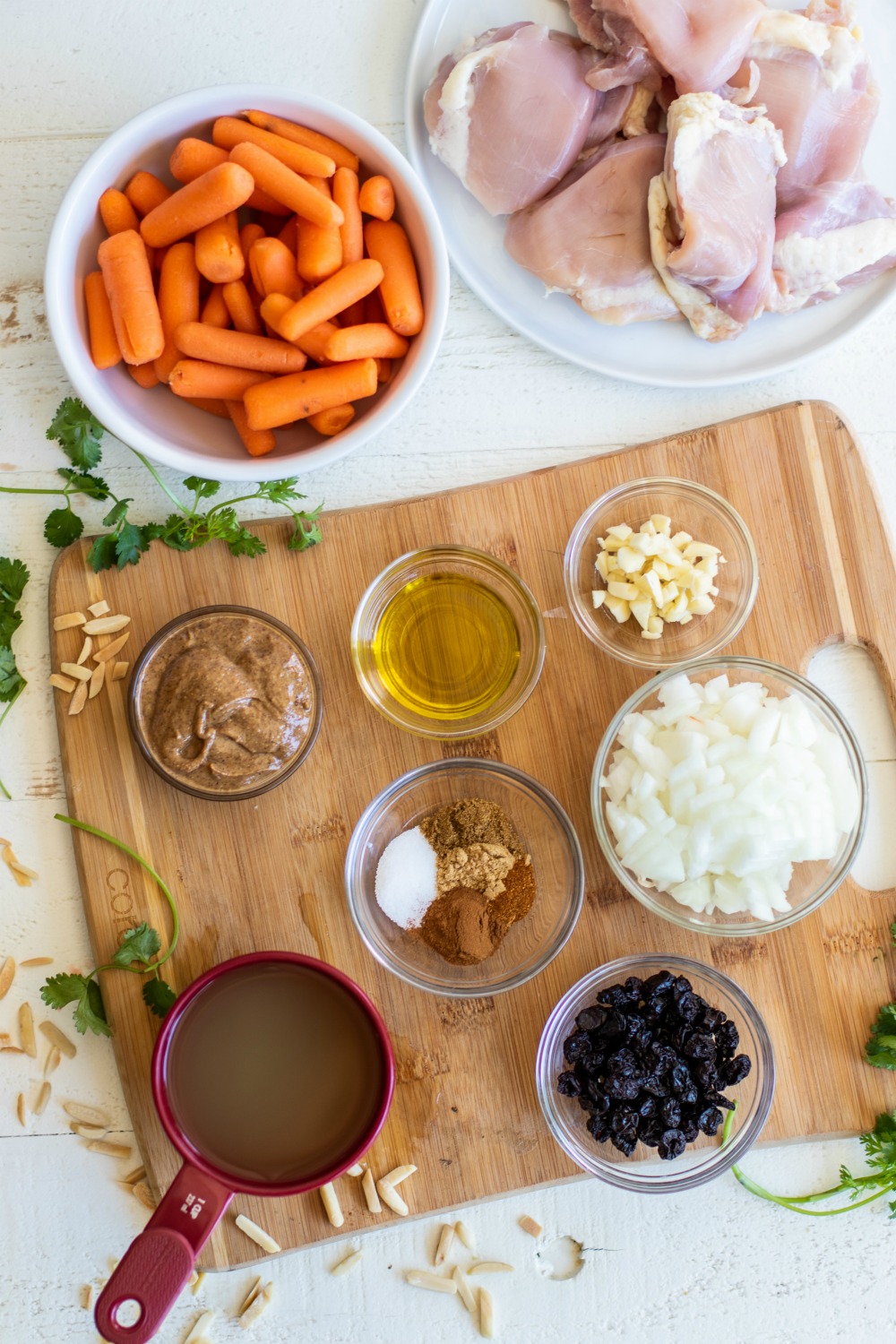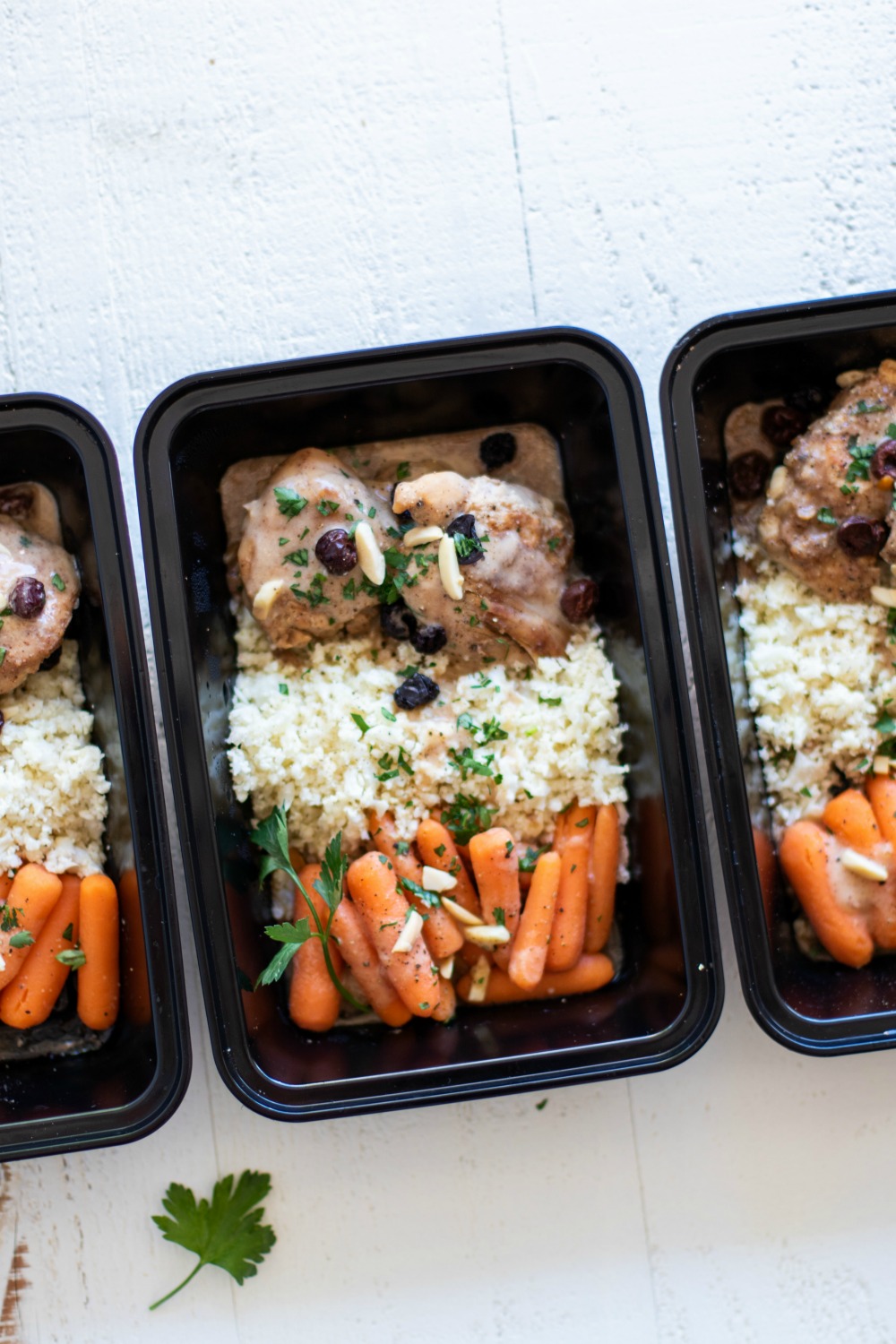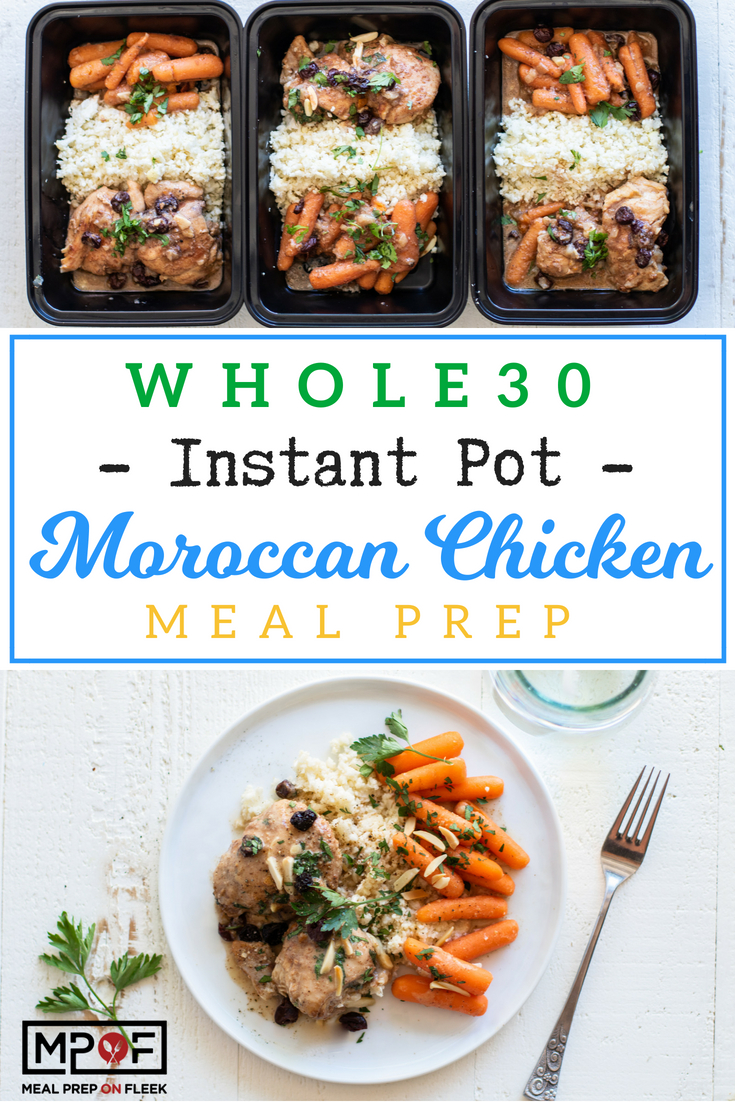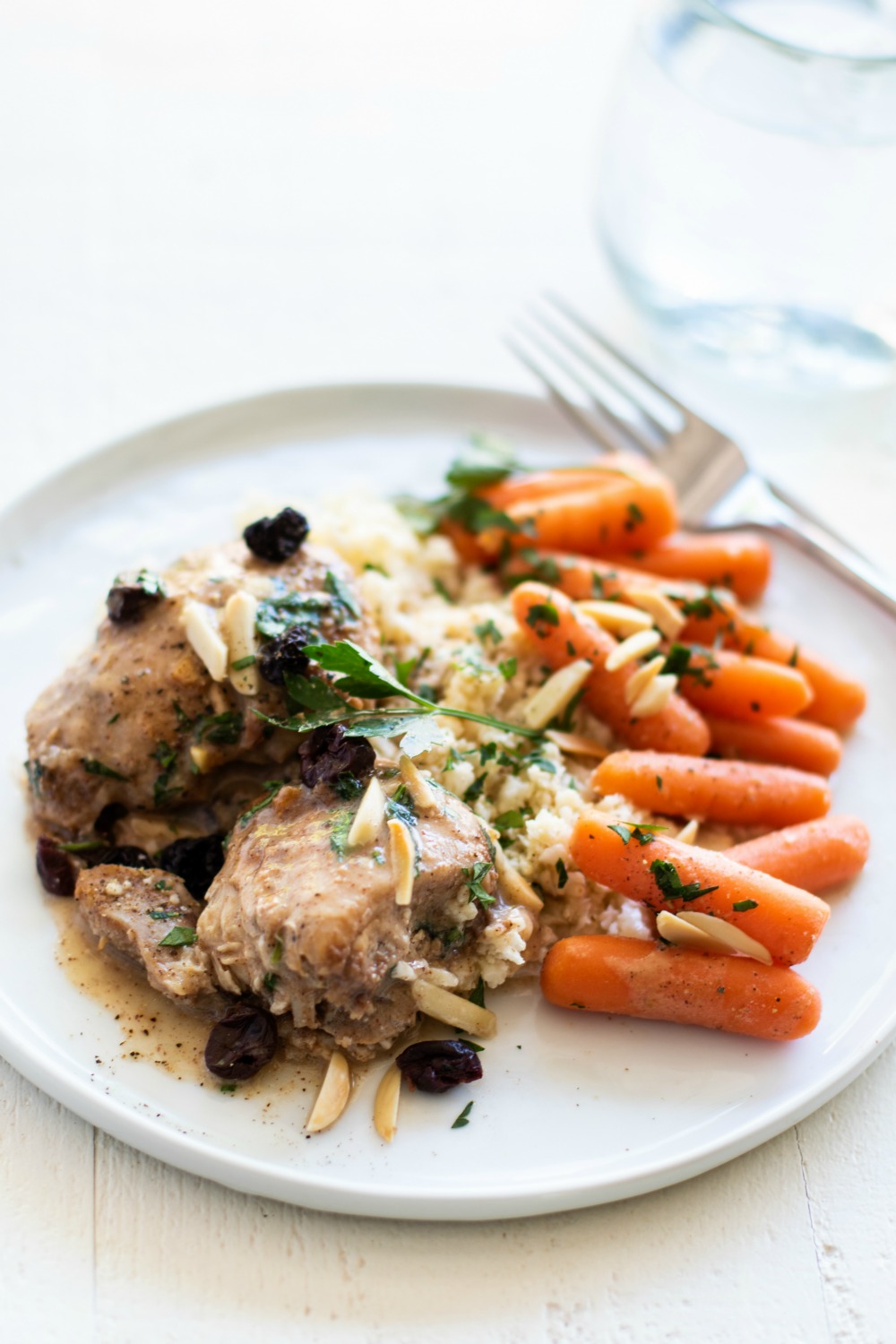 Ingredients
1.5

pounds

chicken thighs

Salt and Pepper

as desired

1

tbs

olive oil

1

medium

onion

chopped

3

cloves

garlic

minced

1

tsp

Sea Salt

1

tsp

Ground Ginger

1

tsp

cumin

1/2

tsp

cinnamon

1/4

tsp

cayenne pepper

1

cup

chicken broth

1/4

cup

Almond Butter

1/4

cup

unsweetened dried cherries or raisins

1

pound

baby carrots

cilantro

to garnish, optional

silvered almonds

to garnish, optional

4

cups

riced cauliflower
Instructions
Turn Instant Pot onto "Saute."

Add olive oil, onions, and garlic, and stir to lightly brown, about 5 minutes.

Push onions and garlic to the sides, and place chicken thighs down in pot. Allow to brown, and then flip.

Add chicken broth, almond butter, and seasonings, and then stir to spread out in the pot.

Add the carrots and dried cherries, and then cover the pot.

Turn off "Saute," and then set to Manual mode for 8 minutes.

While the chicken is cooking, cook cauliflower rice to taste. Lightly seasoning the cauliflower with salt, pepper, and lemon juice pairs well with the flavors in this chicken.

Serve chicken over a bed of cauliflower rice.
Notes
Nutrition for 1 out of 4 servings:
41.4g Protein | 31.6g Carbs | 20.8g Fat | 8.1g Fiber | 474 Calories
Nutrition
Serving:
1
meal
|
Calories:
474
kcal
|
Carbohydrates:
31.6
g
|
Protein:
41.4
g
|
Fat:
20.8
g
|
Fiber:
8.1
g