Instant Pot Beef Barbacoa Meal Prep Bowls
There's just no doubt about it, meal prep fam—Summer is here and in full swing! There are about billion-and-one reasons to love our sunny season, but at MPOF one of our main ones is throwing traditional backyard barbecue parties with the people we love! However, not all barbecue is the same, and in fact, not all of it even requires you to fire up your trusty propane grill! It's because we're all about giving you diversity in your barbecue that we're bringing you today's meal prep recipe—An oh-so-easy instant pot beef barbacoa!
The word 'barbacoa' is actually the Mexican Spanish word for a barbecue! Barbacoa is believed to have originated in the beautiful Caribbean West Antilles during the 1500s, and it eventually spread to Mexico. Cooked traditionally, barbacoa meat is roasted over an open fire. However, this instant pot meal prep recipe does away with primitive cooking methods entirely by using, um, an instant pot (as you've surely guessed by now ?)! We love cooking with instant pots because they do a lot of the actual cooking for you while preserving the beneficial vitamins and minerals in the food.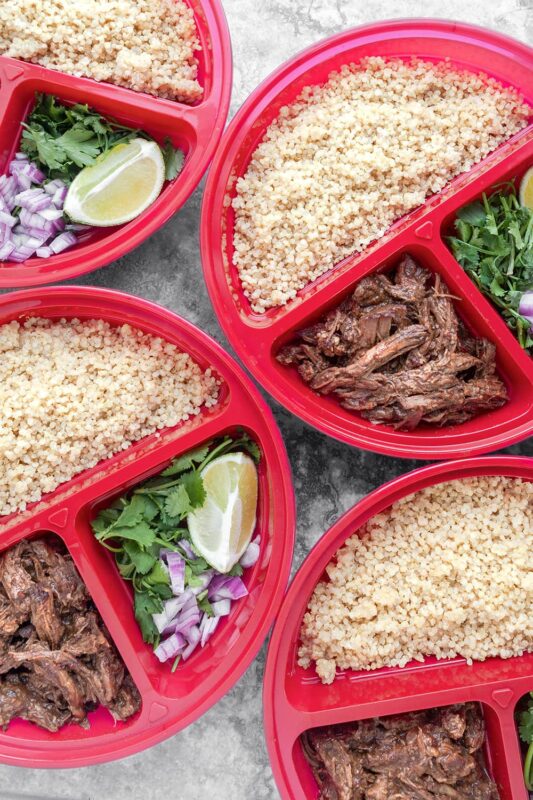 How long will these instant pot beef barbacoa meal prep bowls last for?
When properly stored, we found this dish to last 3-5 days in the fridge That's pretty much the perfect time frame for having this instant pot meal prep once a day for almost the entire duration of your work or school week.
Can these instant pot beef barbacoa meal prep bowls be frozen?
While we certainly encourage you to experiment with what works best for your meal prep regimen, freezing this dish may be impractical due to the suggested sides.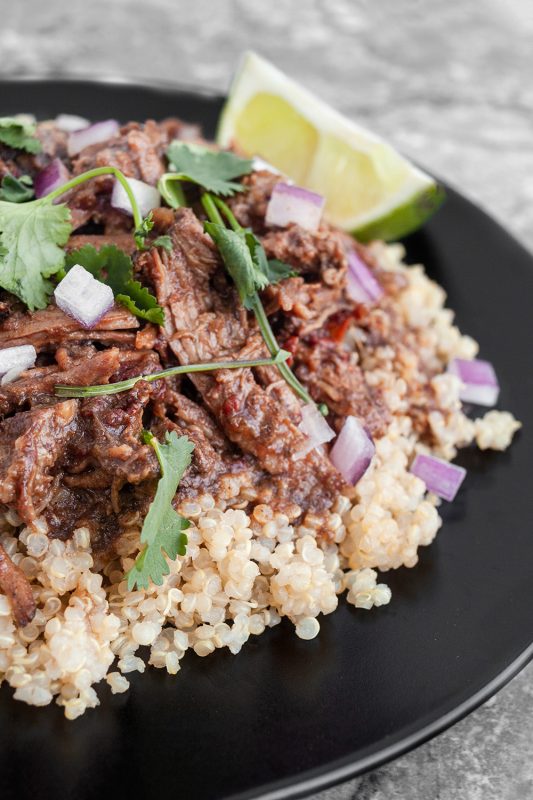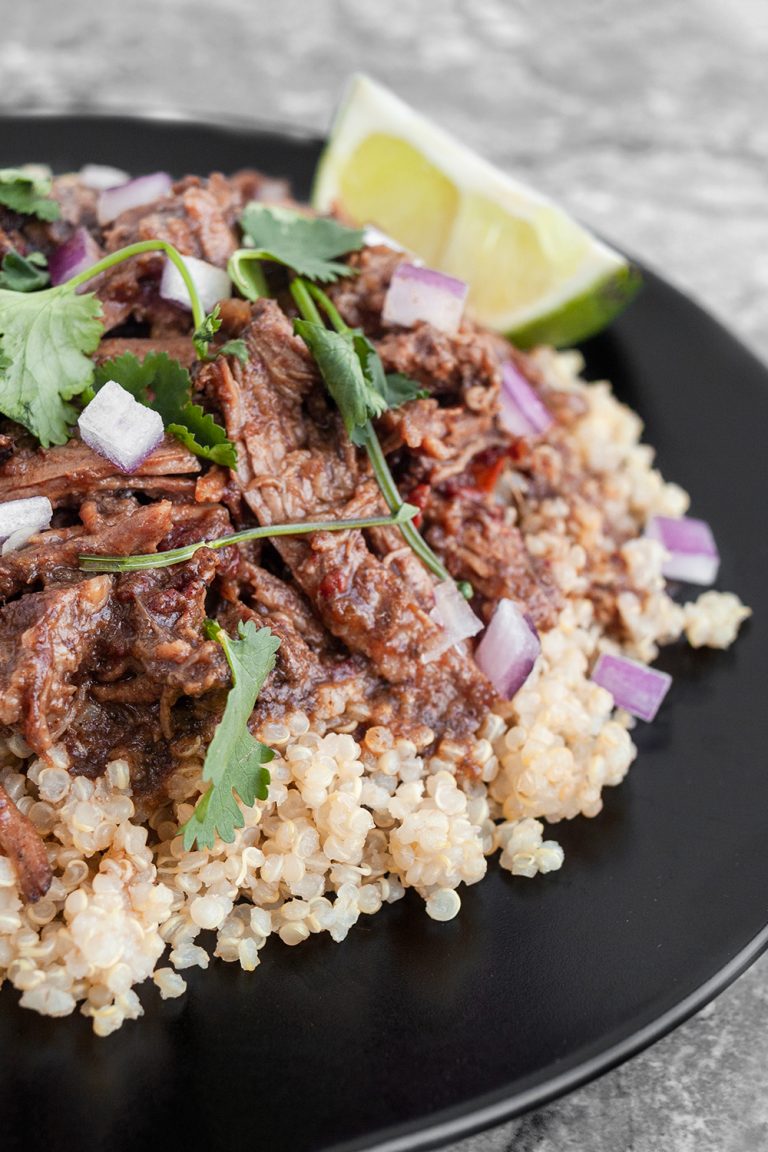 How do you make these instant pot beef barbacoa meal prep bowls?
Start by setting the instant pot to "sauté" mode, adding 1 tbsp of avocado oil once it's warmed up. Add the pot roast and sear 3-5 minutes on each side, looking out for a brown outer crust to form. After removing the pot roast and setting it aside, add another 1 tbsp of oil to the pot, and sauté garlic for 5 minutes. Next, heat granulated onion, cumin, cloves, and oregano for 1 minute, then stir in and sauté adobo sauce, chipotles, lime juice, and apple cider vinegar for 1 minute. Stir in beef broth, bay leaves, salt, and black pepper, then return the beef to the pot to pressure cook on 'HIGH' for 70 minutes, making sure to replace the lid. Manually release pressure, flip the roast, and cook on 'HIGH' again, this time for just 5 minutes. Remove beef, shred with forks, and submerge in barbacoa sauce for 5 minutes. Divide meat, sauce, and garnishes into 6 equal parts, and then serve!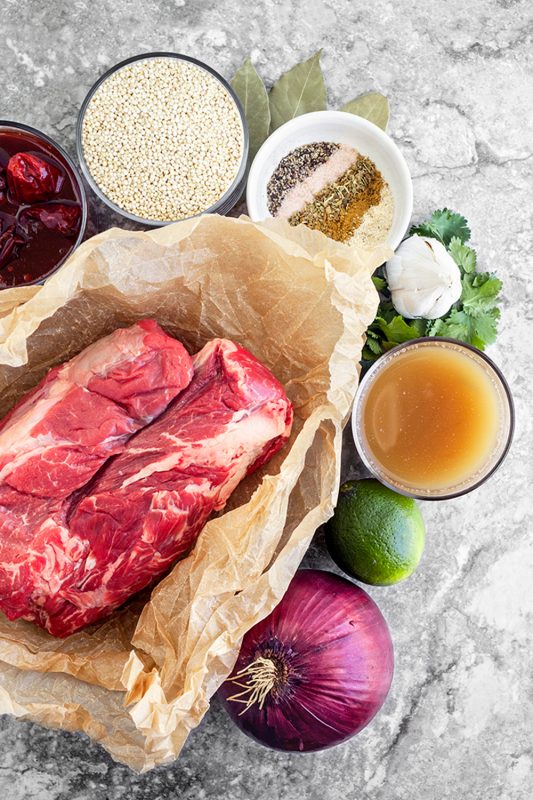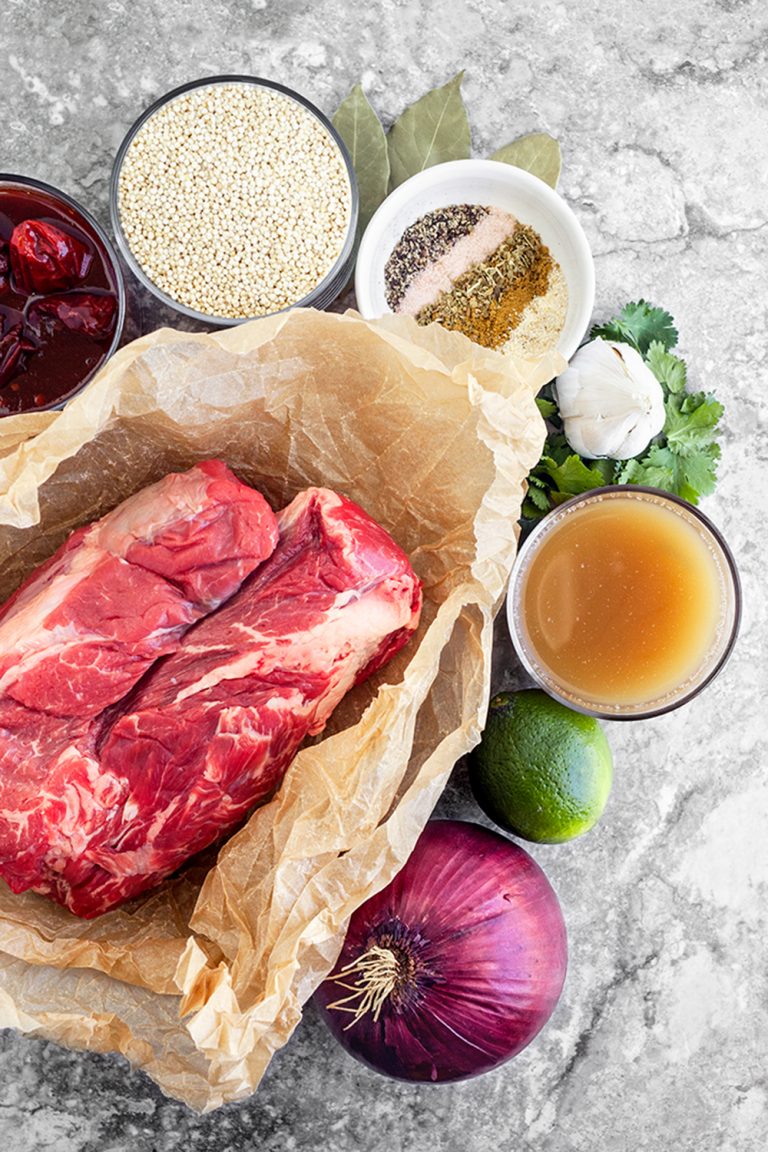 How to portion these instant pot beef barbacoa meal prep bowls?
We recommend portioning this instant pot meal prep into a 3 compartment bowl-style meal prep container! One compartment for beef, one for the ultra-healthy quinoa, and one for cilantro and other garnishes. You can get more general info about meal prep containers via our Ultimate Guide, or purchase them directly on Amazon!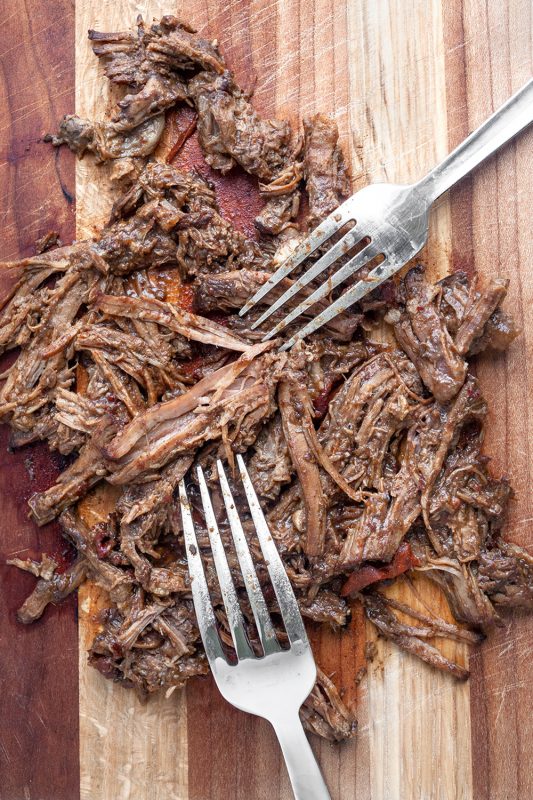 More instant pot meal prep recipes:
If you have an awesome experience making this barbacoa and want even more instant pot meal prep recipes for next week, consider our Instant Pot Enchilada Soup or Instant Pot Ranch Chicken!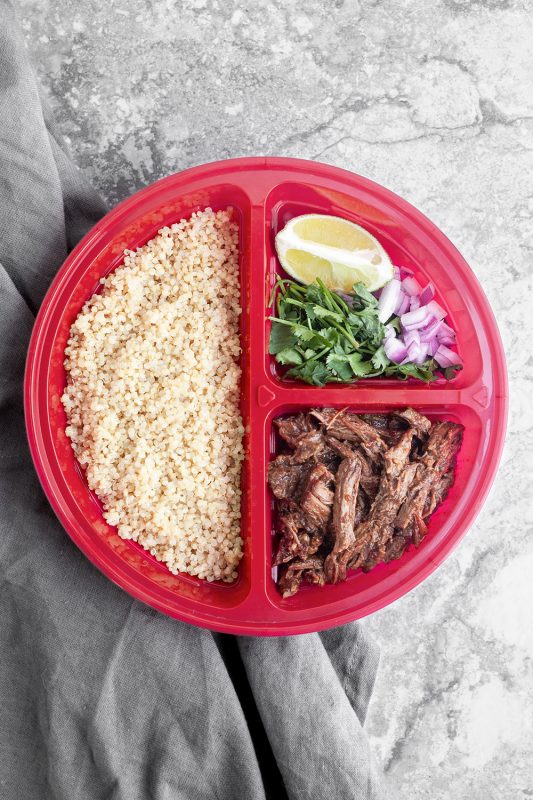 Other tips for instant pot meal prep:
Instant pots take a little while to build up the necessary pressure for effectively cooking, so make sure you give it 10-15 minutes beforehand.

Most parts of your instant pot are dishwasher safe. Say goodbye to post-meal scrubbing!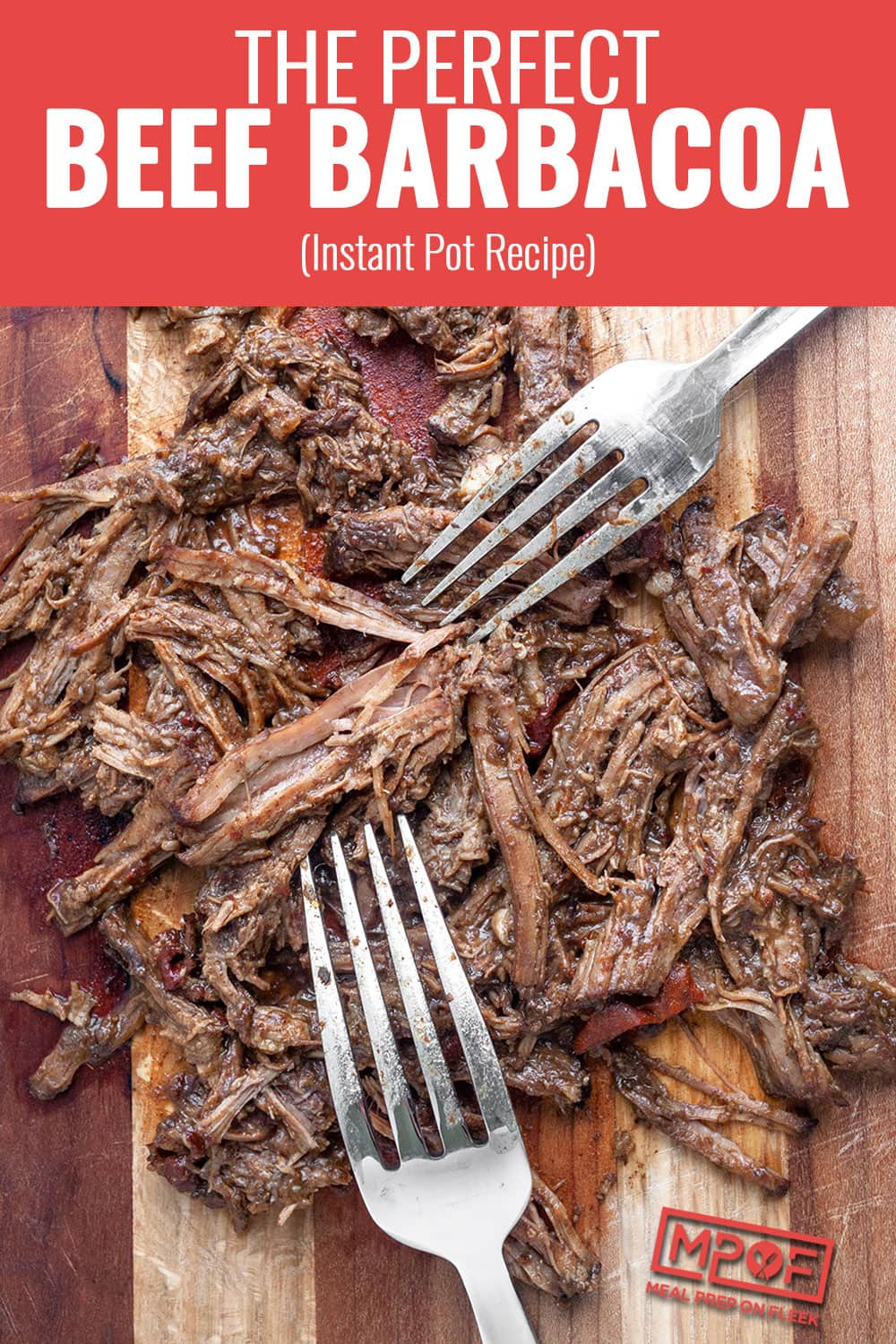 Instant Pot Beef Barbacoa Meal Prep Ingredients:
2.5 lb. Chuck Roast Beef
5 Crushed Garlic Cloves
3 Bay Leaves
2 Chipotle Peppers in Adobo Sauce (de-seeded, sliced)
1 Lime (cut into 6 wedges)
Juice of 1 Lime
1 1/4 C. Beef Broth/Stock
2 1/4 Tbsp. Ground Cumin
2 Tbsp. Apple Cider Vinegar
2 Tbsp. Avocado Oil
5 Tbsp. Dried Oregano
1/2 Tbsp. Granulated Onion
2 tsp. Adobo Sauce (from where chipotles were packed in)
2 tsp. Pink Himalayan Salt (or Sea Salt)
1/2 tsp. Ground Cloves
1 tsp. Ground Black Pepper
3 C. Cooked Quinoa
1/4 Diced Red Onion
1/2 C. Fresh Cilantro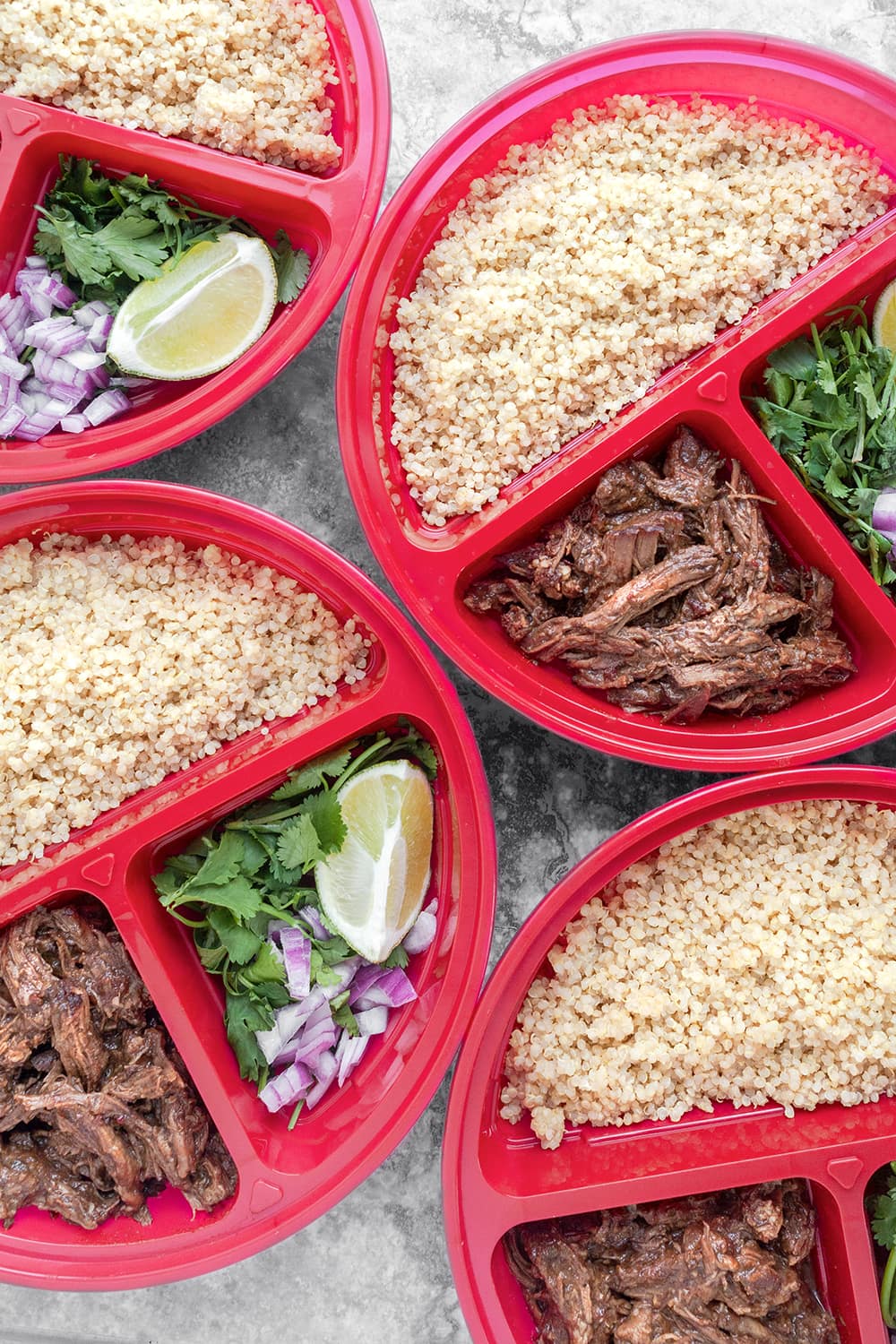 Ingredients
2.5

pounds

chuck roast beef

5

cloves

garlic

crushed

3

bay leaves

2

chipole peppers in adobo sauce

de-seeded and sliced

1

lime

cut into 6 wedges

1

lime

juiced

1 1/4

cup

beef broth

or bone broth

2 1/4

tbsp

cumin

2

tbsp

Apple Cider Vinegar

2

tbsp

avocado oil

1.5

tbsp

Dried oregano

1/2

tbsp

granulated onion

2

tsp

adobo sauce

from the chipotles can

2

tsp

Sea Salt

1/2

tsp

ground clove

1

tsp

black pepper

3

cups

cooked quinoa

1/4

small

red onion

diced

1/2

cup

Fresh cilantro
Instructions
Set Instant Pot to "Sauté" mode. Once heated, add 1 tablespoon oil.

Next, add chuck roast and let sear for ~3-5 minutes (do not adjust/check beef for at least 3 minutes), or until seared brown crust forms. Repeat on the other side then remove from Instant Pot and set aside.

Remaining on "Sauté" mode, add remaining 1 tablespoon of oil and add crushed garlic. Let sauté ~5 minutes.

Add dried aromatics (granulated onion, cumin, cloves, oregano), stir, and let heat ~1 minute. Then, add adobo sauce, chipotles, lime juice, apple cider vinegar — stir well and let sauté ~1 minute.

Now, add beef broth, bay leaves, salt, and black pepper. Stir well once again and return chuck roast to the Instant Pot.

Cover and set to "High-Pressure Cook" mode for 70 minutes.

Manually release pressure, flip chuck roast over, and cook again at high pressure for 5 minutes. Once finished, this time, allow for natural steam venting/depressurizing.

Once depressurized, remove chuck roast and place onto a sturdy/durable surface (such as a cutting board) and using 2 forks, shred meat into desired sized pieces and discard large chunks of fat.

Remove and discard all 3 bay leaves.

Return and submerge shredded barbacoa meat into barbacoa sauce and let marinate for ~5 minutes.

Divide meat, quinoa, limes into 6 portions and top with red onion, fresh cilantro, and a drizzle of barbacoa sauce.

Serve, store, and enjoy!
Notes
Nutrition for 1 out of 6 servings:
41.4g Protein | 22.6g Carbs | 34g Fat | 3.7g Fiber | 575 Calories
Nutrition
Serving:
1
meal
|
Calories:
575
kcal
|
Carbohydrates:
22.6
g
|
Protein:
41.4
g
|
Fat:
34
g
|
Fiber:
3.7
g