The Perfect Air Fryer Turkey Breast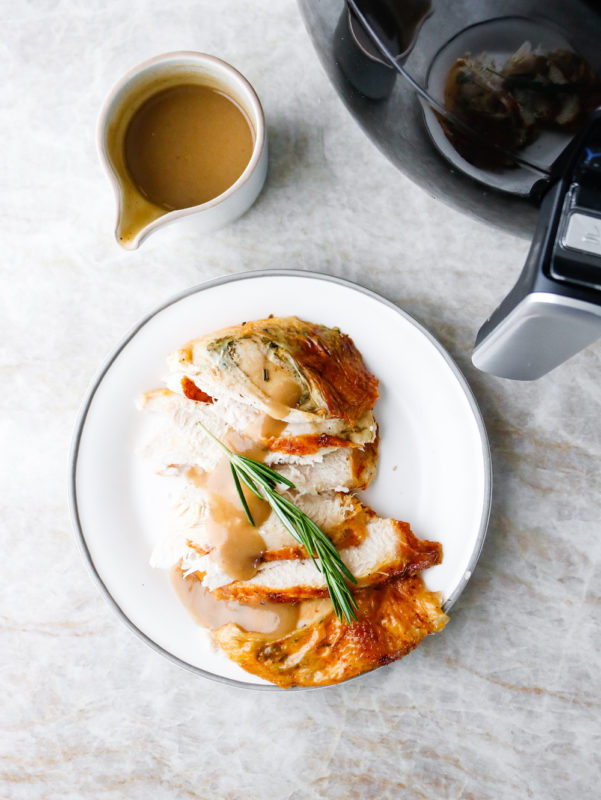 Who's ready for Thanksgiving all year long? We are! Thanksgiving meals are THE BEST. The sides, desserts, and of course turkey! Most families cook their Thanksgiving turkeys in the oven, but some deep fry. Deep-fried turkeys (and deep frying in general) is usually a Southern thing. But anyone from anywhere can recreate and enjoy our Air Fryer Turkey Breast meal prep recipe. Air frying is less fattening than deep frying and is easier to do.
Our Air Fryer Turkey Breast recipe will make this lean turkey body part juicy, tender, and savory. Some don't like turkey breast because of its tendency to dry out. But you won't find anything dry about our Air Fryer Turkey Breast! The butter and herb rub you use before frying gives the meat its crispiness and earthy flavor. The comforting smell of Thanksgiving will fill the air as the turkey breast cooks. When ready, you can serve the turkey breast with sides and gravy. Or, you can put it in a pasta dish, sandwich, or salad. Air Fryer Turkey Breast is easy, versatile, and delicious!
Air Fryer Turkey Breast Ingredients:
5 lb. turkey breast, thawed
2 tbsp unsalted butter, softened
1 tsp fresh chopped rosemary
½ tsp dried thyme
¼ tsp garlic powder
1 tsp sea salt
1/8 tsp black pepper
How long will Air Fryer Turkey Breast last for?
Air Fryer Turkey Breast will last up to 4 days in the refrigerator. Be sure to store leftovers in an airtight, shallow container two hours after cooking.
Can Air Fryer Turkey Breast be frozen?
It sure can! If you don't eat the entire turkey breast in 4 days, freeze the rest and enjoy it another day. Cut the turkey up into pieces that are no more than two inches thick. Then package leftovers in a gallon freezer bag. It is also recommended to wrap the breast in aluminum foil or freezer paper so it doesn't dry out in the freezer.
How do you make Air Fryer Turkey Breast?
Easy! First things first, you'll need an air fryer. We're assuming you have one already because you're reading this recipe. If not, have a look at some air fryers on Amazon. You'll need at least a 5-quart air fryer for this meal prep recipe.
Get your fryer ready by preheating it to 350 degrees Fahrenheit. While the fryer is heating, make the butter and herb rub. Blot down the turkey breast with a paper towel before applying the rub. You'll need to put half of the rub underneath the skin and drizzle the rest over the turkey breast before frying. The buttery rub will make the skin so crispy and savory!
Place the turkey in your air fryer basket skin side up and cook for 20 minutes. Time it because you'll need to flip the turkey over and let it cook for another 30 to 40 minutes. Once flipped, you can time the turkey or take its temperature. The ideal internal temperature for Air Fryer Turkey Breast is 165 degrees Fahrenheit.
Once finished, transfer the turkey breast from the air fryer to a cutting board. Let it rest for 15 minutes before carving. Debone the turkey if you plan on meal prepping.
How to portion this meal prep recipe:
Cut the turkey into 2-inch thick slices. For optimal reheating, don't make the pieces more than 2 inches thick. Eat some now and save the rest, meal prep, or freeze. Typically, you serve one pound of turkey per person. If you follow that rule, this meal prep recipe will give you five meals since you're using a 5-pound turkey breast.
More Air Fryer meal prep recipes:
Isn't air frying awesome? Here are some more air fryer meal prep recipes. We also threw in some turkey recipes to give you ideas on what to do with your air fried turkey breast. Enjoy!
Air Fryer Molasses Dijon Ham with Roasted Vegetables
Air Fryer Garlic Parmesan Chicken Wings
Bonus: 25 Air Fryer Recipes That Will Change The Way You Meal Prep
Turkey Bacon Ranch Pinwheel Snack Boxes
Greek Rice & Turkey Meal Prep Bowls
Other tips for making Air Fryer Turkey:
Do not reheat cooked meat multiple times. Debone, cut into slices, portion, and store in the refrigerator or freezer for single portion use later.

Use different herbs for the rub. Use sage, parsley, or oregano. We'd love some cayenne pepper! You can also use a citrus zest, but do that after Air Fryer Turkey Breast is cooked.

Pair your Air Fryer Turkey Breast meal with cranberries, figs, sweet potatoes, corn, green beans, almonds, or walnuts. Just like Thanksgiving!

Add bacon bits to the butter and herb mix! Stuff them under the skin for a smoky, rich flavor.

You can prep the turkey breast the night before frying for more intense, lasting flavors. Use half of the butter rub underneath the skin. Use the rest on top before frying the evening of.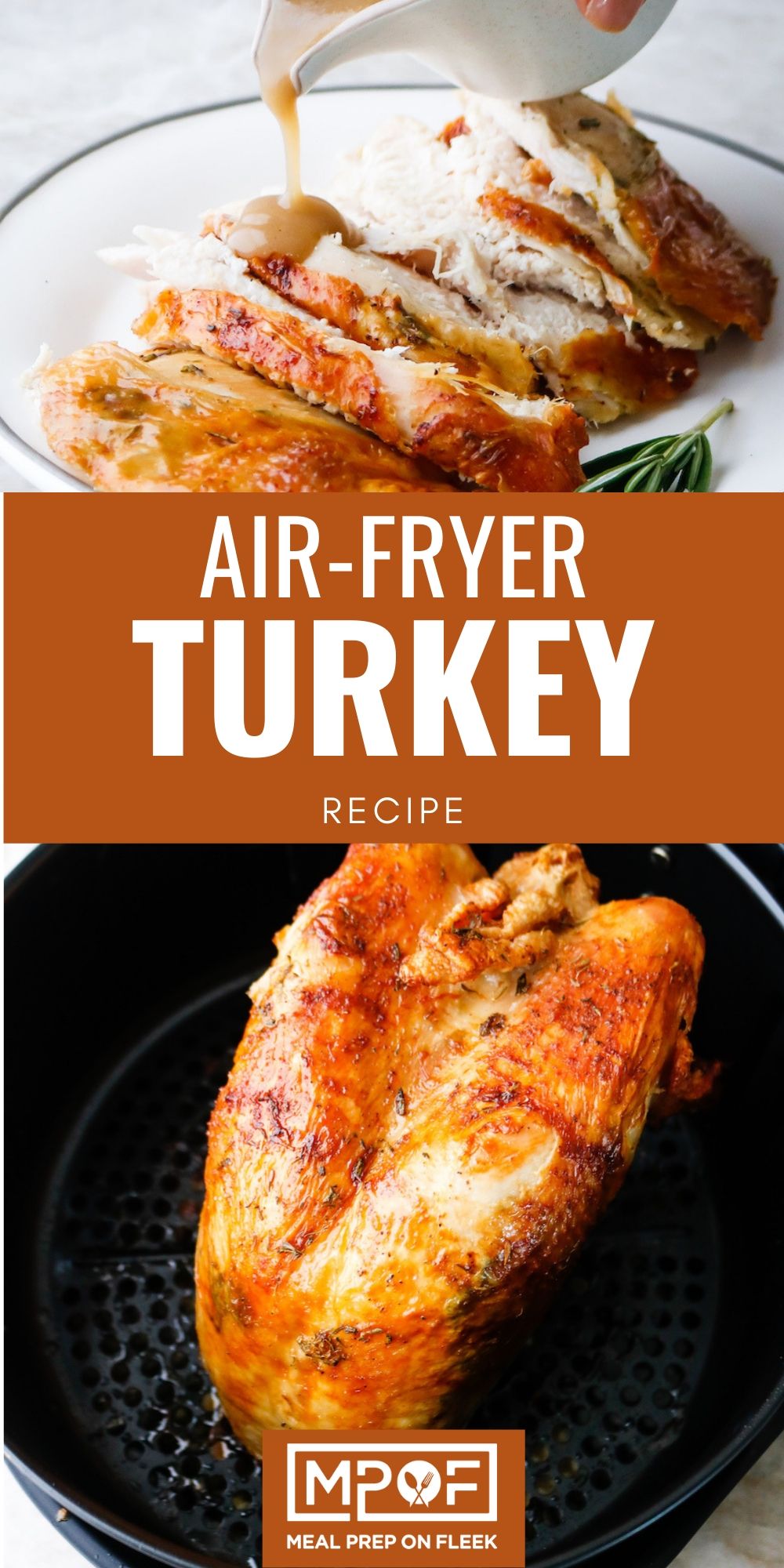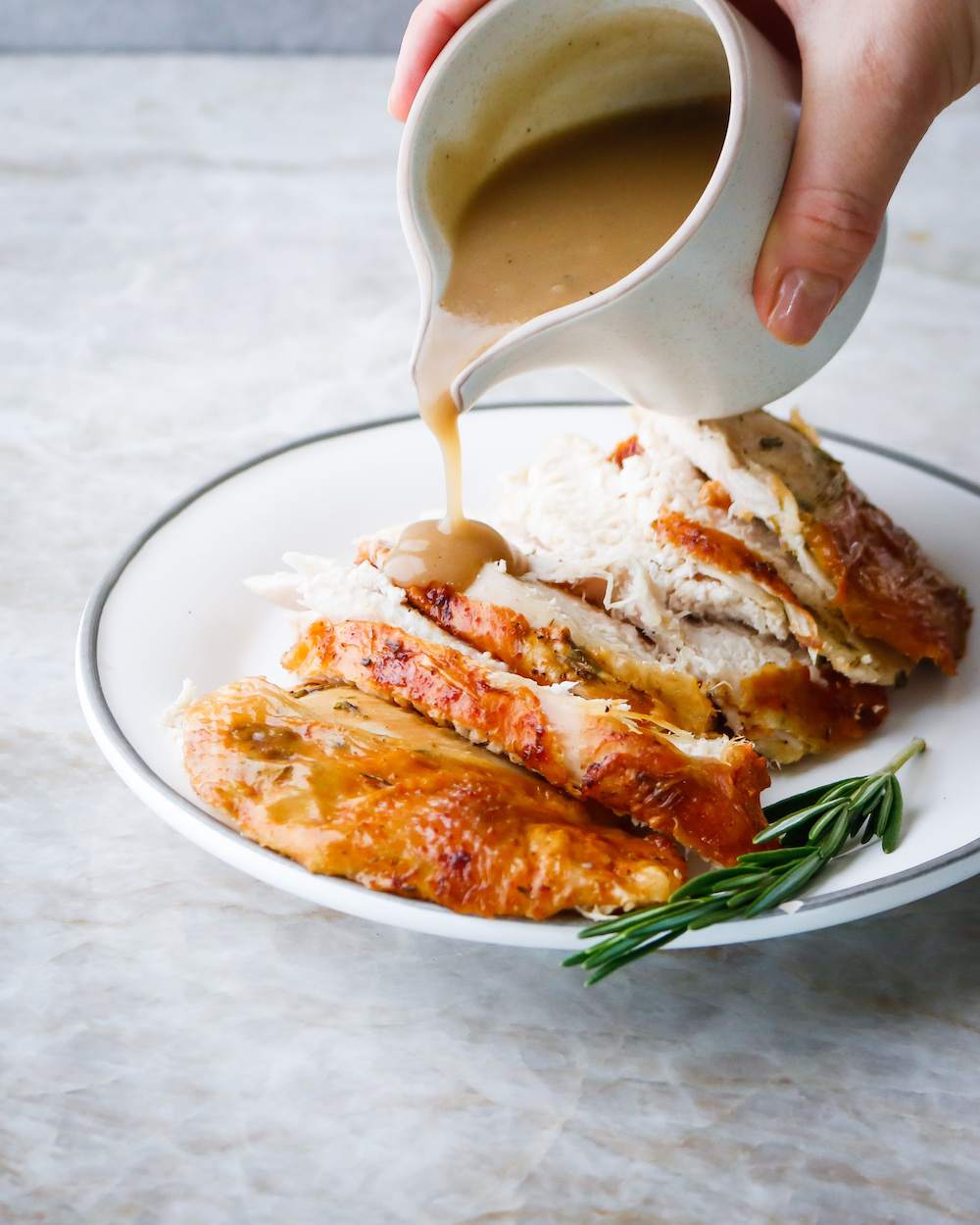 Ingredients
5

lb.

turkey breast

thawed (bone-in)

2

tbsp

unsalted butter

softened

1

tsp

fresh chopped rosemary

½

tsp

dried thyme

¼

tsp

garlic powder

1

tsp

sea salt

1/8

tsp

black pepper
Instructions
Preheat a 5-quart air fryer at 350ºF. Stir together herb butter in a small bowl. Blot turkey breast dry with paper towel and rub half of the herb butter under skin. Rub remaining butter over the top of turkey breast. Place turkey in air fryer skin side up and fry for 20 minutes.

Gently flip turkey and continue to fry for 30 to 40 minutes longer or until internal temperature reaches 165ºF. Transfer turkey to a cutting board and rest for 15 minutes before carving.
Notes
Macros are based on 8 servings (including skin)
Nutrition
Serving:
1
meal
|
Calories:
350
kcal
|
Protein:
55
g
|
Fat:
12.8
g