Thank you to Now Foods for sponsoring this Single Serve Mushrooms Q-Cup Stuffing recipe post, and thank YOU for supporting the brands that help make Meal Prep On Fleek possible. All opinions are our own.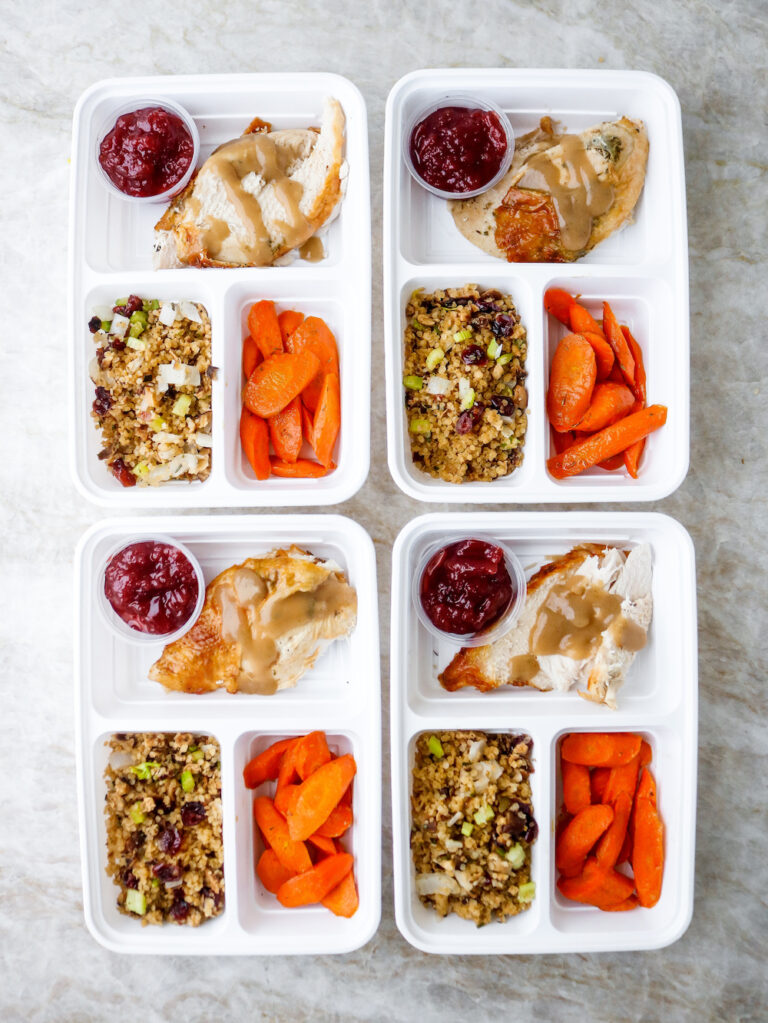 Traditional stuffing gets a gluten-free makeover when quinoa steps in for bread! This protein-rich mushroom and veggie stuffing cooks up in less than 10 minutes with minimal prep required. Serve alongside your favorite classic holiday sides for a feast that satisfies!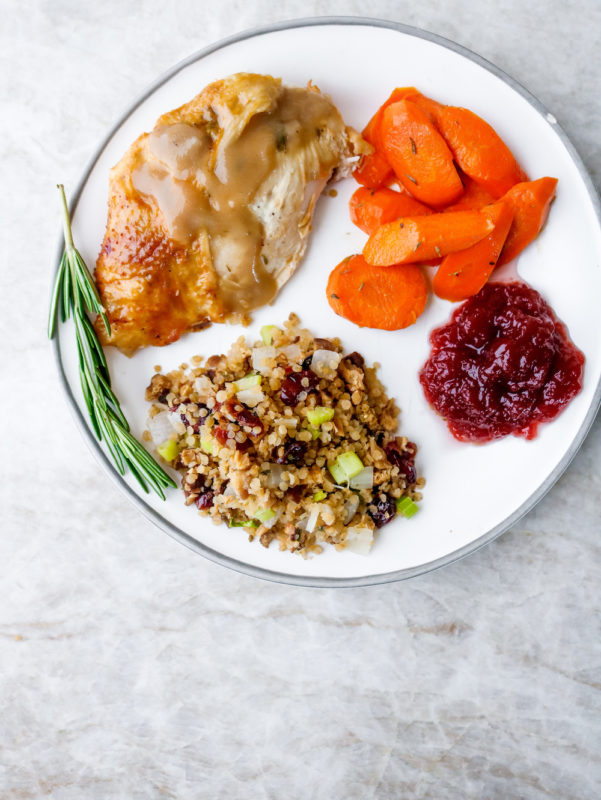 We don't know about you, but our favorite part of Thanksgiving is the stuffing (and the leftovers, of course!). But, creating a homemade stuffing each week during meal prep can be a little time-consuming. So to satisfy our craving (all year long) we can up with this easy, vegetarian twist that is ready in less than two minutes (both prepping and cooking!).
This single-serve, quinoa based stuffing is made with the traditional stuffing herbs, plus some dried cranberries for a bit of sweetness. But, the real star here is the base ingredient, the Savory Garlic and Mushroom Q-Cups. You have seen us share recipes using the Original Q-Cups here, but this time we used the pre-seasoned one to make this 'stuffing' recipe even easier to create!
The Q-Cups are ready in 60 seconds. We are not kidding! Quinoa in one minute? It's like a meal preppers dream come true! But, take it to the next level and create stuffing, plus serve it up with all of the traditional Thanksgiving sides and you have yourself a real winning meal prep!
This may be a traditional Thanksgiving meal prep combo, but that doesn't mean it needs to be November to enjoy it! The single-serve quinoa stuffing and all of the sides are a combination that can be enjoyed all year long. Thanksgiving in the summer may seem odd to some (not us), but this recipe is just as nice served chilled! The best part of the stuffing is eating it the next day when it's straight from the fridge, right? 😉
Single Serve Mushroom Q-Cup Stuffing Ingredients:
For Q Cup Stuffing
2 celery stalks
¼ a medium sweet white onion
½ cup dried cranberries
1 small sprig of rosemary
2 cups chicken stock
For Roasted Carrots
2 cups sliced carrots
2 tbsp olive oil
1 tbsp honey
½ tsp dried thyme
½ tsp sea salt
For Serving
2 lbs. sliced air-fried turkey breast
1 cup cranberry sauce
½ cup turkey gravy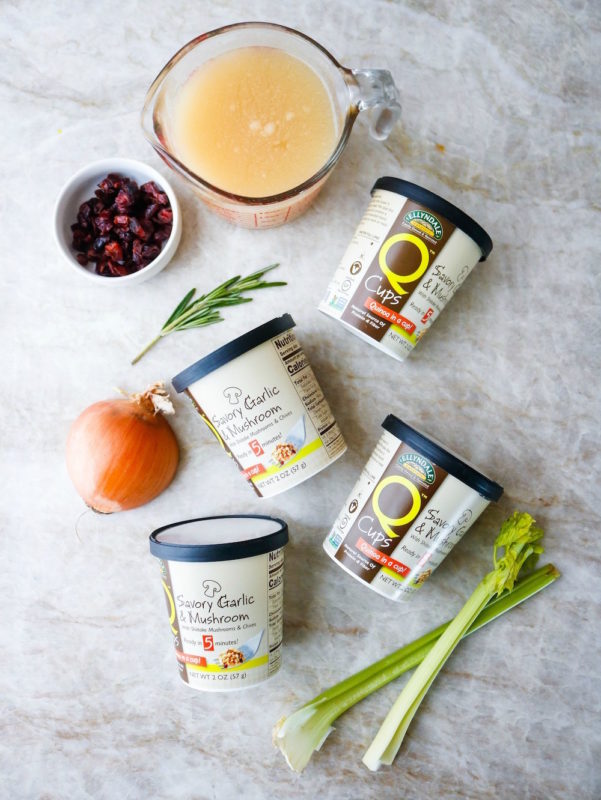 The ingredient to make the Q-cup based quinoa stuffing couldn't be any easier. In part, that is due to the Q-cups already having such a nice savory/umami flavor to them.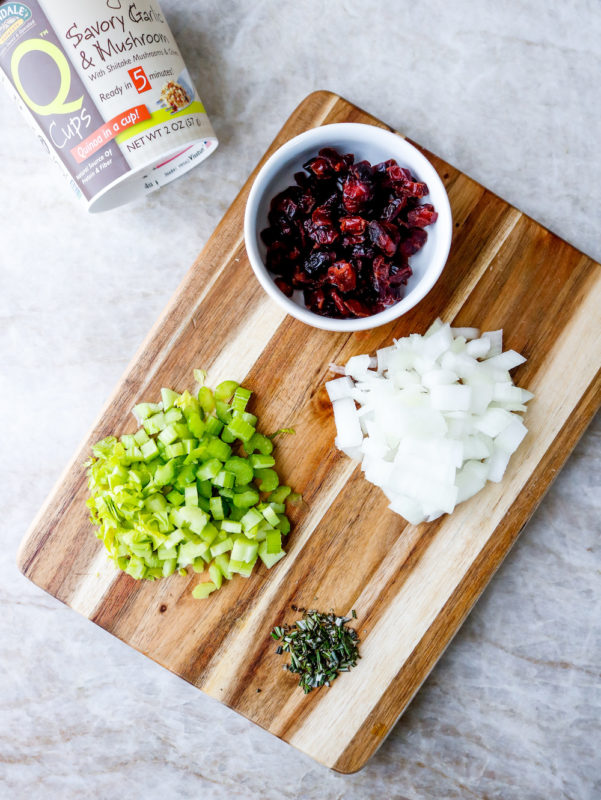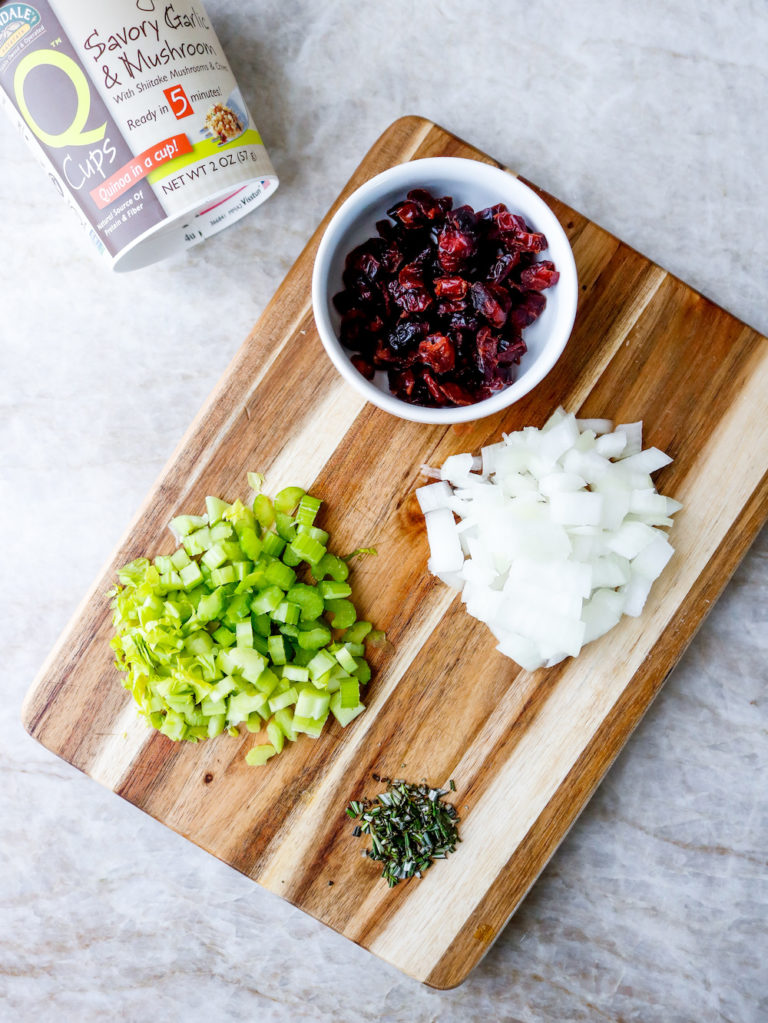 Simply chop up your ingredients.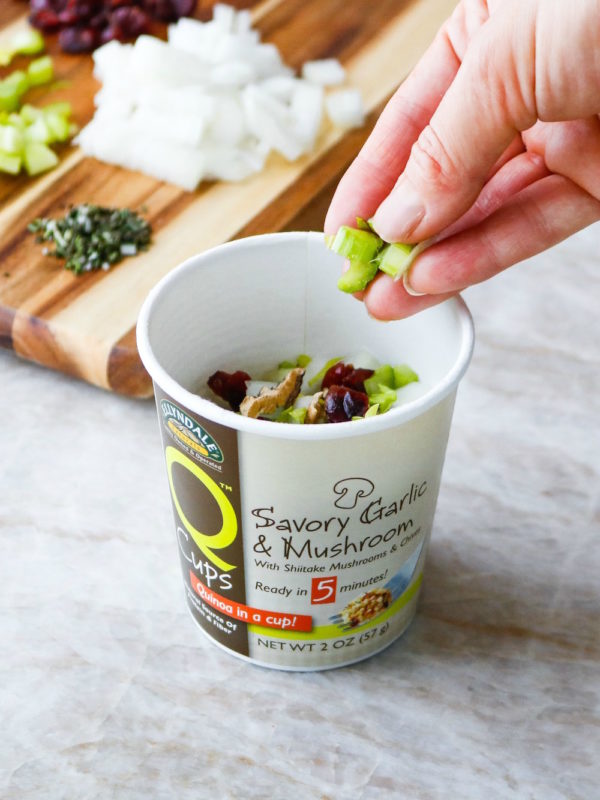 Add them to the Savory Garlic & Mushroom Q-Cup with chicken broth.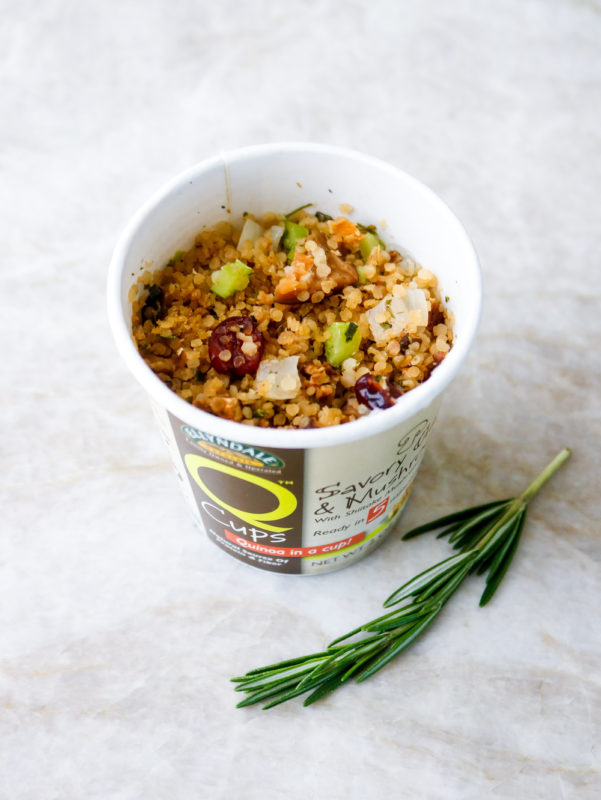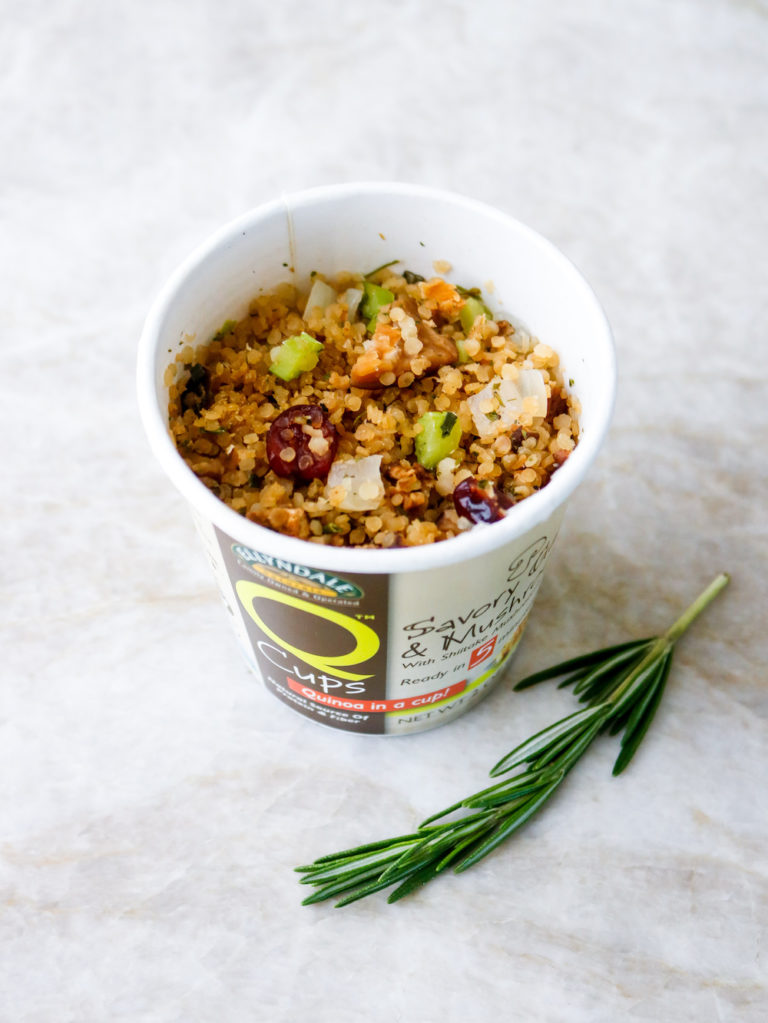 Microwave for 60 seconds and then put the lid on and let it do it's magic for 5 minutes. Then fluff it with a fork and serve alongside your favorite holiday sides! Or, if you can't wait, just eat it straight from the container like we do.
We served the quinoa stuffing with traditional sides here: air fryer turkey breast, carrots, cranberry sauce, and gravy. But, feel free to mix and match to your heart's desire.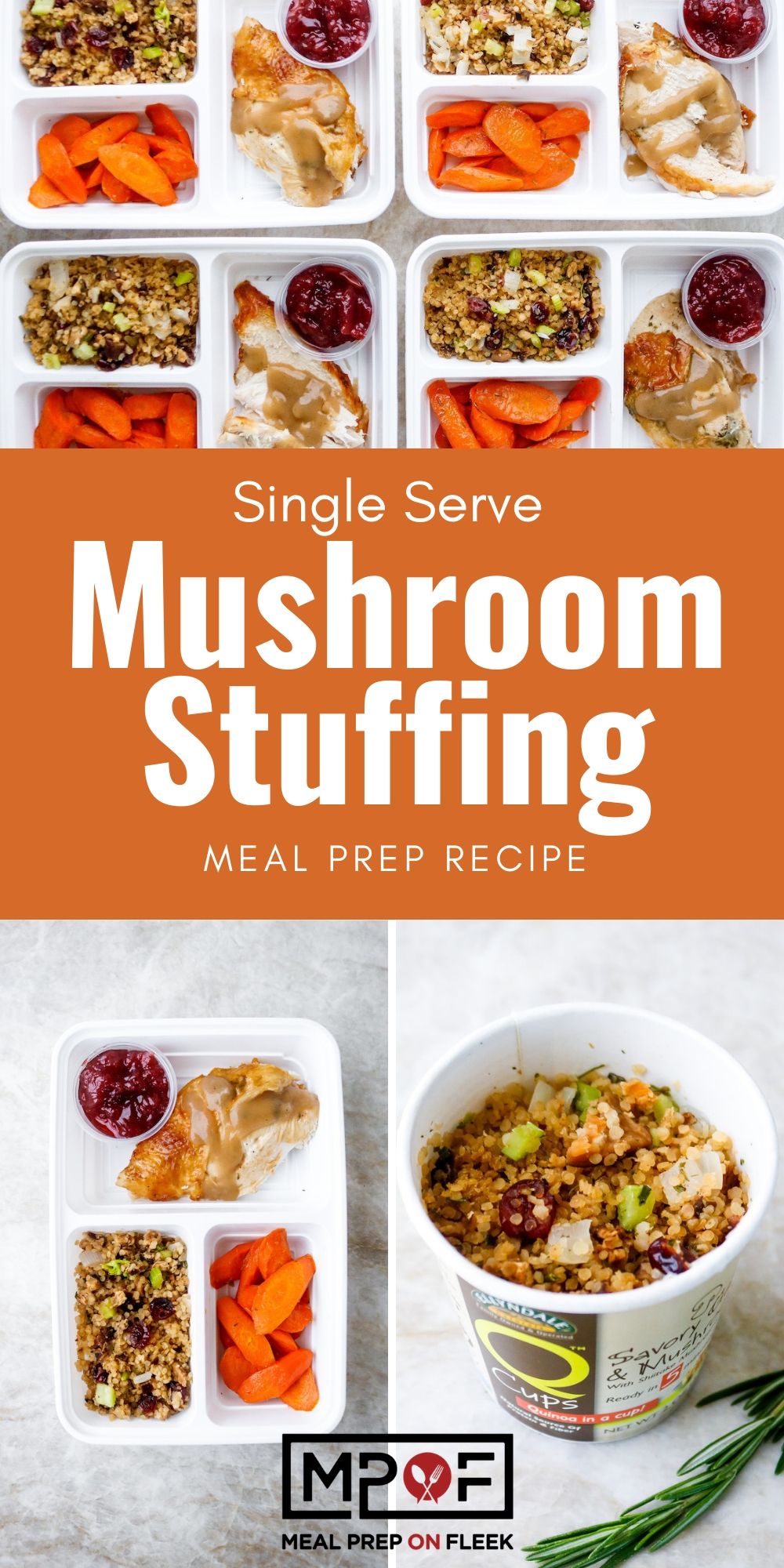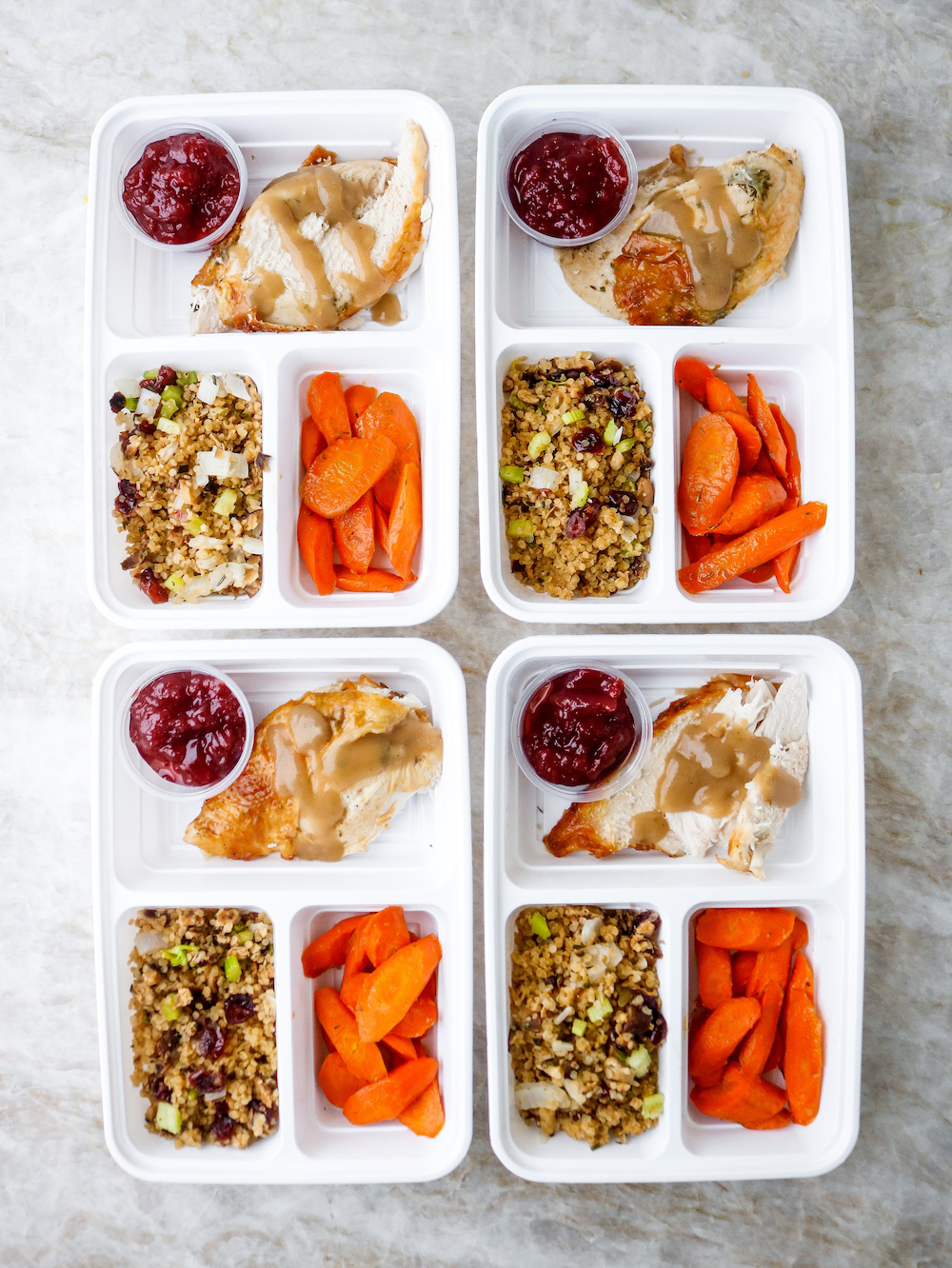 Ingredients
For Q Cup Stuffing
4

Mushroom Q-Cups

2

celery stalks

¼

medium

sweet white onion

½

cup

dried cranberries

1

small sprig of rosemary

2

cups

chicken stock
For Roasted Carrots
2

cups

sliced carrots

2

tbsp

olive oil

1

tbsp

honey

½

tsp

dried thyme

½

tsp

sea salt
For Serving
2

lbs.

sliced air-fried turkey breast

1

cup

cranberry sauce

½

cup

turkey gravy
Instructions
Finely chop celery, onion and rosemary.

Remove plastic film from Q-Cup and discard. Divide celery, onion, rosemary and cranberries between 4 Q-Cups. Add ½ cup of chicken stock to each Q-Cup. Microwave for 60 seconds.

Stir and cover with lid. Allow ingredients to steep for 5 minutes. Repeat with remaining 3 Q-Cups.

Divide Q-Cup stuffing between 4 MPOF white 1 cup compartments. Add roasted carrots to the other 1 cup compartment, turkey to the large compartment along with a small cup of cranberry sauce.
To make roasted carrots:
Heat oven to 400ºF and line a medium baking sheet with parchment paper. Combine carrots, olive oil, honey, thyme and sea salt in a medium mixing bowl. Stir well to coat carrots. Pour carrots onto baking sheet and spread evenly. Roast for 25 minutes.
Notes
Macros include 1 Q Cup, turkey breast, carrots, cranberry sauce, and gravy. 
Nutrition
Calories:
632
kcal
|
Carbohydrates:
102
g
|
Protein:
31.2
g
|
Fat:
8.7
g
|
Fiber:
9.6
g