There are incredibly 700 Caribbean islands, islets, reefs, and cays owned by more than 20 countries. Which ones would you like to visit? Now that you're hungry and excited, let's get into the food you can enjoy while you wait for your next vacation! Sheet Pan Chicken Thighs with Plantains and Black Bean Mango Salsa are sure to do justice for the traveler and adventurer in you!
Chicken thighs are known to be more flavorful than your average chicken breast (and less expensive!) Plantains are richer in vitamins and minerals than potatoes and much more memorable too – such a fantastic source of starch with a bit of sweet. Land in heaven with black beans and mango and your palate will be humming for days, all without any jet lag! Bottom line: this meal prep recipe is delicious and faster than a trip to the Caribbean. Let's get your feet wet!
This sheet pan meal is loaded with island flavor! Chicken thighs are coating in exotic spices and roasted alongside sweet plantains. The dish is finished with a juicy, antioxidant-rich mango black bean salsa that ties the whole meal together.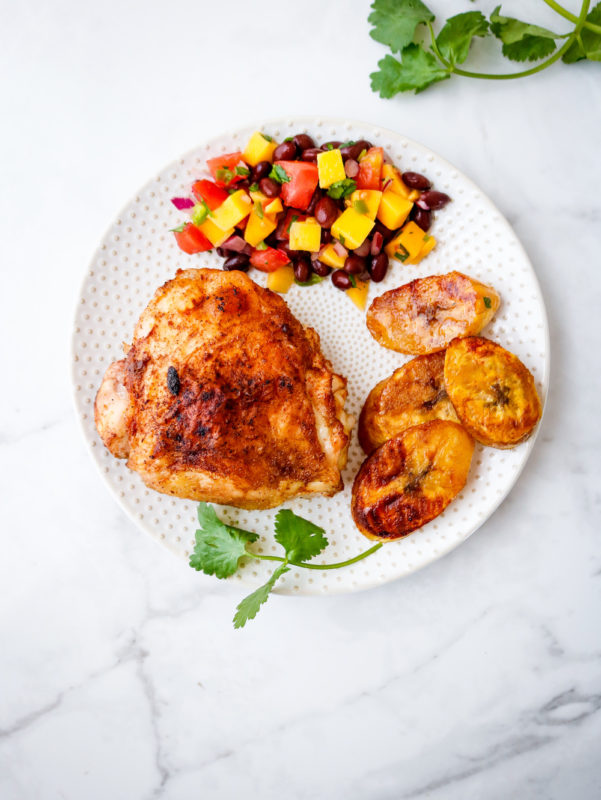 How long will Sheet Pan Chicken Thighs last for?
This meal prep recipe gives you four feel-good meals to share for yourself or loved ones. You can safely store Sheet Pan Chicken Thighs in the refrigerator for up to 4 days. Cooked chicken and vegetables last for the same amount of time, so pack it all together, store them tightly a meal prep container, and enjoy any time.
Can Sheet Pan Chicken Thighs be frozen?
Yes, cooked chicken freezes well and can be stored in your freezer for up to three months. Properly seal the chicken in a quality meal prep container and you're good to go. The cooked plantains and salsa can last in the freezer just as long. Place your meal prep in the fridge the night before in order to thaw, then heat up in the oven or microwave when it's go-time.
How do you make Sheet Pan Chicken Thighs?
We love sheet-pan meal prep recipes over here at MPOF, and this one is as simple as the rest! Prep your oven, chicken, plantains and salsa ingredients and let the oven do the work. Portion your Sheet Pan Chicken Thighs and devour your dish at the most delightful time!
How to portion Sheet Pan Chicken Thighs?
It's best to keep the Chicken Thighs separated from the Plantains and Salsa until it's time to eat, so make the most with a white or red three-compartment meal prep container.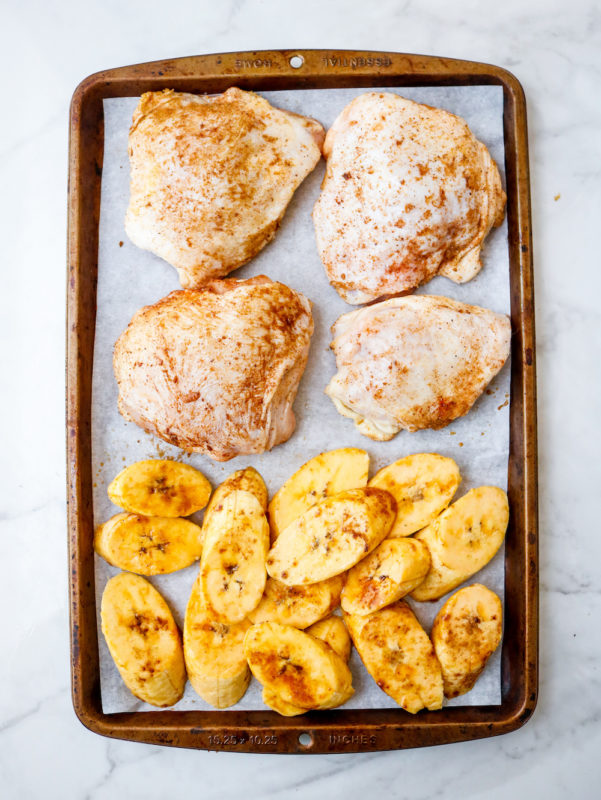 More Chicken and Sheet Pan meal prep recipes:
What else can you make easily that satisfies? Try these recipes, similar but different to Sheet Pan Chicken Thighs:
Other tips for making Sheet Pan Chicken Thighs:
Buy a commercial-grade sheet-pan so it browns evenly over time and lasts as long as you want.

Leave space between chicken thighs and between plantains to cook evenly.

Use parchment paper rather than aluminum foil both for its non-stick properties and also to avoid aluminum leaching into food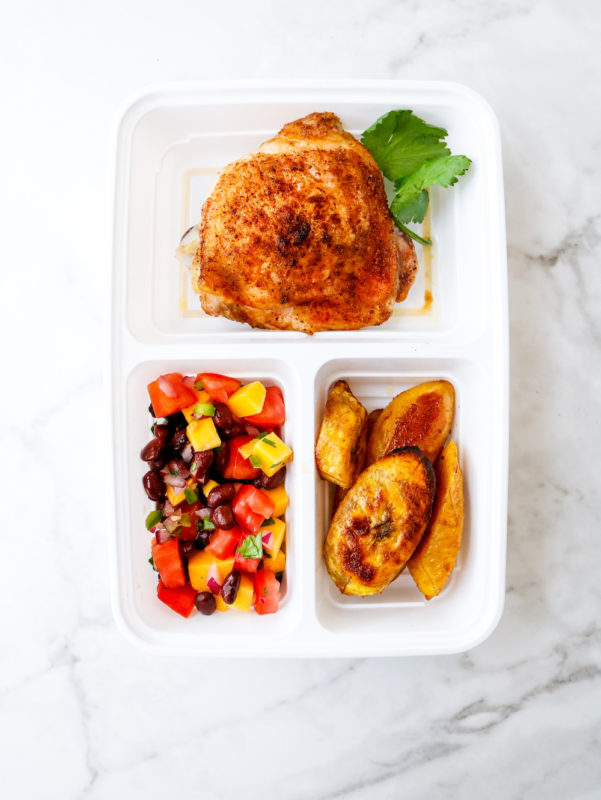 Sheet Pan Caribbean Chicken Thighs Ingredients:
For Jerk Chicken
4 bone-in skin-on chicken thighs (1 11/2 pounds)
1/4 tsp allspice
1 tbsp olive oil
1/4 tsp cinnamon
1 tsp ground cumin
1/4 tsp onion powder
1/2 tsp sea salt
1/4 tsp cayenne pepper
For Plantains
2 ripe plantains, sliced into 1/2 inch pieces
1 tbsp olive oil
1 tsp coconut sugar
1/2 tsp cinnamon
Black Bean Mango Salsa
1 cup black beans, drained and rinsed
1/2 cup chopped mango
1/2 cup chopped tomatoes
1/4 cup chopped red onion
1/4 cup chopped cilantro
1 tbsp lime juice
1 tsp minced jalapeño
1/4 tsp sea salt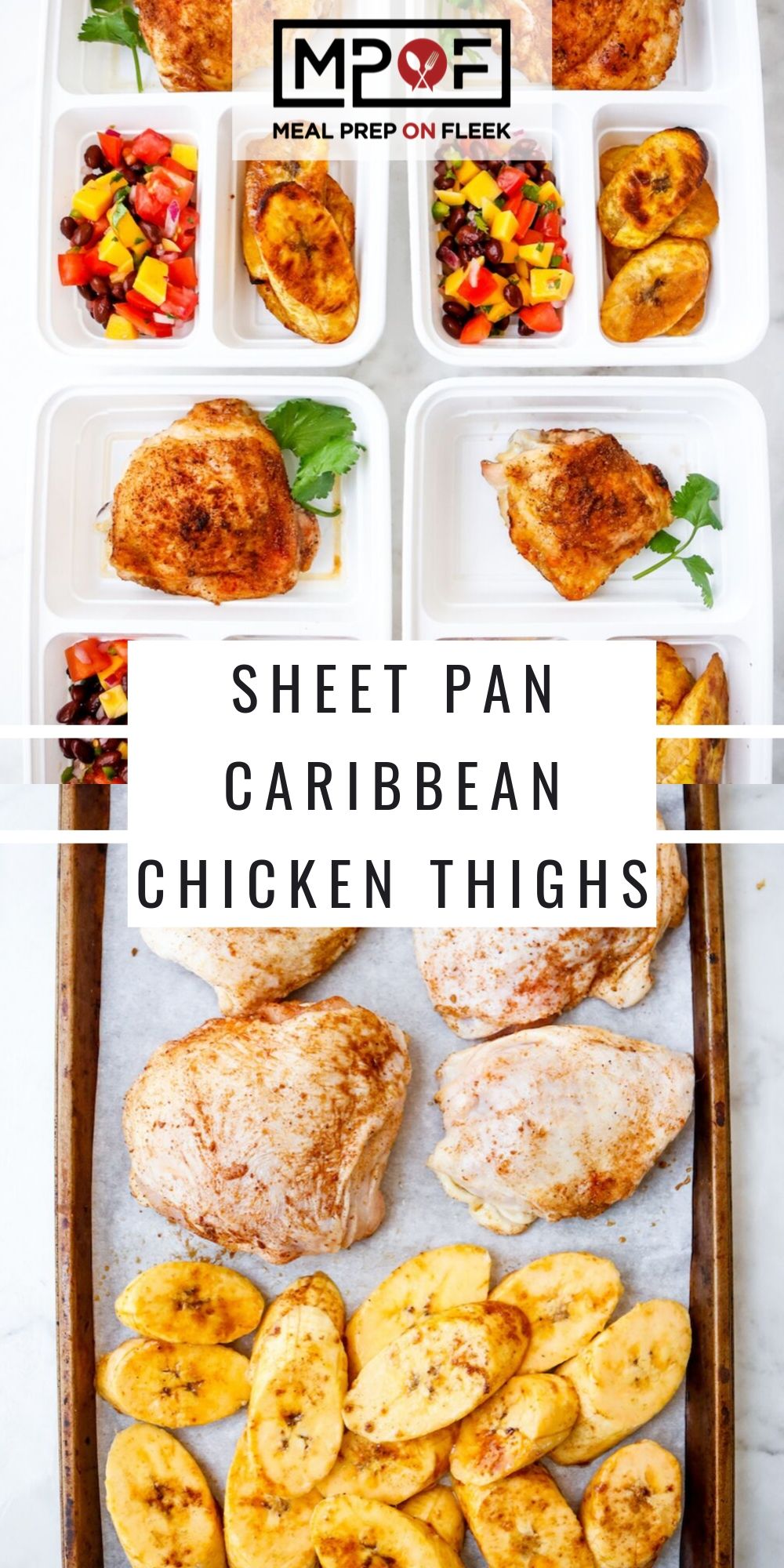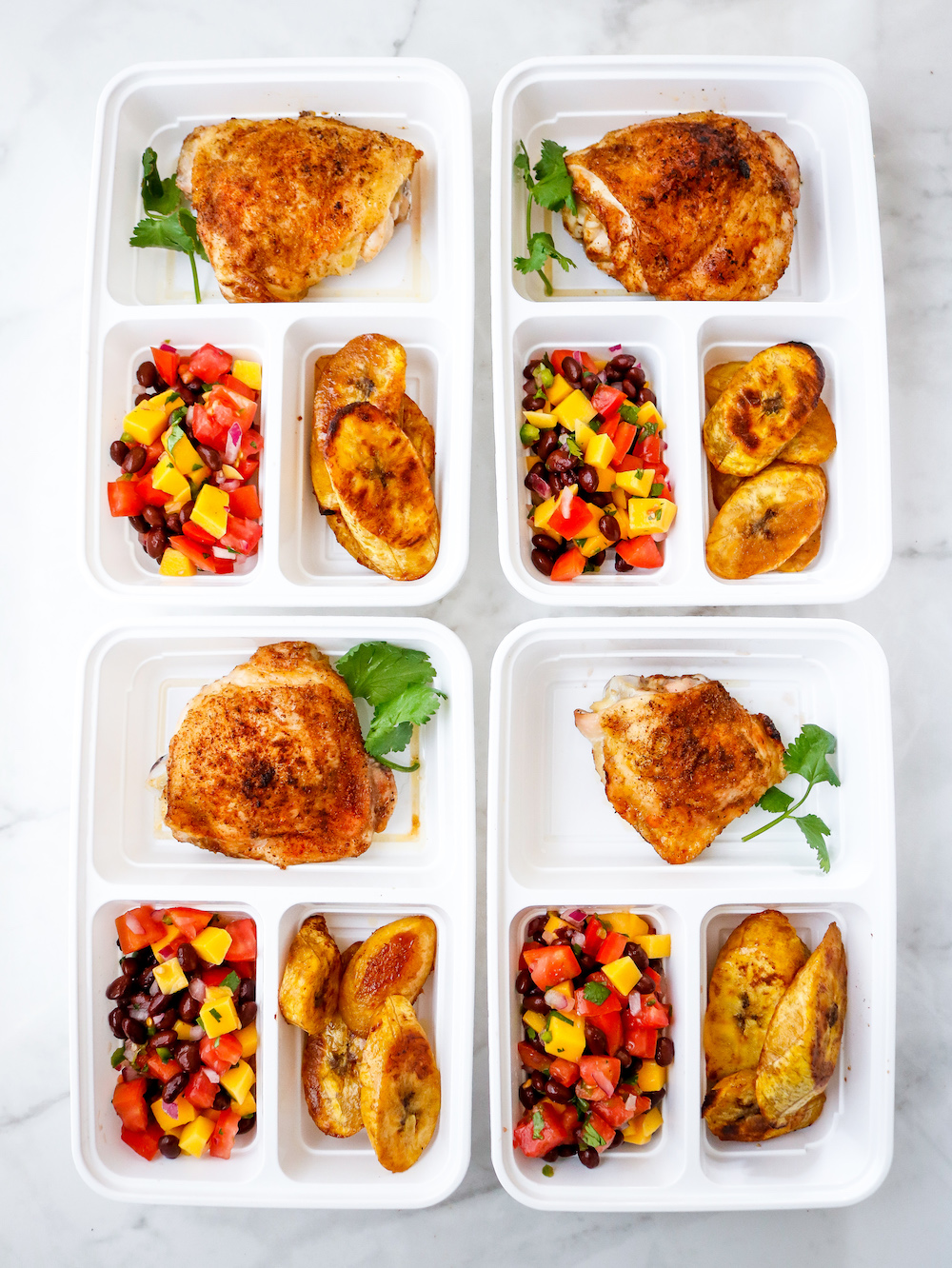 Ingredients
For Jerk Chicken
4

bone-in skin-on chicken thighs

about 1.5lbs

1

tbsp

olive oil

1

tsp

ground cumin

1/4

tsp

allspice

1/4

tsp

cinnamon

1/4

tsp

onion powder

1/2

tsp

sea salt

1/4

tsp

cayenne pepper
For Plantains
2

large

ripe plantains

sliced into 1/2 inch pieces

1

tbsp

olive oil

1

tsp

coconut sugar

1/2

tsp

cinnamon
Black Bean Mango Salsa
1

cup

black beans

drained and rinsed

1/2

cup

chopped mango

1/2

cup

chopped tomatoes

1/4

cup

chopped red onion

1/4

cup

chopped cilantro

1

tbsp

lime juice

1

tsp

minced jalapeño

1/4

tsp

sea salt
Instructions
Preheat oven to 425ºF and lime a large baking sheet with parchment paper. Place plantain slices in a medium mixing bowl and drizzle with one tablespoon olive oil. Gently toss to coat. Sprinkle coconut sugar and cinnamon on top and toss with hands to coat. Spread out on the bottom baking sheet.

Use a paper towel to blot chicken thighs dry and place in a medium mixing bowl. Drizzle with 1 tablespoon olive oil and sprinkle with dry seasonings. Use hands to coat chicken thighs, rubbing seasonings into the skin. Place chicken thighs on the baking sheet above plantains. Bake 20 minutes. Use tongs to turn plantains for even browning. Return to oven for 15 minutes longer. Divide plantains between 4 white MPOF containers in small compartments. Turn oven to broil and broil chicken thighs 5 minutes to crisp skin.

While chicken and plantains cook, stir together ingredients for salsa in a small mixing bowl. Refrigerate.

Place 1 chicken thigh in large compartments of 4 MPOF containers. Spoon mango black bean salsa in 4 remaining small compartments.
Nutrition
Calories:
568
kcal
|
Carbohydrates:
49.8
g
|
Protein:
45.6
g
|
Fat:
21.2
g
|
Fiber:
7.2
g