This gluten-free cheesy chicken is comfort food at its best! Served alongside a veggie-rich rice pilaf for a complete meal!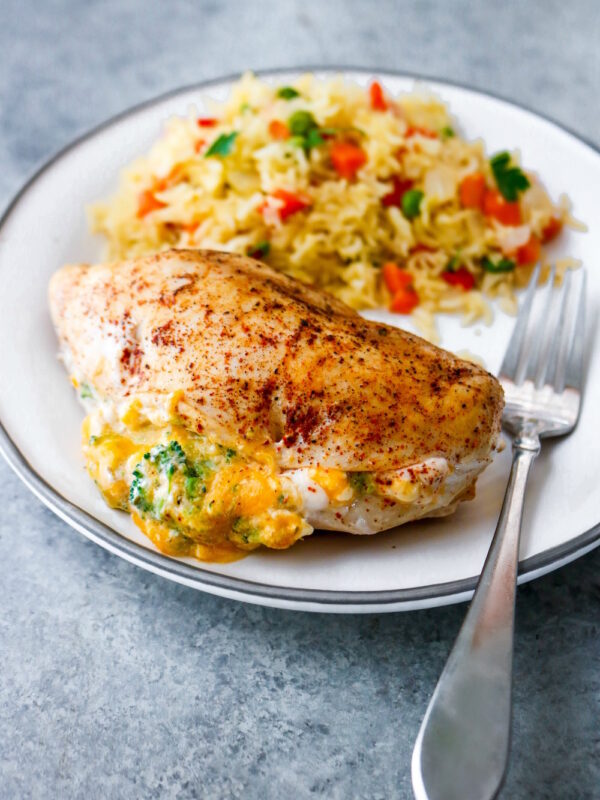 Broccoli Cheddar Stuffed Chicken Breast & Rice Pilaf Ingredients:
For Chicken
4 large chicken breasts
1 tsp paprika
1/2 tsp garlic powder
1 tsp sea salt
1/4 tsp black pepper
1 cup finely chopped broccoli
3 oz. cream cheese
1 cup shredded cheddar cheese
1/2 tsp dried thyme
2 tbsp olive oil
For Rice Pilaf
3/4 cup basmati rice
1/3 cup finely chopped red bell pepper
1/3 cup frozen peas
1/3 cup finely chopped carrot
1/4 minced chopped white onion
2 tbsp butter
2 cups chicken stock
Sea salt and black pepper to taste
1/4 cup chopped parsley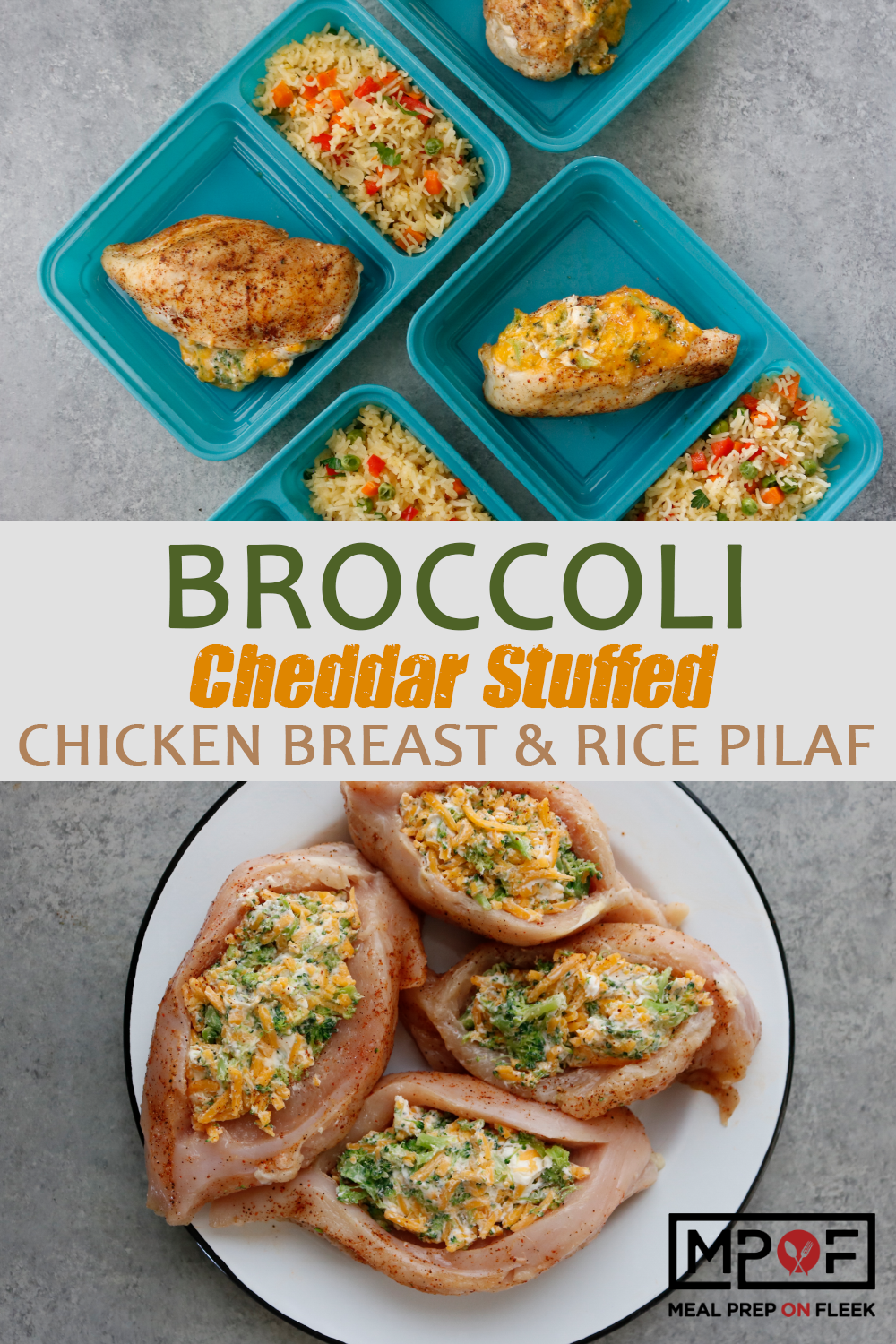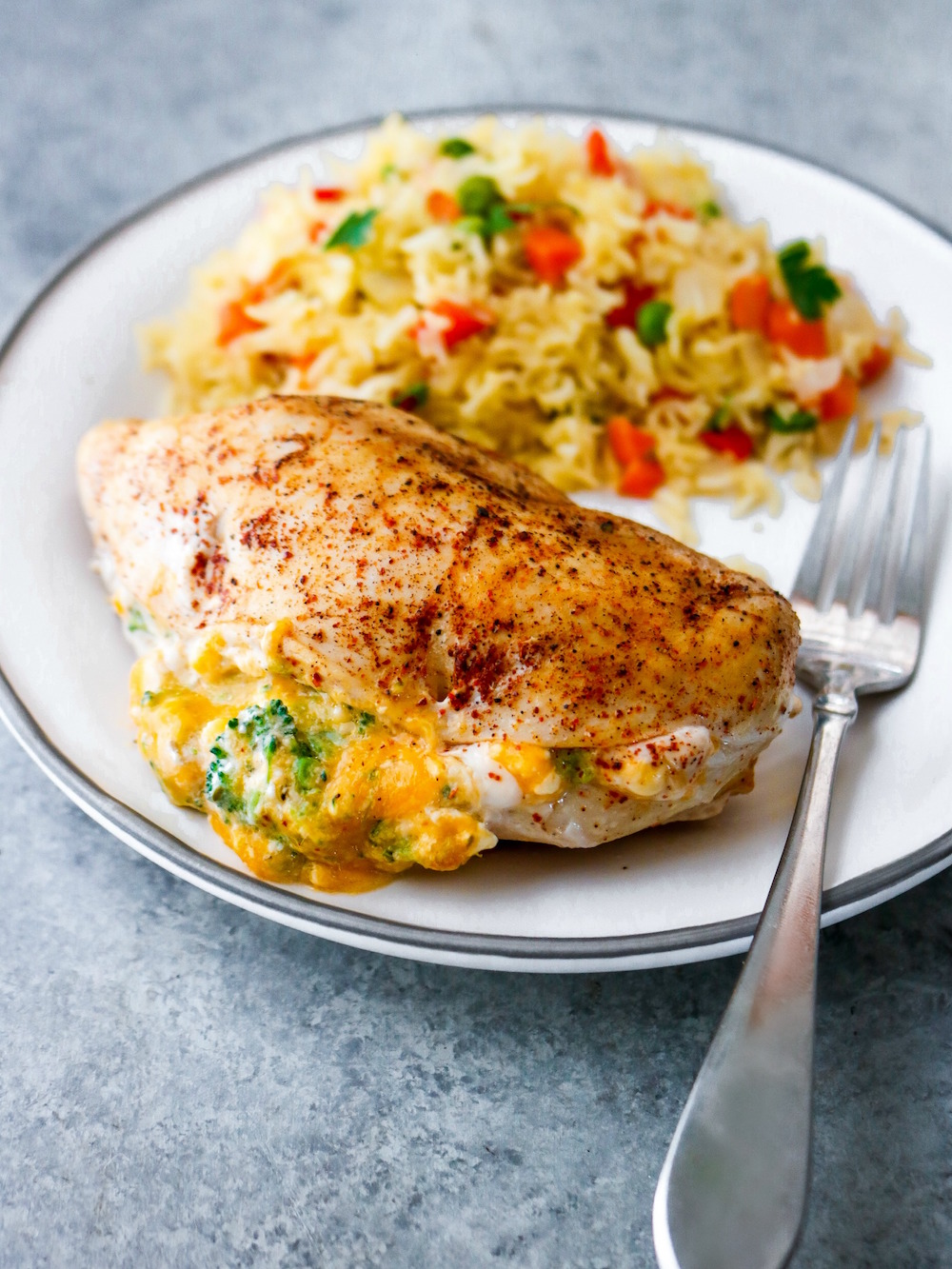 Ingredients
For Chicken
4

large chicken breasts

about 1-1.5lbs

1

tsp

paprika

1/2

tsp

garlic powder

1

tsp

sea salt

1/4

tsp

black pepper

1

cup

finely chopped broccoli

3

oz.

cream cheese

1

cup

shredded cheddar cheese

1/2

tsp

dried thyme

2

tbsp

olive oil
For Rice Pilaf
3/4

cup

basmati rice

1/3

cup

finely chopped red bell pepper

1/3

cup

frozen peas

1/3

cup

finely chopped carrot

1/4

minced chopped white onion

2

tbsp

butter

2

cups

chicken stock

Sea salt and black pepper to taste

1/4

cup

chopped parsley
Instructions
Preheat oven to 425º.

Season chicken breasts with garlic, paprika, salt and pepper on all sides. Using a sharp knife, slice through the side of chicken breasts leaving 1-2 inches on each side to create a pocket.

Place broccoli florets in a microwave safe bowl with 2 tablespoons of water. Cover with a paper towel and microwave for 1 minute. Drain water and add broccoli to a medium mixing bowl with cream cheese, cheddar cheese and dried thyme. Mix until combined.

Divide mixture between chicken breasts using a spoon and secure with a 1-2 toothpicks. Heat olive oil in a large cast iron pan over medium heat for 2 minutes. Add 2 chicken breasts to pan and sear for 3 minutes on each side. Set aside on a plate. Repeat with remaining 2 chicken breasts. Arrange all chicken breasts in pan. Cover with aluminum foil and transfer to oven. Bake 20 minutes. Carefully remove aluminum foil and bake 5-10 minutes longer or until chicken is cooked through. Remove toothpicks before serving.

While chicken bakes, rinse rice in a mesh strainer to remove some of the starch. Heat butter over medium heat in a medium sauté pan. Add bell pepper, carrots, peas, onions and rice. Stir in chicken broth and bring to a boil. Stir and cover. Reduce heat to medium-low and simmer rice for 15-20 minutes, until rice is tender and broth is absorbed. Gently fluff rice with a fork. Season with salt, pepper and parsley. Serve chicken hot alongside rice.
Nutrition
Calories:
652
kcal
|
Carbohydrates:
40.1
g
|
Protein:
51.2
g
|
Fat:
29.6
g
|
Fiber:
4.6
g