Vegan Chopped Chickpea Greek Salad Meal Prep
We know how much it sucks to eat the same skimpy, watered-down salad, over and over again. Mixed greens and tomato with some kind of dressing, day in and day out—The tasteless litany of boring vegetables, ever reminding us how real the struggle is in getting proper nutrition in a delicious way. And though we've just painted you a bleak meal prep picture, don't let the sadness crush you—MPOF is here to save its readers from having to ever eat a dull salad again! How, you ask? With this vegan chopped chickpea Greek salad meal prep recipe!
This is a pretty solid recipe for when you just don't have the time to cook. The time it takes to pull this Greek salad meal prep together is a mere 10 minutes! And after that, you have 4 servings, perfect for eating at home, or prepping for on the go! We think this recipe would be best as a lunch dish, but of course, experiment to find out what you enjoy best!
Chickpea Greek Salad Health Benefits:
One nice thing about this chickpea Greek salad meal prep is that it includes how to make your very own balsamic vinaigrette from scratch! Forget paying for dressings at the store, they can be full of preservatives, unhealthy fats, and sugar. This balsamic dressing is far superior because we use honey or date syrup to sweeten the vinaigrette just enough. Plus, it has an olive oil base, and olive oil is bountiful in polyunsaturated fats (in the form of omega-3s and omega-6s), monounsaturated fats (in the form of oleic acid), antioxidants, and has been proven to improve heart health and inflammation in the body!
Of course, we would be remiss in not mentioning the value of the chickpeas in this Greek salad meal prep recipe! Just one single ounce of chickpeas contains 2g of fiber—Which is a ton, considering the daily RDI for fiber is 9g! Fiber is vital to blood sugar regulation and feeling satisfied after a meal.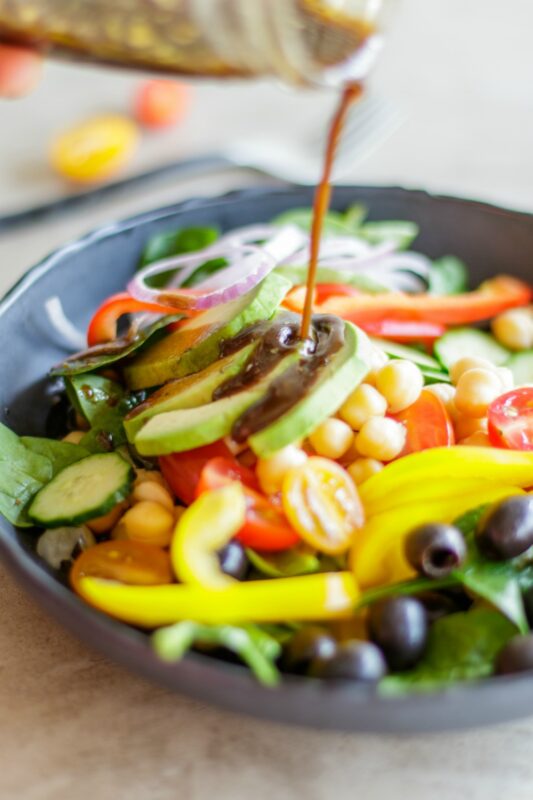 Perfectly Balanced Salad Meal Prep:
When we ate this Greek salad meal prep, we found it to be incredibly filling because it has 20g of fiber in it, plus 19g of protein—That's over double your recommended daily intake of fiber, which means you'll be more than satisfied for a longer period of time! You'll also notice that this meal prep recipe calls for an avocado.
Avocados, sometimes referred to as "nature's butter" for their creamy texture and high-fat content, are not only absolute FIRE in the flavor department but are widely considered a superfood! On average, each one contains 7g of fiber, 15g of good fats, and more potassium than a banana! Avocados have been proven to reduce your risk for heart disease, and lower bad cholesterols in the body!
For more meal prep recipes with avocado as the primary ingredient, check out this velvety, keto friendly Chilled Avocado Soup Meal Prep, or our compilation of The Internet's Best Avocado Recipes! With all these veggies, you're well on your way to having an energized, successful day, whether it's at school or the office.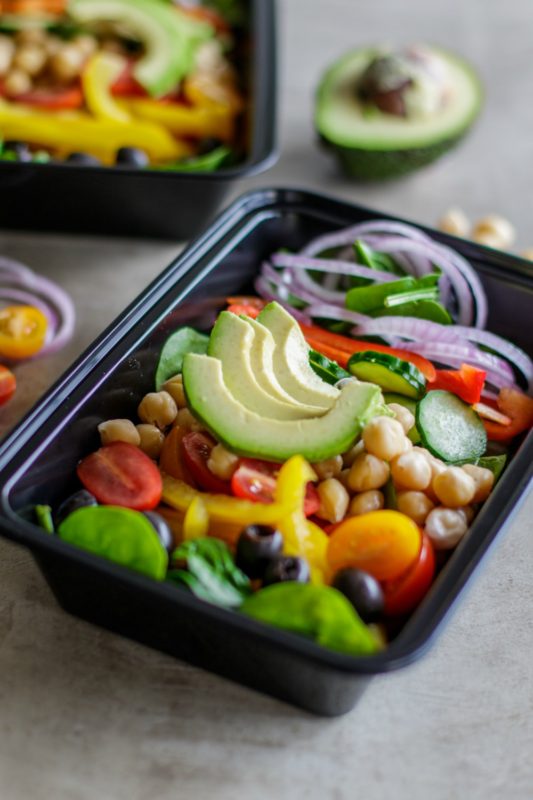 Vegan Chopped Chickpea Greek Salad Meal Prep Ingredients:
8 cups baby spinach or other salad greens
1 can chickpeas, rinsed and drained
1 large cucumber, sliced
1 bell pepper, red or yellow, sliced thinly
2 cups cherry tomatoes, halved
1 red onion, sliced thinly
1 cup black olives
1 large avocado
Dressing:
¼ cup olive oil
3 tablespoons balsamic vinegar
1 tablespoon lemon juice
1 teaspoon date syrup (or honey)
1 teaspoon dijon mustard
½ teaspoon Italian seasoning
¼ teaspoon sea salt (or to taste, optional)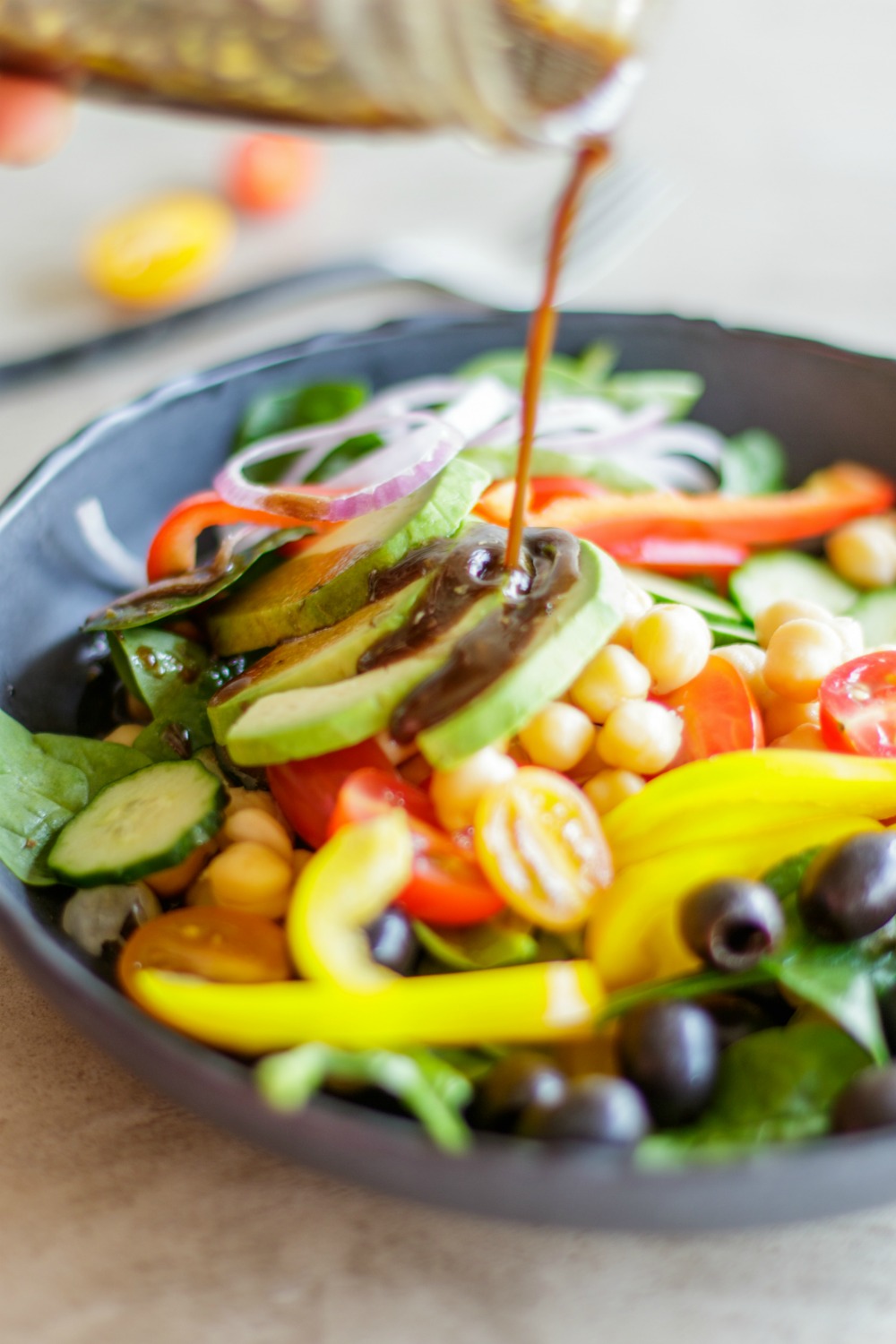 Ingredients
Salads
8

cups

baby spinach

1

can

chickpeas

drained and rinsed

1

large

Cucumber

sliced

1

medium

bell pepper

thinly sliced

2

cups

Cherry Tomatoes

halved

1

medium

red onion

thinly sliced

1

cup

black olives

sliced

1

large

Avocado
Dressing
1/4

cup

olive oil

3

tbs

balsamic vinegar

1

tbs

lemon juice

1

tsp

Honey

or date syrup

1

tsp

Dijon Mustard

1/2

tsp

italian seasoning

1/4

tsp

Salt
Instructions
Add all dressing ingredients to a jar, and shake to combine.

Layer veggies and chickpeas on beds of spinach.

Add avocado and dressing right before serving.
Notes
Nutrition for 1 out of 4 servings:
16 Protein | 62 Carbs | 27 Fat | 20g Fiber | 528 Calories
Nutrition
Serving:
1
meal
|
Calories:
528
kcal
|
Carbohydrates:
62
g
|
Protein:
16
g
|
Fat:
27
g
|
Fiber:
20
g