Vegetarian Cobb Salad Meal Prep
Who says vegetarians don't get enough nutrition? Our Vegetarian Cobb Salad meal prep recipe suggests otherwise. This wholesome, bright, and fresh vegetarian recipe is savory, filling, and delicious. The Vegetarian Cobb salad has earthy, roasted flavors from the vegetables, oven, and seasoning. This gluten-free vegetarian dish is suitable for lunch or dinner.
Are you ready for #MeatlessMonday? Well, now you are!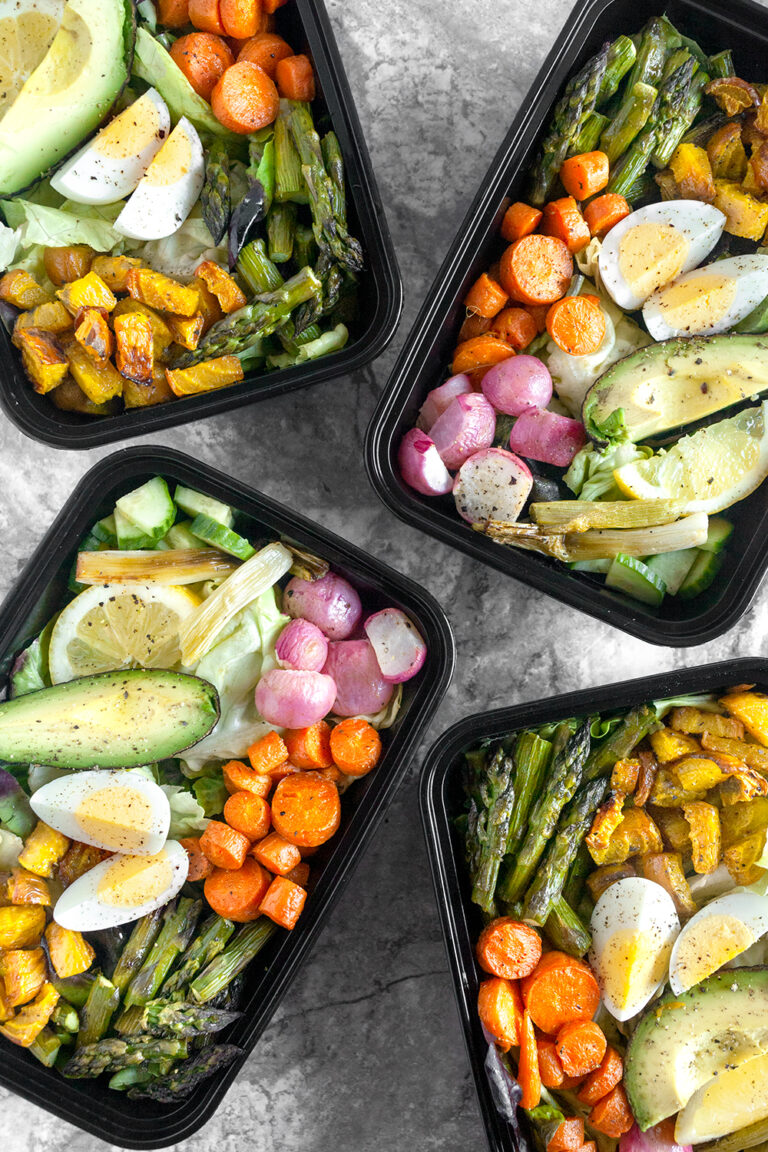 How long will Vegetarian Cobb Salad last for?
Mix and pre-mixed salads and their ingredients last for up to 5 days. Some of the vegetables in this salad are roasted. Roasted vegetables last up to four days. Hard-boiled eggs last for one week. For best storage, pack vegetables all together in glass or plastic meal prep containers.
Can Vegetarian Cobb Salad be frozen?
Yes and no. Roasted veggies don't freeze well. But if you don't roast your vegetables thoroughly, they will hold up better in the freezer. Cooked vegetables can freeze for up to three months. Store them in these recommended freezer bags for the greatest freshness. Make the eggs fresh or within 1 to 2 days of prepping this meal.
How do you make Vegetarian Cobb Salad?
Making Vegetarian Cobb Salad is easy and it smells delicious!
First, get your oven and baking sheet pan ready. Preheat oven to 400 degrees and line pan with aluminum foil. Put asparagus, scallions, radishes, beets, and carrots with 2 tablespoons of olive oil in a mixing bowl. Once fully coated, place vegetables on the sheet pan with some space in between. Cook veggies in the oven on the middle rack for about 15 minutes or until they're tender and golden. Make the vinaigrette dressing while your vegetables roast. When vegetables are done, place them on a bed of butter lettuce. Then serve with egg, lemon, cucumber, and a drizzle of vinaigrette. Enjoy and store the rest in your refrigerator inside of meal prep containers.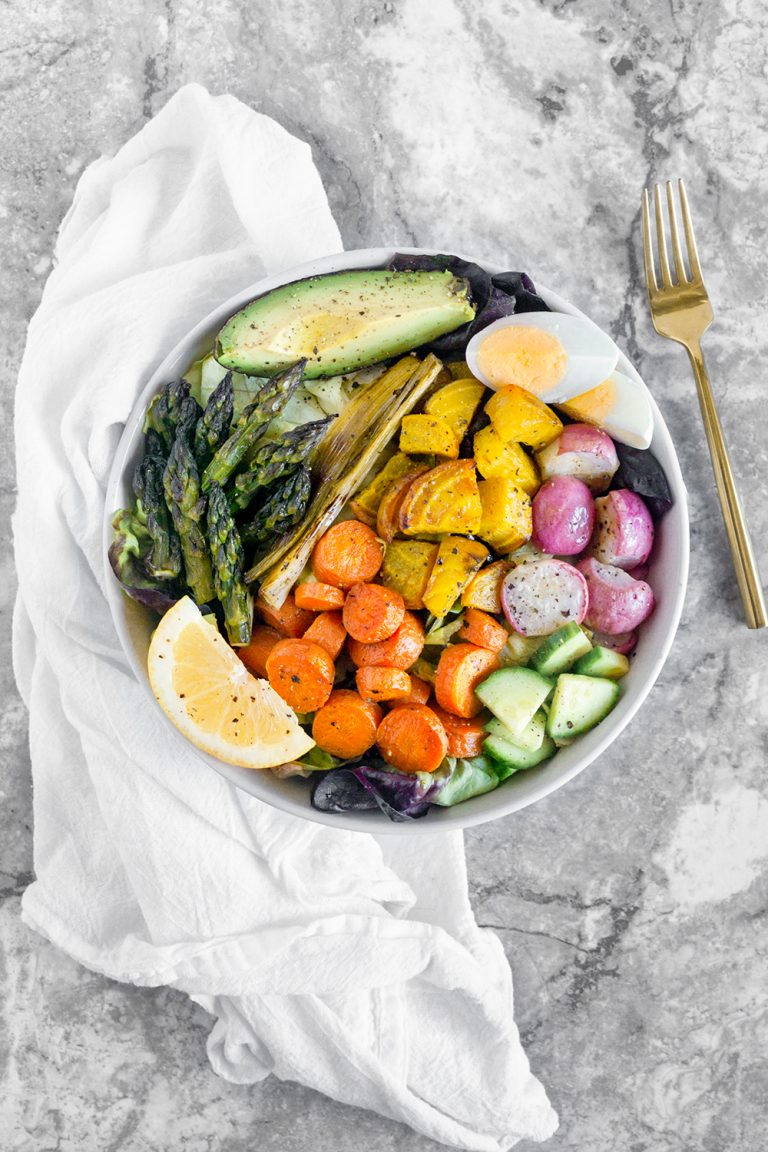 Vegetarian Cobb Salad Meal Prep Ingredients:
1 ¼ C. Butter Lettuce
1 C. Asparagus (cut into 1-2" long segments)
Scallions (greens trimmed off)
¾ C. Red Radishes (halved)
3 Medium Gold Beets (diced)
4 Medium Carrots (sliced)
½ C. English Cucumber (sliced)
1 Garlic Clove (grated)
1 Lemon (quartered)
2 Hard-boiled Eggs (quartered)
¼ C. Extra Virgin Olive Oil (plus separate 2 Tbsp. for roasting)
3 Tbsp. Red Wine Vinegar
¼ tsp. Pink Himalayan Salt
¼ tsp. Ground Black Pepper
Optional:
How to portion this meal prep:
This vegetarian meal prep recipe yields 4 servings. Each serving has lettuce, asparagus, radishes, eggs, carrots, yellow beets, and scallions. Divide it up how you want it like you would at a salad bar. Store each serving in a Bento box meal prep container. Be sure vinaigrette is separate. You can put that in these food, sauce, and dressing cups.
More Vegetarian Salad meal prep recipes:
Staying on a vegetarian diet doesn't need to be hard and boring! Here are more simple and delicious vegetarian meal prep recipes:
Maple Roasted Kabocha Squash & Quinoa Salad
Raw Salad with Corn and Antioxidant Rich Salad with Hummus recipes
Other tips for making Vegetarian Cobb Salad:
Get the best flavor, storage, preparing, and cooking tips on Vegetarian Cobb Salad. Remember this advice: