A protein meal prep will help you recalibrate your diet, especially when you're tired of chicken. Think lentils and salmon!
You know the feeling. You spent your weekend inhaling one too many slices of pizza for dinner, followed by bagels smothered in cream cheese for breakfast, and now your body is practically begging you to give the carbs a break. So, what's for dinner? A protein meal prep, naturally.
We know you're a little sick of eating grilled chicken with steamed broccoli every night. And that's because we feel that too, sometimes. Not that we don't love chicken (we do!), but when it's on our plates several times a week, our taste buds get tired. It's time to pull out of the rut and find out just how tasty a high-protein dinner can be—beyond chicken!
What is a High-Protein Meal?
So what exactly counts as "high protein"? While the FDA defines it as anything with more than 10 grams, we asked registered dietitian Elizabeth Jarrard to weigh in—she suggests aiming higher. With new research that recommends splitting your intake throughout the day, Jarrard suggests getting closer to 20 grams for a meal. And that's where this particular protein meal prep comes in.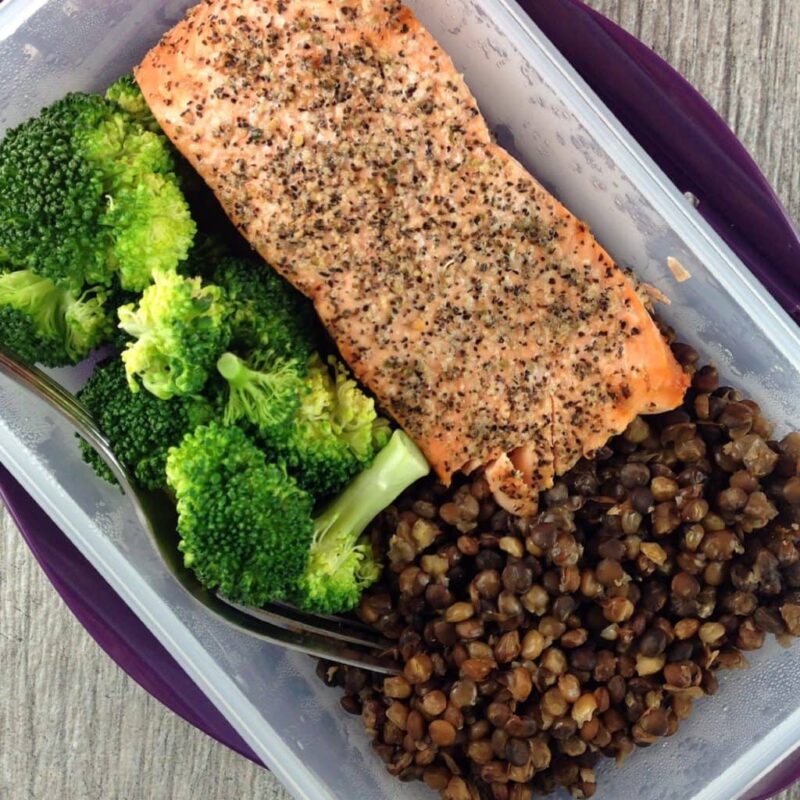 Protein Content of Salmon and Lentils
Did you know you can amp up the protein content in your meal prep by adding lentils? They pack in 18 grams of protein and 16 grams of fiber in ONE CUP! Pair that with baked salmon and steamed broccoli and you gave yourself one well-balanced meal prep! One three-ounce serving of salmon contains 17 grams of protein, so by adding a half cup of lentils to your protein meal prep, you're well over 20 grams for this dish. Plus, there's plenty of fiber, too, and that should keep you satisfied.
Ingredients for Salmon, Lentils, and Broccoli Meal Prep
1 pound salmon filets
2 cups steamed lentils
2 cups steamed broccoli
Seasonings of your choice
READ MORE: More salmon! Simple Low-Carb Salmon Meal Prep
Contributing source: Greatist