Southwestern Chicken Bake
When you're really hungry, would you rather have a skimpy meal or one that fills you up and energizes you for your day? We know we would pick the filling meal just about every chance we got, and so we're delighted to tell you that today's meal prep idea aims to do just that—Satiate hunger for as long as possible in a truly healthy yet delicious way! What is it, you ask? A super-filling Southwestern chicken bake meal prep!
This meal prep idea is fantastic not just because of the fact that it's filling, but rather, the way by which it fills you up—This Southwestern chicken bake makes use of a generous helping of quinoa! As you may have gathered from some of our other meal prep ideas, we absolutely love quinoa at MPOF (and we think you should, too ?)! Quinoa is one of just a very few plant foods that contain sufficient amounts of not just a few, but all nine essential amino acids, and provides you with 5g of fiber and 8g of protein per cup! Because can't naturally synthesize any of the essential amino acids within our bodies, it is important that we get them from the foods we consume—That's why the quinoa in this meal prep idea is so impressive! It's a one-stop-shop for all the aminos your body needs!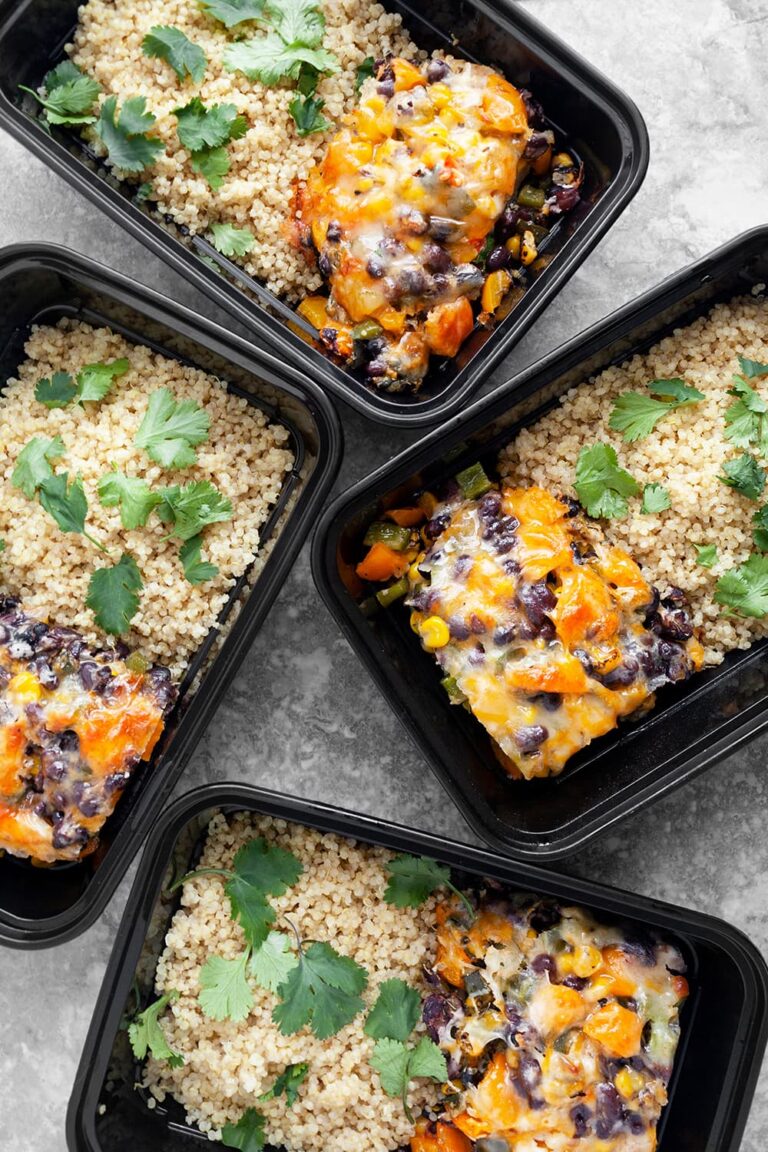 How long will this Southwestern chicken bake last for?
When properly stored, we found that this dish lasted for 3-4 days in the refrigerator. This timeframe is about as long as any kind of chicken will normally last.
Can this Southwestern chicken bake be frozen?
Yes, absolutely! You can typically expect chicken to stay fresh in the freezer for 2-6 months, and cooked quinoa to last an incredible 8 months to a year! So make lots of this meal prep idea, freeze it, and unthaw it for future Southwestern fiestas!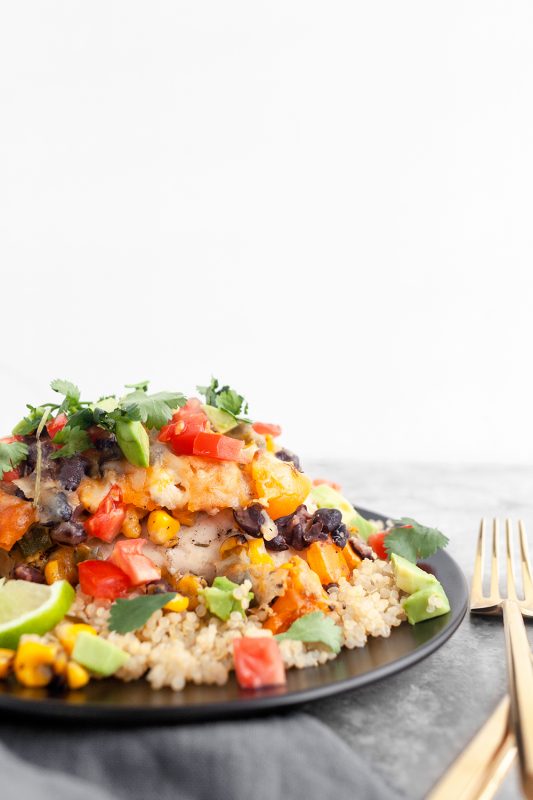 How do you make this Southwestern chicken bake?
This meal prep idea is as delicious as it is simple to make! Start by preheating your oven to 375℉ and putting the raw chicken breasts on a baking sheet. As the oven heats up, mix the beans, corn, peppers, lime juice, and seasonings together in a mixing bowl, and layer evenly over the raw chicken breasts. Bake for 45-50 minutes, add cheese on top, then place back in the oven until cheese has melted completely. Divide into 4 portions and enjoy!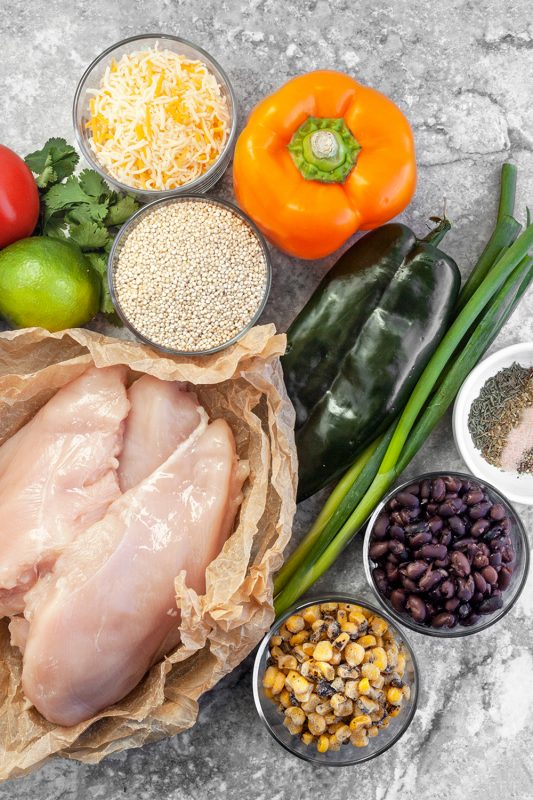 How to portion this Southwestern chicken bake?
We felt that this dish was best portioned in a very basic one-compartment meal prep container! We recommend either adding the quinoa first and placing a breast on top or setting the quinoa and chicken right next to each other in the container. You can order the containers we most highly recommend More information on meal prep containers can be found on Amazon! Or, if you want more info, check out our article, Ultimate Guide to Meal Prep Containers for a comprehensive list of what's available.
More Southwestern meal prep ideas:
We wouldn't be mad at you for wanting more Southwestern spice in your meal prep regimen! So if you do, we highly recommend this easy-peasy One-Pot Southwestern Meal Prep or our simple Southwestern Steak Salad!
Other tips for making chicken:
Always remember that chicken is considered cooked at no less than an internal temperature of 165℉. Consuming chicken at any temperature cooler than that will put you at risk for salmonella poisoning.

On that note, do yourself a favor by spending a few dollars on a digital instant-read meat thermometer. If you don't already have one…. Just trust us, it's way, way, way easier than trying to eyeball things!

Adding one layer of parchment paper over the chicken before you bake it will ensure that it doesn't dry out or become tough. Cool protip, huh?

Southwestern Chicken Bake Meal Prep Ingredients:
1 lb. Chicken Breast (boneless, skinless; fresh or thawed)
1 C. Canned Black Beans (rinsed, drained)
1 Medium Poblano Pepper (de-seeded, diced)
1 C. Fire-roasted Corn (frozen)
1 C. Shredded Mexican Cheese Blend
1 Medium Orange Bell Pepper (de-seeded, diced)
3 C. Quinoa (cooked)
1 Lime (quartered into wedges)
Juice of 1 Lime
2 tsp. Dried Oregano
2 tsp. Dried Thyme
1 tsp. Pink Himalayan Salt
1 tsp. Ground Black Pepper
*Optional: top with avocado, sliced green onions, fresh cilantro, diced tomato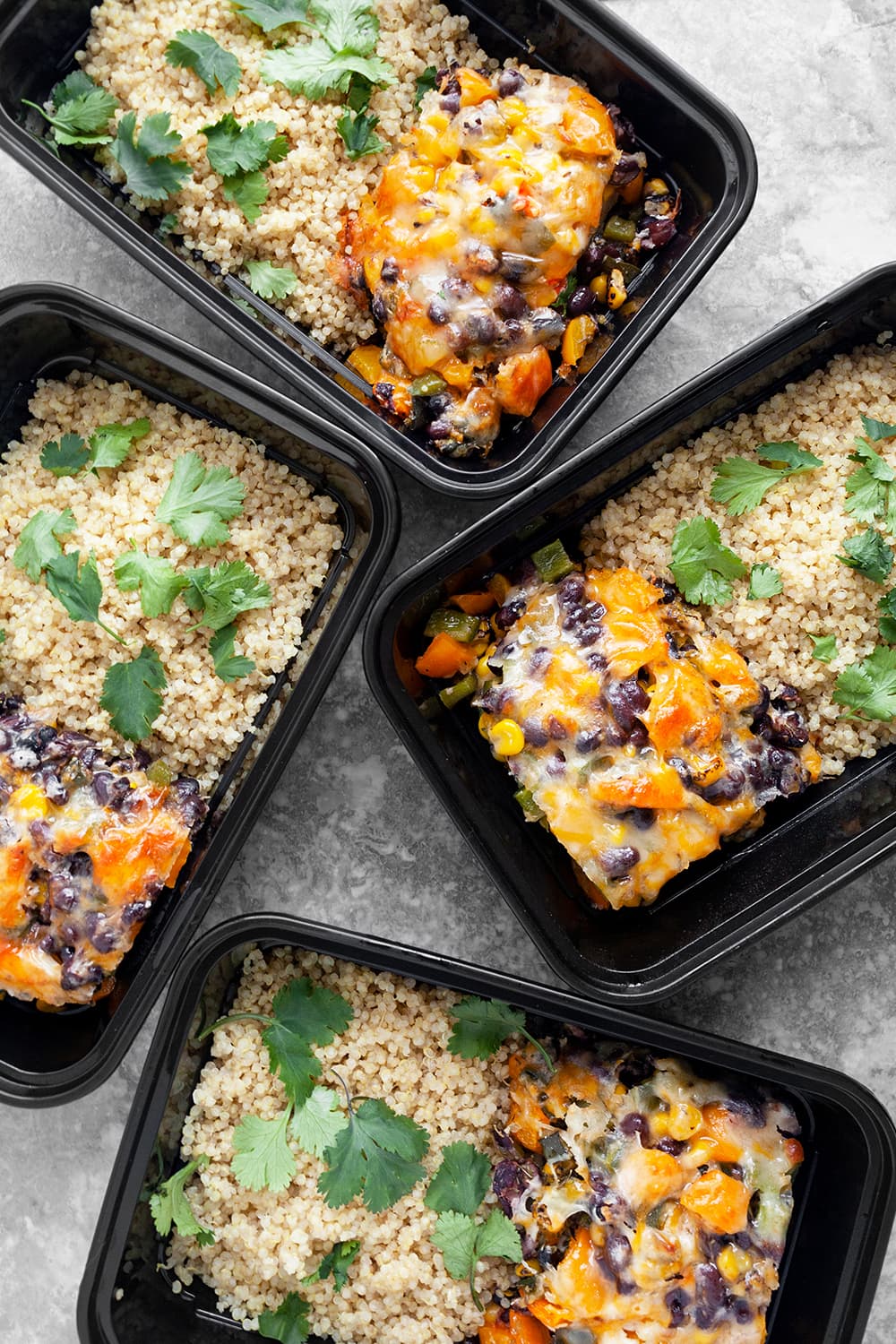 Ingredients
1

pound

Chicken Breast

boneless and skinless

1

cup

canned black beans

drained and rinsed

1

cup

fire-roasted frozen corn

3

cups

cooked quinoa

1

medium

poblano pepper

de-seeded and diced

1

medium

bell pepper

de-seeded and sliced

1

lime

cut into quarters

1

lime

juiced

2

tsp

oregano

2

tsp

thyme

1

tsp

Sea Salt

1

tsp

Ground Pepper
Optional
Avocado

green onions

cilantro

diced tomato
Instructions
Preheat oven to 375℉.

Place chicken breasts in a baking dish in a single layer.

In a medium bowl, combine beans, corn, peppers, seasonings, and lime juice. Spread mixture over chicken until chicken is fully covered.

Place on middle oven rack and bake uncovered for 45 — 50 minutes, or until chicken has reached an internal temperature of 165℉ (fully cooked).

Add the cheese at the very end then pop it back in the oven, just long enough for the cheese to melt.

Divide chicken bake, toppings, and quinoa into four equal servings.

Serve, store, and enjoy!
Notes
Nutrition for 1 out of 4 servings:
45g Protein | 53.6g Carbs | 14.4g Fat | 9.8g Fiber | 515 Calories
Nutrition
Serving:
1
meal
|
Calories:
515
kcal
|
Carbohydrates:
53.6
g
|
Protein:
45
g
|
Fat:
14.4
g
|
Fiber:
9.8
g