When we hear Greece and the Mediterranean, our minds drift to a place with fresh air, crystal clear water, and beautiful scenery. Sounds pleasant, doesn't it? If you agree, then you'll love our Greek Chicken and Vegetable meal prep idea! It definitely floats you off to the place.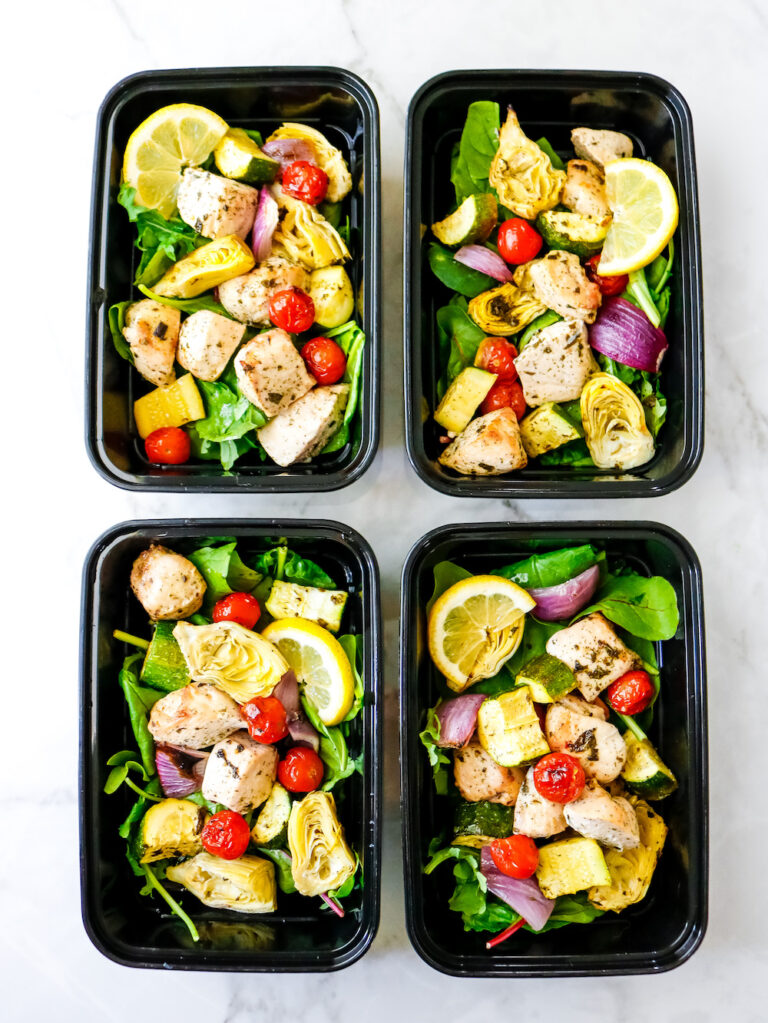 This sheet pan Greek chicken and vegetable recipe gives a nod to Mediterranean cooking with tangy lemon and bright herbs like dill and fresh mint. Plenty of veggies add antioxidants and make this meal prep light, yet hearty!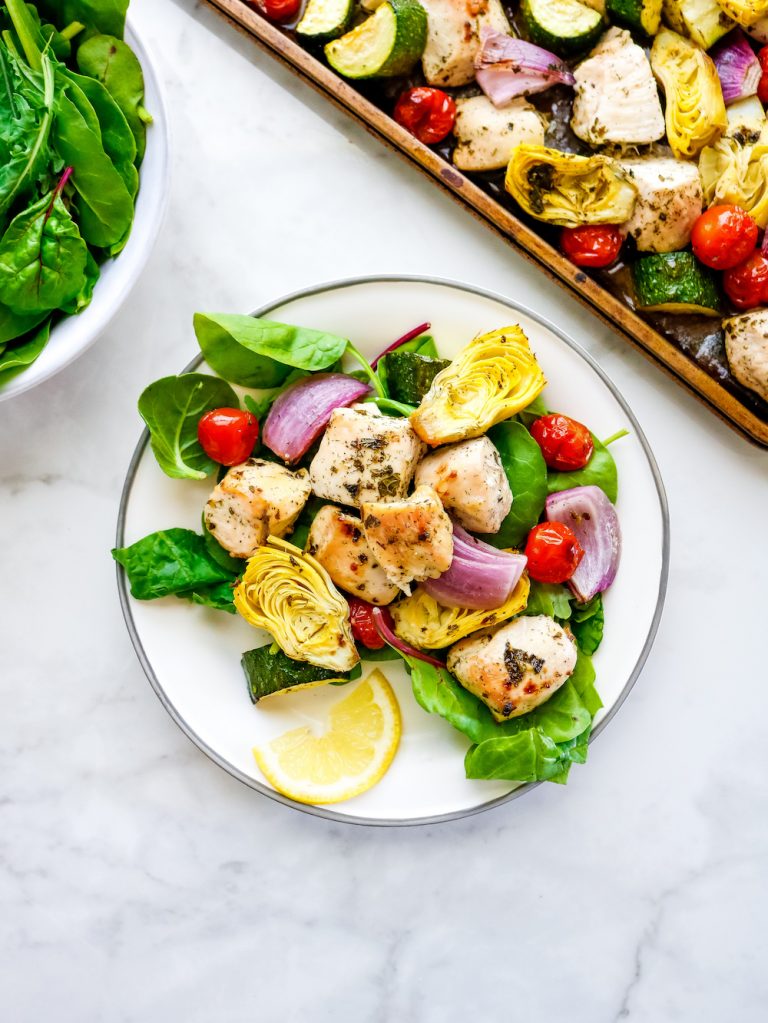 How long will Sheet Pan Greek Chicken and Vegetables last for?
This recipe gives you four heavenly meals to share with your loved ones. You can store any chicken meal prep recipe in the refrigerator for up to 4 days. Cooked chicken and vegetables last for the same amount of time, so no worries there. Pack the chicken and vegetables together, store them in an air-tight meal prep container, and enjoy later.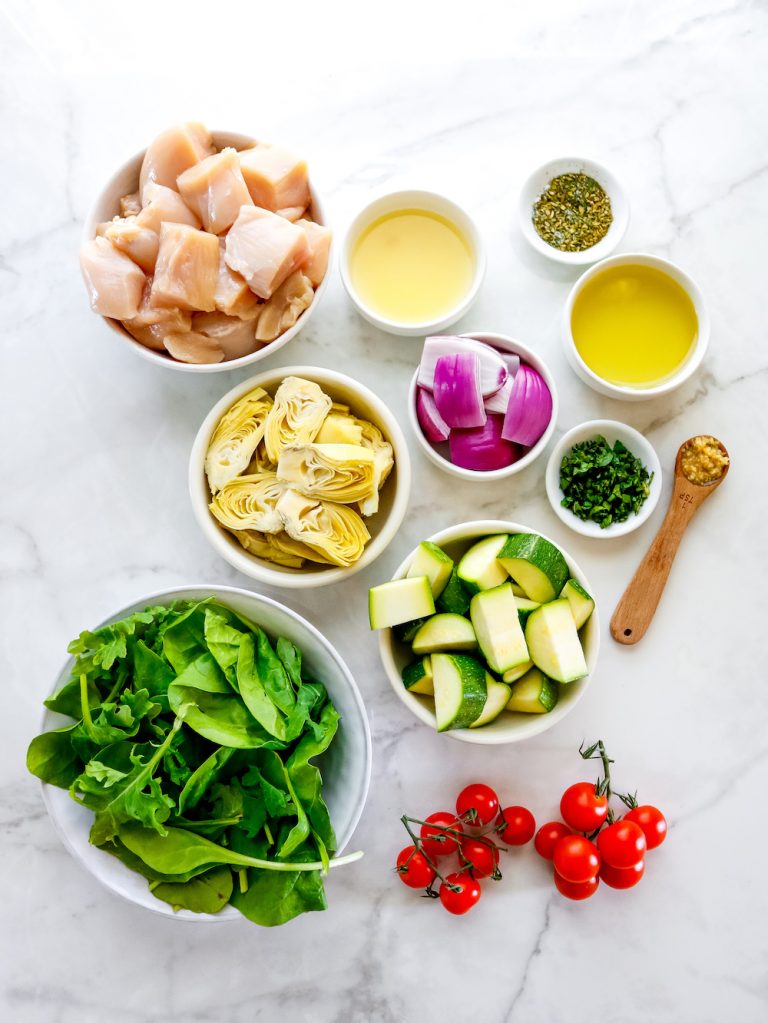 Can Sheet Pan Greek Chicken and Vegetables be frozen?
Yes, you can freeze this main dish and bring it out later. Cooked chicken freezes well and can be stored in your freezer for up to three months. Simply place the chicken in a quality meal prep container or reusable freezer bag. It's recommended to label the cooked chicken, noting the date it goes into the freezer. The cooked vegetables can be frozen as well for the same amount of time. But don't freeze the leafy greens. Serve them fresh. You can even freeze the cherry tomatoes to preserve their flavor!
A tip for freezing cooked vegetables: don't cook them completely. Cook them just enough - to the point where there's still some crunch.
How do you make Sheet Pan Greek Chicken and Vegetables?
Creating this zesty Mediterranean dish is easy. Especially considering how satisfying and brilliant it is!
All you need is one sheet pan. We recommend a high-quality sheet pan for the best results. Grab your marinade ingredients, make the simple & delicious marinade, and coat the chicken with it. Place the coated chicken in the refrigerator for at least 2 hours. You can let the chicken marinate in the sauce for up to 8 hours if you're prepping the meal a day or two before serving. The longer the chicken marinates, the more compact and rich the flavor will be. After the chicken is fully marinated, bake for a little bit then prep the veggies. The total cook time is just under 40 minutes.
How to portion Sheet Pan Greek Chicken and Vegetables?
Our Greek Chicken and Vegetable recipe provide you and your family with four light and appetizing meals. For each meal, serve with one halved chicken breast and a ton of veggies. You get some artichoke hearts, zucchini, juicy cherry tomatoes, and some mixed greens. You get your daily dose of protein, fiber, and vitamins.
More Sheet Pan Chicken meal prep recipes:
We have a plethora of simple and enjoyable sheet pan chicken recipes. Try these!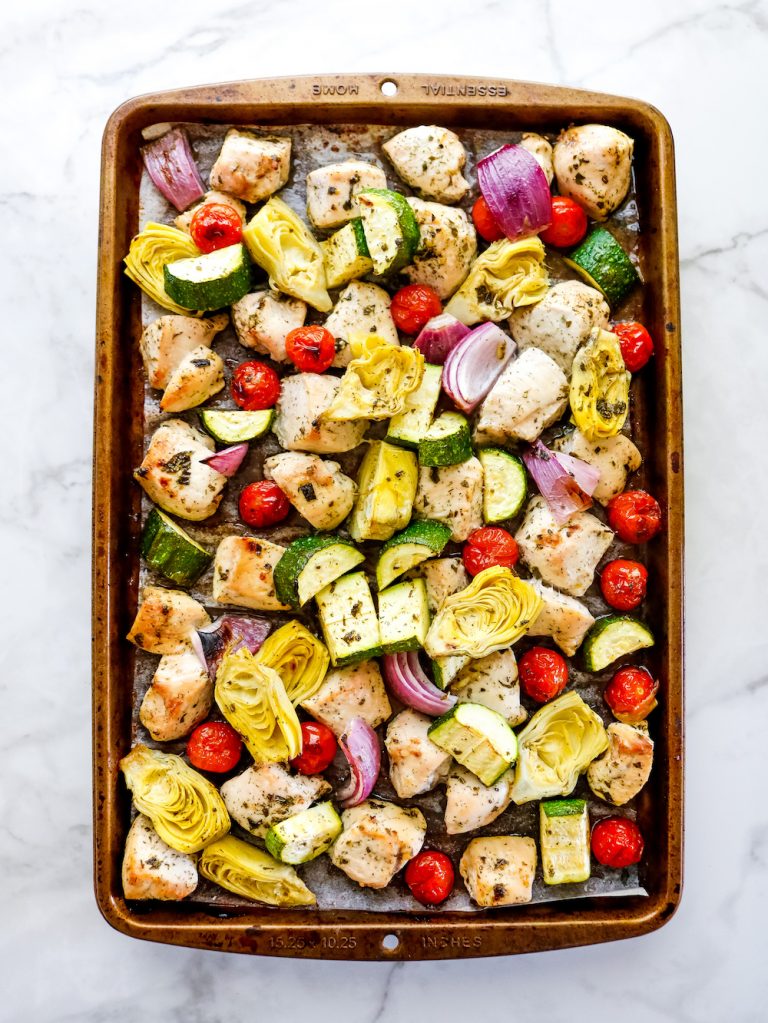 Other tips for making Sheet Pan Greek Chicken and Vegetables:
Here are 7 tips for cooking the best sheet pan meals
Cook the food in stages. Bake the chicken first and then add the vegetables. Then complete the meal by cooking the meat and vegetables together.

Positioning is key. Place the meat in the middle of the sheet pan and the vegetables on the sides or around the chicken.

Keep the meat and vegetable portions similar sizes. For example, when you cut the chicken breasts into halves, make sure the halves are the same thickness. Fixed sizing ensures even cooking times.

Preheat the pan by placing it into the oven as the oven preheats. This will give your Greek chicken and vegetable dish crispy caramelization. Mmmm, texture.

Absorb as much water from meat and veggies as possible. You can pat them down with a paper towel after rinsing. Also, pat down the chicken before and after marinating.

Don't overpack the sheet pan with ingredients. You want to give the vegetable space to breathe so they're not soggy when the meal is ready to serve.

Be sure the meat is finished cooking. For chicken, the done temperature is 165 degrees. We recommend using a meat thermometer for testing doneness. This

instant digital thermometer

tests food at an angle so you don't burn your hand in the oven.
We'd love to hear from you! What do you think of our Sheet Pan Greek Chicken dish? Tell us in the comments.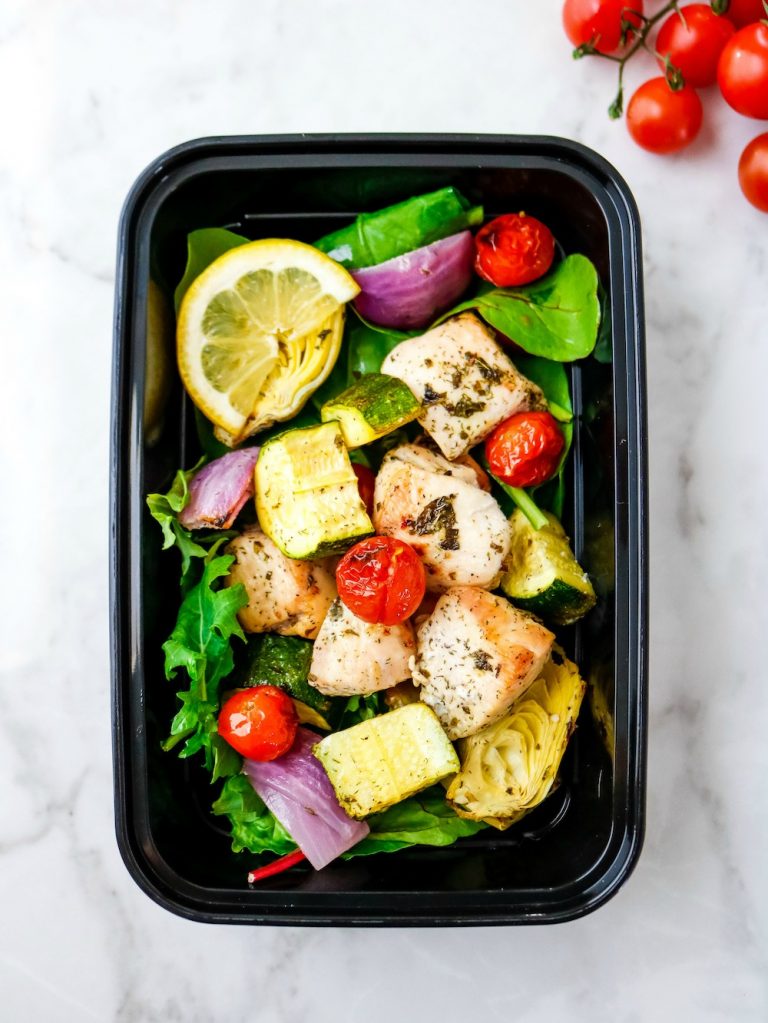 Sheet Pan Greek Chicken and vegetable Ingredients:
For Marinade
⅓ cup olive oil
¼ cup fresh lemon juice
1 tablespoon chopped mint
1 teaspoon dried oregano
½ teaspoon dried dill
1 teaspoon minced garlic
½ teaspoon sea salt
¼ teaspoon black pepper
The remaining ingredients
1 cup diced zucchini
4 boneless skinless chicken breast, sliced into 2-inch pieces
2 cups canned artichoke hearts, drained and halved lengthwise
1 cup coarsely chopped red onion
8 cups mixed greens
1 cup cherry tomatoes