It's no secret that we love healthy remakes on takeout food! In fact, some of our most popular meals here are takeout remakes. This chicken recipe is a little different from it's a sweet and savory twist! This meal prep recipe is home-cooked classic Asian cuisine at its finest! Our teriyaki chicken and vegetables recipe is simple, quick, and satisfying. Plus, we used fresh veggies like broccoli and carrots to add some crunch and texture. It's truly a nice balance! The tongue-tingling main dish can be enjoyed by families for dinner or by busy individuals for lunch. The recipe is versatile, light, and filling. On top of that, you can savor it all year round.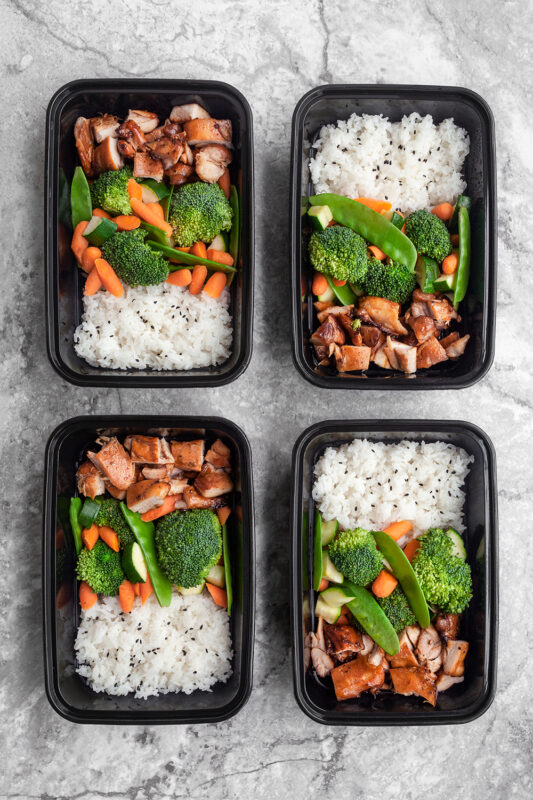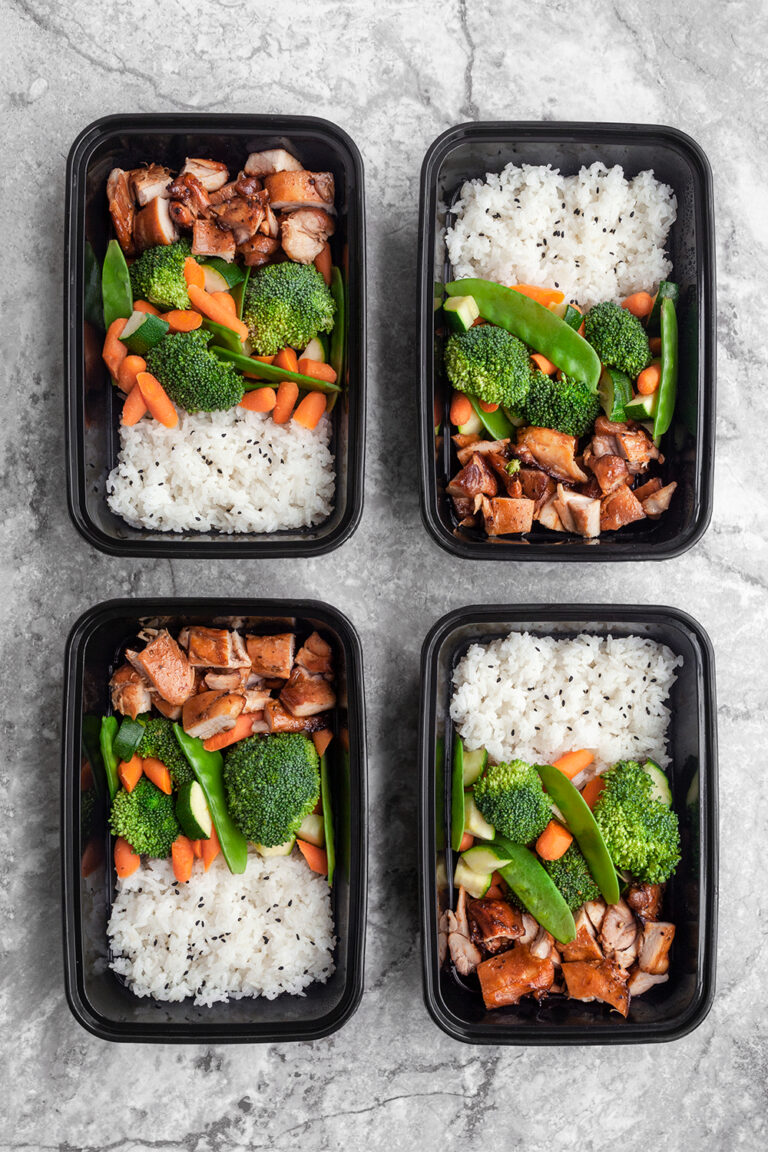 This easy to make sheet pan teriyaki chicken and classic sides really come together and packs in the flavor thanks to its delicious, homemade teriyaki sauce! Plus, it's gluten-free compliant!
Thank you to GoodCook for sponsoring this Teriyaki Chicken and vegetable post, and thank YOU for supporting the brands that help make Meal Prep On Fleek possible. All opinions are our own.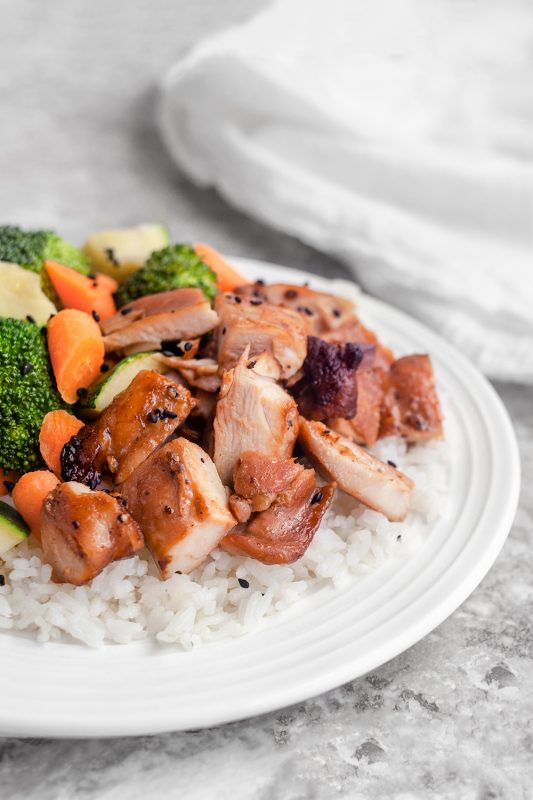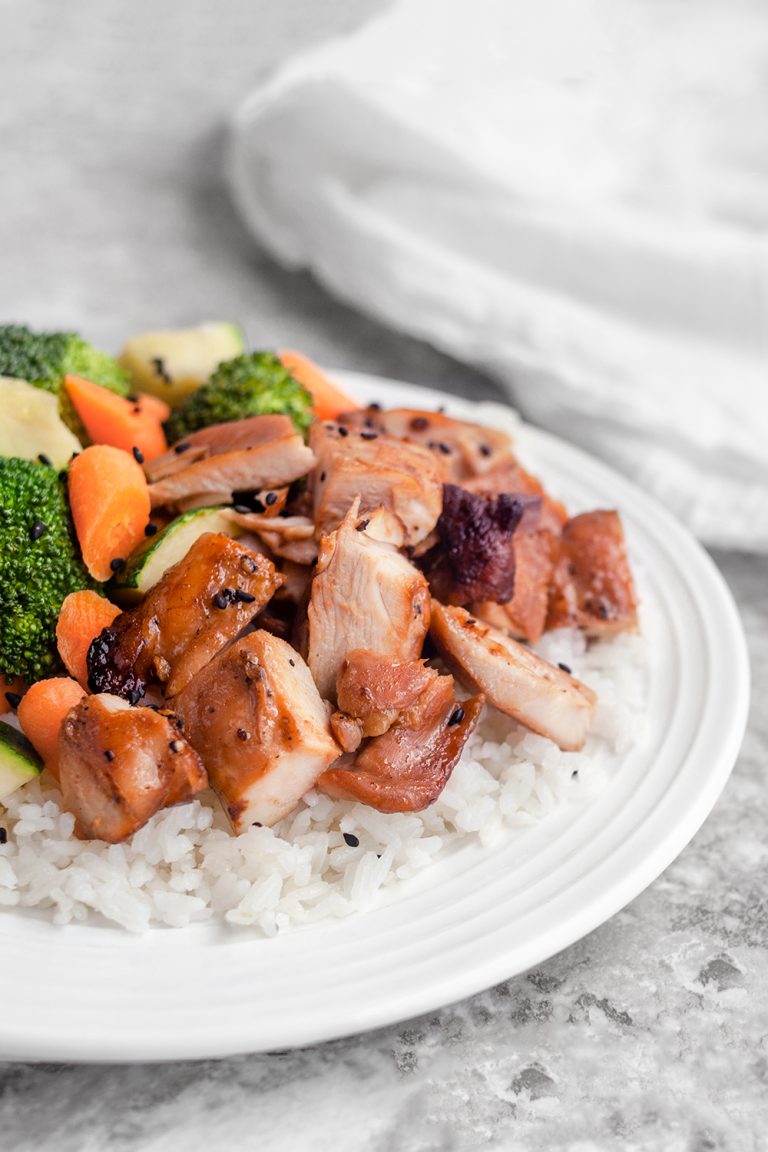 How long will Teriyaki Chicken and Vegetables last for?
Once cooked evenly divide your ingredients into your 4 meal prep containers, seal them up and store until your ready to head to school or work the next day! One bite of this salty and slightly sweet meal prep recipe is guaranteed to satisfy your craving for takeout – Monday through Friday!
Can Teriyaki Chicken and Vegetables be frozen?
Yes, you can freeze this meal for up to 3 months. Simply cook the meal and store it in a freezer bag or a freezer-friendly meal prep container. Quick tip for freezing cooked vegetables: don't cook them thoroughly. You don't want soggy vegetables when the dish is reheated.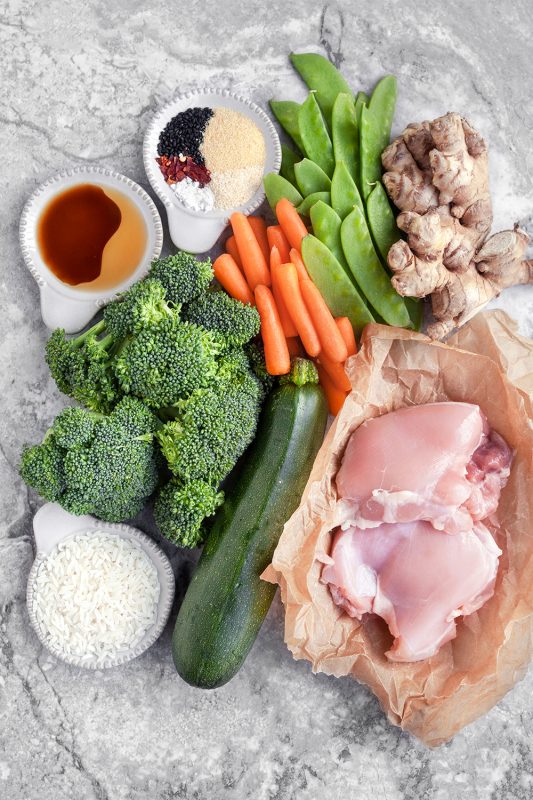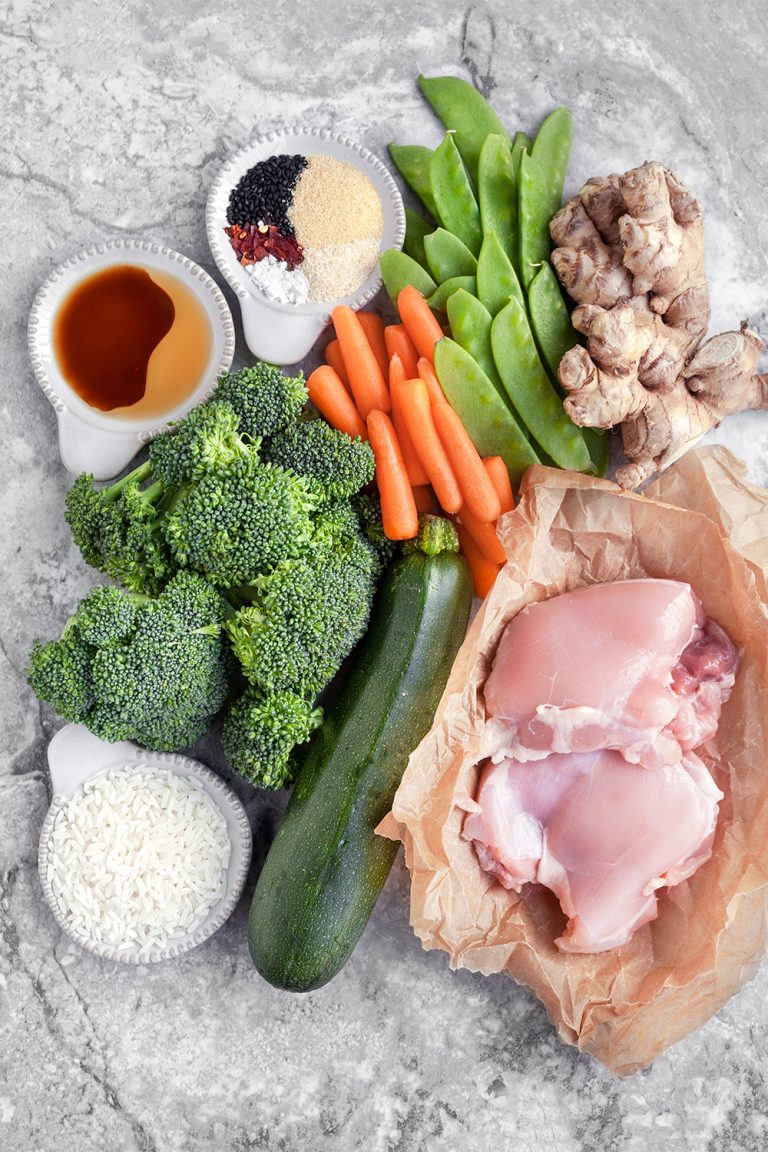 How do you make Teriyaki Chicken and Vegetables?
The first step in the process is, of course, heading to Target to grab all of the ingredients, plus your Good Cook meal prep containers! (One-stop shopping, you know we are all about that life!)
Once you are home it's time to start meal prepping! The first step is to make the homemade Teriyaki sauce. However, if you want to save even more time, you can grab your favorite pre-made teriyaki sauce while shopping at Target. Either option is ok in our book, as long as it aligns with your goals.
While your sauce is thickening, prep your baking sheet with foil and your chicken thighs. Then, add your sauce to the chicken, pop it into the oven and let it do its thing! (Sheet pans are a dream, don't you agree?) While the chicken is in the oven, prepare your fresh veggies and white rice (if not already cooked).
The recipe is super easy! Cook and prep time is less than one hour. Another perk is that the ingredients are readily available and affordable.
How to portion Teriyaki Chicken and Vegetables?
This recipe easily splits into 4 grab and go meals. Once cooked and cooled, get your meal prep containers ready and add an equal portion of chicken thigh, rice, and steamed veggies. Are your family members heavy eaters. This recipe will surely fill them up.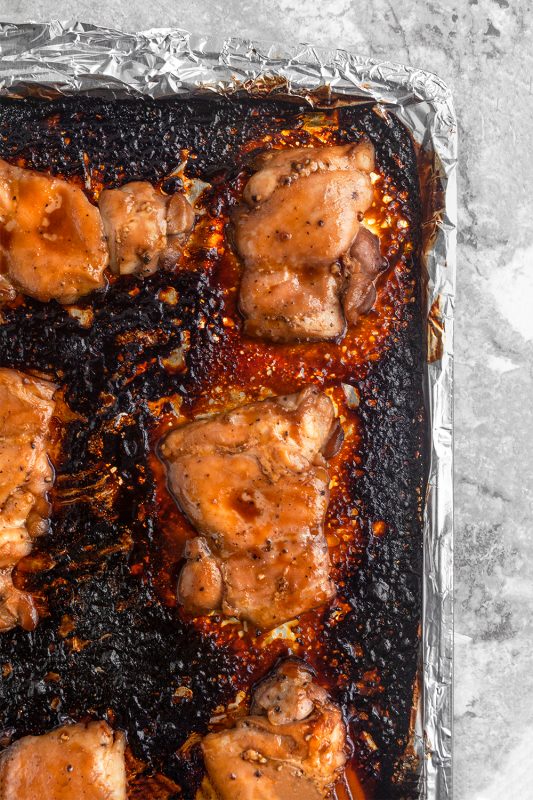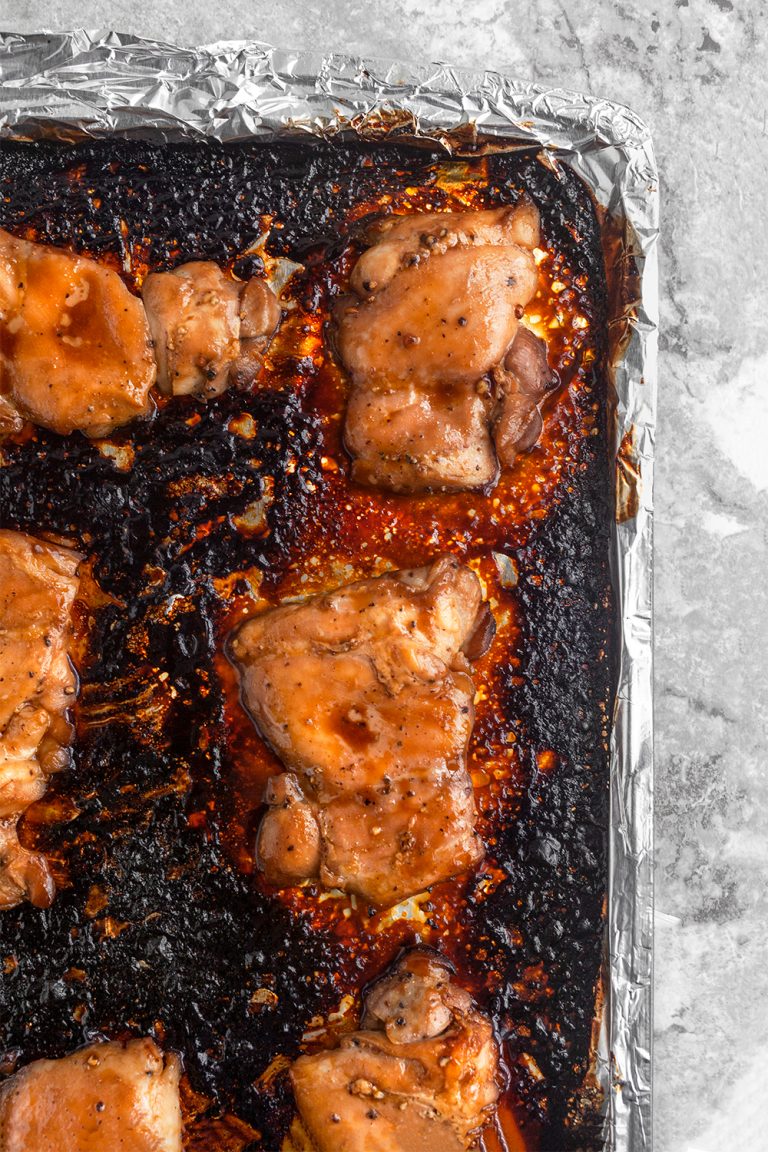 More Teriyaki Chicken meal prep recipes:
If you like this delicious meal prep recipe, then you'll absolutely appreciate some of our other teriyaki chicken recipes:
We love these recipes because they combine savory and sweet taste profiles. They're also easy and versatile just like this teriyaki chicken and vegetable recipe.
Other tips for making Teriyaki Chicken and Vegetables:
We have a few tips for enjoying the best teriyaki chicken and vegetables recipe. Here's how:
Switch it up by swapping white for brown rice.

Cook this meal in a

meal prep sheet pan

or

stir fry pan

.

Pair it with a spicy sauce like

Sriracha

. Drizzle the sauce over your rice.

Add sesame seeds on top of white rice for a truly authentic Asian takeout experience.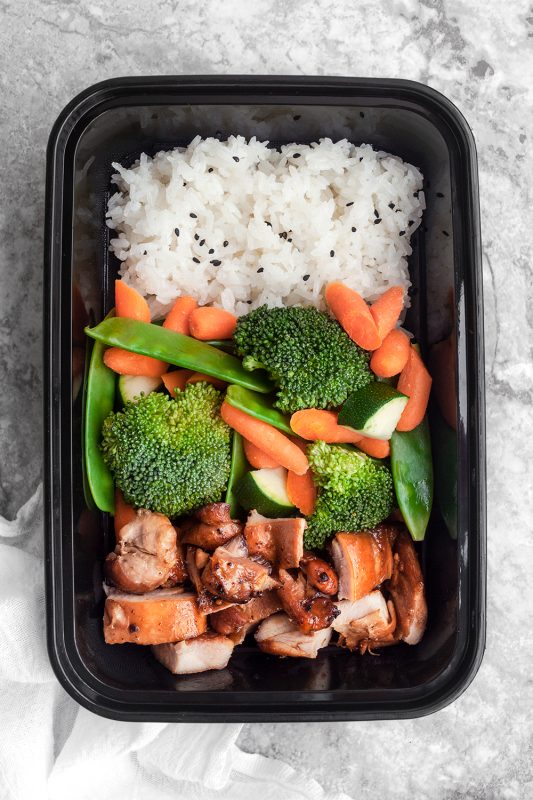 Teriyaki Chicken and vegetable Ingredients:
Meal Base:
5 lbs. Chicken Thighs (boneless; skinless)
1 Medium Zucchini (cut into bite-sized pieces)
2 C. Cooked White Rice
1 C. Broccoli Florets
1/2 C. Snow Peas
1/2 C. Sliced Carrots
Optional: 1 Tbsp. Black Sesame Seeds
Teriyaki Sauce Base:
3/4 C. Water
1/3 C. Tamari
1/3 C. Coconut Sugar
2 Tbsp. Rice Vinegar
1 Tbsp. Arrowroot Powder (or cornstarch)
1/2 Tbsp. Garlic Powder
1/2 Tbsp. Grated Fresh Ginger
1/2 tsp. Red Chili Flakes
1 tsp. Onion Powder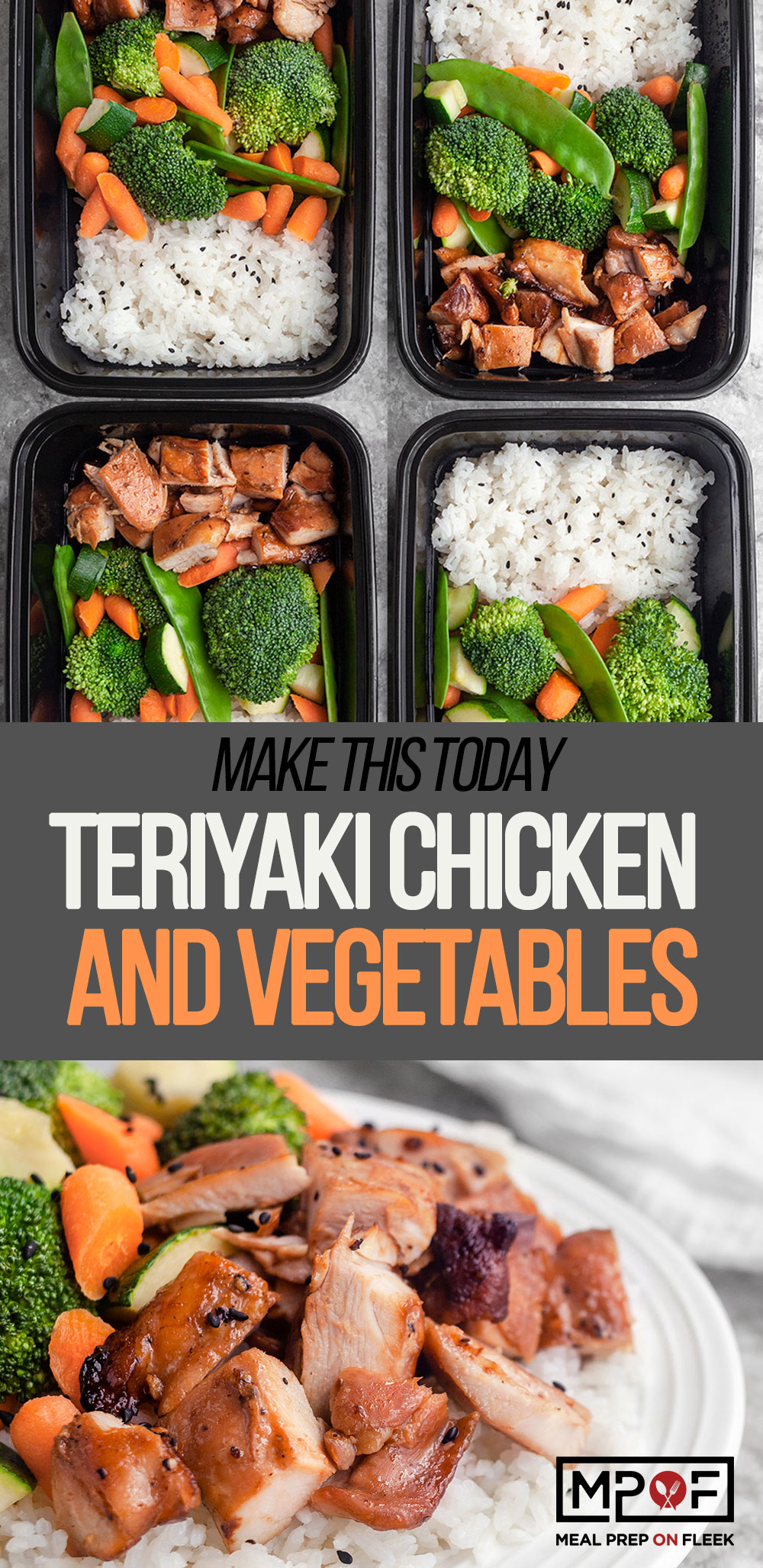 If you can't get to your local Target store, but still want to grab these containers, they are now available on Target.com

Ingredients
Meal Base:
1.5

lbs.

Chicken Thighs

boneless; skinless

1

medium

Zucchini

cut into bite-sized pieces

2

cups

Cooked White Rice

1

cup

Broccoli Florets

1/2

cup

Snow Peas

1/2

cup

Sliced Carrots
Optional: 1 Tbsp. Black Sesame Seeds
Teriyaki Sauce Base:
3/4

Water

1/3

Tamari

1/3

Coconut Sugar

2

Tbsp.

Rice Vinegar

2

tsp.

Sesame Oil

1

Tbsp.

Arrowroot Powder

or cornstarch

1/2

Tbsp.

Garlic Powder

1/2

Tbsp.

Grated Fresh Ginger

1/2

tsp.

Red Chili Flakes

1

tsp.

Onion Powder
Instructions
Combine all teriyaki sauce ingredients (except for arrowroot powder and sesame into a small pot over medium/high heat until reaches a boil. Then, create a slurry by ladling out 1 cup's worth of the hot liquid into a bowl and add arrowroot powder - whisking well until completely smooth.

Next, whisk the slurry back into the pot and lower heat to a simmer — let reduce/thicken for ~10-15 minutes (stirring consistently until sauce can coat the back of a spoon. Once the sauce has finished cooking, stir in the sesame oil, remove from stove, and let cool minimum ~5 minutes to further set up.

Preheat oven to 400℉ and line a sheet pan with foil.

Place chicken thighs on a lined sheet pan and pour ~1/3 worth over the chicken thighs. Flip chicken thighs and pour another ~1/3 worth of teriyaki sauce over the thighs until well-coated.

Optional: Reserve remaining 1/3 of teriyaki sauce for serving when ready to enjoy the completed meal.

Then, place onto the middle oven rack and let cook for 15 minutes, then flip chicken and cook another 10-15 minutes or until chicken is fully cooked and has reached an internal temperature of 165℉.

When the chicken is nearly finished cooking, start steaming the carrots for ~5 minutes, then add remaining veggies and steam another 5-8 minutes, or until broccoli and snow peas are vibrant green and all veggies are tender, but still firm.

Once the chicken is done, slice/dice into bite-sized pieces and serve with rice and veggies (and an optional drizzle of extra teriyaki sauce and a sprinkle of sesame seeds)!
Nutrition
Serving:
1
meal
|
Calories:
424
kcal
|
Carbohydrates:
50.7
g
|
Protein:
39.6
g
|
Fat:
7
g
|
Fiber:
2.6
g