Thank you to GoodCook for sponsoring this Sheet Pan Teriyaki Chicken and Pineapple Fried Rice post, and thank YOU for supporting the brands that help make Meal Prep On Fleek possible. All opinions are our own.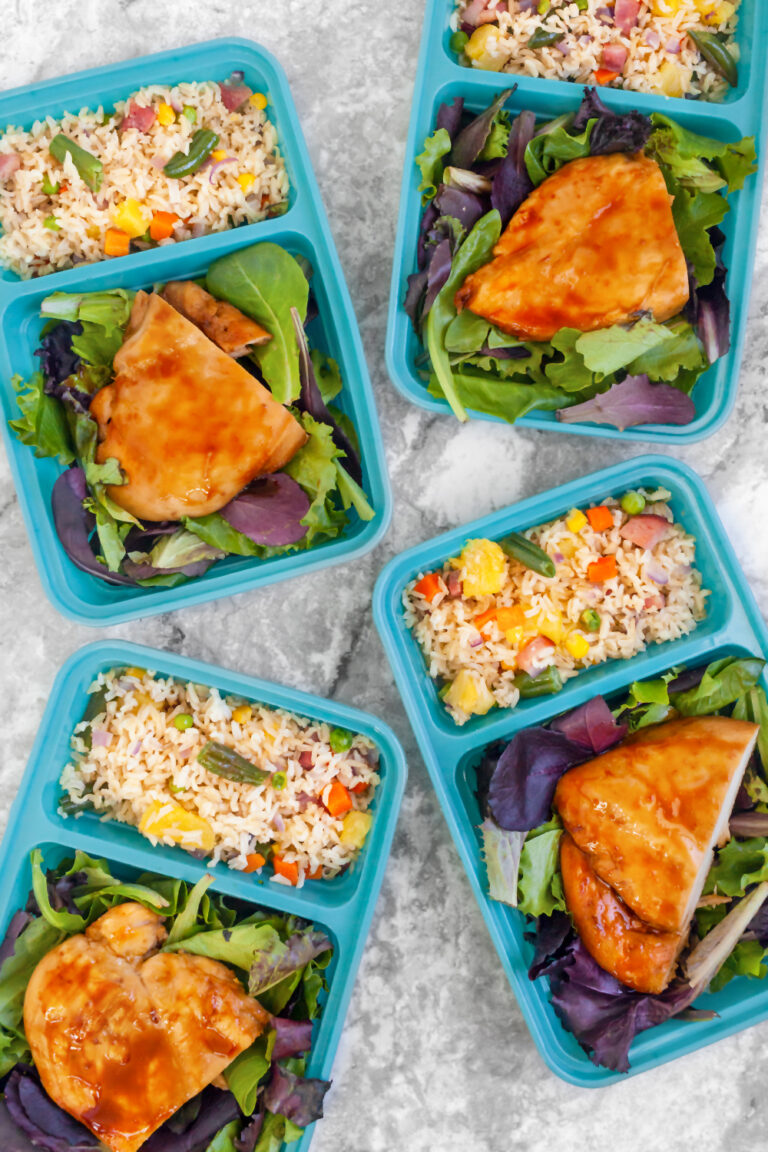 Easy Sheet Pan Teriyaki Chicken and Pineapple Fried Rice is the best of all worlds; sweet, spicy and savory rolled into one fast dish!

We love making sheet pan meals. They are great for fast meal prep recipes. Everything can go on a single pan and get cooked at once, and clean-up is a breeze! Doesn't that sound like a dream? Four meals ready in less than 50 minutes? Yup. This is real life folks.
The other time saver with this recipe is that all of the ingredients are available at your local Target retailer. And we mean all of them. Yup! Not only can you grab the food items for this recipe, but you can also grab the sheet pan, foil, and your Good Cook meal prep containers. It's one-stop shopping at it's finest.
This Sheet Pan Teriyaki Chicken and Pineapple Fried Rice recipe is not only easy to put together, but it is guaranteed to satisfy for your craving for unhealthy takeout food, too.
You won't find any mystery ingredients in this dish. We brought together all of your favorite flavors using only whole ingredients. And the sweet pineapple combined with the savory flavors of the ham and teriyaki sauce is OUT OF THIS WORLD!
How To Make Teriyaki Chicken And Pineapple Fried Rice on a sheet pan
Preheat your oven.
Using foil, create a baking dish-like shape by folding edges of foil over a few times to create makeshift walls and pinch corners together create a decent seal — place onto a baking sheet so that proportionally, it takes up half the baking sheet. Optional: Prior to placing foil "baking dish" onto baking sheet, line baking sheet with foil for even easier clean up later on.
Next, place pounded chicken breasts in foil "baking dish" and cover with ½ cup teriyaki sauce. Bake for 15 minutes.
While the chicken bakes, in a medium bowl mix rice, oil, frozen veggies, onion, pineapple, ham, ginger, and garlic until well-combined. Set aside until chicken has finished cooking for 15 minutes.
Then, spread rice mixture onto empty half of baking sheet and continue to bake for another ~10-15 minutes, or until chicken is fully-cooked (reaching internal temperature of 165℉).
Remove from oven, pour remaining ½ cup teriyaki sauce over chicken breasts to finish and serve with pineapple oven fried rice (and optional ingredients).
We like to serve it in our meal prep containers over mixed greens and finish it off with sesame seeds, but that is entirely optional.
Tips for storing
You could opt to go with any container in our Good Cook meal prep container line, but we decided to use the teal two-compartment one. This allows us to keep the pineapple fried rice and teriyaki chicken separate. This container has one 2 cup section and one 1 cup section. If you haven't grab your containers yet, they are now available at Target stores nationwide. Or, if you want to do what we like to often do and shop online, you can grab them at Target.com too!

This recipe makes 4 servings. It will last up to 4 days in the refrigerator. We have also tried freezing the rice and it works very nicely. So, you can always double or triple the rice recipe to have leftovers on hand for upcoming weeks. We would not recommend freezing the cooked chicken.
Sheet Pan Teriyaki Chicken and Pineapple Fried Rice Ingredients:
2 lbs. Chicken Breasts (boneless, skinless; pounded until ~½" -1" thick)
2 C. Cooked Brown Rice (preferably day old rice)
1 C. Gluten-free Teriyaki Sauce (divide in half)
¼ C. Fresh Pineapple Chunks (or canned)
¼ C. Diced Ham (uncured)
¼ C. Diced Red Onion
3 tsp. Sesame Oil
½ tsp. Ground Ginger
1 Grated Garlic Clove
½ C. Frozen Diced Veggie Mix (such as peas, carrots, corn, green beans)
Optional: 1 tsp. Black Sesame Seeds; 4 C. Mixed Greens