We think there's a serious misconception about vegan food. Many people who haven't tried it assume it to be bland and unappealing—Like some sort of plant-based astroturf. And it's this myth that we want to dispel at MPOF; with all our vegan meal prep recipes, but especially the one we have for you today! To truly "spice up" your prep this week, we highly suggest trying out these unbelievably delicious, 100% vegan Mole Tempeh enchiladas!
Packed with over 20g of protein and 13g of fiber per serving, we're sure this vegan meal prep recipe will satisfy our readers with even the most voracious of appetites! Plus, we'll show you how to make your own homemade sauce, which is really just the icing on the cake (er, the mole on the enchiladas, if you will)!
If you love enchiladas then you will love this authentic vegan twist! These easy to prepare Mole Tempeh Enchiladas are made with a homemade mole sauce, protein-rich tempeh, cheese, and corn tortillas.

How long will Mole Tempeh Enchiladas last for?
In the refrigerator, we found them to last about 2 days from the date of cooking, so make sure you eat them up quickly (we promise, you'll want to anyway).
Can Mole Tempeh Enchiladas be frozen?
Yes, they can, and for quite a while, too—We estimate about 3 months frozen shelf life.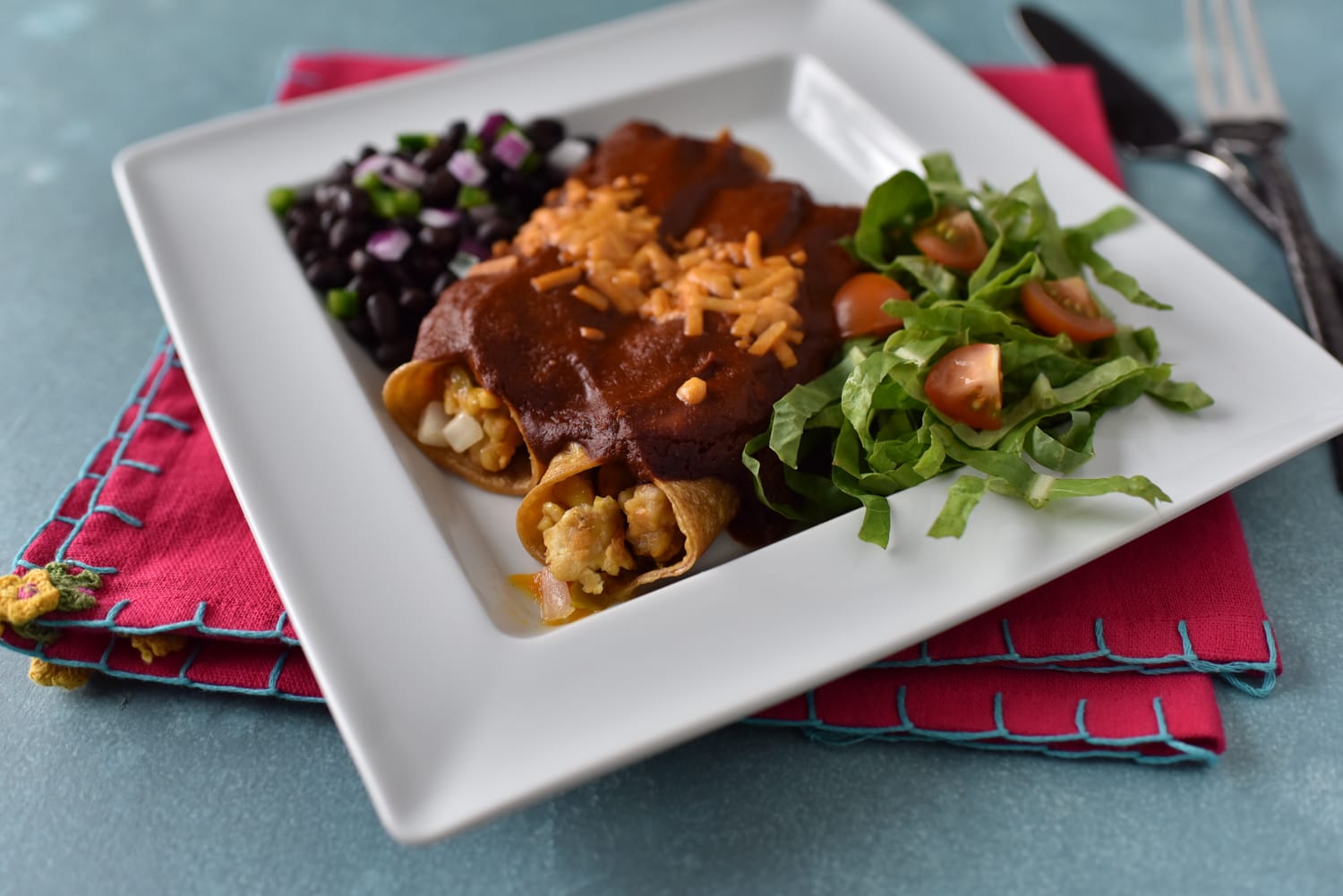 How do you make Mole Tempeh Enchiladas?
Begin by de-stemming and de-seeding the chiles, then pouring hot water over them. Dice the tempeh into bite-sized chunks, then toss in olive oil, salt, and pepper. Bake for 10 minutes until golden brown.
While the tempeh bakes, prepare your mole sauce (or simply buy it premade). Prepare enchilada filling and roll ¼ into each of the 8 tortillas and place them into the dish. Add generous sauce on top, and cover with aluminum foil, and bake for 15 minutes. Remove foil and add ½ cup more vegan cheese on top, then bake for an additional 5 minutes.
How to portion Mole Tempeh Enchiladas?
This vegan meal prep recipe makes 4 servings, with 2 enchiladas per serving. So, we recommend putting two enchiladas in each of your meal prep containers. Not sure which containers are best for your needs? Head over to our article, Ultimate Guide to Meal Prep Containers to explore other options!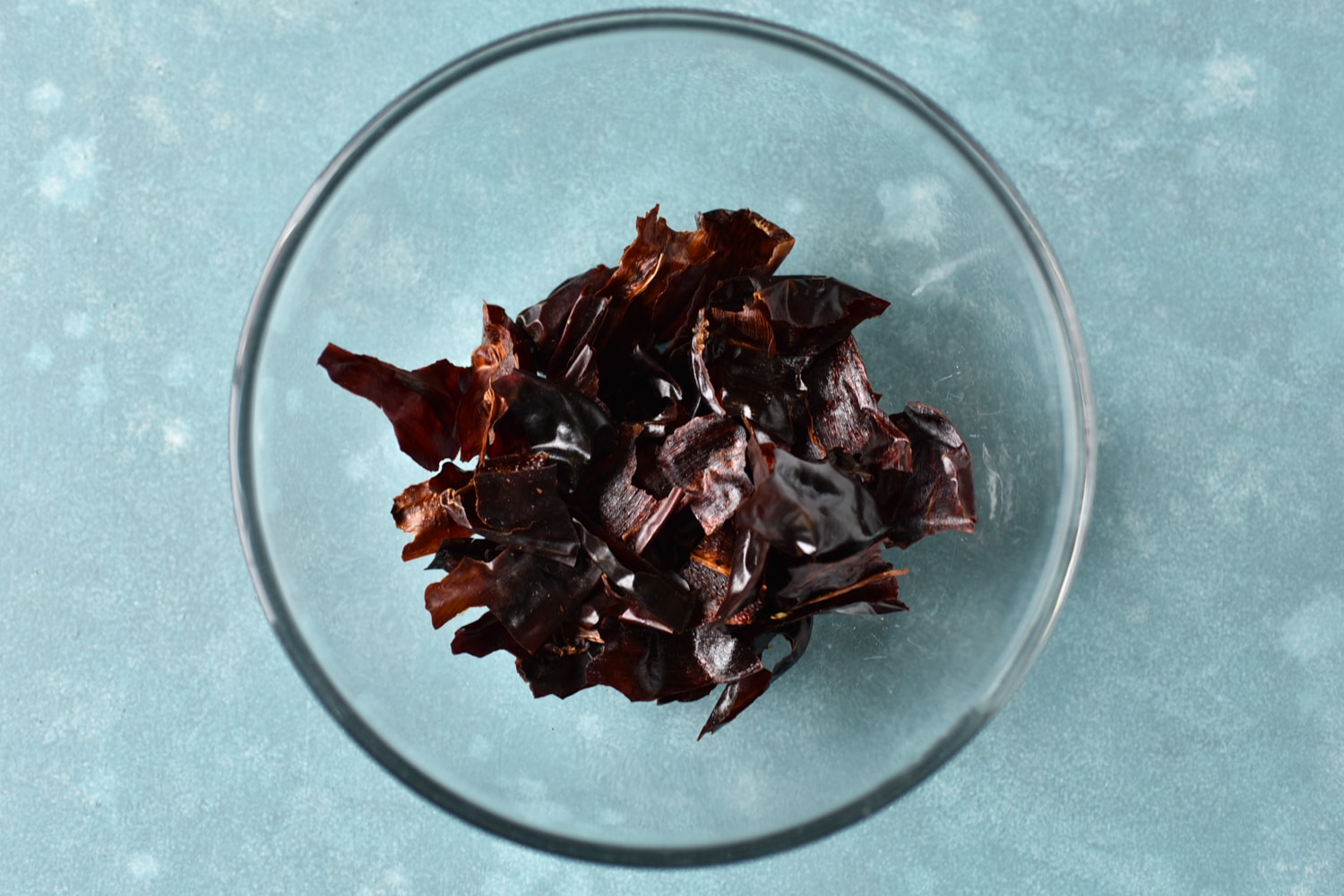 More Vegan Meal Prep recipes:
Did these enchiladas have you saying "holy moly"?
You can also sample our enchiladas options: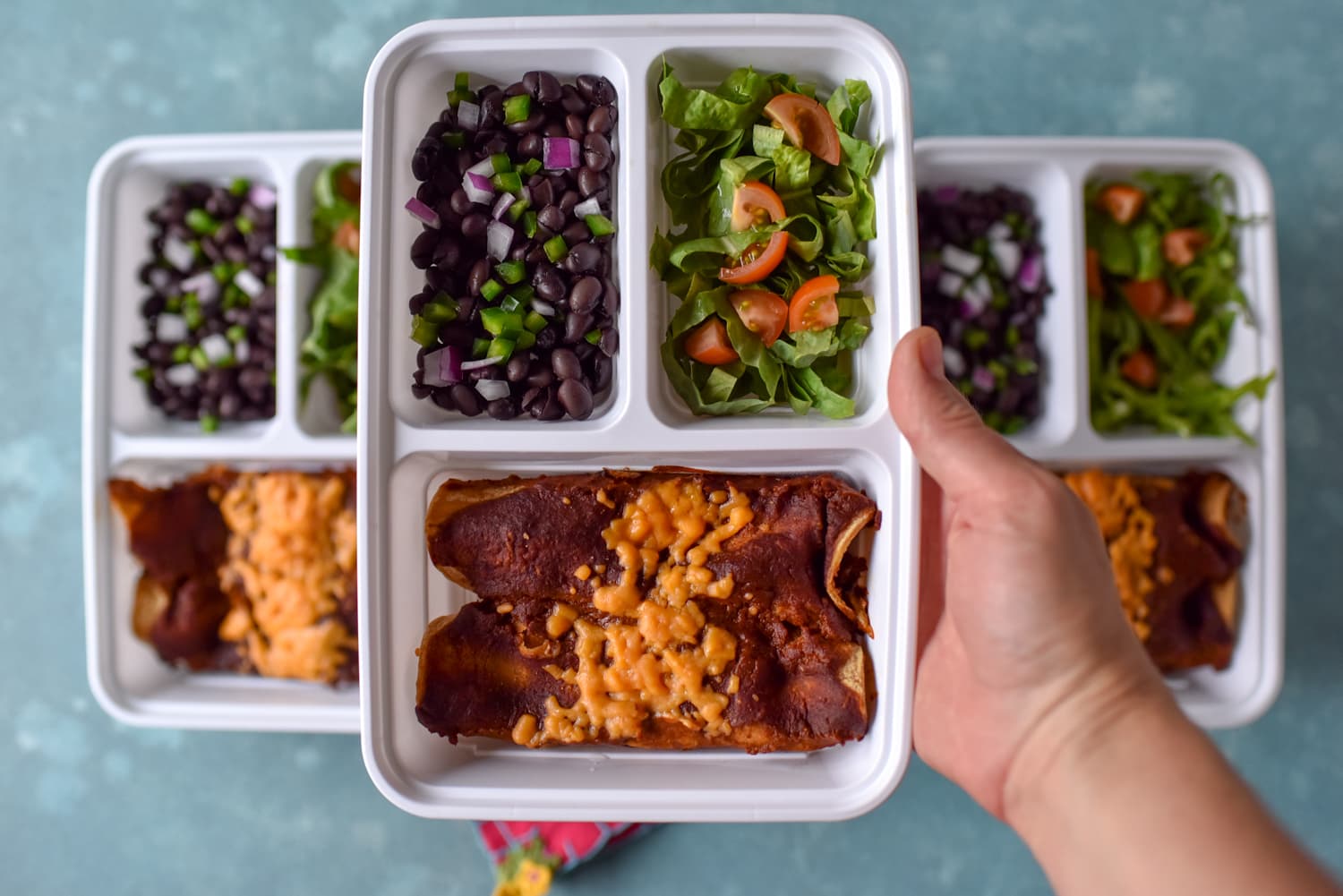 Other tips for making Mole Tempeh Enchiladas:
Be sure to microwave your tortillas—Doing so is a healthier alternative to traditional deep-frying

When making the mole sauce, be sure to slowly add the broth to avoid clumps
Mole Tempeh Enchiladas Ingredients:
For the Sauce
1 Ounce dried California Chiles
2 Teaspoons Olive Oil
½ Cup Onion, diced
1 Teaspoon Fresh Garlic, minced
2 Tablespoons Dates, diced
½ Teaspoon Dried Oregano
¼ Teaspoon Cumin
¼ Teaspoon Fennel Seed (Anise)
⅛ Teaspoon Allspice
1 Teaspoon Salt
½ Teaspoon Pepper
2 Tablespoons Tomato Paste
2 Teaspoons Cocoa Powder
1 Cup Vegetable Broth
2 Teaspoons Brown Sugar
1½ Tablespoons Lemon Juice
1 Corn Tortilla
For the Enchiladas
1 – 8 Ounce Package Tempeh
2 Teaspoons Extra Virgin Olive Oil
½ Teaspoon Salt
¼ Teaspoon Pepper
4 Ounce Can Green Chiles
½ Cup Onion, diced
8 Corn Tortillas
1½ Cups Vegan Shredded Cheddar or Pepper Jack Cheese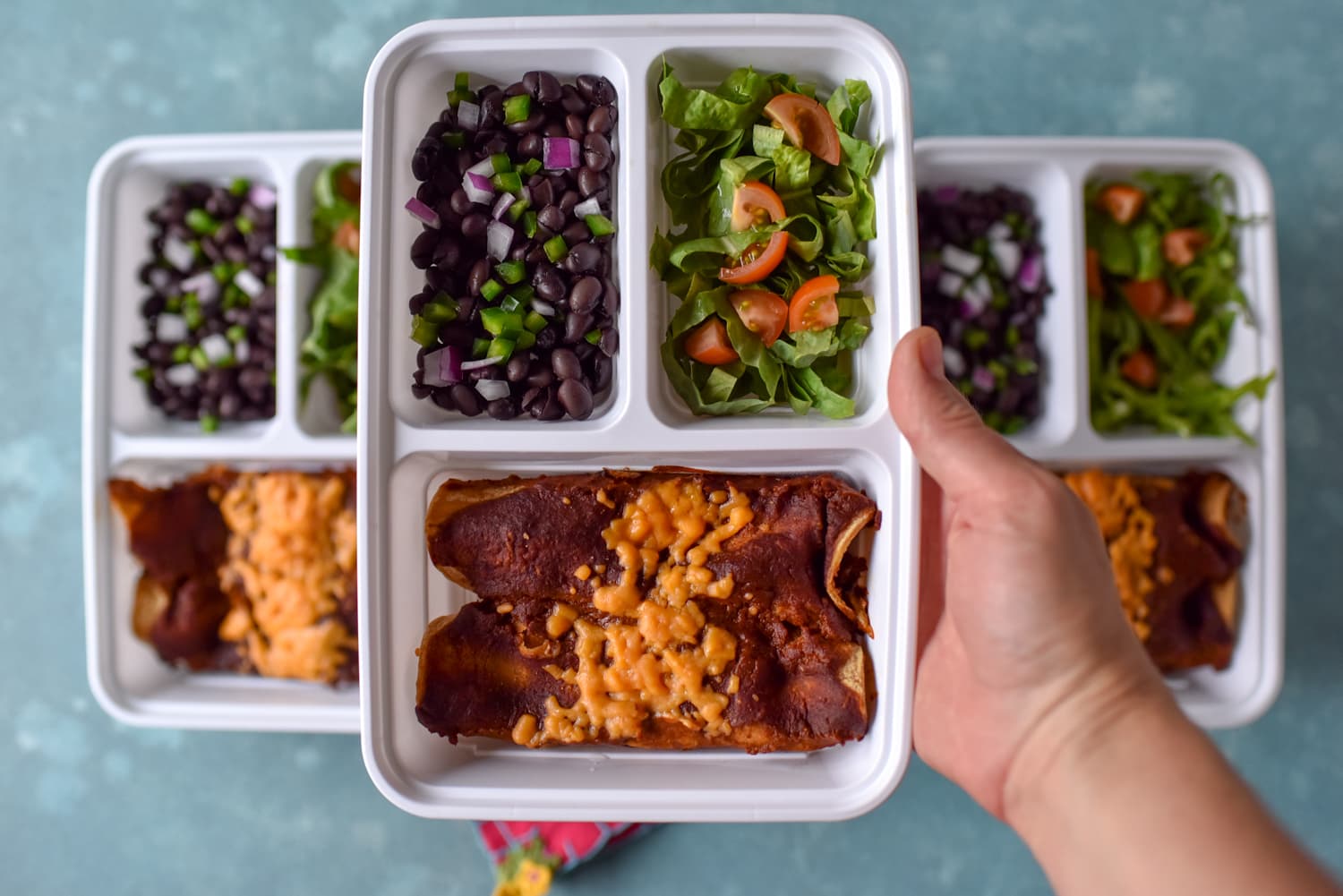 Ingredients
For The Sauce
1

ounce

dried fruit medley

2

tsp

olive oil

1/2

cup

onion

diced

1

tsp

fresh garlic

minced

2

tbsp

dates

diced

1/2

tsp

dried oregano

1/4

tsp

cumin

1/4

tsp

fennel seed

Anise

1/8

tsp

allspice

1

tsp

Salt

1/2

tsp

Pepper

2

tbsp

tomato paste

2

tsp

cocoa powder

1

cup

vegetable broth

2

tsp

brown sugar

1 1/2

tbsp

lemon juice

1

corn tortilla
For the Enchiladas
8

ounces

Tempeh

2

tsp

olive oil

1/2

tsp

Salt

1/4

tsp

Pepper

4

ounces

canned green chiles

1/2

cup

onion

diced

8

corn

tortillas

1 1/2

cups

vegan shredded cheddar cheese

or pepper jack (can sub for regular cheese if not vegan)
Instructions
Preheat oven to 400 degrees Fahrenheit.

In a large pot, bring 6 cups of water to a boil. De-stem, and de-seed the chiles, and place in a heatproof bowl. Pour the boiling water over the chiles, and let sit for 15 minutes to soften and re-constitute the chiles.

While the chiles are soaking, break up the tempeh into bite-sized chunks. Toss with olive oil, salt, and pepper. Place on a pan, and bake in the oven for 10 minutes, until golden brown. Remove from oven and allow to cool slightly.

While the tempeh bakes, make the mole sauce. If you want to skip making it, you can absolutely buy it already made at the grocery store. Heat a pot over medium heat, and add the olive oil. When the oil starts to shimmer, add in the onion. Cook for 3 minutes, until softened, then add the garlic, and cook 1 minute more. Add in the dates, oregano, cumin, fennel, allspice, salt, and pepper, and cook until fragrant, about 1 minute. Add in the tomato paste and cocoa powder mixing well, then add the vegetable broth slowly, while whisking to avoid a clumpy sauce. Turn heat to high, add in lemon juice, and bring to a simmer, about 5 minutes. Remove from heat, and put the sauce and drained chiles carefully into a blender, as it will be very hot. Add the tortilla, and carefully blend until very smooth, using a towel over the lid of the blender to protect yourself

To make the enchiladas, spray the tortillas with a bit of oil, then wrap in a wet paper towel, and microwave for one minute. This helps soften the tortillas and make them more pliable so they don't crack when you roll them. It's also better and faster than traditional frying.

Spoon some enchilada sauce to coat the bottom of a 9 by 13 inch, ovenproof dish. In a bowl, combine the cooked tempeh, green chiles, onion, and 1 cup of cheese. Roll ¼ cup of tempeh mixture in a tortilla, and place seam side down in the dish. Repeat with the remaining 7 enchiladas. Top the enchiladas generously with more sauce, cover the pan with aluminum foil, and bake for 15 minutes, or until heated through. Remove the foil, top with ½ cup more of cheese, replace foil, and bake for 5 minutes more to melt the cheese.


Remove from oven and allow to cool slightly before packing your meal prep containers. Place two enchiladas in each, and serve with black beans and shredded romaine and tomato salad.
Notes
Nutrition for 1 out of 4 servings:
20.2g Protein | 52.1g Carbs | 18g Fat | 10.3g Fiber | 421 Calories
Nutrition
Serving:
1
meal
|
Calories:
421
kcal
|
Carbohydrates:
52.1
g
|
Protein:
20.2
g
|
Fat:
18
g
|
Fiber:
10.3
g