How to Make an Indonesian Grain Bowl

Are you looking for a rich, flavorful vegan meal prep recipe? Then try our Indonesian Grain Bowls recipe! These bowls are protein-packed and filled with nutritious goodness. Our Indonesian Grain Bowls are also satisfying and delicious! Even when you're preparing the dish, mouths will water. The pungent aroma comes from the sweet and savory blend of ginger, garlic, sugar, chiles, and soy sauce. We guarantee you will enjoy cooking and eating this tasty vegan meal.
Our vegan Indonesian Grain Bowls are the perfect springtime lunch for everyone. From busy professionals to students and even stay at home moms. As a matter of fact moms, you may get your kids to like vegan recipes after they try this meal. It's THAT good!
Indonesian Grain Bowl Ingredients:
For the Sauce:
1 Cup Coconut Aminos (or soy sauce)
1 Cup Palm Sugar (or brown sugar)
2 Teaspoons Finely Diced Fresh Ginger
2 Teaspoons Finely Diced Fresh Garlic
6 Thai Chiles, Finely Diced*
For The Bowls:
2 8 Ounce Packages Tempeh
2 Teaspoons Olive Oil, divided
1 Pound Green Beans, ends trimmed
5 Cups Cauliflower Florets, or one medium head
12 ounce bag Bean Sprouts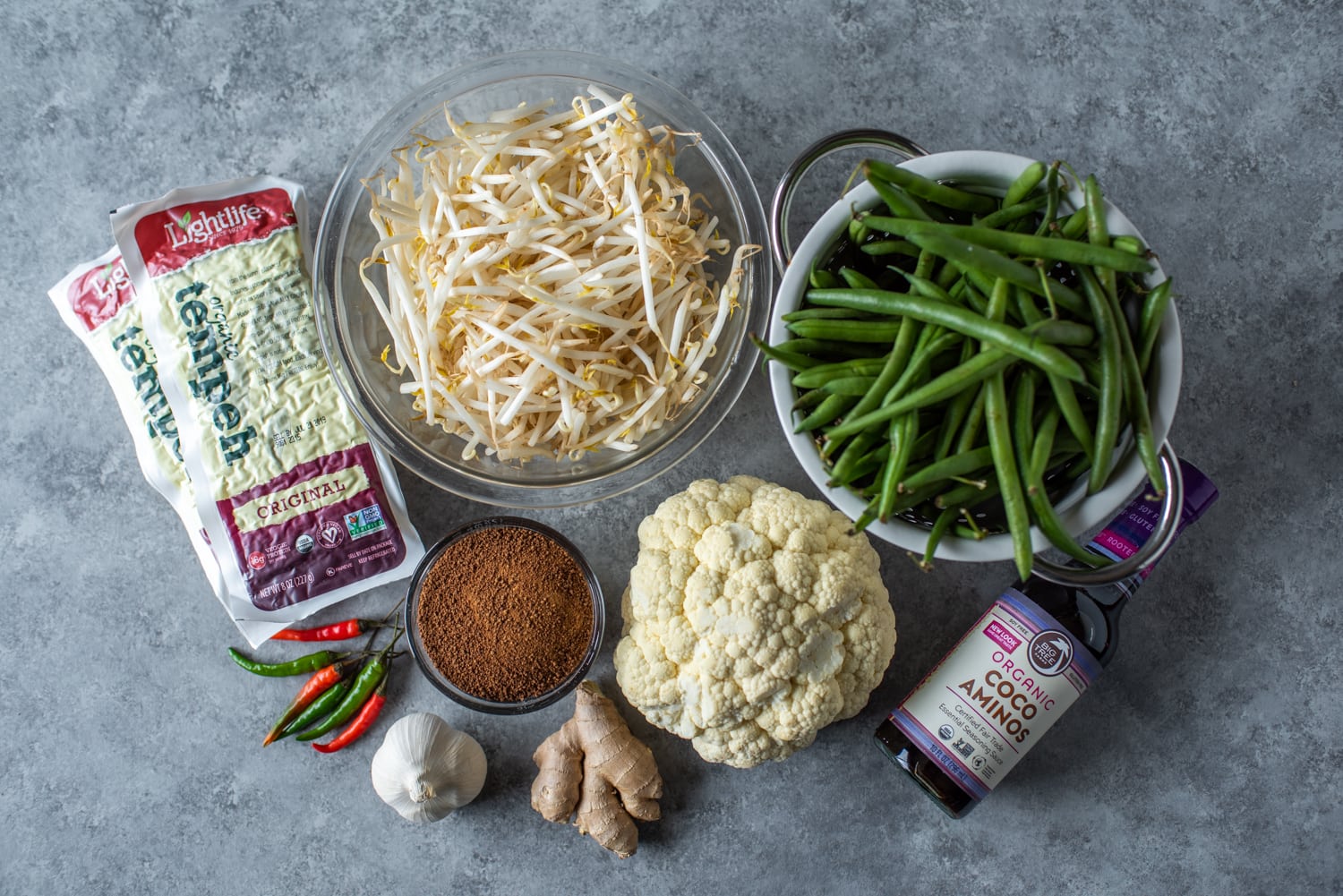 How long will this recipe last for?
On average, Indonesian Grain Bowls last for up to 5 days. But since there are collective ingredients, let's break down their fridge life individually.
Cooked tempeh (the star of the show) lasts for up to 7 days in the refrigerator. However, cooked vegetables only last for up to 4 days. The sauce can last longer than both the vegetables and tempeh, as soy sauce lasts for up to 2 years in the fridge. We suggest cooking fresh vegetables after 4 days if you still have leftover tempeh. Or you can use the tempeh for another dish. You can add it to any entree or salad.
Can Indonesian Grain Bowls be frozen?
Yes, you can freeze Indonesian Grain Bowls. Tempeh holds up well in the freezer raw or cooked, so no problem there! Simply thaw tempeh in the refrigerator and cook or heat it up when you're ready. Sauces last 4 to 6 months in the freezer and should be stored away in heavy-duty freezer bags. We recommend these freezer bags from Amazon. As for the vegetables, they last for 2-3 months once cooked. Just don't cook them all the way through if you plan on freezing them. You can store them in storage bags too.
How do you make Indonesian Grain Bowls?
Making this vegan meal prep recipe is actually quite simple and fast! The total time for prepping and cooking is 30 minutes for servings.
Let's start with the sauce. The first three minutes are for the sugar to dissolve. Once that's done, move on to the tempeh, but watch the sauce as it continues to cook.
Cut the tempeh in halves, then width wide and then horizontally. Cook each batch of tempeh for four minutes each (two minutes per side). The sauce finishes cooking in 10 minutes.
The last thing is the vegetables, which only takes six minutes.
Then just plate, serve, and enjoy!
How to portion this recipe:
Dividing your Indonesian Grain Bowls into meals is easy with minimal container usage. This vegan meal prep recipe yields four servings, so four meals. Divvy up 4 pieces of tempeh per container along with green beans, cauliflower, and sprouts. Drizzle the sweet and savory sauce over the meal or pack it in a sauce cup and put it inside the container. You only need a one-compartment meal prep container for Indonesian Grain Bowls.
More tempeh meal prep recipes:
Omg, have you tried our Mole Tempeh Enchiladas? Well, now you have to! This is another easy and delicious vegan meal prep recipe that will give you all the Mexican restaurant feels. Give this one a try, and also have a look at more vegan meal prep bowls here:
Mushroom Carnitas Burrito Bowls
General Tso's Cauliflower Bowls
Loaded Mediterranean Bowl Meal Prep
Coffee Almond Quinoa Breakfast Bowl
Other tips for making Indonesian Grain Bowls:
You can bake or pan fry tempeh. Either way, be sure not to burn it. But you do want it crispy.

Uncooked tempeh lasts for up to 10 days in the refrigerator. The longer it sits in there, the longer it ferments and the richer the flavor.

Dipping tempeh helps to season it.

Thai chiles are very hot and spicy. Use accordingly or not at all. You can substitute the chiles for spices that don't pack on the heat. Turmeric, for example, is a spice that pairs well with garlic and ginger.

The sauce you make for Indonesian Grain Bowls is a variation of the traditional Indonesian sauce, Kecap Manis. You can use this sauce recipe or get the real stuff straight from Indonesia on

Amazon

.