Enchiladas are the stuff of dreams. A warm wrap stuffed with meat and topped with melted cheese and any variation of delicious chili sauces. Honestly, what's not to love? But these bad boys can get heavy. And if you're on any sort of low carb regimen, you probably thought this type of food was off limits, right? Wrong, friends! We created these low carb enchiladas so anyone can enjoy the ooey gooey goodness of this Mexican classic. The rest of your meal prep recipes are already jealous.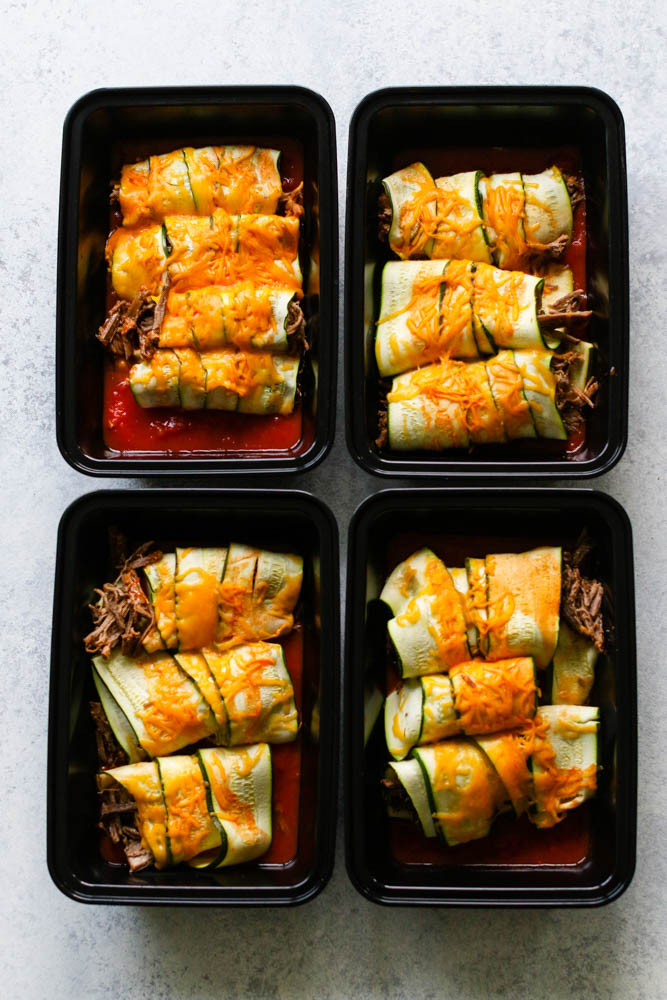 So how exactly did we transform a dish that is built around flour tortillas into a low carb meal prep recipe? We called in our good friend zucchini, of course! If you've been around here for a little while, you know we love using zucchini in our low carb meal prep recipes. From low carb lasagna to pad thai, this vegetable is invaluable for lightening up all kinds of heavy favorites. And these low carb enchiladas are no exception! The thinly sliced ribbons of zucchini bake beautifully in the oven, creating a delicious outer casing that is rich in both flavor and nutrients. Like most squashes, zucchini is high in antioxidant and anti-inflammatory phytonutrients- meaning it's great for cellular health! It's also a good source of fiber and B Vitamins (B6 and folate, to name a few), and a great source for Vitamin C. One medium zucchini averages out to about half of our required daily intake for this important immune-supporting vitamin! So if you're enjoying these low carb enchiladas in your meal prep recipes throughout the week, you're also getting a fantastic boost of nutrients.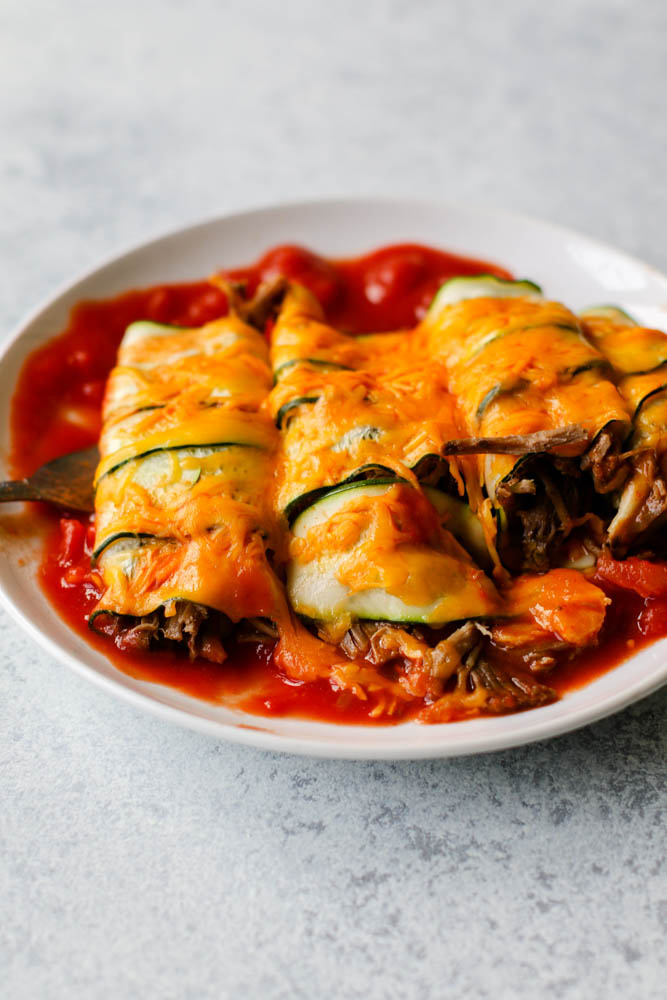 And if we haven't sold you yet, this meal prep recipe also employs the use of a slow cooker. Simply set it in the morning, go about your day, and finish the minimal amount of prep when you get home in the evening! Done and done. Enjoy!
Beef Zucchini Enchilada Meal Prep Ingredients:
1 tbsp olive oil
1 lb beef chuck
1 cup beef broth
sea salt
black pepper
1/4 tsp garlic powder
1 tsp ground cumin
2 tsp chili powder
1 cup red sauce
4 large zucchini, sliced with a mandolin
1/2 cup shredded cheddar cheese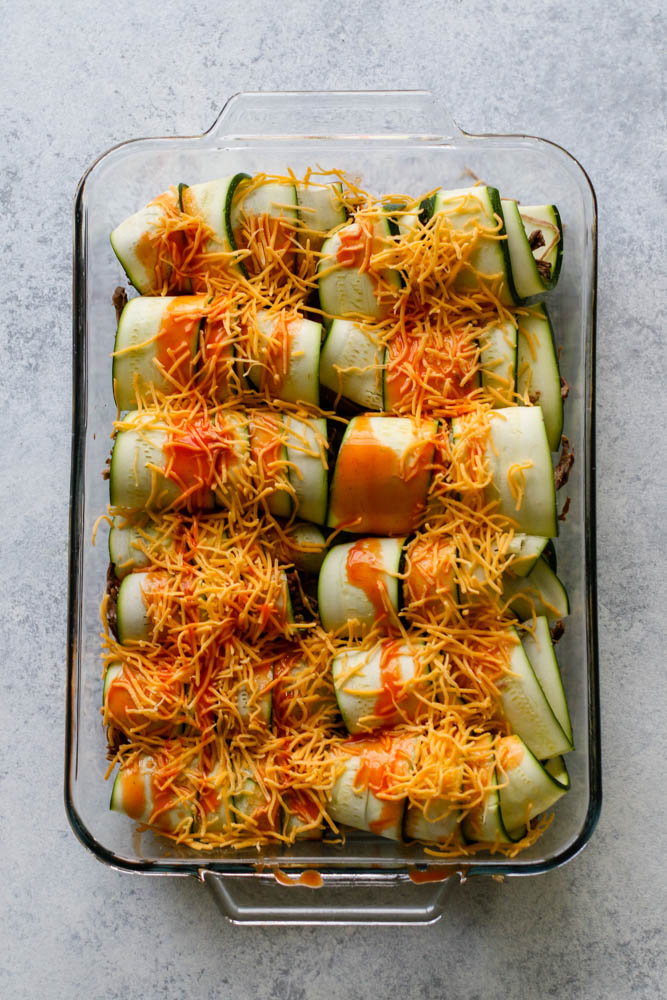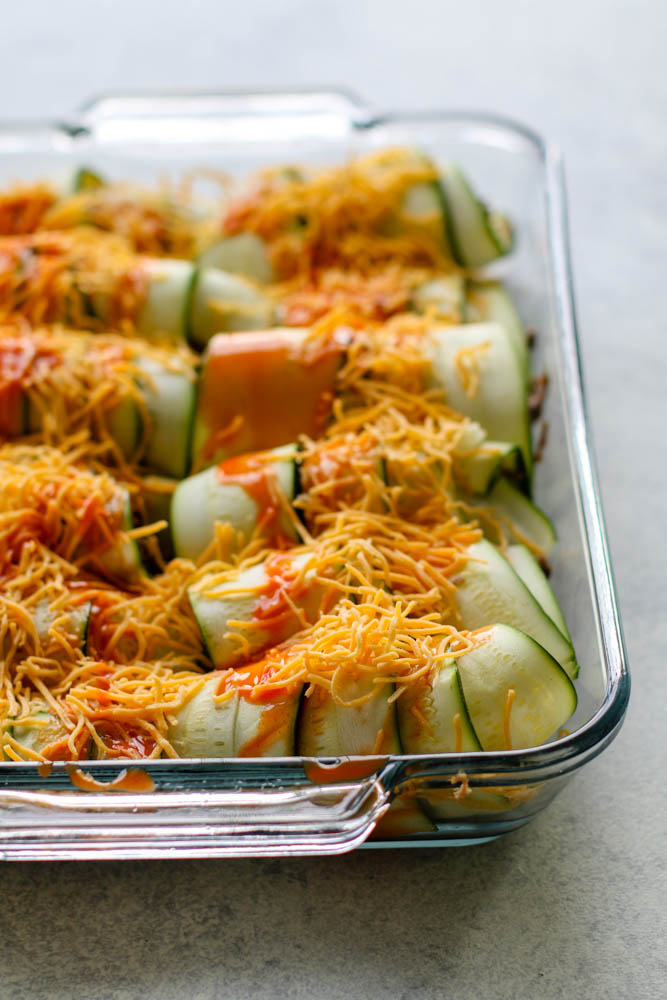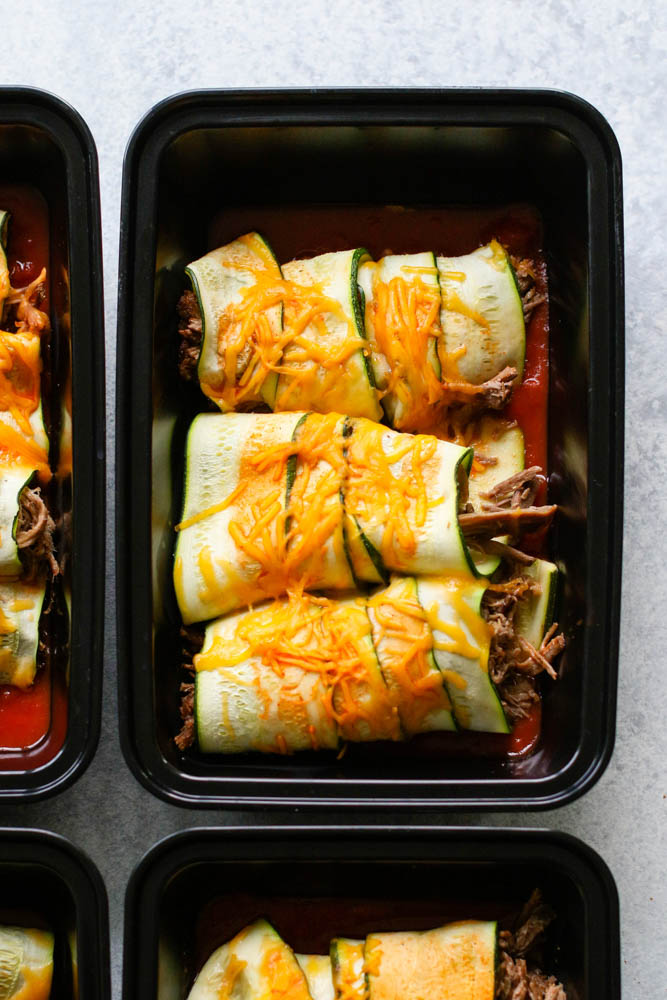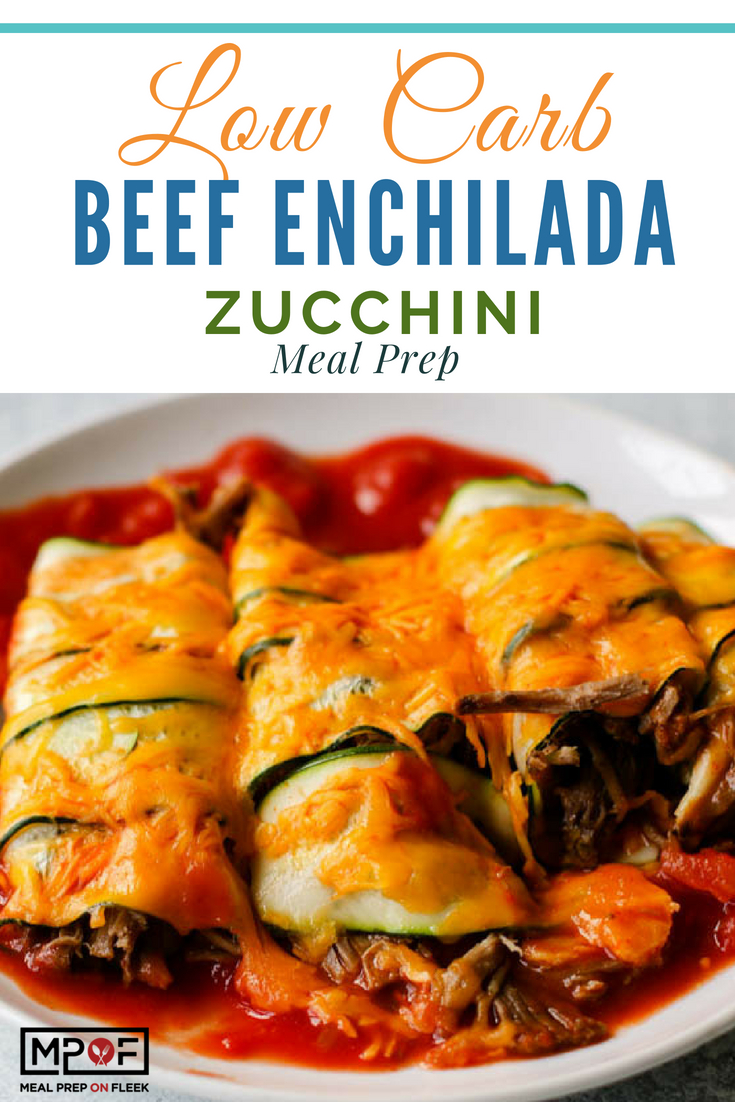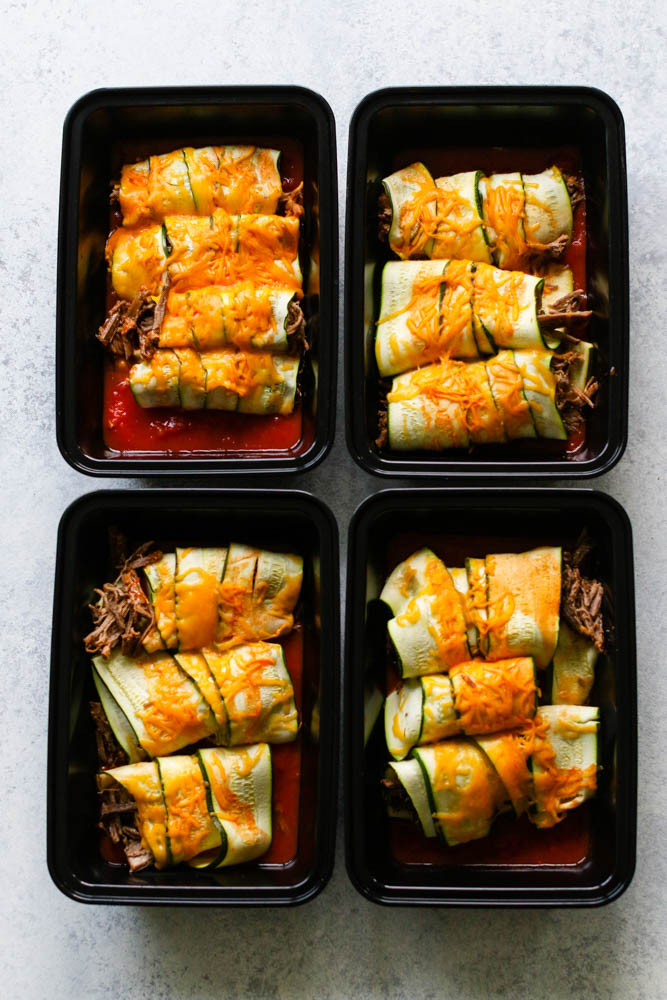 Ingredients
1

tbsp

olive oil

1

pound

beef chuck

salt & pepper

1/4

tsp

Garlic Powder

1

tsp

ground cumin

2

tsp

Chili Powder

1

cup

red sauce

4

large

zucchini

sliced with a mandolin

1/2

cup

shredded cheddar cheese
Instructions
Add beef chuck to a crockpot with olive oil, beef broth, salt, pepper, garlic powder, cumin, and chili powder. Cook on medium for 8 hours or high for 4 hours. Once done, remove from crockpot and shred with a fork.

Preheat oven to 350ºF.

Using a mandoline slicer, slice zucchini into long thin slabs. On a cutting board, lay out three or four zucchini slices slightly overlapping. Add 2-3 TBS of shredded beef and roll up to make an "enchilada". Transfer to a baking dish. Repeat with remaining zucchini and shredded beef.

Top with ½ red sauce and shredded cheese.

Bake for approximately 20 minutes and until cheese is melted.

Divide the remaining red sauce between four meal prep containers. Divide zucchini enchiladas between meal prep containers and store in the fridge for 3-4 days. Reheat before serving.
Notes
Nutrition for 1 out of 4 servings:
27.5g Protein | 15.5g Carbs | 29.9g Fat | 4g Fiber | 444 Calories
Nutrition
Serving:
1
meal
|
Calories:
444
kcal
|
Carbohydrates:
15.5
g
|
Protein:
27.5
g
|
Fat:
29.9
g
|
Fiber:
4
g