You don't need to wait for a Mexican Holiday or head to your nearest Tex-Mex restaurant to satisfy your craving for Chicken Enchiladas! MPOF makes it easy to savor the good times at home with this meal prep recipe. You'll have four protein-rich meals designed to support your goals wherever you need to go.
What exactly is an enchilada? Roll up your sleeves because enchiladas are made of rolled-up tortillas that are stuffed with meat, then covered with a tomato chili sauce. "Enchilada" is literally the past tense of "enchilar" in Spanish, which means "to add chili pepper to". So yes, this recipe has some kick, but you can tune it to your taste by experimenting with your enchilada sauce. There are many varieties of enchilada sauce – red, green and brown are the three styles you'll find everywhere. Feel free to make this recipe again and again, each time a little different. If you prefer milder dishes, adjust to your perfect taste!
So fast, simple and delicious, you'll make this chicken enchiladas recipe your new go-to meal for lunch or dinner!
How long will Chicken Enchiladas last for?
Give Chicken Enchiladas two days or less so they don't over-sog. This will give you time to enjoy your margaritas at night and meal prep recipes on the go!
Can Chicken Enchiladas be frozen?
Properly stored, 3 months or less is a good timeframe to freeze this meal prep recipe. When it's time for a Mexican-inspired meal prep recipe wherever you are, they'll be ready for you!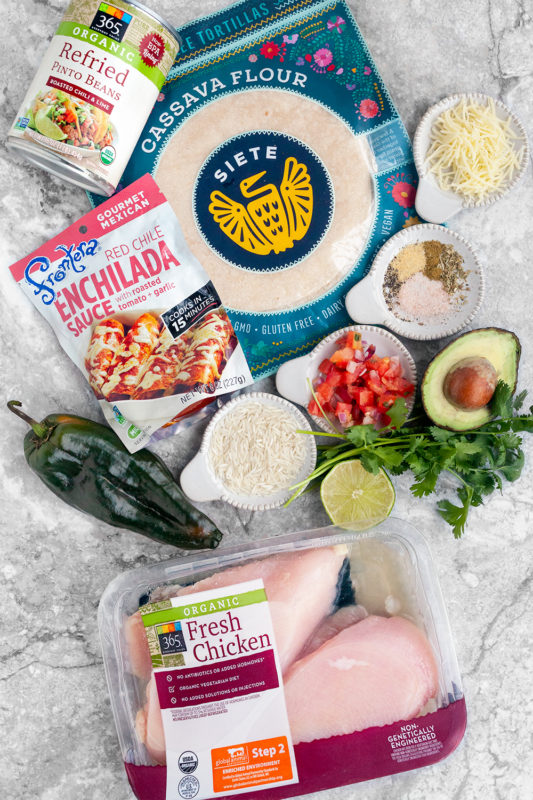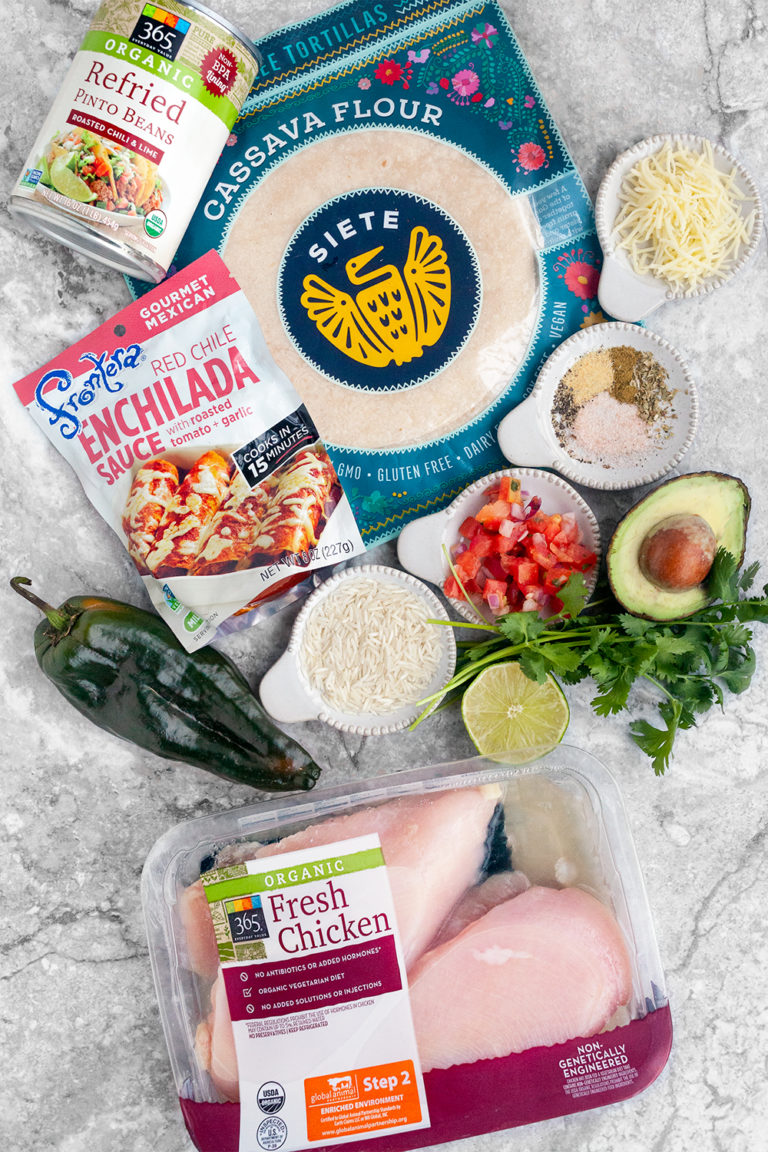 How do you make Chicken Enchiladas?
With the instant pot, this meal prep recipe is a breeze! Load it up with chicken and spices and let it work for 20 minutes. Meanwhile, warm your tortillas in the microwave or gently fry them in oil for crispier Chicken Enchiladas. The fun part is filling and rolling the shredded chicken into your tortillas. By the time the baking is done, portion pre-cooked rice and refried beans into a three-compartment meal prep container.
How to portion Chicken Enchiladas?
With rice, beans, and Chicken Enchiladas, MPOF recommends a white or red three-compartment meal prep container to keep your meal separated into three delicious sections. Each meal will be 665 kcal with 72.8g of protein.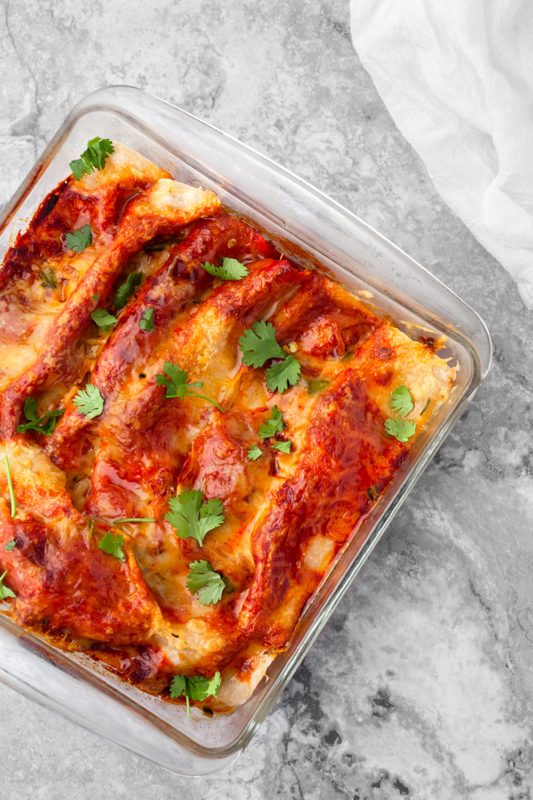 More Chicken & Enchiladas meal prep recipes:
Other tips for making Chicken Enchiladas:
For less sogginess and more crispiness in your Chicken Enchiladas, fry your tortillas briefly in hot oil and pat dry with a paper towel before you fill them and roll them.

Swap out red enchilada sauce for green or brown to tailor this meal prep recipe to your tastes

Skip the poblano pepper for a milder meal or add a second one to spice up your spiciness!

Substitute 2lbs of chicken breast with 2 lbs of leftover chicken if you were in a chicken-making mood recently!
Chicken Enchiladas Ingredients:
2 lbs. Boneless Skinless Chicken Breasts
Juice of 1 Lime
1 Poblano Pepper, diced
1 pkg. Siete Cassava Flour Tortillas (8 tortillas)
1 pkg. Red Enchilada Sauce
1 small Avocado, diced
14 oz. Canned Refried Beans (vegetarian)
1/2 cup Mexican Style Shredded Cheese (reserve 1/4 C.)
2 Cups Cooked White Rice
2 Cups Chicken water (or chicken broth)
1 Cups Pico de Gallo
3 Tbsp. Fresh Cilantro
1 Tsp. Ground Cumin
1 Tsp. Dried Oregano
1 Tsp. Garlic Granules
1/2 tsp. Ground Black Pepper
1/2 tsp. Pink Himalayan Salt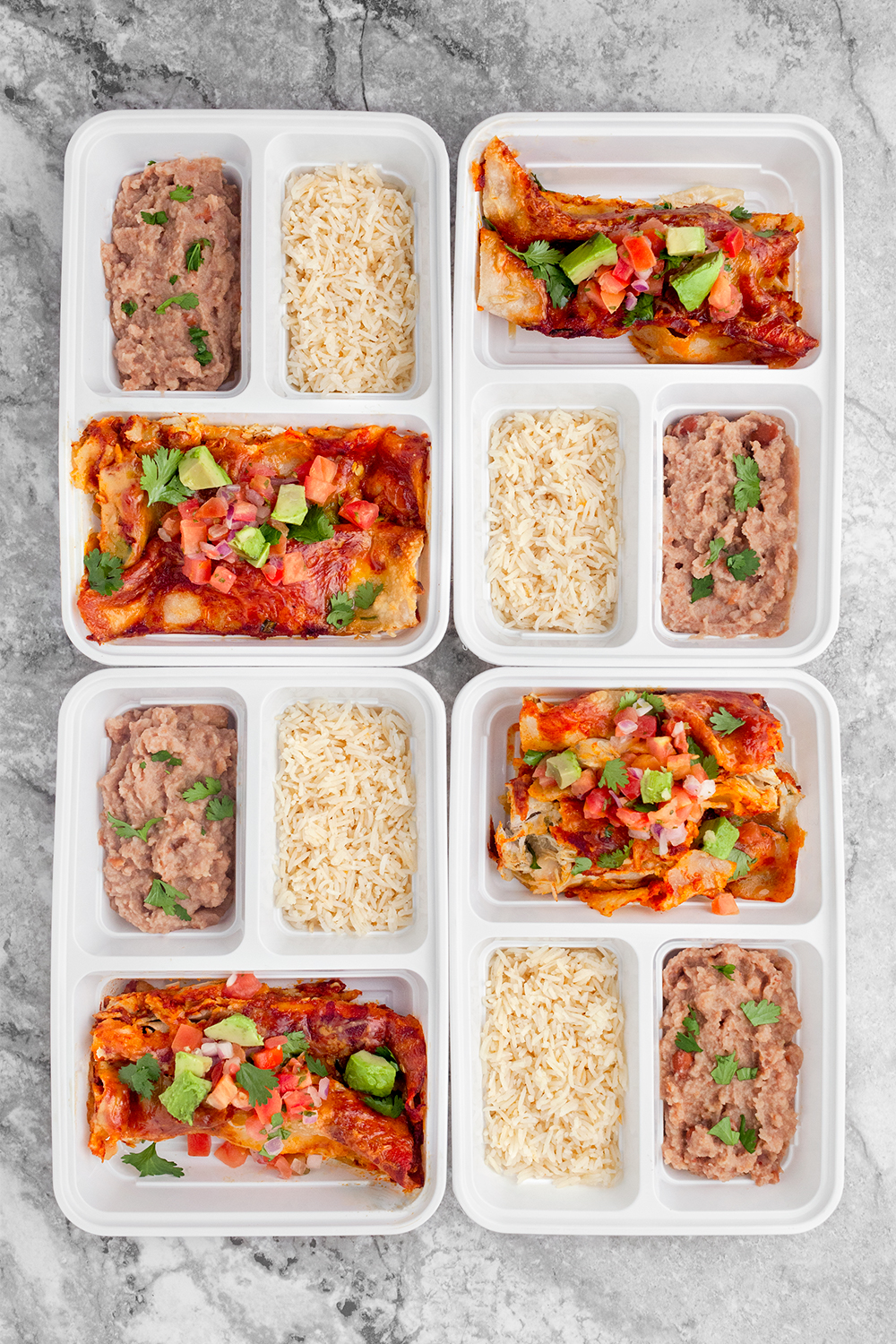 Ingredients
2

lbs.

Boneless Skinless Chicken Breasts

1

Lime

juiced

1

Poblano Pepper

diced

1

package

Siete Cassava Flour Tortillas

8 tortillas

1

package

Red Enchilada Sauce

1

small

Avocado

diced

14

oz.

Canned Refried Beans

vegetarian

0.5

cup

Mexican Style Shredded Cheese

reserve 1/4 C.

2

Cups

Cooked White Rice

2

Cups

Chicken water

or chicken broth

1

Cups

Pico de Gallo

3

Tbsp.

Fresh Cilantro

1

Tsp.

Ground Cumin

1

Tsp.

Dried Oregano

1

Tsp.

Garlic Granules

1/2

tsp.

Ground Black Pepper

1/2

tsp.

Pink Himalayan Salt
Instructions
In an Instant Pot, place water or chicken broth, cumin, oregano, garlic granules, salt, black pepper, poblano pepper, and chicken. Cover and set on pressure cook mode for 20 minutes or until chicken is fully cooked then manually release pressure. Using two forks, shred chicken in Instant pot and let sit in seasoned water/broth.

Next, gently warm tortillas in microwave and place on a plate in a stack.

Pre-heat oven to 350 degrees (this will be to melt the cheese)

Drain liquid from shredded chicken and place shredded chicken and cheese into the tortilla, then roll up to close. Place into an 8"x8" baking dish, seam side down. Repeat for remaining tortillas.

Next pour enchilada sauce over and top with reserved cheese. Place on the middle oven rack for 10 minutes or until cheese has melted and sauce is bubbling.

While that bakes, warm-up beans and rice if needed.

Serve two enchiladas with refried beans and rice, top enchiladas with pico de gallo avocado, and cilantro.

Store and enjoy!
Nutrition
Calories:
665
kcal
|
Carbohydrates:
68.3
g
|
Protein:
72.8
g
|
Fat:
15.2
g
|
Fiber:
10.1
g