Shish Tawook Meal Prep
If you're looking for an easy and convenient lunch that's similar to quality worldly takeout, this meal prep idea is just for you! Lunchtime takeout is nice. The adventure of trying new cuisines and socializing is fun. But it can also be time-consuming. Here at Meal Prep on Fleek, our goal is to offer you meal prep ideas that are healthy, simple, time-saving, and flavorful. Shish Tawook hits the nail on the head!
Shish Tawook (aka Shish Taouk) is a savory and vibrant Middle Eastern meal. It is very filling and nutritionally balanced. The flavor profile of this meal is absolutely amazing! The combination of spices with Greek yogurt gives the chicken a savory taste. The chicken is paired with a cool & refreshing salad, tangy sauce, and soft pita bread.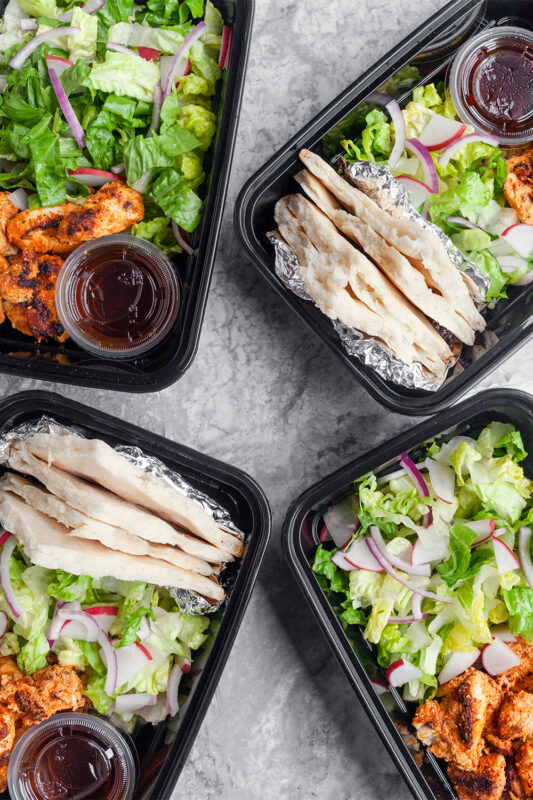 How long will Shish Tawook last for?
The portioned meals will last for 4 days in your refrigerator. For guaranteed freshness, store your Shish Tawook meals in a bento-style meal prep container.
Can Shish Tawook be frozen?
Yes, you can freeze Shish Tawook. But note that you should only freeze the chicken, pita bread, and sauce. After cooking and enjoying, chill your leftover chicken in the fridge before freezing. The chicken can be stored in a durable freezer bag for up to 3 months. The same storage instructions apply to the bread and sauce. But the gluten-free pita bread will last one month in the freezer while the sauce will last for up to 6 months in the freezer. We do not recommend freezing the salad because of its high water content. Frozen salad wilts, so always serve fresh salad with Shish Tawook. When you're ready to defrost later, place the chicken, bread, and sauce in the refrigerator overnight to thaw.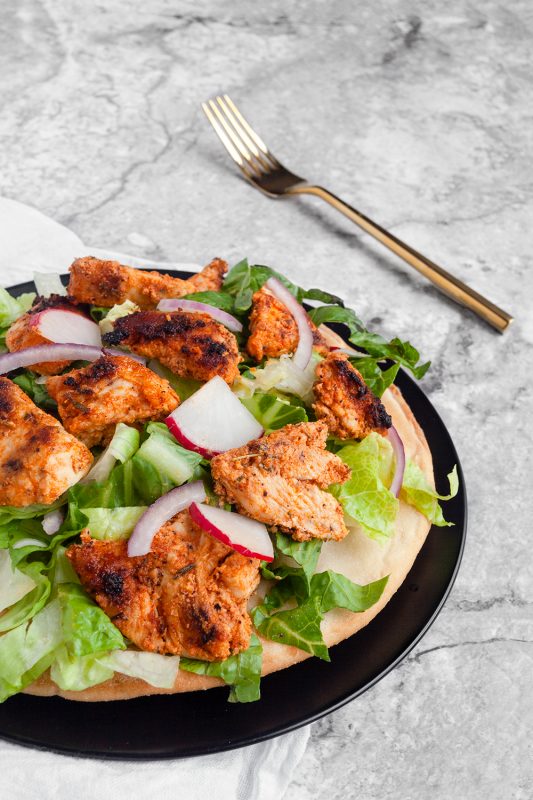 How do you make Shish Tawook?
Shish Tawook is super easy to make! All you have to do is marinate and cook the chicken and whisk together sauce ingredients. It only takes 10 minutes to cook this restaurant-quality tasting meal.
First, you start by marinating the chicken. Make the marinade by combining and mixing all of its ingredients in a bowl. Then mix in the chicken and marinate in your fridge anywhere from 1 to 24 hours. Now that your chicken is fully marinated, all there is to do is cook it and make the sauce. Prepare the sauce while the chicken is cooking and plate the pita bread and salad.
Serve cooked chicken on top of the pita bread and salad with a little bit of sauce drizzled on top. That's it! Easy-peasy and yummy.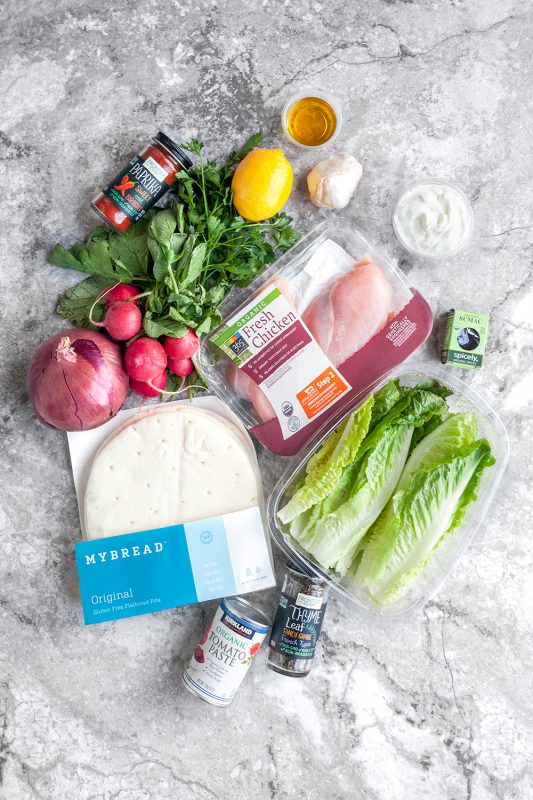 How to portion Shish Tawook?
Our Shish Tawook meal prep idea yields four meals. Divide the chicken and salad up into 4 meals and add one piece of gluten-free pita bread to each serving.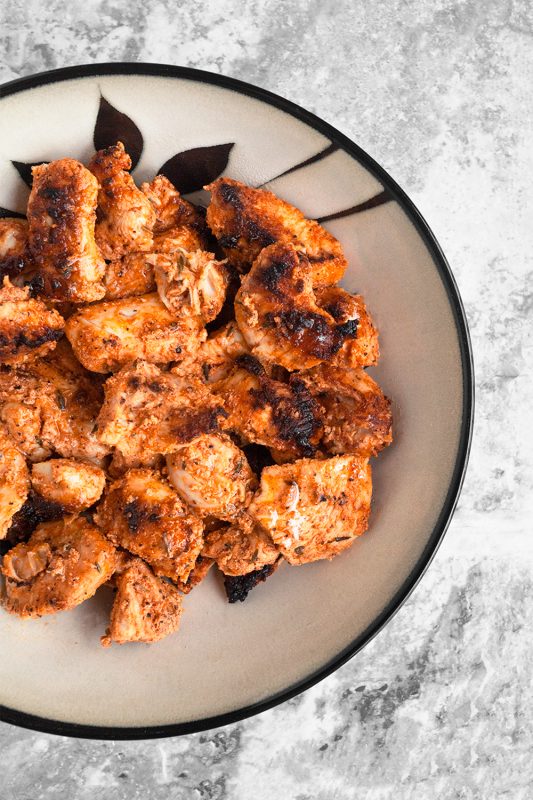 More Middle Eastern Shish meal prep recipes:
Shish Tawook is a Middle Eastern kabob dish without the kabab skewers. If you enjoyed this meal prep idea, try our Cauliflower Fried Rice with Legumes and Chicken Shish Kabobs and Kofta Kebab Meal Prep.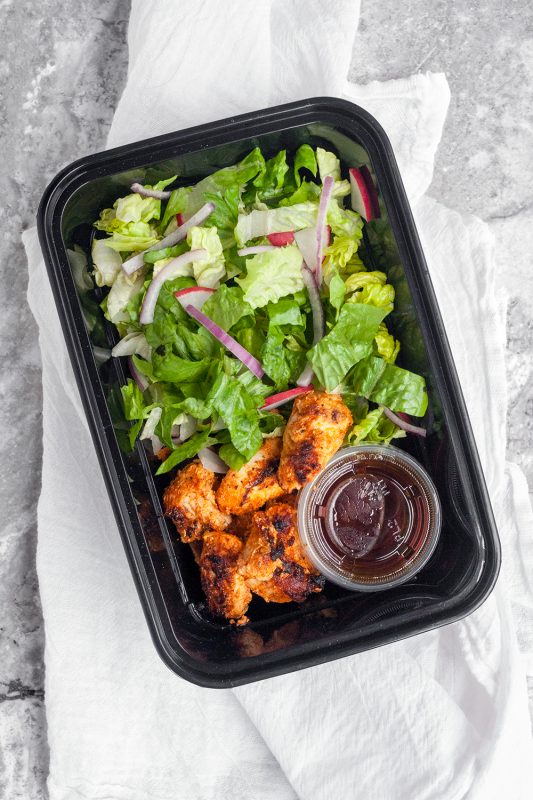 Shish Tawook Meal Prep Ingredients:
Shish Tawook Chicken Base:
2 lbs. Chicken Breast (boneless, skinless; cut into 1.5"—2" pieces)
3/4 C. Greek Yogurt (plain, unsweetened)
Juice of half a Lemon
3 Tbsp. Avocado Oil (plus separate 2 Tbsp. for cooking)
5 Tbsp. Tomato Paste
1 tsp. Sumac
1 tsp. Dried Thyme
1 tsp. Paprika
1/4 tsp. Pink Himalayan Salt
1/4 tsp. Ground Black Pepper
4 Gluten-Free Pitas (lightly toasted)
Salad Base:
2 Large Heads of Romain Lettuce (~6 cups worth chopped)
1 Bunch Red Radishes (thinly sliced)
1/4 C. Sliced Red Onion
Optional: Fresh Flat Leaf/Italian Parsley
Dressing:
2 Tbsp. Extra Virgin Olive Oil
5 Tbsp. Red Wine Vinegar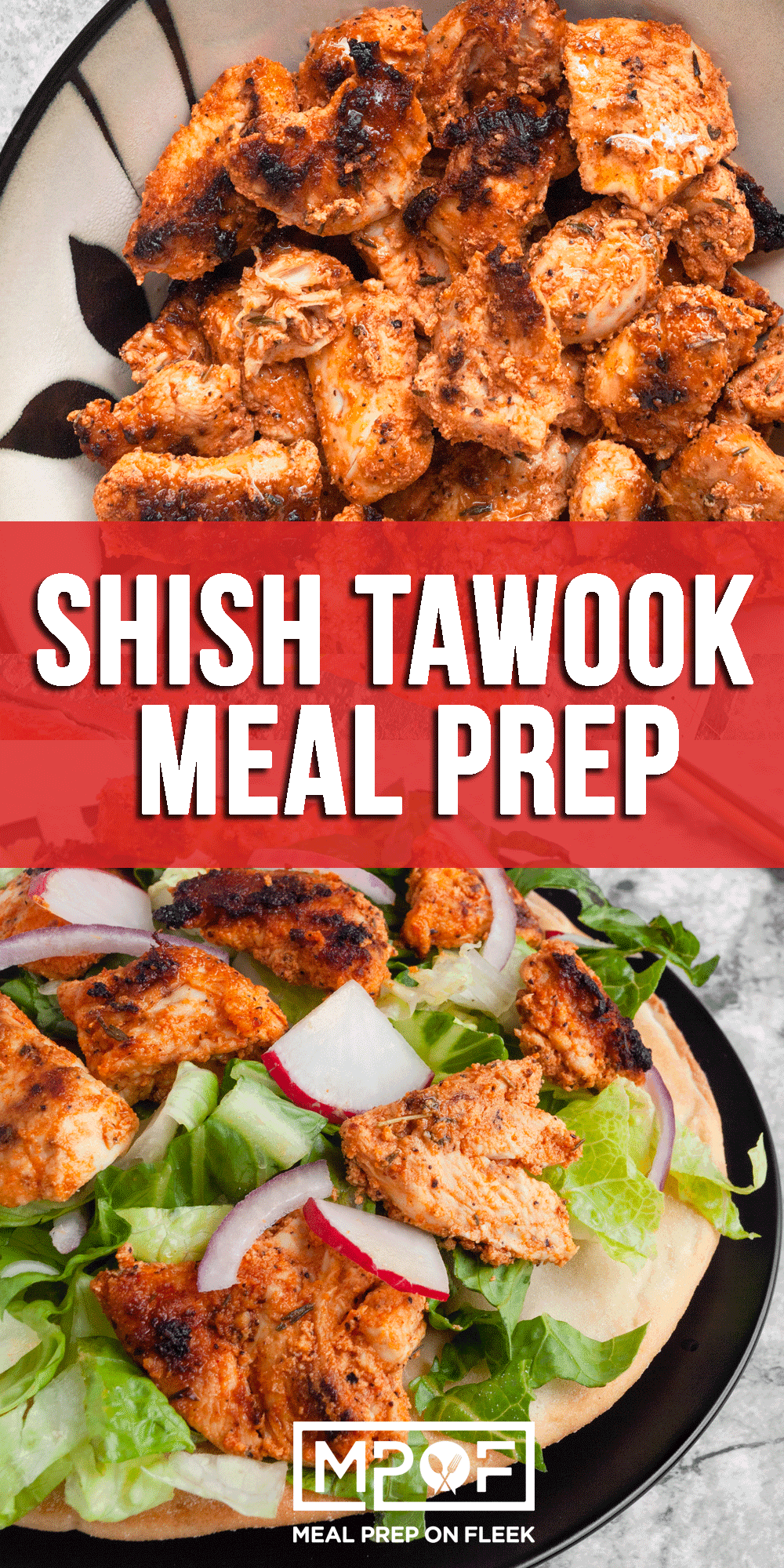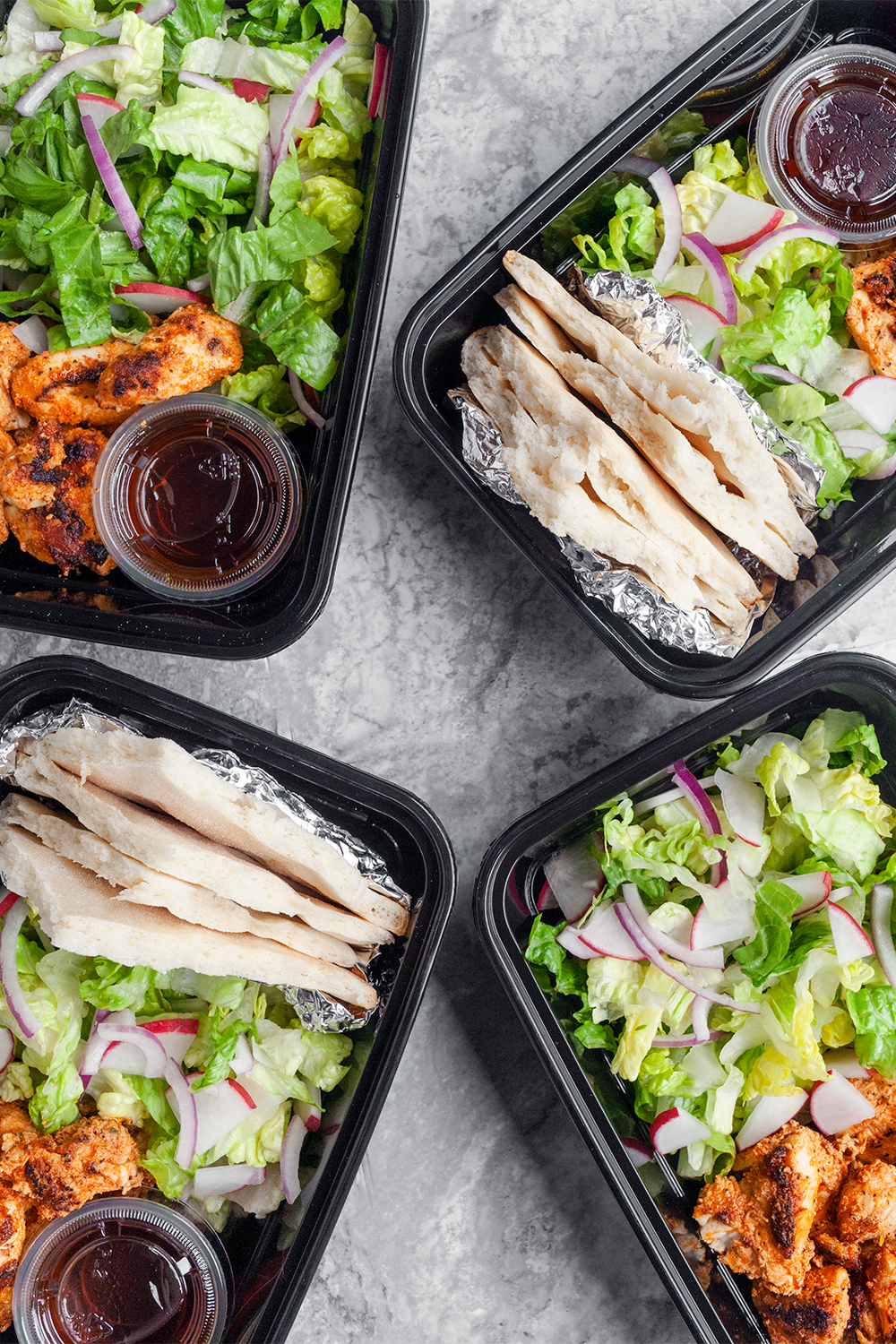 Ingredients
2

pounds

Chicken Breast

boneless, skinless and cut into 2" pieces

3/4

cup

non-fat Greek Yogurt

or yogurt of choice (plain and unsweetened)

1/2

large

Lemon

juiced

3

tbsp

avocado oil

1.5

tbsp

tomato

paste

1

tsp

sumac

1

tsp

dried thyme

1

tsp

paprika

1/4

tsp

Sea Salt

1/4

tsp

black pepper

4

gluten-free pitas
Salad Base
2

large

head romaine lettuce

1

bunch

red radish

thinly sliced

1/4

cup

red onion

sliced

parsley

optional
Dressing
2

tbsp

olive oil

1.5

tbsp

red wine vinegar
Instructions
To create the marinade mix together in a large bowl all shish tawook base ingredients, except for the chicken and pitas. Once the marinade is combined, stir in chicken until well-coated. Marinate in fridge for 1 hour (or up to overnight).

When the chicken has finished marinating, heat a skillet over medium-high heat, then add 2 tablespoons avocado oil.

Place each piece of chicken into the pan and cook for ~3–5 minutes per side or until chicken has fully cooked-through, reaching internal temperature of 165℉ (careful not to over crowd the pan or disrupt chicken during the searing/cooking process).

While the chicken is cooking, in a small bowl, whisk dressing ingredients together until emulsified and in a large bowl, toss salad veggie ingredients together. Set Aside.

Once everything is ready to enjoy, serve the salad over the pita, top with shish tawook chicken, and a drizzle of dressing.

Serve, store, and enjoy!
Notes
Nutrition for 1 out of 6 servings:
51.4g Protein | 37.2g Carbs | 24.8g Fat | 8g Fiber | 576 Calories
Nutrition
Serving:
1
meal
|
Calories:
576
kcal
|
Carbohydrates:
37.2
g
|
Protein:
51.4
g
|
Fat:
24.8
g
|
Fiber:
8
g