We're all about Thai food around here. We know you all love the classic sweet and tangy Pad Thai, and we've shared other favorites over the years such as Thai Basil Chicken and this Thai Chili Tofu Sheet Pan Meal Prep. But we wanted to go a bit deeper and add some further variation to our East Asian-inspired meal prep recipes because frankly we can't get enough of them, and we hope you feel the same way! This thai curry recipe showcases the classic Thai flavors of ginger and lemongrass, with a little added smoke from cumin and a rich and savory dash of turmeric. Everything comes together in a super creamy dairy-free base that is sure to be one of the most exciting things to come from your kitchen! Though Thai curries are traditionally served with white or jasmine rice, we subbed cauliflower rice to complete this meal prep recipe and keep it Whole30 compliant.
Carrots and potatoes are traditional vegetable ingredients for Thai curry recipes, and this one is no exception. The combination creates a wonderful flavor and texture contrast: crunchy and sweet carrots beautifully complement the soft and mild potatoes. Plus, the longer the potatoes sit in the curry, the more they soak up its wonderful flavors. YUM. Assuming you aren't one of those people who hate the taste, don't skimp on the cilantro for this Thai curry recipe! Not only is it essentially traditional, but the pop of bright and cooling flavor is crucial to round out the richness of the rest of the dish.
This is one of our many meal prep recipes that call for chicken, but pork, beef, and tofu are also common in Thai curry recipes and all would make good substitutions. As written with chicken, this thai curry recipe comes in at 40g protein for under 400 calories per serving! We love when meal prep recipes are as nutrient dense as they are delicious and easy.
Thai Yellow Curry Meal Prep Ingredients:
Ingredients:
1 tablespoon olive oil
4 cloves garlic, minced
2 tablespoons ginger, grated
2 tablespoons lemongrass, very finely chopped
2 tablespoons cumin
1 tablespoon turmeric
2 teaspoons chili powder
1 ½ teaspoons sea salt
2 cups coconut milk, full fat
2 pounds chicken breasts, cubed
2 potatoes, peeled and chopped in large chunks
3 carrots, peeled and cut into large chunks
Cilantro, to garnish
Red Thai chilis or red jalapenos, to garnish, optional
6 cups cauliflower, riced & cooked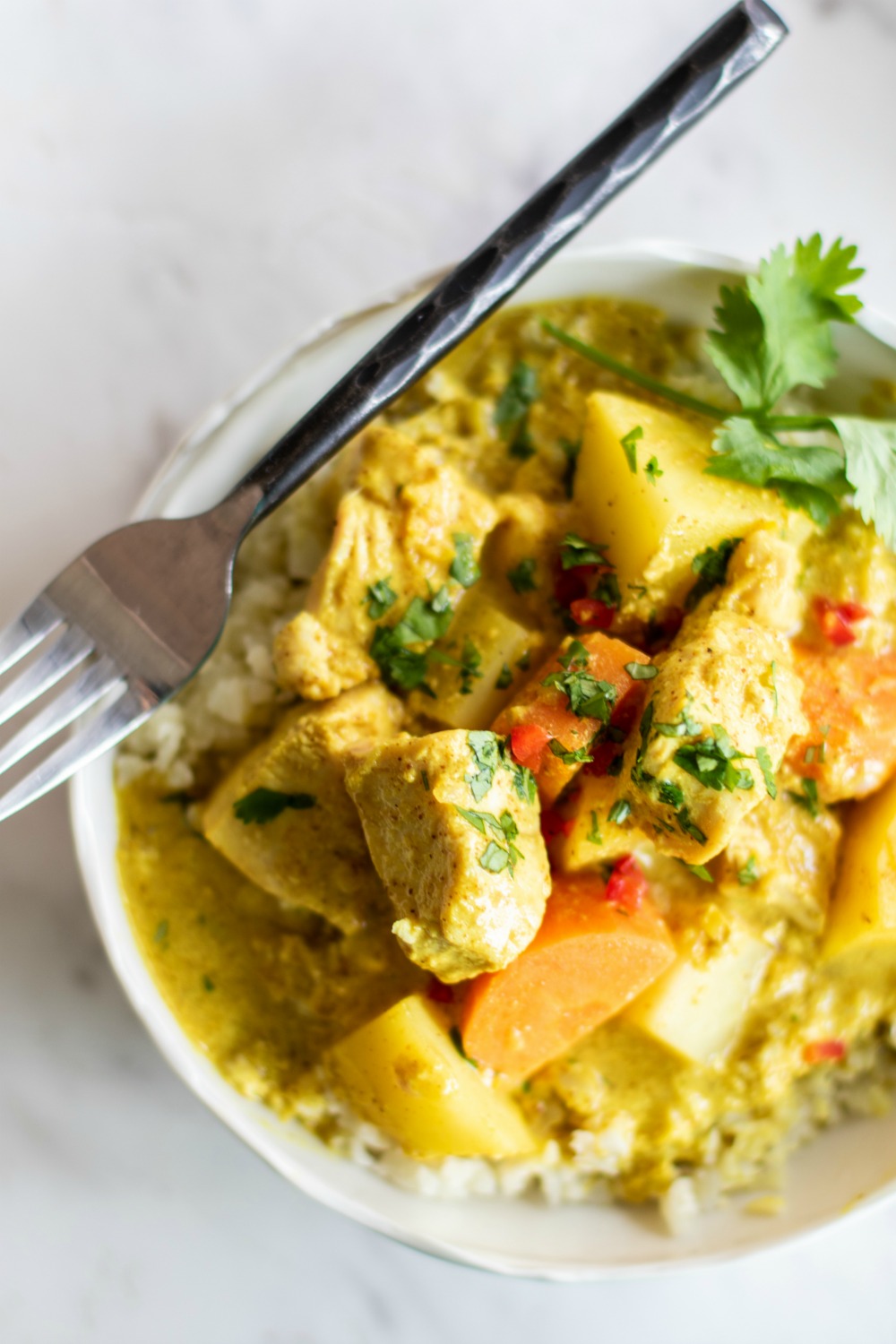 Ingredients
1

tbsp

olive oil

4

cloves

garlic

minced

2

tbsp

Ginger

grated

2

tbsp

lemongrass

finely chopped

2

tbsp

cumin

1

tbsp

turmeric

2

tsp

Chili Powder

1.5

tsp

Sea Salt

2

cups

full fat coconut milk

2

pounds

raw chicken breast

cut into cubes

2

medium

potatoes

peeled and chopped into large chunks

3

medium

Carrots

peeled and cut into large chunks

cilantro

for garnish

6

cups

rice cauliflower
Instructions
In a skillet, add olive oil, garlic, ginger, lemongrass, and spices. Saute until fragrant, and then add the coconut milk. Simmer on low for 4-5 minutes while preparing the other ingredients.

Add the chicken, potatoes and carrots to a crockpot, and then top with the curry mixture.

Cook on low for 4-6 hours, or on high for 2-3 hours.

Serve on a bed of cauliflower rice, and garnish with chopped cilantro or diced red chilis.
Notes
Nutrition for 1 out of 6 servings:
40g Protein | 24.4g Carbs | 15.3g Fat | 389 Calories
Nutrition
Serving:
1
meal
|
Calories:
389
kcal
|
Carbohydrates:
24.4
g
|
Protein:
40
g
|
Fat:
15.3
g