Thai Crunch Quinoa Grain Bowl is a totally plant-based meal that satisfies your cravings for veggies, crunchy foods, and tons of protein in one very full bowl!
This plant-based quinoa bowl contains all 9 essential amino acids for a complete protein-packed meal. Crunchy cruciferous veggies add antioxidants and fiber!  Do not underestimate the power of a plant-based meal to pack in protein. This Thai Crunch Quinoa Grain Bowl has 23g of fiber-rich protein. That is as much protein as one serving of chicken. Talk about healthy meal prep, right?
The rainbow of veggies and crunchy cashews provide a great contrast of textures and flavors against the chewy quinoa and tempeh. The whole thing is dressed with a sweet and tangy cilantro-basil salad dressing for a plant-based grain bowl that you will be craving for lunch and dinner. (Don't forget to pack everything in your Goodcook meal prep container so the dressing and main bowl ingredients stay fresh until you're ready to eat.)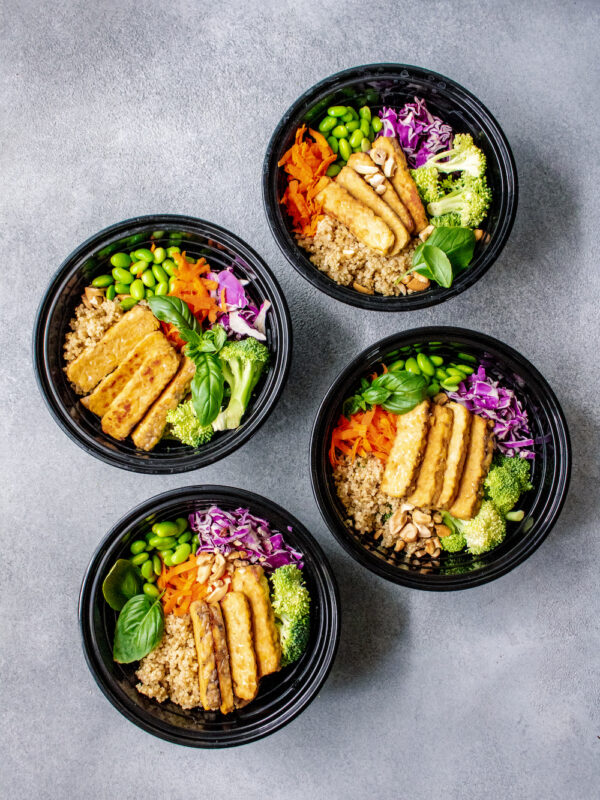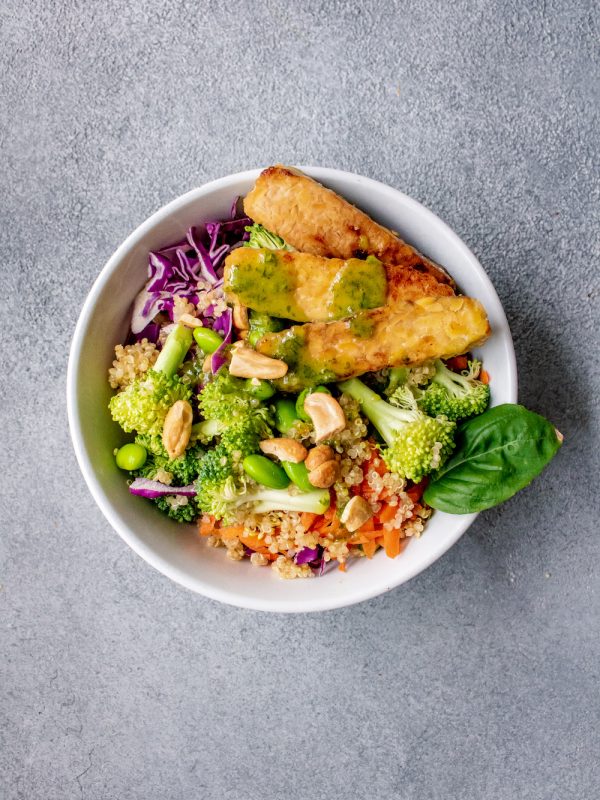 Thai Crunch Quinoa Grain Bowl Bowl 

Ingredients
Cilantro-Basil Dressing :
1/4 cup olive oil

1/4 cup fresh lime juice 

1

tbsp

agave nectar 

1/4 cup cilantro leaves

1/4 cup basil leaves 

1 clove garlic 

1/2 tsp sea salt 
For Tempeh:
8 oz. tempeh, sliced into 1/4-inch strips  

2 tsp toasted sesame oil  

2 tbsp coconut aminos  
For Bowl :
2 cups cooked quinoa  

4 cups shredded purple cabbage 

1 cup shelled edamame  

2 cups broccoli florets  

1 cup shredded carrots 

1/2 cup chopped cashews  

1/2 cup fresh basil  

1/2 cup cilantro-basil dressing  (recipe above)
How to Make Thai Crunch Quinoa Grain Bowl
Ok, so admittedly there are some components to assemble here, but this dish isn't tough to execute. Promise! That's because half of the ingredients are raw, as in a salad, and we're hoping you have some quinoa cooked at the ready. (If not, go get that started!)
First, you make the dressing and set that aside. Easy! Then, you marinate the tempeh and cook it in a skillet over medium-high heat. Set that aside. Take your prepped quinoa and all those veggies, and arrange them all so colorfully and beautifully right in a big bowl. Add the tempeh. Drizzle the dressing on top of this Thai Crunch Grain bowl. And you're done!
How to Serve and Store Thai Crunch Quinoa Grain Bowl
We recommend eating these bowls within 4 or 5 days. But you shouldn't have a problem with that, as we suspect this is so filling you might even eat it twice in one day, or love it so much you share it with someone else to convert them to it, too. Keep it in the fridge in air-tight meal prep containers.
We don't recommend freezing this meal prep. (You can, however, freeze quinoa after you make it, if you make it ahead of time, and then defrost it to use in this meal prep. But that's just a tip for ya.) We also don't think you need much else with this particular meal prep, because it's so chockablock with both veggies and protein.
Substitutions and Alterations
Go ahead and make this with tofu; it'll be just as good. Cooking instructions are about the same. Just make sure to pat the tofu so that it's very, very dry when it hits the skillet. Otherwise, it will be too soggy to crisp up in the pan.
If it doesn't need to be a completely plant-based meal, chicken or shrimp would work here, too.
Use any combo of veggies, if desired or serve it over a bed of baby spinach.
Change the dressing (a pesto or chimichurri would work wonders here).
Peanuts are also delicious, and they taste great with these flavors.
Feel free to swap the quinoa for any other grain you might like, whether that's rice (regular white or brown rice) or cauliflower rice.
MORE BOWL RECIPES? YES, PLEASE!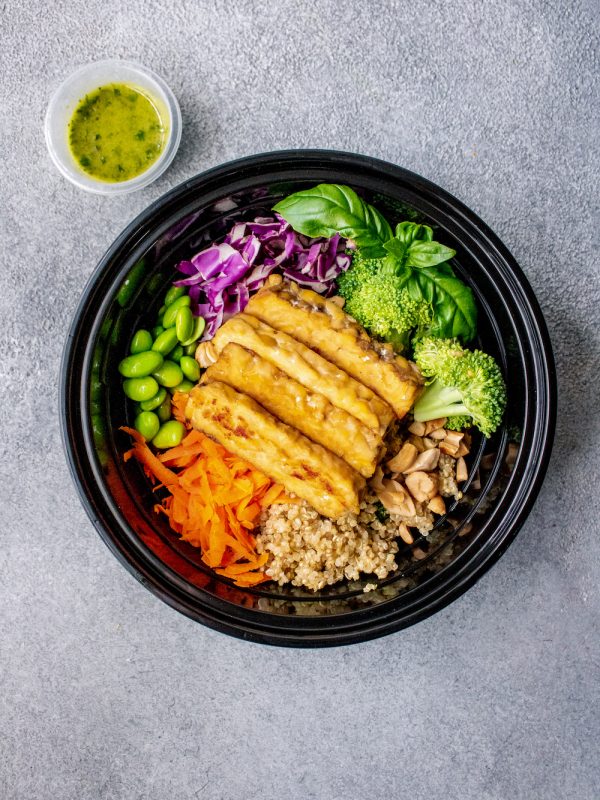 Ingredients
Cilantro-Basil Dressing
1/4

cup

olive oil

1/4

cup

fresh lime juice

1

tbsp

agave nectar

1/4

cup

cilantro leaves

1/4

cup

basil leaves

1

clove

garlic

1/2

tsp

sea salt
For Tempeh
8

oz.

tempeh

sliced into 1/4 inch strips

2

tsp

toasted sesame oil

2

tbsp

coconut aminos
For Bowl
2

cups

cooked quinoa

4

cups

shredded purple cabbage

1

cup

shelled edamame

2

cups

broccoli florets

1

cup

shredded carrots

1/2

cup

chopped cashews

1/2

cup

fresh basil

1/2

cup

cilantro-basil dressing
Instructions
Combine ingredients for dressing in a blender or nutribullet and blend until smooth. Refrigerate until serving.

Add sliced tempeh to a small bowl and top with coconut aminos and sesame oil. Gently toss with hands to coat. Set aside for 5 minutes to allow the tempeh to absorb the marinade.

Heat a medium skillet over medium heat for 1 minute. Add tempeh and sauté for 3 minutes on each side.

Divide quinoa, cabbage, broccoli, carrots, edamame, cashews, and basil between 4 MPOF round containers and top with sautéed tempeh. Divide dressing between 4 small cups included in the package and serve with each bowl.
Nutrition
Calories:
601
kcal
|
Carbohydrates:
58
g
|
Protein:
23
g
|
Fat:
31
g
|
Sodium:
466
mg
|
Fiber:
13
g
Grab our other grain bowl recipes here!