Parmesan Chicken Tenders Meal Prep
If you are craving a tasty, breaded chicken tender without the deep-fried guilt, then you have come to the right place! MPOF has created this Parmesan Chicken Tenders meal prep recipe with you in mind. The delicious crunchy coating married with just the right amount of parmesan cheese will have your taste buds jumping for joy while keeping your health goals on track. This is a fantastic low-calorie meal that has many versatile options and can be served for either lunch or dinner.
We know you are busy and need recipes that are simple and fast to prepare. Since this is prepared in a sheet pan and baked in the oven, you will find that prep and cleanup of this awesome meal prep recipe are just what you are looking for.
It's pretty impossible to go wrong with chicken breaded in parmesan and breadcrumbs. Luckily this recipe calls for green beans and tomatoes so that if they ask, you can tell your friends you're eating healthy. Although IDK, why you'd, wanna be friends with people like that anyways.
Watch the Parmesan Chicken Tenders Meal Prep recipe video below:
[recipe-video]
The video was done in collaboration with Foodbeast
Produce provided by Melissa's Produce

How long will Parmesan Chicken Tenders last?
Parmesan Chicken Tenders meal will last 3 to 4 days in the fridge when properly stored. We recommend you use these amazing 1-compartment meal prep containers. They are microwave, dishwasher, as well as fridge and freezer safe, so storing and reheating the Parmesan Chicken Tenders couldn't be any easier.
Can Parmesan Chicken Tenders be frozen?
Parmesan Chicken Tenders meal prep recipe can be frozen for up to 3 months. However, be aware that the tomatoes will not freeze well, so if you plan to freeze them, omit the tomatoes from the recipe and add fresh tomatoes after reheating.
Once the meal is completely cooled, divide the meal into 4 containers, seal the lids and label the meal and date and place in the freezer. To reheat, remove the lid, and microwave on high for 30 seconds. Remove from the microwave and flip over the chicken pieces and microwave again for 30 seconds. Repeat at 15-second increments until heated through. To revive a bit of the crunchy texture on the chicken, consider microwaving for 30 seconds to a minute to thaw slightly, and then place the parmesan chicken tenders in an air fryer for 1-2 minutes until heated through.
How do you make Parmesan Chicken Tenders?
This Parmesan Chicken Tenders meal prep recipe only takes about 10 minutes to prepare and can be ready to eat within 30 minutes from start to finish. We are sure this will be one you will want to make over and over again because it is super quick and easy, and will please even the pickiest eaters.
The process is simple. Just preheat the oven to 400 and prepare a large rimmed baking sheet by lining it with parchment paper. Take a shallow dish and whisk together bread crumbs, parmesan, and seasonings, and in a separate shallow dish, add your olive oil and minced garlic.
Take each chicken tender, one at a time, and dredge in the olive oil and then dip in the breadcrumb mixture, pressing to adhere the crumbs and coat both sides. On the opposite side of your baking sheet, add the green beans and toss with olive oil and spread to the edge of the pan. Sprinkle with salt and pepper, or any of your other favorite seasonings.
Put the baking sheet in the oven and bake for about 12 minutes. Return to the oven and bake for another 10-12 minutes, or until chicken is golden brown and beans are crisp-tender.
How to portion Parmesan Chicken Tenders?
This recipe makes 4 servings. Portion approximately 3 parmesan chicken tenders into each 1-compartment plastic meal prep container, and divide the beans evenly between all four containers.
More recipes like Parmesan Chicken Tenders
Here are a couple of other recipes similar to Parmesan Chicken Tenders. Check them out here:
Other tips for making Parmesan Chicken Tenders meal prep recipe
You can substitute Chicken tenders in place of the Chicken Breast. Use 3-4 chicken tenders in place of one chicken breast.

For a gluten-free option, use almond flour instead of the breadcrumbs.

Add some minced garlic and onions to the green beans and some real bacon bits to give your beans even more flavor.

Substitute any other of your favorite veggies in place of the beans, such as asparagus, Brussels sprouts, broccoli, zucchini, etc.
Thanks for checking out this awesome recipe for Parmesan Chicken Tenders! Let us know what you think.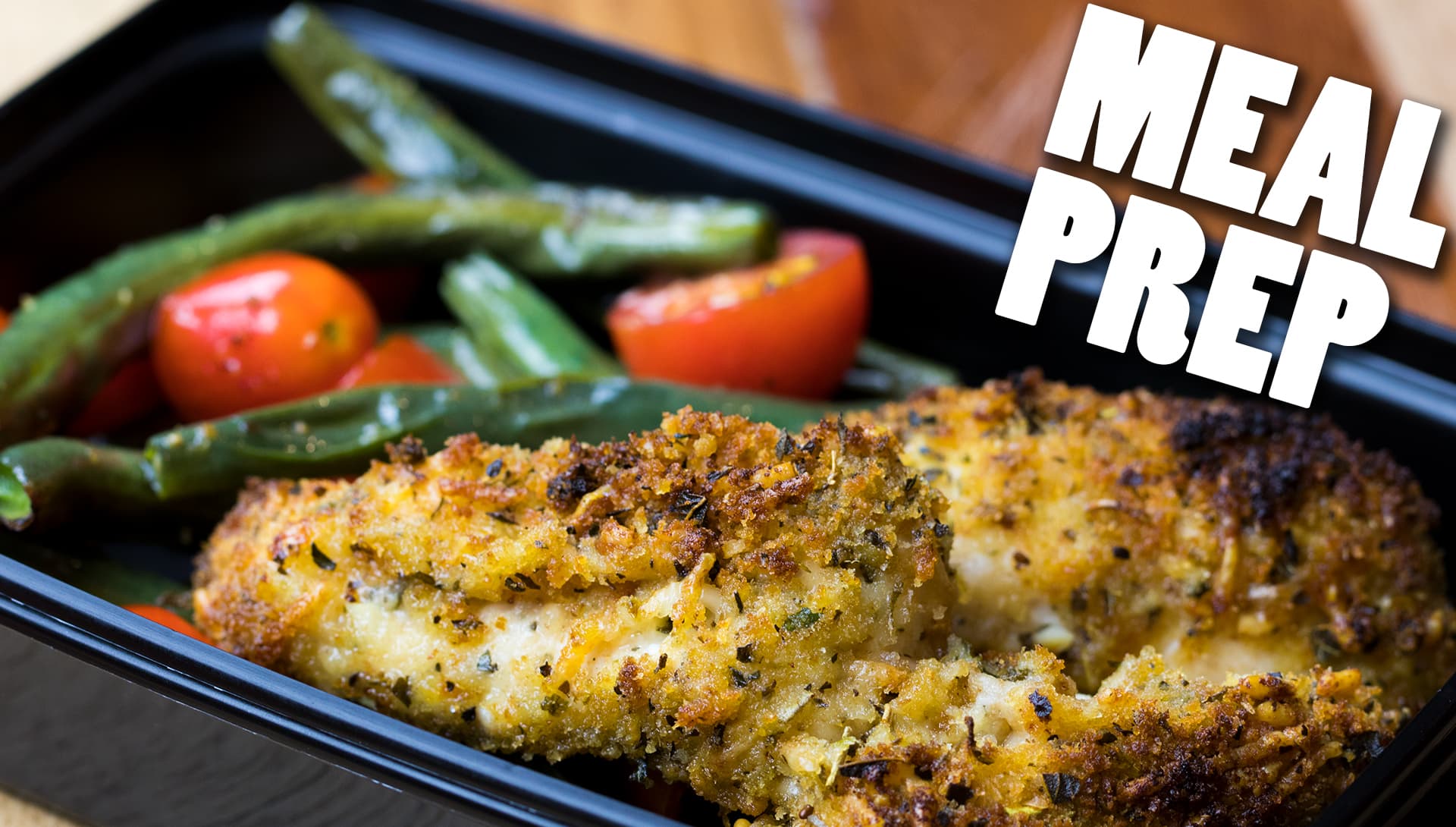 Ingredients
1 1/4

lbs

Boneless Skinless Chicken Breast

Sliced into 1 1/4-inch thick strips

1/2

cup

Plain Bread Crumbs

1/4

cup

Finely grated parmesan cheese

3/4

tsp

Dried Basil

1/4

tsp each

Dried Oregano, Thyme, and Crushed rosemary

To taste

Salt and freshly ground black pepper

2

cloves

Melissa's Minced Garlic

1

lb

Melissa's Ready to Eat Green Beans

1

cup

Grape Tomatoes
Instructions
Preheat oven to 400 degrees

Line a large rimmed baking sheet with parchment paper

In a shallow dish whisk together bread crumbs, parmesan, basil, oregano, thyme, and rosemary and season with salt and pepper to taste

Add 4 Tbsp olive oil to a separate shallow dish and stir in garlic.

Working with one chicken tender at a time, dredge both sides in olive oil then immediately transfer to bread crumb mixture and coat both sides, while pressing to adhere

Transfer to one side of the baking sheet. Repeat process with remaining chicken tenders and placing them in a row along one side of the baking sheet.

Spread remaining bread crumbs over tops of chicken and gently press.

On the opposite side of the baking dish, toss green beans with 1 Tbsp olive oil

Spread beans to edges of the baking dish, sprinkle with salt and pepper to taste.

Roast in preheated oven 23 – 25 minutes, tossing green beans once halfway through cooking, until chicken is golden brown and green beans are crisp-tender (if you want the tomatoes roasted add them during the last 10 minutes of cooking)

Remove from oven, sprinkle tomatoes over green beans

Serve warm, garnish chicken with fresh parsley if desired
Notes
WW Smart Points= Green:6  Blue:4  Purple:4
__
Nutrition Tip: Garlic – Garlic is known to help lower cholesterol levels, provide relief from stubborn colds and flu, plus have associations between consumption and prevention of stomach cancers!
Nutrition
Calories:
263.54
kcal
|
Carbohydrates:
15.79
g
|
Protein:
36.07
g
|
Fat:
6.22
g
|
Saturated Fat:
2.06
g
|
Cholesterol:
96.22
mg
|
Sodium:
324.13
mg
|
Potassium:
866.72
mg
|
Fiber:
4.03
g
|
Sugar:
5.22
g
|
Vitamin A:
1189.33
IU
|
Vitamin C:
21.11
mg
|
Calcium:
148.54
mg
|
Iron:
2.76
mg