20 Minute Paleo Thai Almond Butter Turkey Meatballs

20 Minute Paleo Thai Almond Butter Turkey Meatballs are a combination of lean ground turkey with a sweet & savory Thai inspired sauce. Baked to juicy perfection. Gluten Free.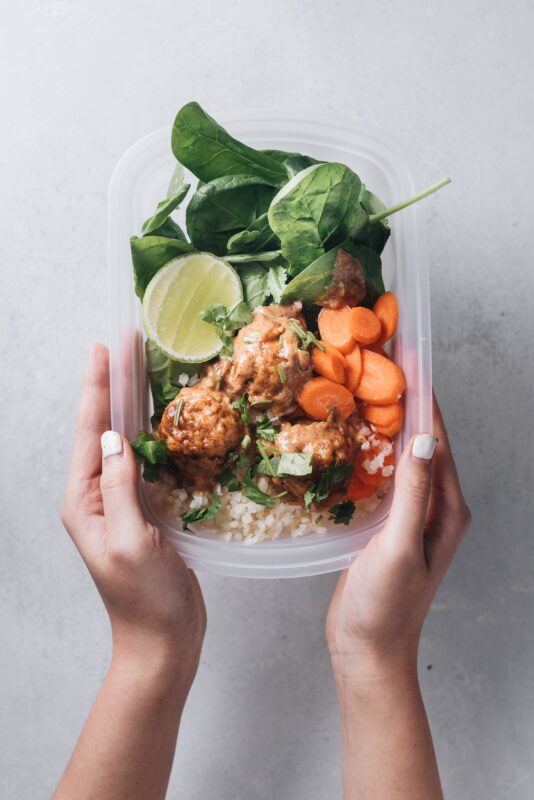 Thai meals are the perfect blend of salty, sweet, spicy, and sour flavors in a way that leaves you wanting more, don't they? If you agree, you'll love our almond butter turkey meatballs! We don't mind eating this entree for lunch or dinner all week because it's THAT good. Thai cuisines prove that different flavors can bring out the winning combination that's second to none.
Our Thai almond butter turkey meatballs are the ultimate weeknight dinner because the entire recipe will be on your table in 20 minutes. We appreciate a bonkers good sauce, and this meatball meal prep recipe has it! How can red curry paste, almond butter, and coconut milk not make a perfect combo? Then talk about healthy and good fats for the win! Our almond butter meatballs offer juiciness and tenderness that's heavenly, making every part of the meal a pleasant experience. Doesn't this combination sound delicious already? You have every reason to salivate.
This meatball meal prep dish uses lean turkey, which contains vitamin B and high-quality protein that support muscle growth. Our almond butter turkey meatballs are also a delicious option for people on the paleo diet.
Are you ready for some meatballs??!
How long will 20 Minute Paleo Thai Almond Butter Turkey Meatballs last for?
Almond butter turkey meatballs will last for up to four days in the fridge. The meatballs and almond butter sauce can remain in the refrigerator for around 3-4 days if stored properly. You can pop them in the microwave for one minute or longer if you're in a hurry or reheat them in the oven if you have the time. Another good way to reheat is on the stove. To reheat in the oven, put the meatballs in a baking dish and cover with aluminum foil. Bake in the oven at 350 degrees Fahrenheit until the edges start bubbling. Use a skillet to reheat your almond butter turkey meatballs on the stove, or reheat them in a sturdy, microwavable meal prep container.
Can 20 Minute Paleo Thai Almond Butter Turkey Meatballs be frozen?
Because both the meatballs and Thai Almond Butter sauce freeze well, the meatball meal prep makes for a perfect freezer-friendly meal – save time and money! Use an airtight freezer-friendly container and put both the sauce and meatballs in the container. You can also use a labeled heavy-duty freezer bag for storage. This meatball meal prep combo can remain in the freezer for about 2-3 months. The sooner you consume it, the better it will taste when you reheat it.
FYI: Maintaining a constant freezer temperature ensures the meatballs and sauce don't lose their flavor.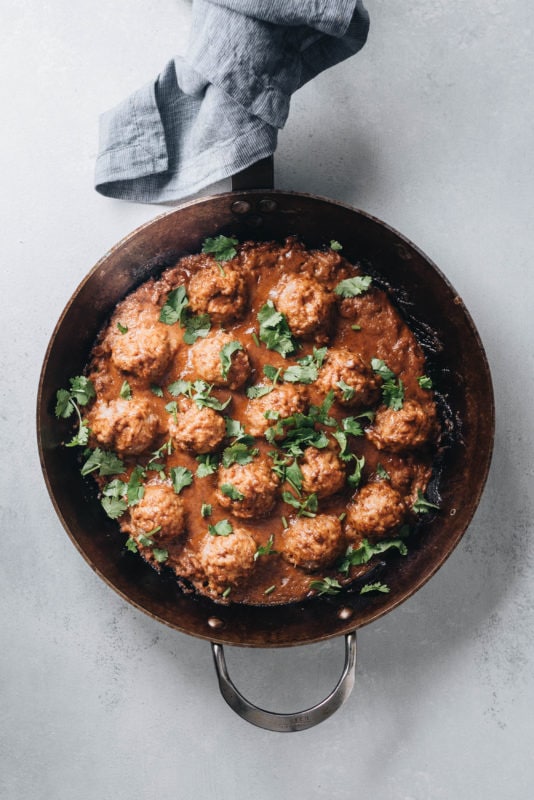 How do you make Almond Butter Turkey Meatballs?
Let's be honest and oh so relieved! Meatball meal prep recipes are one of the most leisurely meals because they offer endless possibilities. If you're pondering on what to provide your family for an evening dinner, our delicious almond butter turkey meatballs are your go-to and all-time favorite delicacy.
First things first, preheat the oven to 425 degrees Fahrenheit. As the oven heats up, start mixing all of your ingredients needed to make the Thai Almond Butter sauce. Make the sauce, and then put one-quarter cup sauce in the bottom of a cast-iron skillet. The next step is the fun part – making the meatballs! Mix all of the meatball ingredients together and make good-sized meatballs (make at least 8 meatballs for four meals). Do not over mix your meatballs! If you overmix your almond butter meatballs, they become dense. Dense meatballs are too heavy and have less juiciness. We want all the meatball juice!
Now, place the meatballs into a skillet and top with the remaining Thai sauce. Put the meatballs in the oven to bake for around 12 minutes, or until when the meatballs cook through. Don't you want to dig in already? Don't wait too long before filling your plate with these delicious meatballs! You have to test the final product, right?
Complete the meal by serving the almond butter turkey meatballs over cauliflower rice with shredded carrots, chopped almonds, and cilantro.
Pro-tip: Cook and stash some cauliflower rice ahead of time.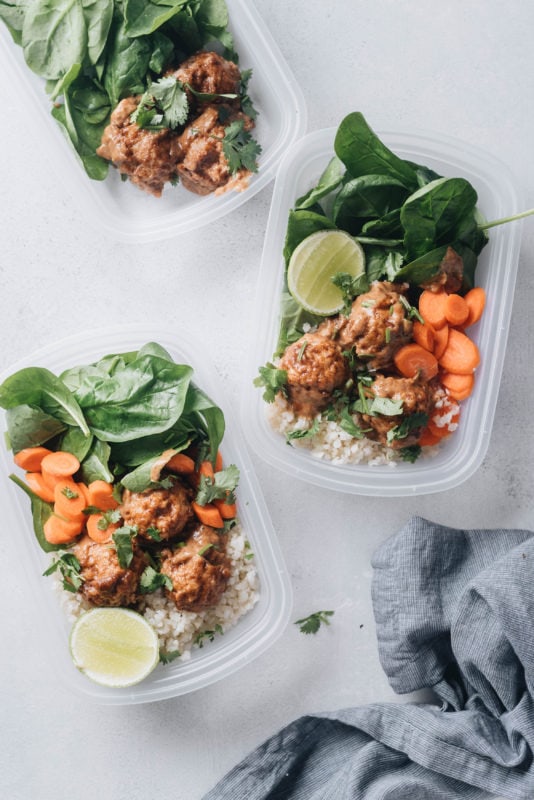 How to portion 20 Minute Paleo Thai Almond Butter Turkey Meatballs?
You can serve these almond butter turkey meatballs over cauliflower rice into our GoodCook® Meal Prep Bowls once the meal is ready. Add shredded carrots, chopped almonds, and cilantro. What a way to enjoy all the good and fresh flavors in one sitting, easy peasy!
More Meatball meal prep recipes:
One Pan Asian Turkey Meatballs
Homemade Traditional Greek Meatballs
Honey Garlic Mushroom Meatballs
Molasses Bourbon BBQ Glazed Chicken Meatballs
One Skillet Spaghetti Squash & Meatballs
Eggplant Meatballs and Zoodle Meal Prep
Other tips for making 20 Minute Thai Almond Butter Turkey Meatballs:
Making meatballs beforehand saves time. Remember to put them in the refrigerator for freshness and marinating.
Substitute the ground turkey with either chicken or pork. This meatball meal prep recipe didn't use any binders. Hence when using chicken, you won't need either. If you decide to use pork, add one egg to the mixture because it will help hold the fatty pork together when baking in the oven. Keep in mind that fattier meats prevent you from over-mixing your meatballs.
You can serve over sautéed zucchini, shiitake mushrooms, and summer squash or roasted and steamed broccoli.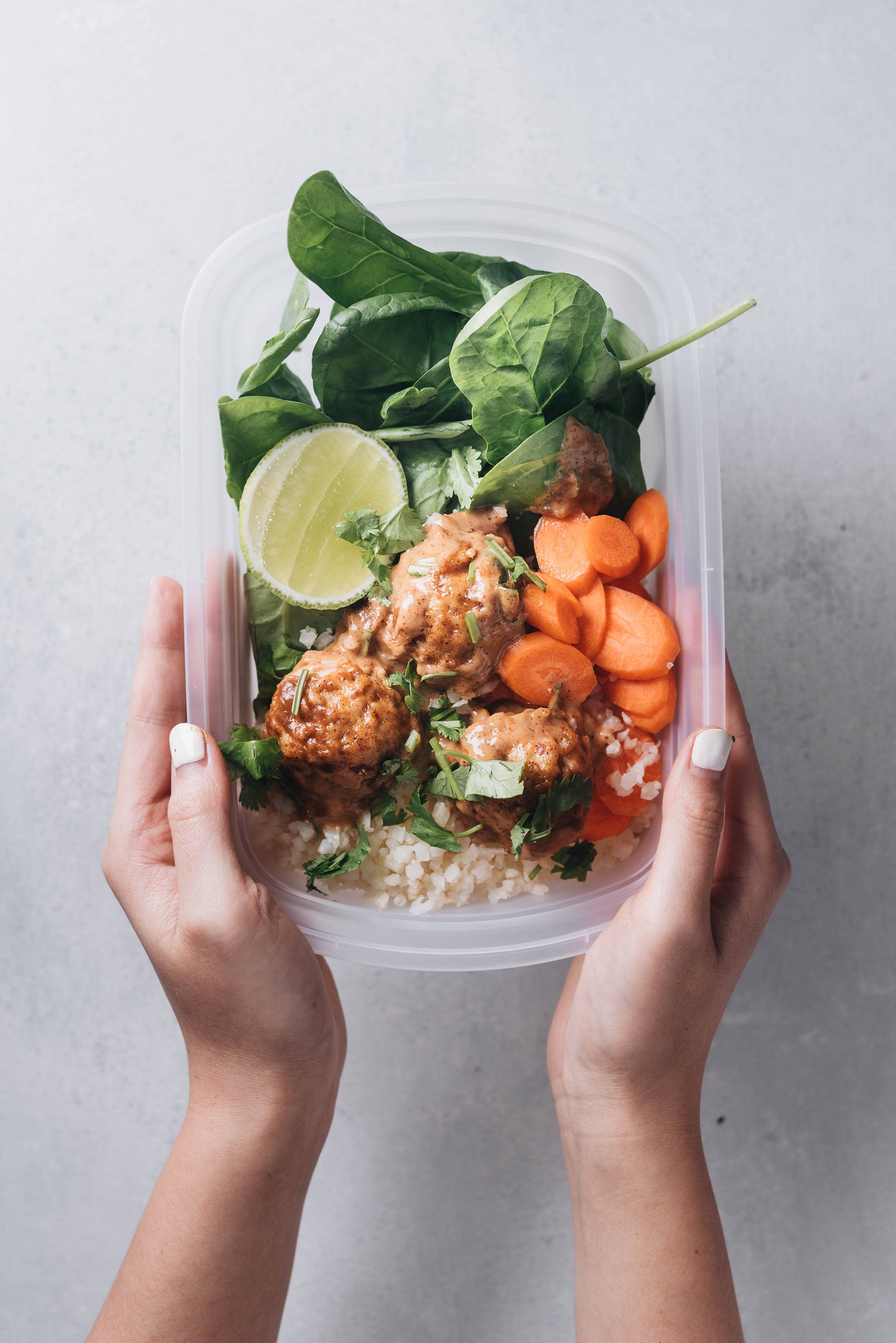 Ingredients
1

pound

ground turkey breast

Garlic Powder

to taste

onion powder

to taste

Ground Ginger

to taste

3/4

cup

coconut milk

full fat

1/2

cup

Almond Butter

2

tbsp

red curry paste

1

tbsp

coconut vinegar

1

tbsp

Coconut Aminos

1/8th

tsp

liquid stevia

(or 1 tbs coconut sugar)

squeeze

fresh lime juice
Instructions
Preheat oven to 425 degrees F

Mix together all Thai Almond Butter sauce ingredients

Place 1/4 cup sauce in the bottom of a cast iron skillet

Mix together all ingredients for meatballs and roll into desired size meatballs (do not overmix or the meatballs will become dense)

Place meatballs into cast iron skillet

Top with remaining sauce

Bake for ~12 minutes or until meatballs just cooked through

Serve overcauliflower rice with shredded carrots, chopped almonds and cilantro
Notes
WW Smart Points= Green:13  Blue:11  Purple:11
__
1 out of 4 servings (without optional items):
Protein: 36g Carbs: 10g Fat: 19g
Nutrition
Serving:
1
meal
|
Calories:
391
kcal
|
Carbohydrates:
10
g
|
Protein:
36
g
|
Fat:
19
g