Low-carb Buffalo chicken mini bell peppers get their taste from high protein Buffalo chicken along with cream cheese, cheddar cheese and mayonnaise—and hot sauce for a spicy kick!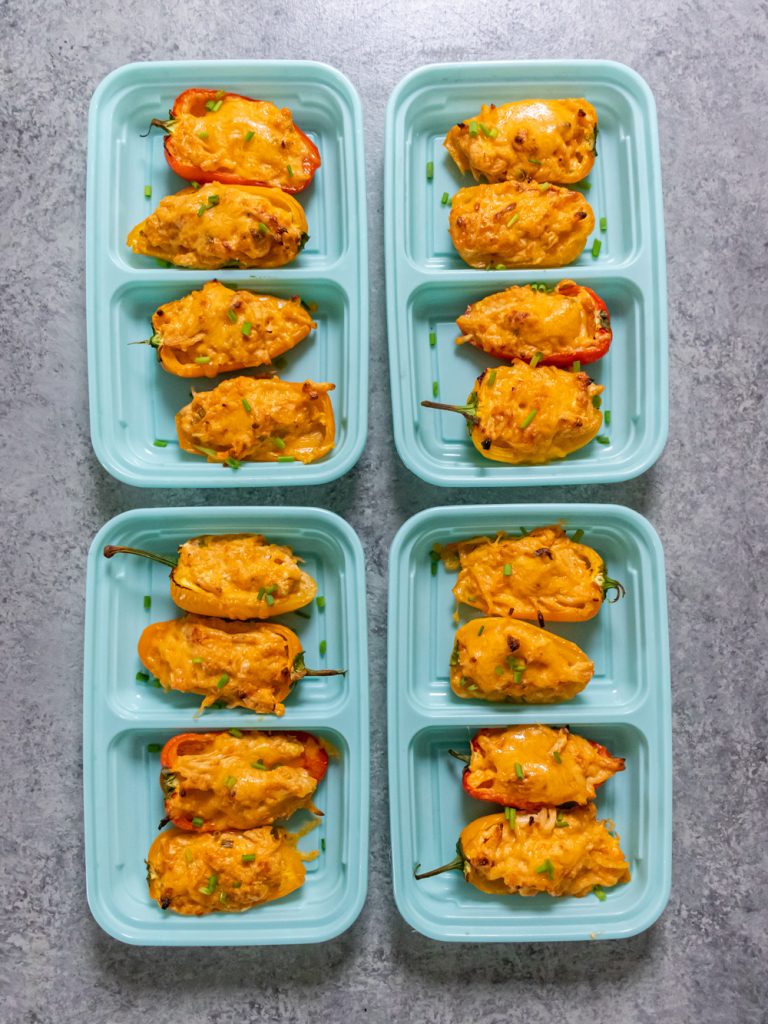 The Best Keto Stuffed Mini Peppers
Buffalo wings are a classic, what with the tangy sauce and the tender chicken, not to mention all the different accompaniments and dipping sauces that can go with them.
But these low-carb buffalo chicken mini bell peppers? They're snack-sized and put the veggies and chicken front and center, rather than relegating the veggies to the side (you know, those ubiquitous carrot and celery sticks!).
How to Make Buffalo Chicken Mini Peppers
Bell peppers are a fantastic keto-friendly vegetable to include on a low-carb diet, and when you can find those miniature ones, they are a fun snack or side to the main meal. Cut in half and stuffed up, they serve almost like a little boat for the ingredients. Then, pop those loaded pepper halves into the oven, and voila! Snack time!
Pro tip: If you end up loving these, try a bigger and better version with this Buffalo Chicken Stuffed Pepper Meal Prep Recipe.
How to Serve and Store Low-Carb Buffalo Chicken Mini Bell Peppers
These are best served warm, as soon as they're ready. Cheese can get a bit gummy when it sits for a while on a dish like this. You can store them ahead of time if you're prepping this snack. Just make sure you reheat them completely.
Substitutions and Alterations
It may seem unlikely, but you can definitely make this vegan by using a vegan chicken alternative, along with plant-based/dairy-free cheese and mayonnaise.
Read the ingredient labels closely when you're buying hot sauce. Condiments are notorious spots to hide lots of sugar (Hint: We like Frank's).
Don't have time to cook? Grab a rotisserie chicken from the grocery store and use that instead of the cooked shredded chicken breast we've specified here in this recipe. Or, if you've cooked some chicken in a slow cooker ahead of time as part of your meal prepping, you can definitely use that. Whatever kind of chicken you use, you want to be able to pull/shred the chicken easily. (You can also use chicken thighs, if that's what you've got, or you prefer them. They're also a little bit less expensive than chicken breasts.)
And of course, if you can't find mini bell peppers (sometimes you just can't!), feel free to make these bigger and use regular bell peppers. Just adjust the cooking time accordingly, as a bigger pepper will take a little longer to bake.
And if you're feeling really adventurous, use jalapeno peppers!
READ MORE: Can't get enough buffalo chicken? Try Buffalo Chicken Stuffed Sweet Potato Skins!
Low Carb Buffalo Chicken Mini Bell Peppers Ingredients:
8 medium mini sweet bell peppers

6 oz. cooked/shredded chicken breast

2 oz. cream cheese, softened

¼ cup mayonnaise

3 tablespoon hot sauce (Frank's Red Hot)

⅛ teaspoon garlic powder

½ cup shredded cheddar cheese*

1 tablespoon chopped chives, divided