Are you in search of that under 500 calories quick pick me up snack? Well, our no-bake energy bars may just be the meal prep ideas recipe that you seek. Plus they're gluten and sugar-free, so you can snack away guilt-free! With this meal prep ideas recipe, you can enjoy our no-bake energy bars all week long! Let's have a look at what this yummy treat has to offer.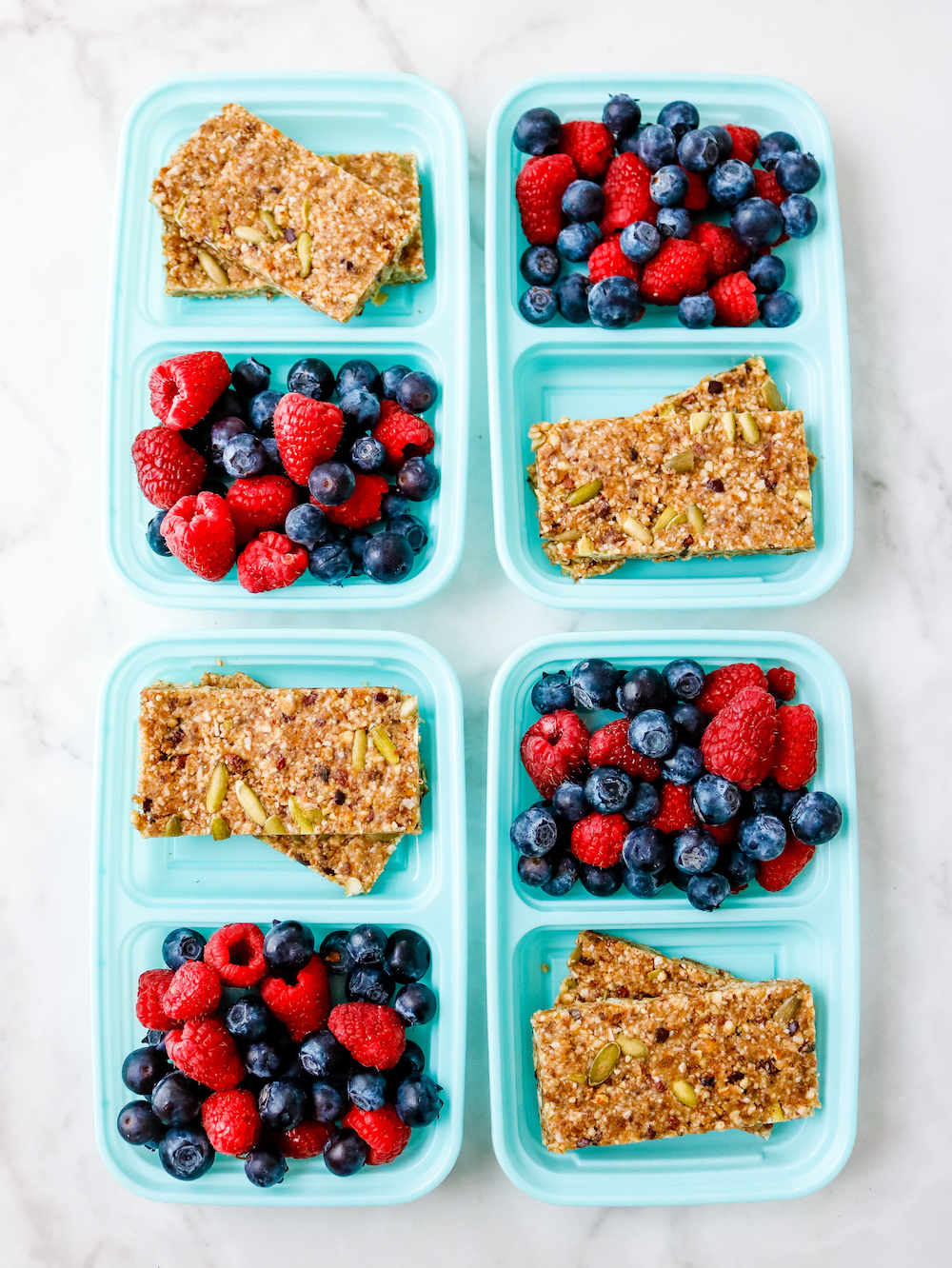 These no-bake energy bars are the perfect mid-day pick me up! They are gluten-free, sweetened with dates and made in a sheet pan for plenty of servings to last all week long!
How Long Will No-Bake Energy Bars Last For?
Luckily this healthy, meal prep ideas treat can last for up to one month in the fridge. Providing, of course, that you store in an appropriate airtight container. That way your bars can fresh and delicious.
Can No-bake Energy Bars Be Frozen?
Yes, they can! They can last for three months when properly packaged and stored. Wrap each bar individually then place in an airtight, resealable or freezer-safe container.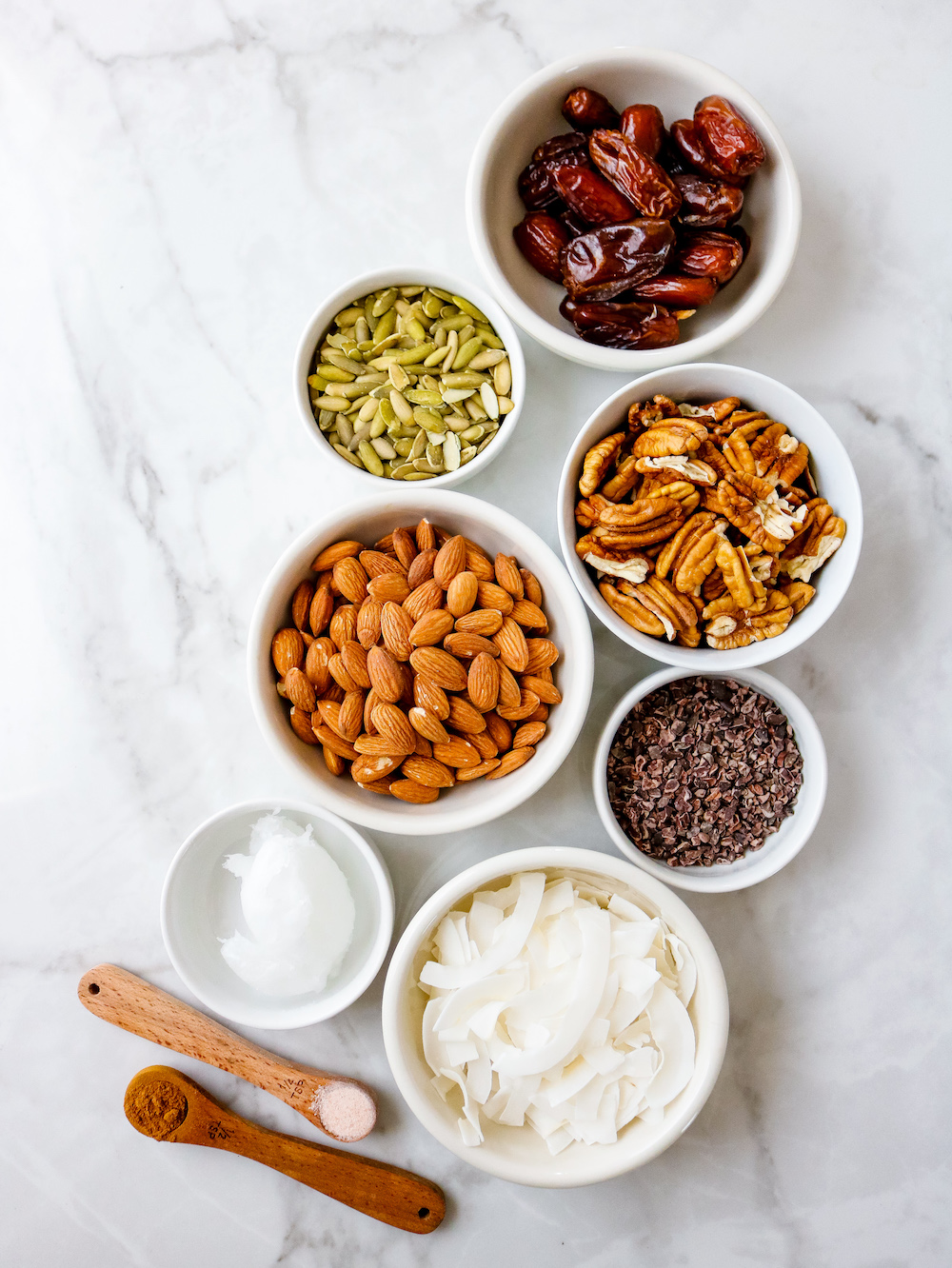 How Do You Make No-bake Energy Bars?
Gather your ingredients and instruments and let's get started. Within the hour, you shall enjoy your meal prep ideas recipe. First, line a baking sheet. Mix together your nuts and dates in a food processor until fine. Then add coconut oil and blend until sticky.
Pour mixture into mixing bowl and add remaining ingredients. Continue stirring and add coconut oil to maintain moisture. Once properly mixed, pour onto the baking sheet and press firmly onto the baking pan using a fork. Put the pan into the freezer for about 30 minutes, then remove and slice into bars. Another healthy snack to munch on. Yummy!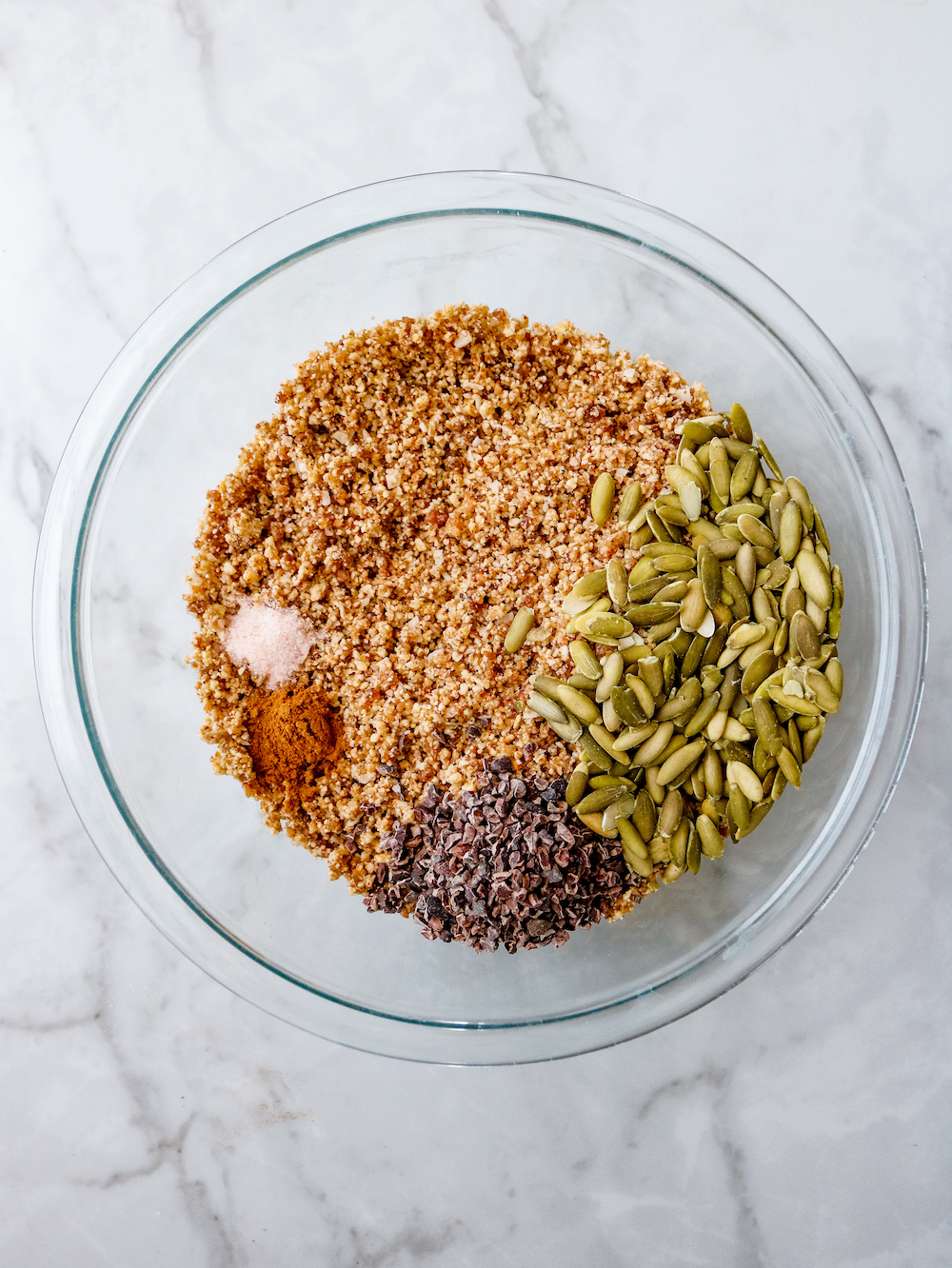 How To Portion No-bake Energy Bars?
This meal prep ideas recipe serves 12 to 24 tasty snack bars. It all depends on how large you want to make them.
More Energy Bars Meal Prep Recipes
Bet you really enjoyed making this easy meal prep ideas no-bake recipe. Well here are a few other energy bar recipes you may also enjoy whipping up: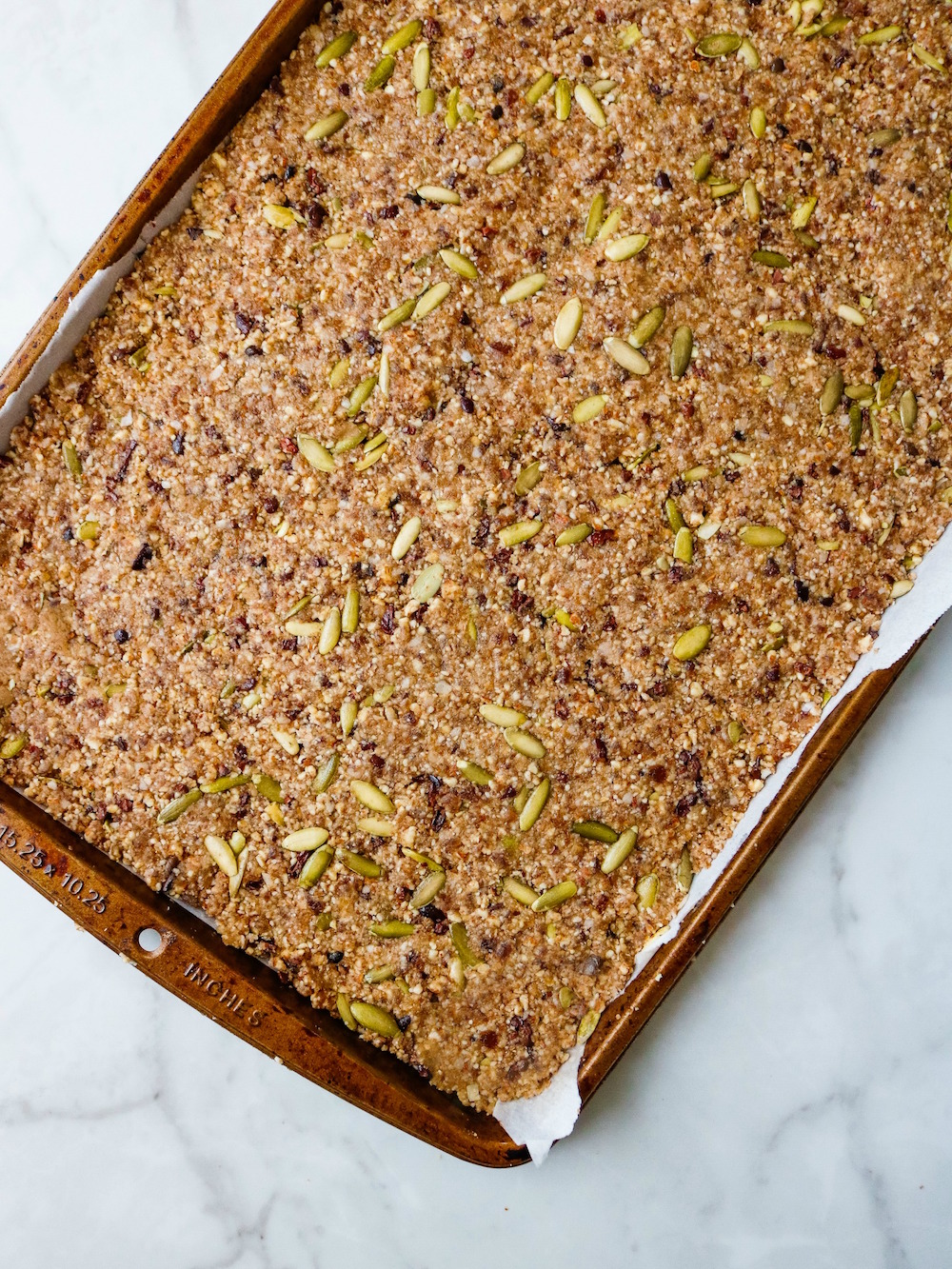 Other Tips For Making No-bake Energy Bars
Our unique taste buds sometimes call for a bit more excitement at times. So how about substitutions:
There are many other natural sweeteners that you can use, all of which have their own unique flavor. Consider agave sugar, honey or stevia

If you wish to have chewy squares instead of bars to increase your yield, why not?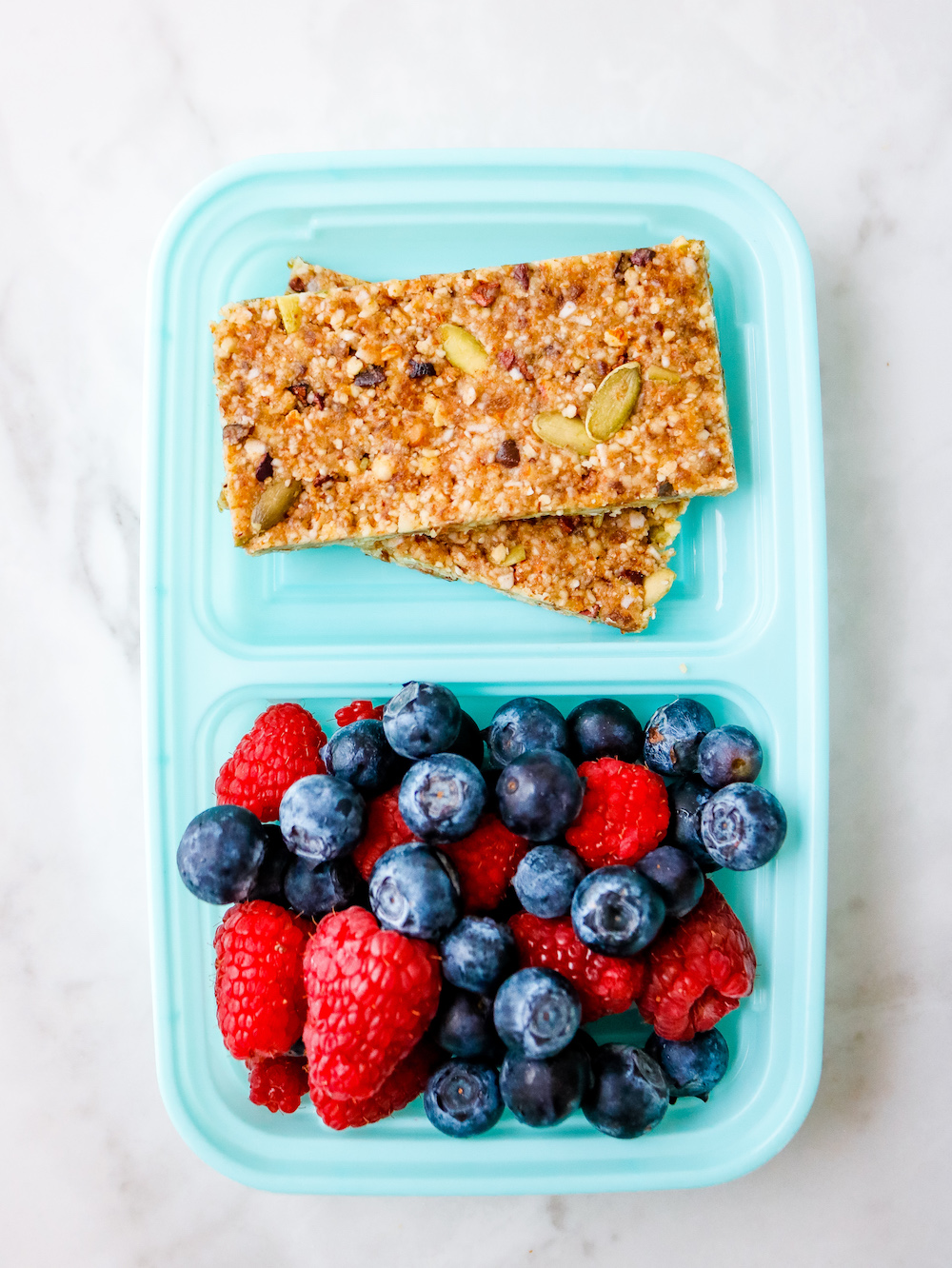 Sheet Pan No-Bake Paleo Energy Bars Ingredients:
2 cups of raw almonds
2 cups raw pecan halves
1 cup shredded unsweetened coconut
1 1/2 cups dried pitted dates
1/2 cup sunflower kernels
1/4 cup cacao nibs
1/3 cup melted coconut oil
1/2 tsp cinnamon
1/4 tsp sea salt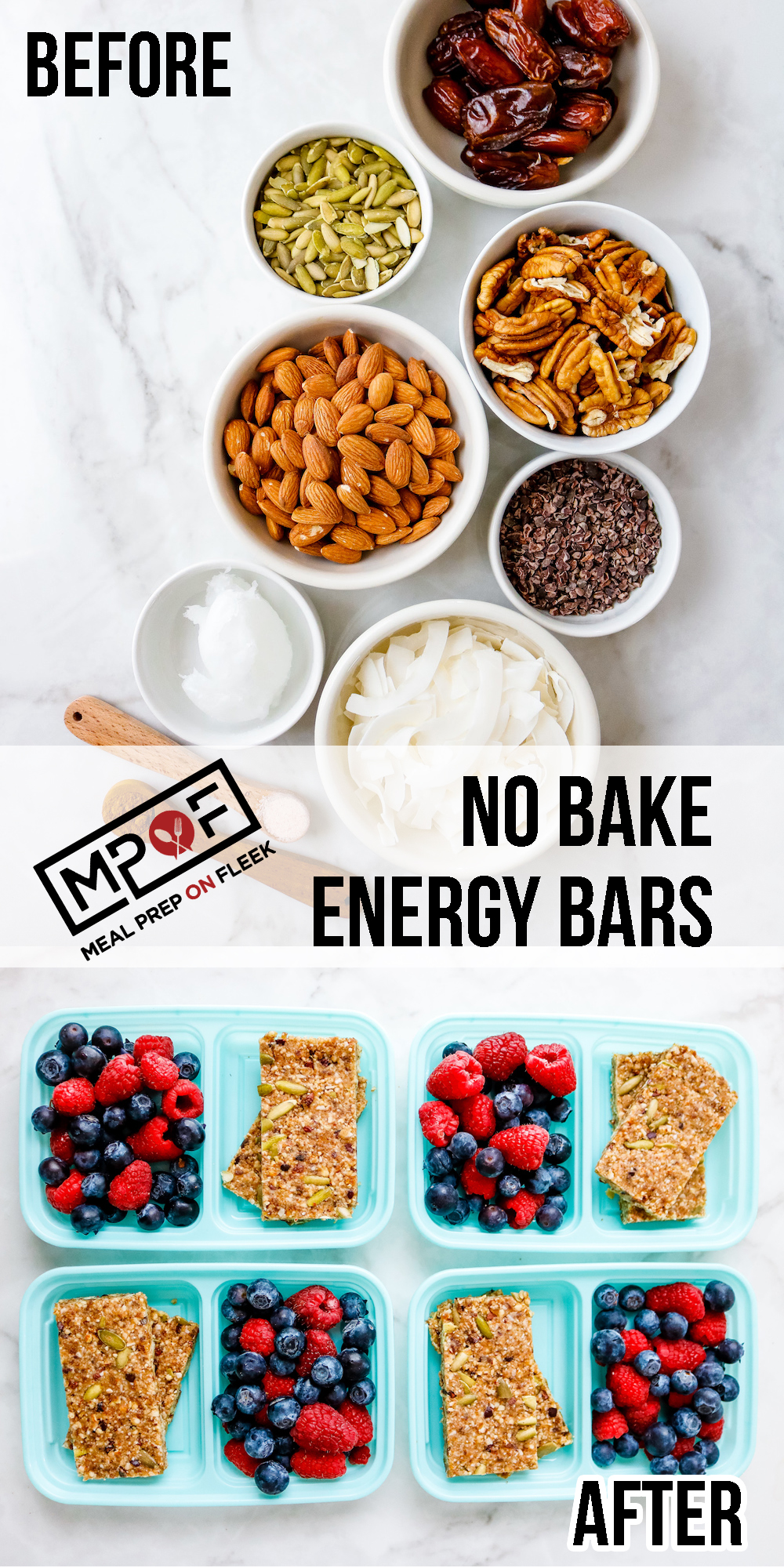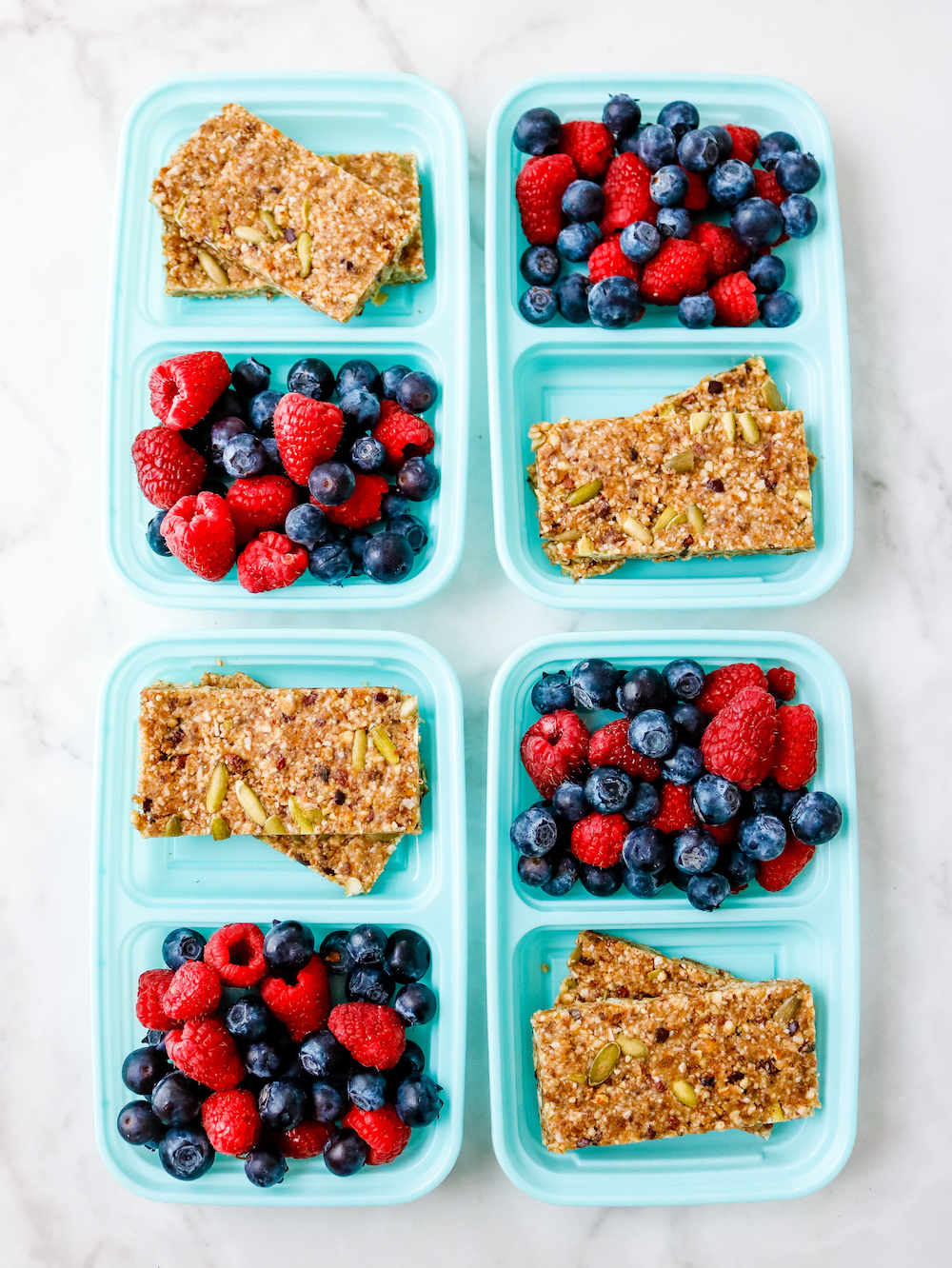 Ingredients
2

cups

raw almonds

2

cups

raw pecan halves

1

cup

shredded unsweetened coconut

1 1/2

cups

dried pitted dates

1/2

cup

sunflower kernels

1/4

cup

cacao nibs

1/3

cup

melted coconut oil

1/2

tsp

cinnamon

1/4

tsp

sea salt
Instructions
Line a medium baking sheet with parchment paper. Combine almonds, pecans, and dates in a food processor and pulse until very finely crumbled. Add coconut and continue to blend until the mixture is sticky.

Transfer almond mixture to a large mixing bowl and add sunflower kernels, cacao nibs, cinnamon, sea salt, and coconut oil. Stir well until the mixture is moist.

Pour onto the baking sheet and press firmly to fork to the pan. Transfer to the freezer for 30 minutes. Slice into bars and store in the refrigerator.
Notes
This recipe makes 12-24 bars depending on how large you would like them. Nutrition facts are calculated based off of 12 large bars. 
Nutrition
Calories:
416
kcal
|
Carbohydrates:
25.3
g
|
Protein:
7.3
g
|
Fat:
34.3
g
|
Fiber:
7.7
g