Summer Breakfast Salad Meal Prep
At MPOF, we believe breakfast is the most important part of the day. What do we need in the morning to get our days started off right? Energy! Your body is truly miraculous. A finely oiled, intricate machine—Think of it as a Lamborghini sports car, in fact. In order to keep a Lamborghini running well and at its full potential, you have to use high-octane fuel. Our bodies are the same way. In order to maintain our bodies, and keep healthy energy flowing through it, we must be mindful of the kind of fuel, or food, we are consuming!
It's for this reason that we absolutely love today's meal prep recipe—A summer breakfast salad! Not only does it help provide your body with necessary morning energy, but it mixes your breakfast food routine up! What does a typical American breakfast usually contain? Any combination of fried eggs, bacon, sausage, buttered toast, hash browns, syrupy pancakes, and/or cereal. It goes without saying that these traditional American breakfast food choices are delicious. The questionable part is, are those choices truly healthy? Generally not! This breakfast salad smashes the status quo by bringing in mixed greens, blueberries, sunflower seeds, walnuts, eggs for protein, and avocado!
Easy and flavorful breakfast salad packed with mixed greens, berries, nuts, seeds, hard-boiled eggs, and a creamy avocado dressing. Perfect for mixing up your breakfast routine.
It cooks up quick!
This summer breakfast salad meal prep recipe comes together super quickly! We clocked just 10 minutes of prep time and 10 minutes of cook time when we made it because the directions are extremely simple. Boil your eggs for 8-10 minutes; while this happens, just combine avocado, garlic, lime juice, olive or avocado oil, salt, and pepper in a blender for your dressing! You'll know it's done blending when the ingredients are liquid but still a little bit thick.
Nutrition Details:
Did you know that avocado is an amazing superfood? Bursting with fats like oleic acid, studies have shown that increased avocado intake can lower bad cholesterol, known as LDL up to 11%, and increase levels of good cholesterol, known as HDL up to 22%! They're also packed with fiber (7g), monounsaturated fat (5g), antioxidants for eye health, and even more potassium than a banana!
These sunflower seeds are nuts! Well, no… They're sunflower seeds, but their nutritional benefits are nuts! Not only are they loaded with high-density proteins, folic acid, anti-oxidants, and vitamins B&E, but they've been shown to increase energy levels while lowering bad LDL cholesterol and anxiety levels! This means that by eating this summer breakfast salad meal prep, you are not only nourishing and energizing your body now, but mitigating for possible health risks down the road
Summer Breakfast Salad Meal Prep Ingredients:
4 eggs
2 handfuls mixed greens
1/4 cup sunflower seeds
1/4 cup walnuts
1 cup fresh berries
AVOCADO DRESSING
1 whole large avocado
2 clove garlic, peeled
1/2 tablespoon fresh lime or lemon juice
1.5 tablespoons olive oil or avocado oil
Himalayan sea salt, to taste
Black pepper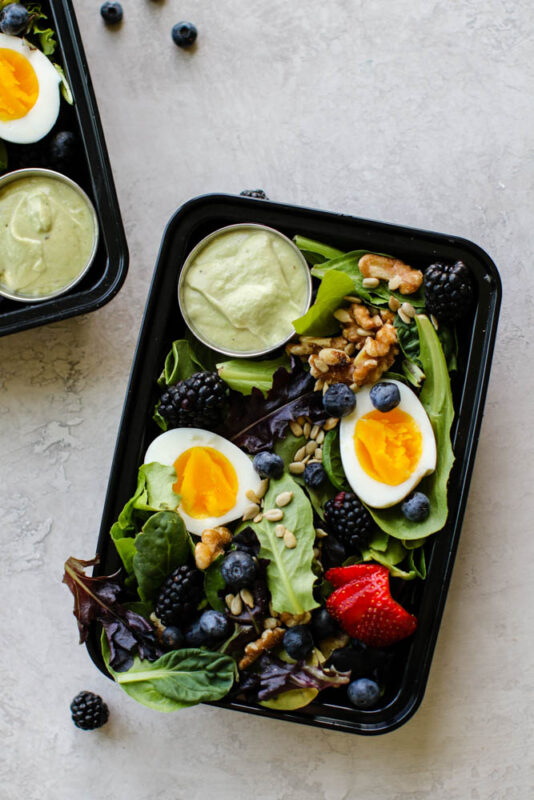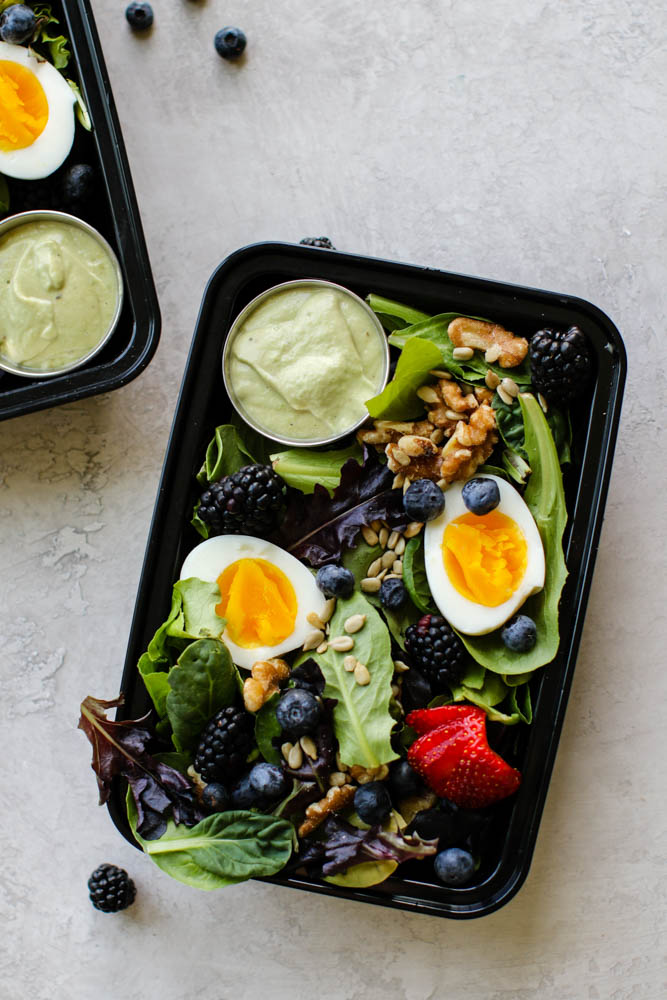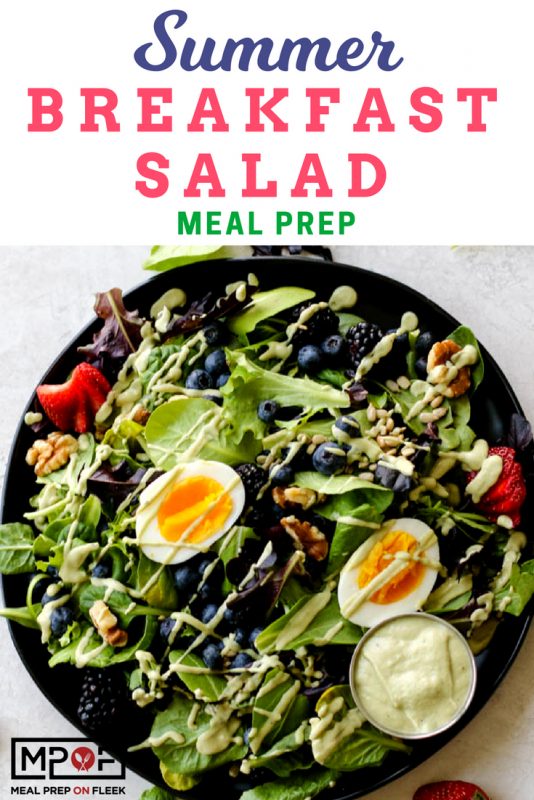 Because this summer breakfast salad is so simple in ingredients, we found that a one-compartment meal prep container held not only the salad but our small side ramekin of delicious, creamy, healthy avocado dressing! New to meal prep? That's no problem at all, we've got you covered! Just check out our very own Ultimate Guide to Meal Prep Containers! There you will find all of our top container recommendations for a wide variety of meals, whether you need one, two, or three-compartment containers.
Whether you're looking to change up your breakfast meal prep game, or you're just a big salad fan, we're positive this summer breakfast salad meal prep recipe will energize and satisfy throughout the warmer months. Happy meal prepping, meal prep fam!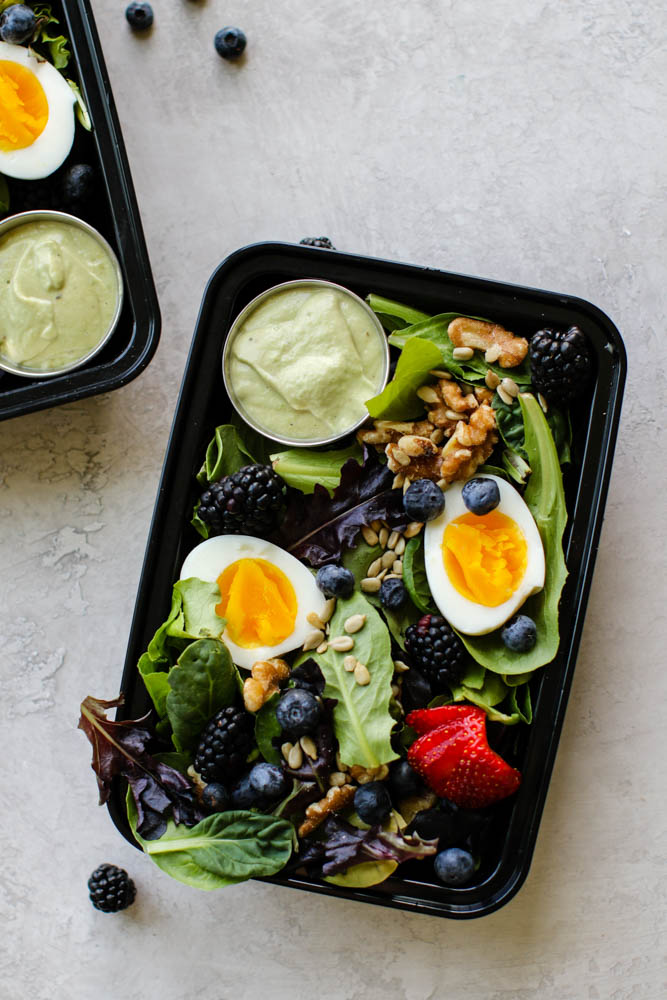 Ingredients
4

large

eggs

2

cups

mixed greens

1/4

cup

walnuts

1/4

cup

sunflower seeds

1

cup

fresh berries
Avocado Dressing
1

large

Avocado

2

cloves

garlic

1/2

tbs

fresh lime juice

1.5

tbs

Extra-virgin olive oil

salt & pepper

to taste
Instructions
Boil eggs by placing in boiling water for 8-10 minutes. Allow to cool slightly, then peel and slice in half.

While the eggs are cooking, prepare your avocado dressing by adding all ingredients to a high-speed blender and processing until smooth and creamy. It should be a little thick.

Fill two containers with greens and top with fresh berries, nuts and seeds, and hardboiled eggs. Store dressing on the side.

Leftovers keep in the fridge for 5 days.
Notes
Nutrition for 1 out of 2 servings:
22.3g Protein | 25.5g Carbs | 45.7g Fat | 9g Fiber | 579 Calories
Nutrition
Serving:
1
meal
|
Calories:
579
kcal
|
Carbohydrates:
25.5
g
|
Protein:
22.3
g
|
Fat:
45.7
g
|
Fiber:
9
g