We absolutely love this recipe for mozzarella stuffed meatballs! Not only is meat and cheese a timeless classic, but its low carb content makes it 100% keto-friendly. In this recipe, we also optionally recommend using zoodles (zucchini noodles) or gluten-free pasta noodles, served with a sugar-free marinara sauce.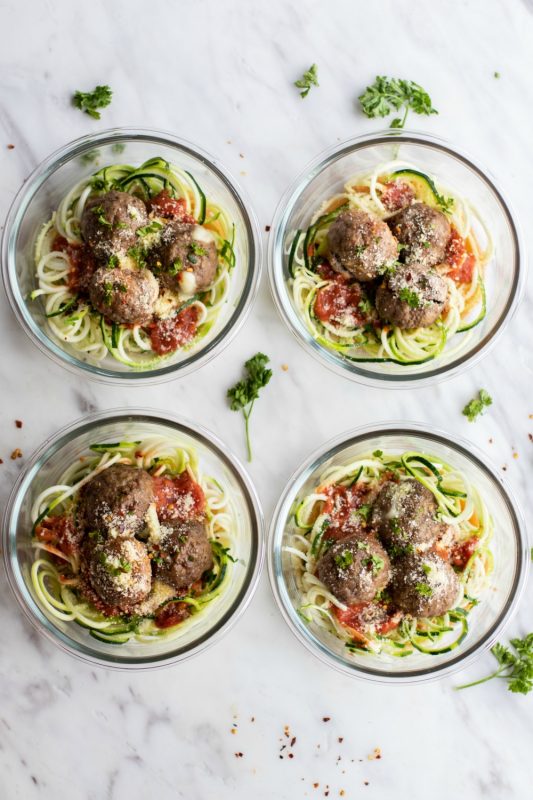 One of our favorite parts of this mozzarella stuffed meatball meal prep recipe is that it has a very simple list of ingredients! Plus it's a total snap to make, with 25-minute meal prep and 15-minute cook time. We used 93% lean beef, but if you're a fan of the ketogenic diet, an 80/20 ratio will work just as well and add an extra butteriness to the flavor profile. NOM!
Yielding 16 zesty, delicious, mozzarella stuffed meatballs, this meal prep recipe could feed you and 3 other guests, or serve as a week's worth of lunch. You'd have 5 separate ready to go lunches packed with healthy goodness in about 30 minutes.
Meatballs have a host of other benefits too —They're small, portable, great for portion control, and a favorite with the kids. These are not your average frostbitten, store-bought meatballs. They are fresh, handmade by you so you know exactly what goes in there. This zoodles and mozzarella stuffed meatballs dish can be your healthy upgrade from regular spaghetti and meatballs. Have your little helpers assist with prepping this meal and it will certainly become their favorite. You'll be surprised at how often they request this dish.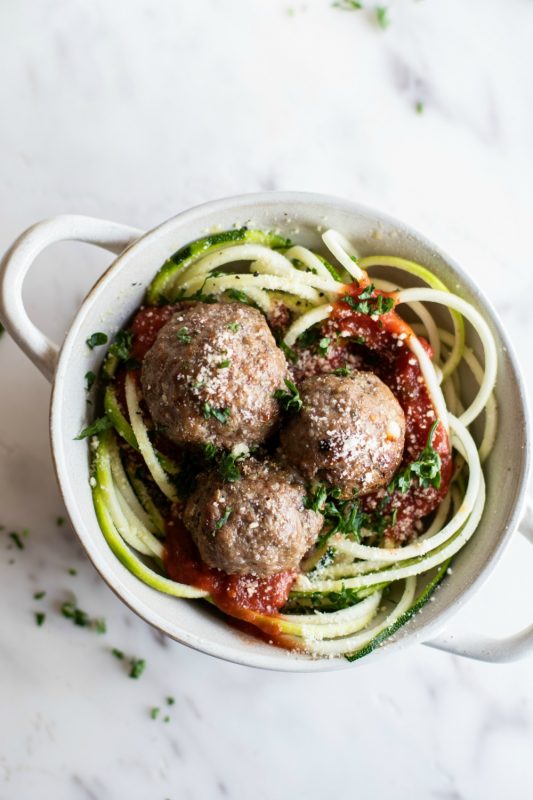 The serving suggestion for these mozzarella stuffed meatballs is 3, and at only a couple of inches each in diameter, you can easily pop them into a plastic snap lid container for work, school, or dropping the kids off at the sitter! By the way, if you're as fanatical about meatballs as we are here at MPOF, do yourself a favor and check out our meal prep recipe for Keto Bacon Sausage Meatballs right here. They're guaranteed to have you and your guests saying, "OMG" with every bite.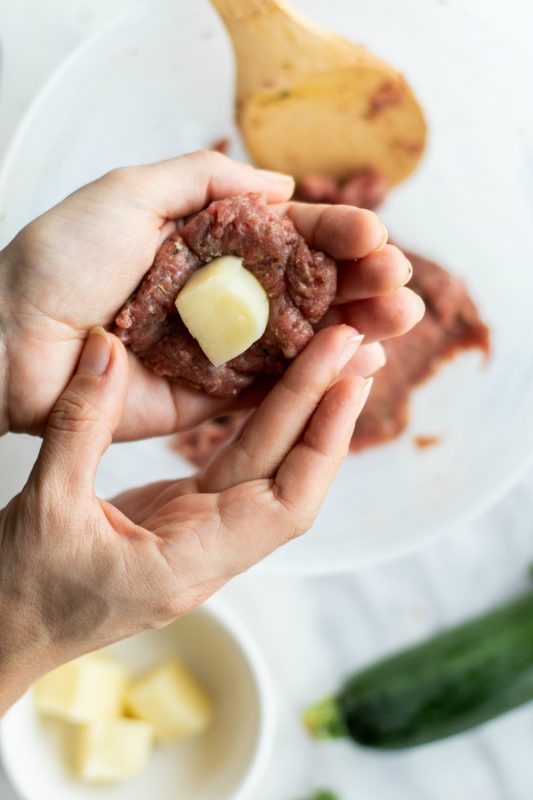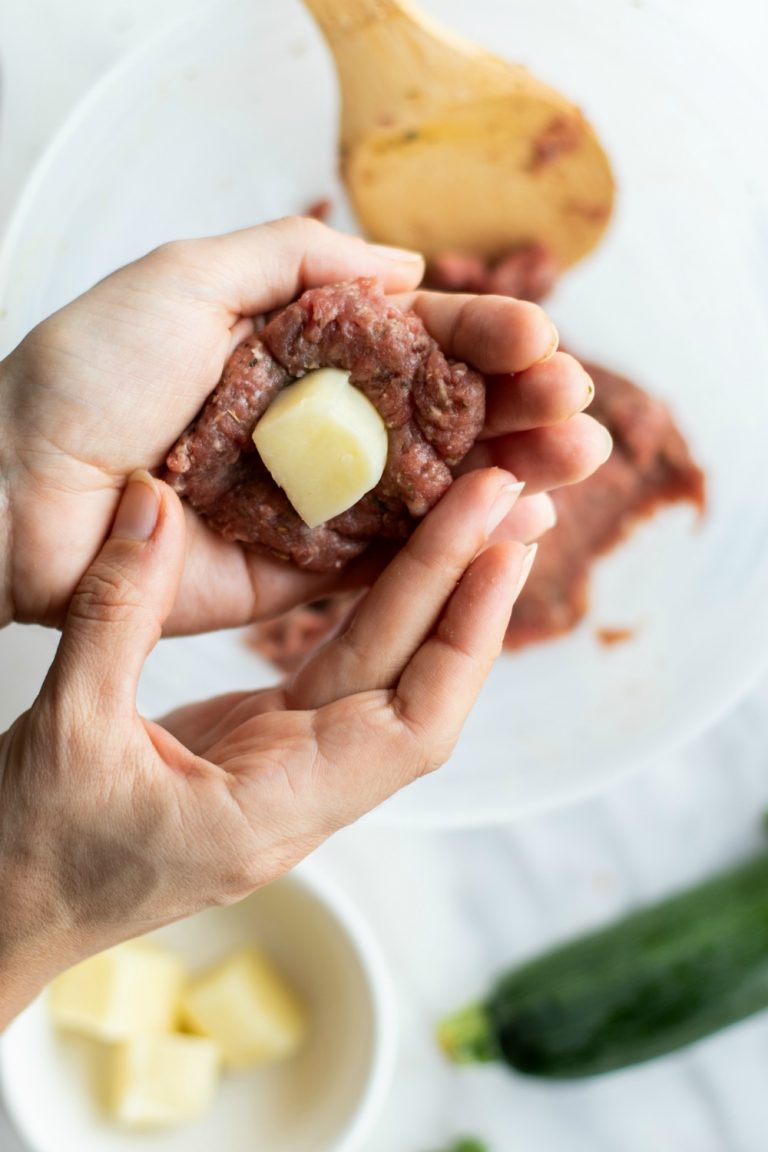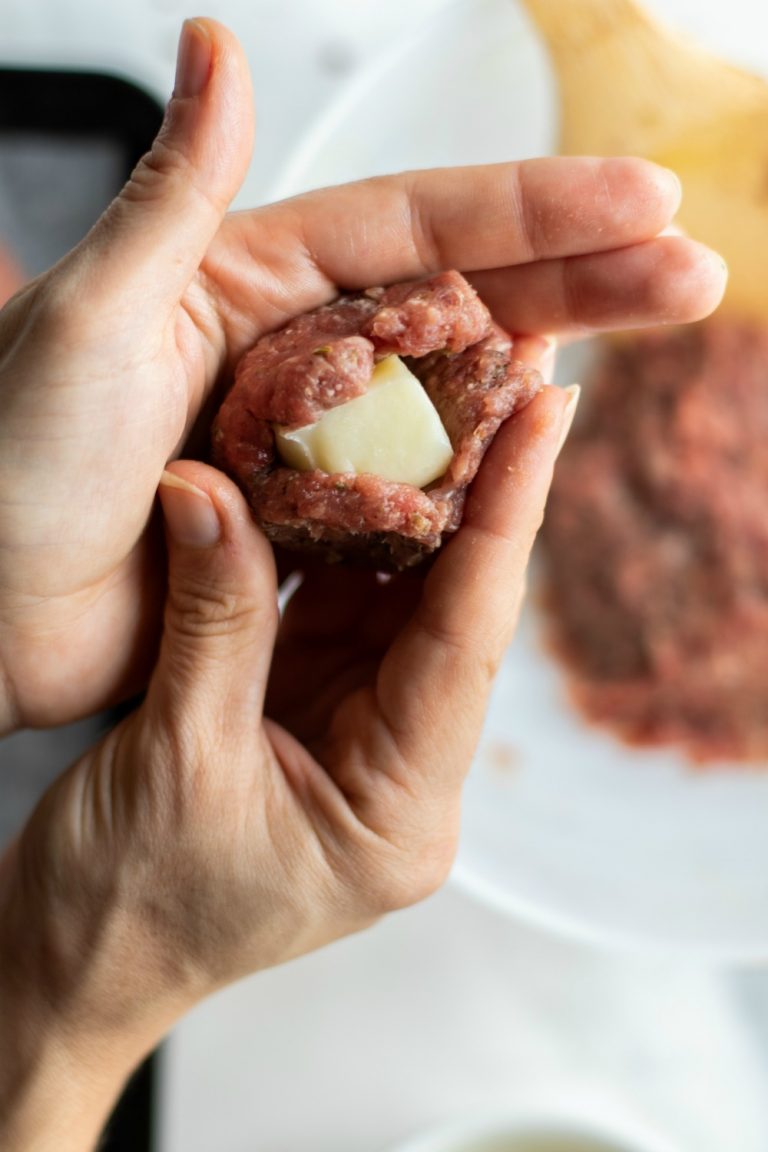 Using zucchini in this easy, fun meal prep recipe not only makes it more filling but reduces carb content by nearly 10 times per serving, even compared to gluten-free pasta.
Fun fact – 1 serving of zoodles provides an average of 35% of your daily value of vitamin C! It also contains about 94% water so it's an excellent source of energy.
Not sure how to make zoodles? It's actually quite simple! All you need is zucchini and a small kitchen tool called a spiralizer, which takes the culinary versatility of fruits and vegetables to a whole new level! If you want to experiment with different flavors (and the options are unlimited), or just aren't keen on zucchini, we highly recommend checking out the list of our favorite spiralizer recipes here.
These stuffed meatballs provide an ultra-dense 48.9g of protein per serving portion, so that means you're sure to be satisfied in a highly nourishing way. What's better than a meal prep recipe that's nutritious and delicious? A mozzarella stuffed meatball recipe that's nutritious, delicious, and simple to make!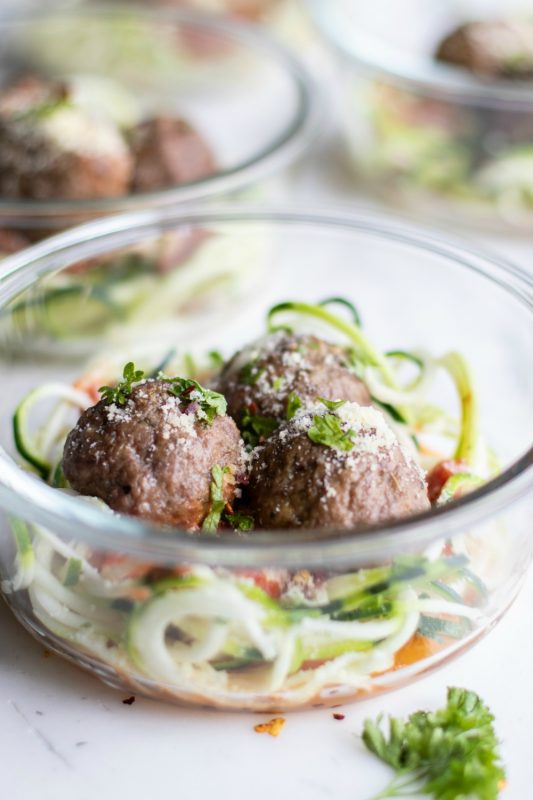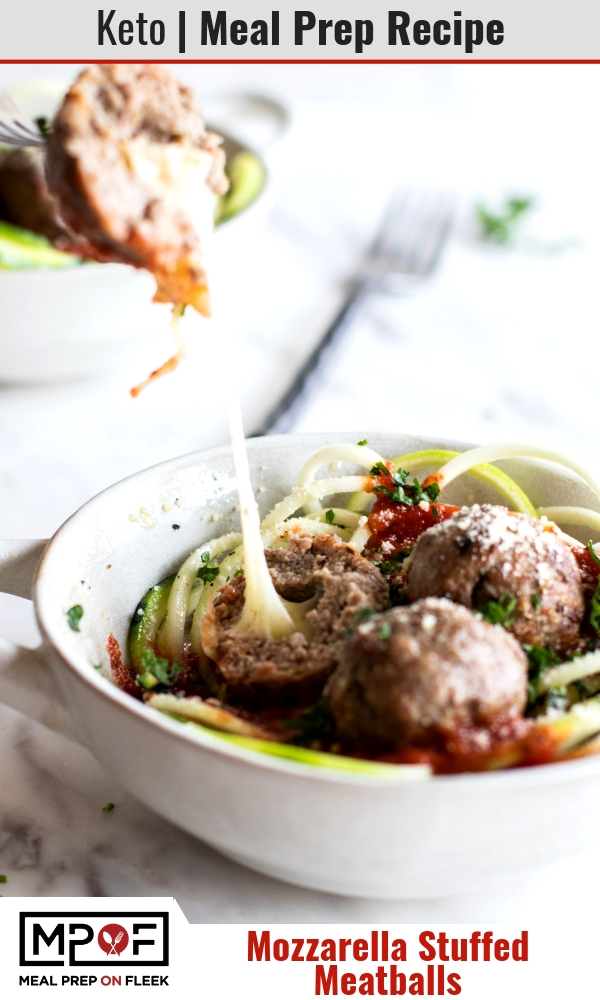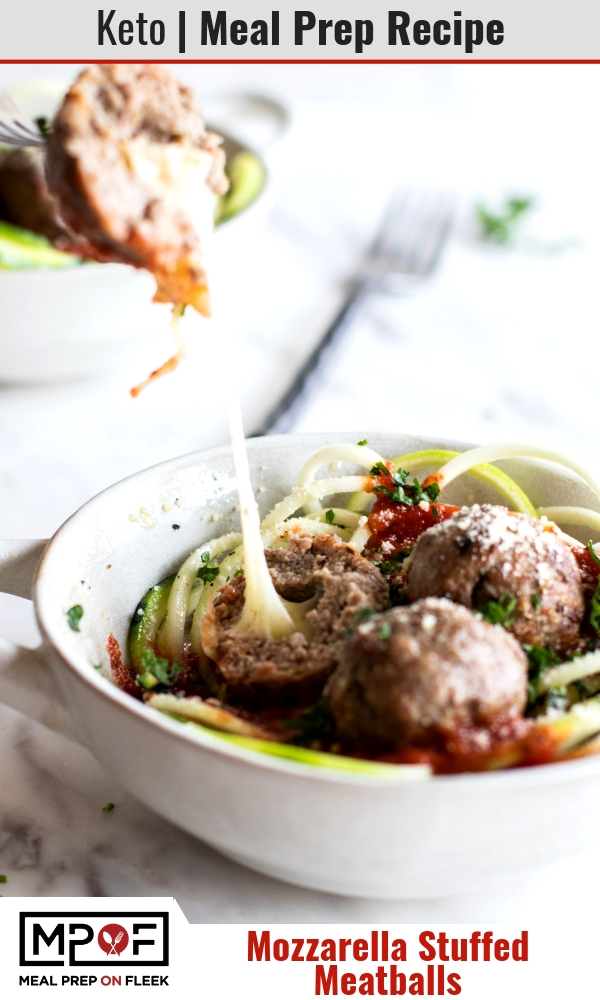 Ingredients
6

ounces

mozzarella cheese

cut into 16 dice sized cubes

1.5

pounds

ground beef

we used 93% lean, but use higher fat ratio for keto such as 80/20

1/2

cup

Finely grated parmesan cheese

1

large

egg

beaten

1

tbs

italian seasoning

1

tsp

Sea Salt

Pepper

to taste
For Serving (optional)
zoodles

4 cups

gluten free pasta

2 cups

Marinara Sauce
Instructions
Preheat oven to 425.

Add all ingredients for meatballs, except mozzarella, to a bowl, and mix well to combine.

Scoop a couple tablespoons of the meatball mixture, and flatten in your hand. Add a cube of mozzarella to the center, and then press the meat around the cheese until it's completely covered.

Roll the meatball to a round shape, and then place on a lined baking tray

Repeat until all the meatball mixture is gone. We made 16 large meatballs with this recipe.

Bake for 15 minutes, until the meatballs have browned and the cheese has just started oozing out from the meatballs.

Serve on zoodles with marinara sauce.
Notes
Nutrition for 1 out of 4 servings (with zoodles and marinara sauce):
48.9g Protein | 7.4g Carbs | 24.6g Fat | 1.6g Fiber | 453 Calories
Nutrition for 1 out of 4 servings (without sides):
47.6g Protein | 1.6g Carbs | 23.7g Fat| 418 Calories
Nutrition
Serving:
1
meal
|
Calories:
453
kcal
|
Carbohydrates:
7.4
g
|
Protein:
48.9
g
|
Fat:
24.6
g
|
Fiber:
1.6
g