Salmon and creamed spinach farro is a twist on a comfort food dish! An awesome meal prep!
We're always looking for new and delicious ways to prep salmon. And this one is awesome because it comes together with lots of flavor and an ingredient you might not be familiar with: farro. It's a nutty and substantive Italian grain that you can use anywhere you'd use rice, including arborio rice for pasta. But instead of using heavy cream or even half and half to cook the grain in, we're using canned coconut milk, which lends a bit of a sweet and nutty flavor that complements the farro well. Try it! You may be surprised by it!
Salmon and Creamed Spinach Farro Ingredients
1 to ½ pounds salmon fillets (4 fillets)
4 tbsp olive oil, divided
Kosher salt, to taste
Black pepper, to taste
1 medium red onion, sliced
1 cup cherry tomatoes, halved
1 tsp garlic powder
1 cup chicken stock
14 ounces canned coconut milk
6 ounces baby spinach
1 cup Italian pearled farro
How to Make Salmon with Creamed Spinach Farro
This recipe starts off by cooking the salmon in a hot skillet with olive oil. Cook it for a few minutes, and then remove it from the pan, and cover it. Add some more olive oil, and cook the red onion and tomatoes together; the tomatoes will likely start to collapse a bit and lose some of their juices, which is what you want. Add in the chicken stock and coconut milk, along with the farro. Bring it to a simmer, and then reduce the heat and let it simmer. Add the spinach at the last minute (otherwise, it'll overcook). Then, towards the end of the farro cooking, put the salmon in the skillet, nestled into the farro. Cook for a few more minutes and dinner is served!
How to Store and Serve Salmon with Creamed Spinach Farro
Once it's cooked, you can portion this into meal prep containers easily, covered, for up to 4 days in the fridge. We like to reheat dishes with fish and seafood in the oven instead of the microwave (it tends to be more forgiving that way). You can pop this into a casserole dish or other oven-safe vessel and cover with foil, and reheat at 350 for 15 minutes or so until heated through.
We love this just as it is, because it's pretty filling; the farro has more fiber than your typical rice so it's definitely filling. Think of it as similar to the difference between eating whole wheat pasta and regular pasta. But a green salad is never a bad idea.
How to Customize Salmon with Creamed Spinach Farro
Tomatoes are kind of a non-negotiable for this dish, but if you don't have a red onion use a white or yellow one. You can also cook a few cloves of minced garlic in this dish, too, along with the onion and tomatoes, if desired.
Baby kale or arugula would complement these flavors too, if you don't have spinach. You could even go with Swiss chard, too.
Finally, if you don't want to use farro, you can use rice and cook it the same way, whether it's brown, white, or cauliflower rice. If you choose cauliflower rice, just know it will cook REALLY fast in comparison to regular rice. Quinoa would also work and it would make the meal gluten-free, just as the rice would. You can also cook the quinoa as you would the rice (and in fact, if you do so, you may never cook quinoa in water again!).
MORE SALMON AND GRAINS MEAL PREPS FOR DINNER!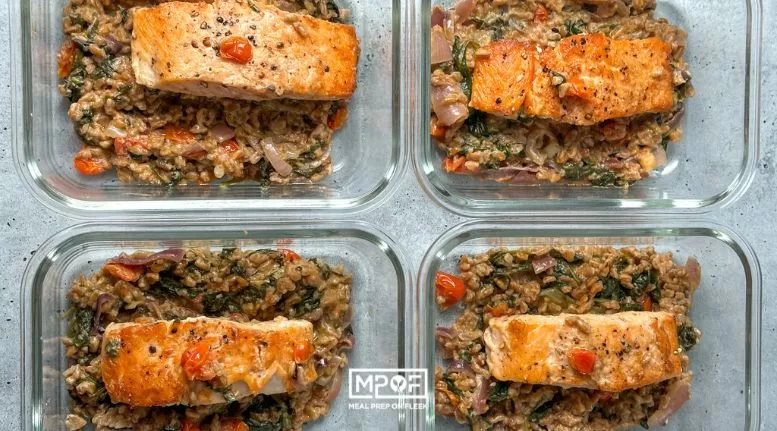 Ingredients
1

pound

salmon fillets

(4 fillets)

4

tablespoon

olive oil

divided

Kosher salt

to taste

Black pepper

to taste

1

medium red onion

sliced

1

cup

cherry tomatoes

halved

1

teaspoon

garlic powder

1

cup

chicken stock

14

ounces

canned coconut milk

6

ounces

baby spinach

1

cup

Italian pearled farro
Instructions
Pat salmon dry and brush with 2 tablespoon olive oil on both sides along with salt and pepper.

Heat 1 tablespoon olive oil over medium-high heat until hot. Cook the salmon, skin side up, until golden and crisp, about 4-5 minutes. Set aside on a plate and cover.

Add remaining olive oil to skillet and sauté onions and tomatoes, about 2 minutes. Season with garlic powder.

Pour in chicken stock and heavy cream and bring to a simmer. Stir in spinach and farro. Mix well.

When liquid comes to a simmer, reduce the heat and cover. Cook for 15-20 minutes, until farro is tender.

Nestle in the salmon, skin-side down and continue to cook, covered for an additional 5 minutes.

Divide the farro, tomatoes, and spinach mixture into 4 meal prep containers. Place a salmon fillet on top.  
Video
Nutrition
Calories:
741
kcal
|
Carbohydrates:
53
g
|
Protein:
33
g
|
Fat:
46
g
|
Saturated Fat:
24
g
|
Polyunsaturated Fat:
5
g
|
Monounsaturated Fat:
14
g
|
Cholesterol:
64
mg
|
Sodium:
195
mg
|
Potassium:
1387
mg
|
Fiber:
12
g
|
Sugar:
7
g
|
Vitamin A:
4228
IU
|
Vitamin C:
25
mg
|
Calcium:
99
mg
|
Iron:
5
mg