Thank you to GoodCook® for sponsoring this Vegan Oatmeal Bowl with Sauteed Cinnamon Apples recipe, and thank YOU for supporting the brands that help make Meal Prep On Fleek possible. All opinions are our own.
This stick-to-your-ribs breakfast turns ordinary oats into an autumn feast! Cooked oats are topped with buttery sauteed apples, hemp hearts, and pecans for a satisfying breakfast that's vegan-friendly!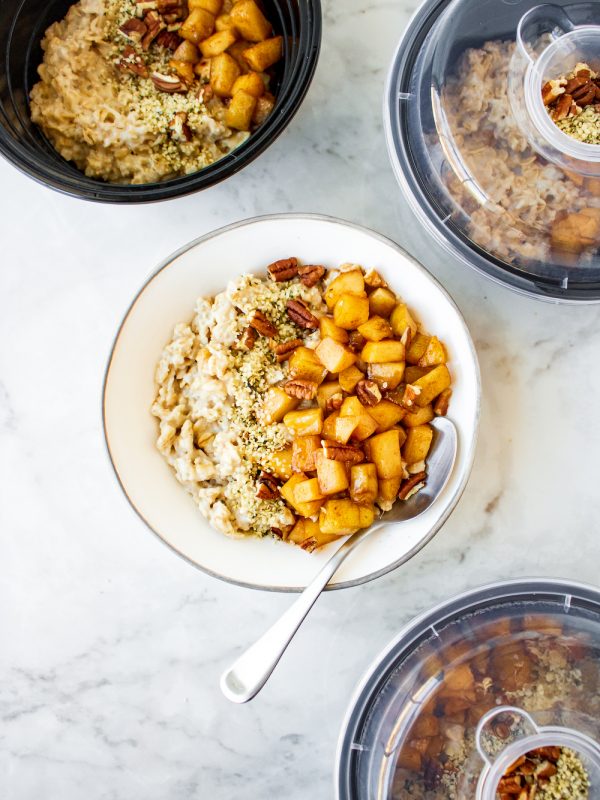 These vegan oatmeal bowls have been our go-to breakfast for the last month! They are a sweet, stick-to-your-ribs kind of breakfast that keeps you full and warms you up on a chilly morning. They have just the right amount of sweetness that makes you crave them on repeat! Have you ever come across a meal prep recipe that you craved day after day, week after week?? That is us with these Vegan Oatmeal Bowls and we bet it will be you too!
When the times comes that you think you just can't look at another oatmeal bowl topped with cinnamon apples, you can switch up the toppings and change the entire flavor profile of your oatmeal bowl! The versatility of this recipe is just another reason why we love it so much!
We have found the key to making the topping combos endless is using the new GoodCook meal prep bowls. The container, which also works for salads and grain bowls, is the perfect size to hold a satisfying portion of oatmeal. But the real key for ingredients that get soggy quick is the 2-ounce condiment cup on top! For salads, it holds dressings, for grain bowls, it holds nuts and dried fruit, for this tasty vegan oatmeal bowl recipe it holds nuts, seeds, dried fruit, shredded coconut, chocolate chips, nut butter, granola, etc. All of those extra yummy toppings that are perfect on oatmeal, but also should be eaten within reason (we see you and your "a little extra sprinkle of chocolate chips") are best stored in the condiment cup that snaps in on top of the bowl's lid.
Not only will this prevent these tasty toppings from getting soggy, but it will also help you keep your portions in line with your macro goals. Sometimes, we use it to hold a couple of tablespoons of Greek yogurt or cottage cheese. After we reheat the oatmeal we like to mix those in to give them some extra creaminess before eating.
We have found these containers to be the most versatile container yet! Soups, grain bowls, salads, oatmeal bowls, lasagna, etc. They work for all sorts of meal prep recipes and allow you to keep toppings/garnishes/herbs fresh until you are ready to enjoy your meal, thank you little condiment cup!
Vegan Oatmeal Bowls With Sauteed Cinnamon Apples Ingredients:
2 cups gluten-free

old fashioned

oats

3 1/2 cups water

1/2 cup unsweetened coconut or almond milk (carton variety)

2 cups peeled/chopped apples

2 tbsp unsalted vegan butter

2 tbsp maple syrup

1 tsp cinnamon
For Topping
2 tbsp hemp seeds

1/4 cup chopped pecans
For Serving
4 Good Cook Meal Prep Containers with 2 ounce condiment cup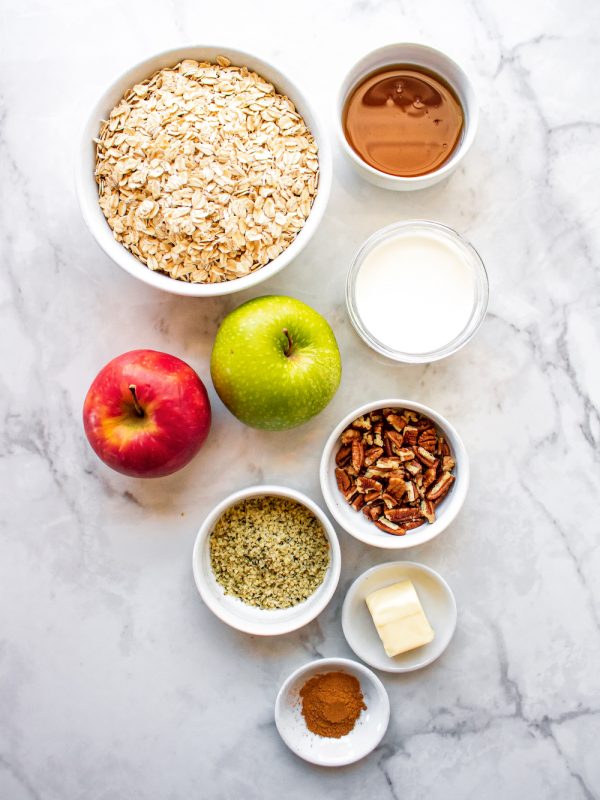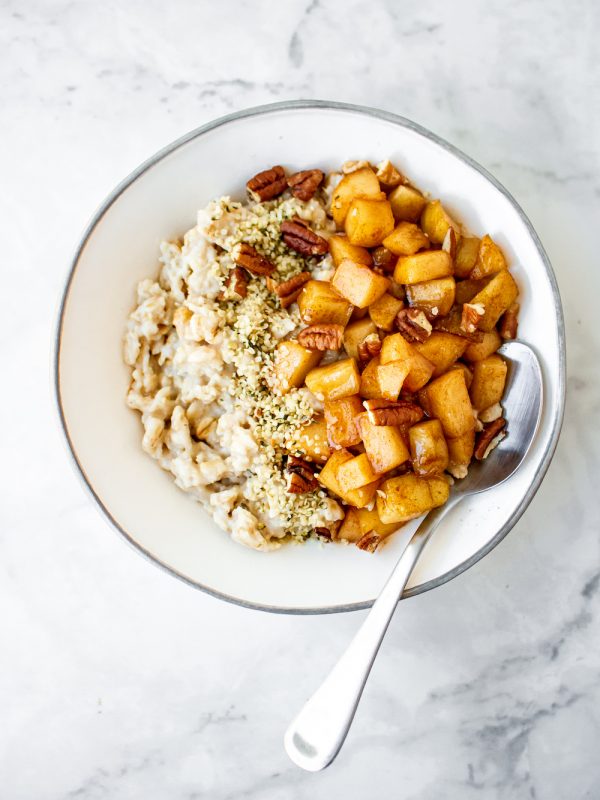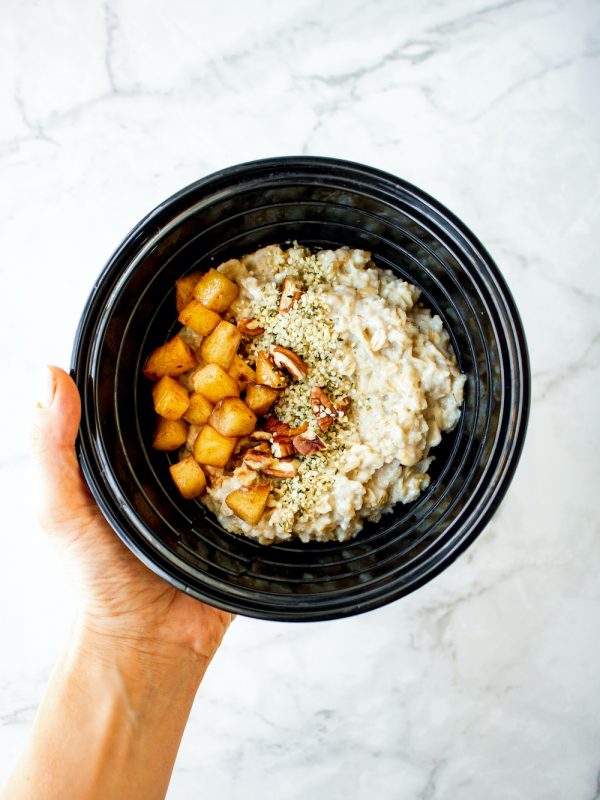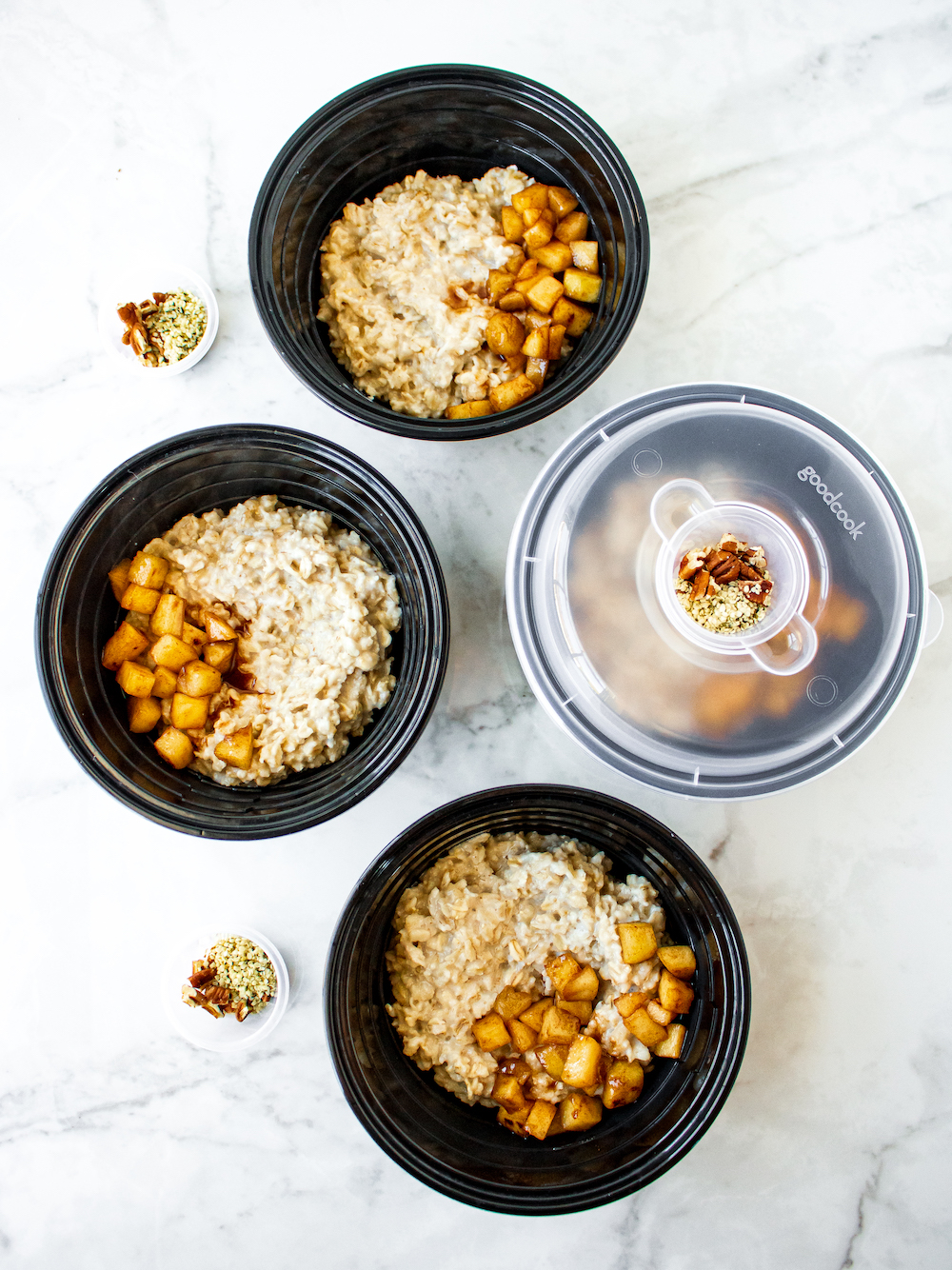 Ingredients
2

cups

gluten-free old fashioned oats

3 1/2

cups

water

1/2

cup

unsweetened coconut or almond milk

carton variety

2

cups

peeled/chopped apples

2

tbsp

unsalted vegan butter

2

tbsp

maple syrup

1

tsp

cinnamon
For Topping
2

tbsp

hemp seeds

1/4

cup

chopped pecans
Instructions
Bring water to a boil in a medium saucepan over medium heat. Stir in oats and coconut milk. Reduce heat to medium-low and cook for 5-7 minutes, until oats are tender and thickened. Divide cooked oatmeal between 4 MPOF black round containers.

Melt vegan butter over medium heat in a medium skillet. Add chopped apples and sauté for 5 minutes, stirring occasionally. Add cinnamon and maple syrup. Cook for 3-5 minutes longer. Spoon apples over oatmeal in containers. Divide chopped pecans and hemp hearts between small caps on the top of each GoodCook meal prep container.
Notes
To increase the protein, add a scoop of your favorite vegan protein when cooking your oatmeal. Make sure to add extra liquid if you prefer your oatmeal consistency thinner. 
Nutrition
Calories:
432
kcal
|
Carbohydrates:
59
g
|
Protein:
12
g
|
Fat:
18
g
|
Sodium:
54
mg
|
Fiber:
12
g