Brazilian Style Skirt Steak Meal Prep (Keto compliant)
If you've ever eaten at a Brazilian steakhouse, you'll agree that while the food is certainly delicious even thought it's not necessarily healthy or budget-friendly. A delicious, juicy steak seasoned the Brazilian way is still one of our favorite meals though, so that's why we're excited to present you with this Brazilian-style skirt steak meal prep recipe!
What we refer to as the "Brazilian" style of cooking steak is actually what is known traditionally as churrasco, a Portuguese word that translates roughly to "barbecue"!  Churrasco's roots run deep into the rich historical tradition of the gaúchos—The wayward horsemen of southern Brazil, Uruguay, and Venezuela. The gaúchos are so iconic, in fact, that even centuries later they are national symbols in all three of those countries!
Keto Brazilian Style Skirt Steak Meal Prep is an easy meal prep recipe for whole30, Paleo and Keto compliant mal plans. This recipe is done on the grill making clean up a breeze! 
Don't spend $50 or more per person at an upscale Brazilian steakhouse—Be your own churrasqueiro (a churrasco chef) in the comfort of your own kitchen with this Brazilian-style skirt steak meal prep recipe! By eating at a restaurant, you risk eating food that is non-keto compliant or not cooked in a compliant way. But by cooking this skirt steal meal prep recipe you can rest assured, knowing that everything about it is not only keto, but also paleo and Whole30 compliant! That's a meal prep triple threat!
Don't have a churrasqueira (a churrasco grill)? That's okay, we didn't have one either when we made this skirt steak meal prep! We do however recommend using a standard North American BBQ grill to make it. Doing this helps give the beef that authentic churrasco smoked flavor, and also makes cleanup a breeze for you!
Keto Brazilian Style Skirt Steak Meal Prep Ingredients:
Ingredients for steak:
6 medium cloves garlic
1 teaspoon kosher salt
16 oz raw skirt steak, trimmed and cut into 4 pieces (yields 3oz cooked portions)
¼ teaspoon freshly ground black pepper
2 tablespoon olive oil
2 oz unsalted butter or ghee for whole30/paleo
1 tablespoon chopped fresh flat-leaf parsley
Ingredients for Veggies:
8oz red bell pepper, sliced
8oz green bell pepper, sliced
4oz red onion, sliced
1 tablespoon olive oil
Salt and pepper, to taste
Nutritional Info
Holy cow, the nutritional value of this beefy Brazilian banquet is off the chain! Per serving, you get almost 30g protein, 40g fat, and over 6g of fiber! Needless to say, it's a no-bull solution to keeping you moo-ving through your day! ?? Keep in mind, those numbers don't count a side salad, though we do strongly recommend having one for extra nutrition! Need some salad inspiration? Check out our Summer Breakfast Salad or Salmon Cobb Salad meal prep recipes!
A note about the the fat you choose to make the garlic butter with—If you want this skirt steak recipe to be paleo and Whole30 compliant, make sure you're using ghee instead of butter! Standard butter is a no-no for either of these health programs because both prohibit the consumption of any dairy. Ghee is different though, because while it is almost entirely butterfat, it contains virtually no lactose or casein! So in moderation, ghee is just fine to use, and plus, it's every bit as good as regular butter!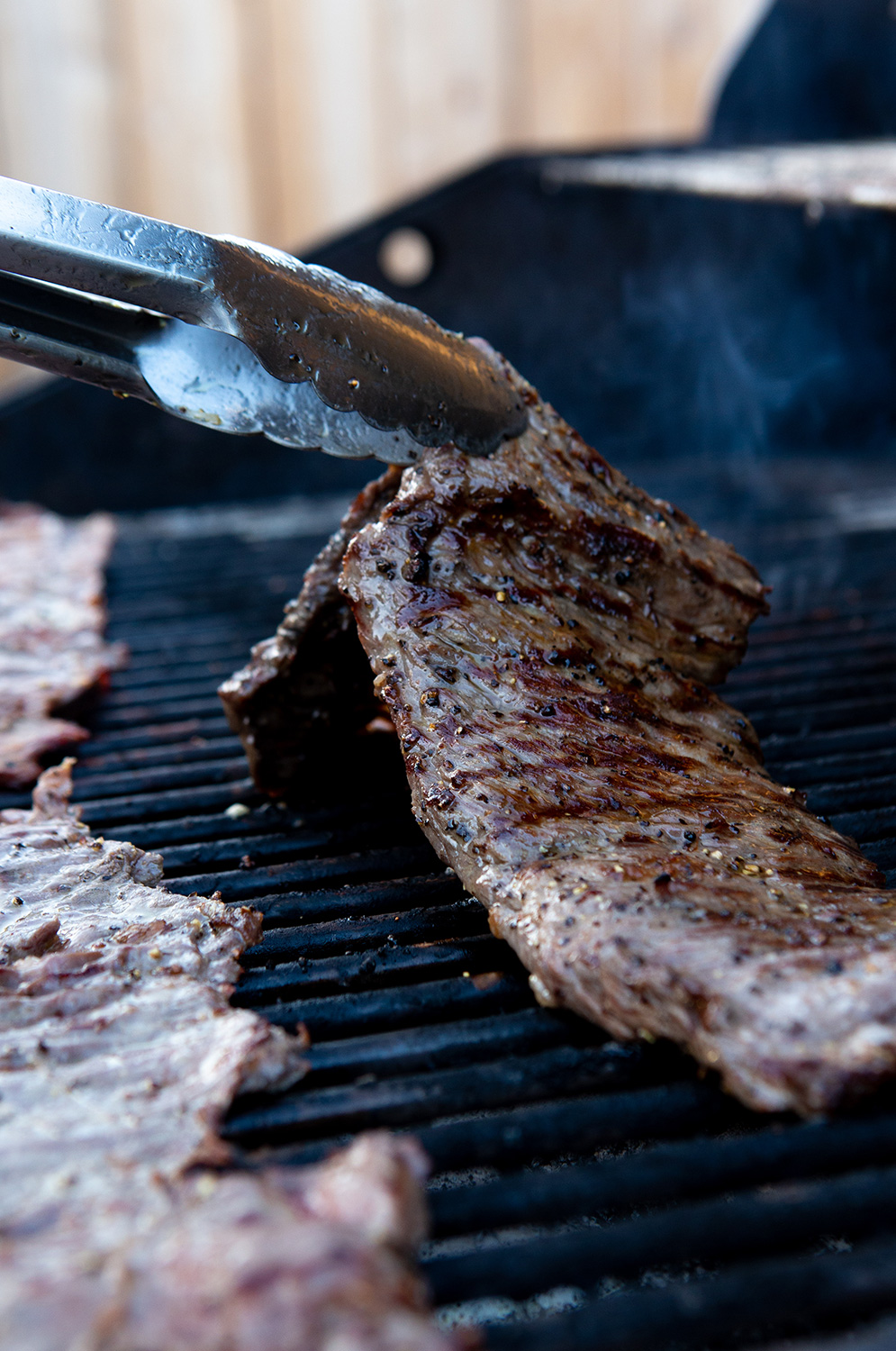 Get a taste of South American culture and culinary legend without the travel or expense! We love this meal prep recipe because it yields enough to enjoy 4 meal's worth of what your local Brazilian steakhouse offers for 10 times the cost! Consider home-cooking this Brazilian cultural delicacy as a celebratory dinner instead of dining out! Whether, you follow the keto, paleo, or Whole30 diets, or just love beef as much as we do, we're certain you will love this Brazilian-style skirt steak meal prep recipe!