This recipe is sure to impress onlookers and family members when served! Our Balsamic Caprese Chicken meal prep recipe is light, satisfying, and original. It is a main-course dish that's fresh, mouth-watering and smells amazing while cooking. Caprese chicken is ideal when you're craving an authentic restaurant-style Italian meal. Not to mention it is a low-carb and gluten-free option so you can savor every bite guilt-free. Perfetto! Without further ado, let's get started with creating this deliciousness.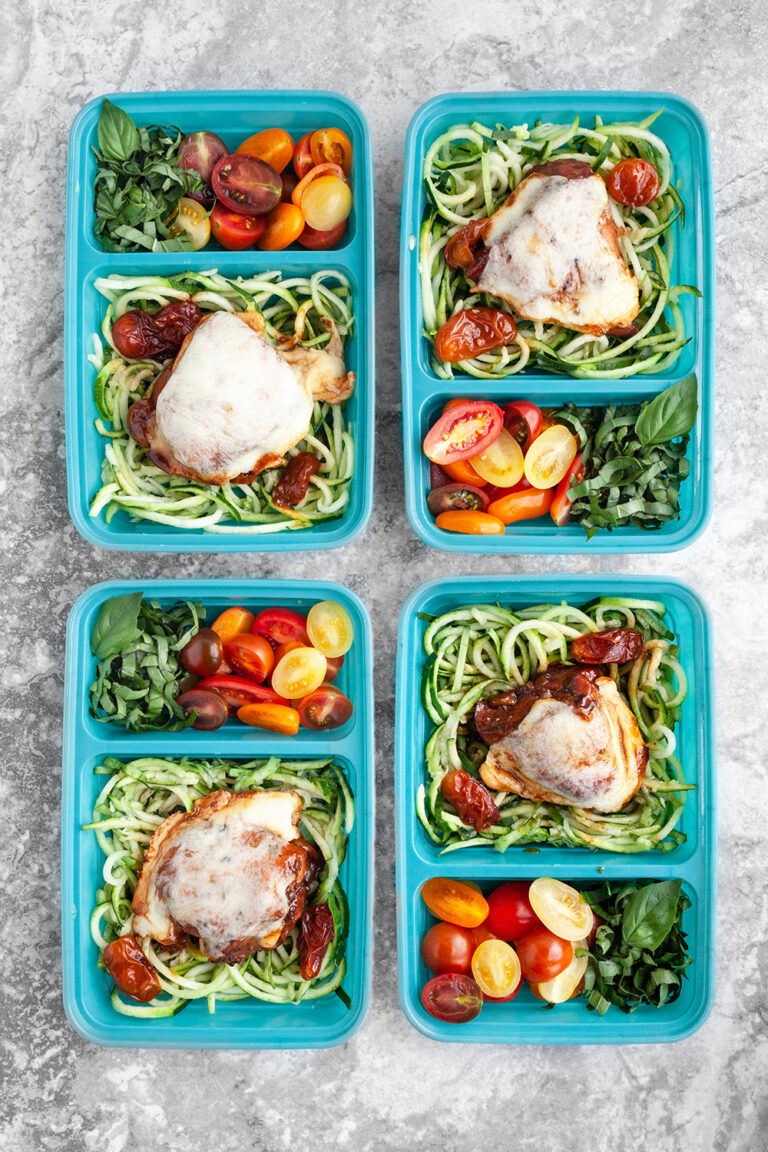 Bursting with fresh flavors of Italy and easy to make, you're going to want this balsamic Caprese chicken meal prep recipe on repeat!
How long will Balsamic Caprese Chicken last for?
With this particular meal prep recipe, you will have 4 portioned meals. Caprese chicken is an entrée that is excellent for lunch or dinner. 
Can Balsamic Caprese Chicken be frozen?
Absolutely! All you have to do is:
Prep the chicken. 

Put the combination in a plastic freezer bag or

meal prep container

. Label and store in the freezer.

And that's it! 
Caprese chicken can be stored for up to 6 months in your fridge freezer or up to 12 months in a deep freezer. Once you're ready to enjoy, thaw a serving in your refrigerator overnight. If you forget to pull it out of the freezer, no sweat! You can thaw your Caprese chicken in a bowl of warm water for 20 minutes before cooking. Then pair with fresh sides. 
How do you make Balsamic Chicken?
First, gather and prep all ingredients. The prep time for this recipe is 15 minutes. Once prepping is complete, Balsamic Caprese Chicken will take 45 minutes to cook in the oven. Divide and serve fresh or let it cool down and refrigerate. 
How to portion Balsamic Chicken?
This delicious Italian meal prep recipe gives you four meal portions. Each chicken breast gets a slice of Mozzarella cheese. For the sides, each serving (one chicken breast) goes with a half cup of Zoodles and a quarter cup of cherry tomatoes. Top it off with a healthy portion of salad. 
More Caprese Chicken meal prep recipes:
If you enjoy this Caprese Chicken meal prep recipe, try our Caprese Pesto Sausage Pasta. This is a fabulous chicken sausage pasta dish featuring Al Fresco all-natural chicken.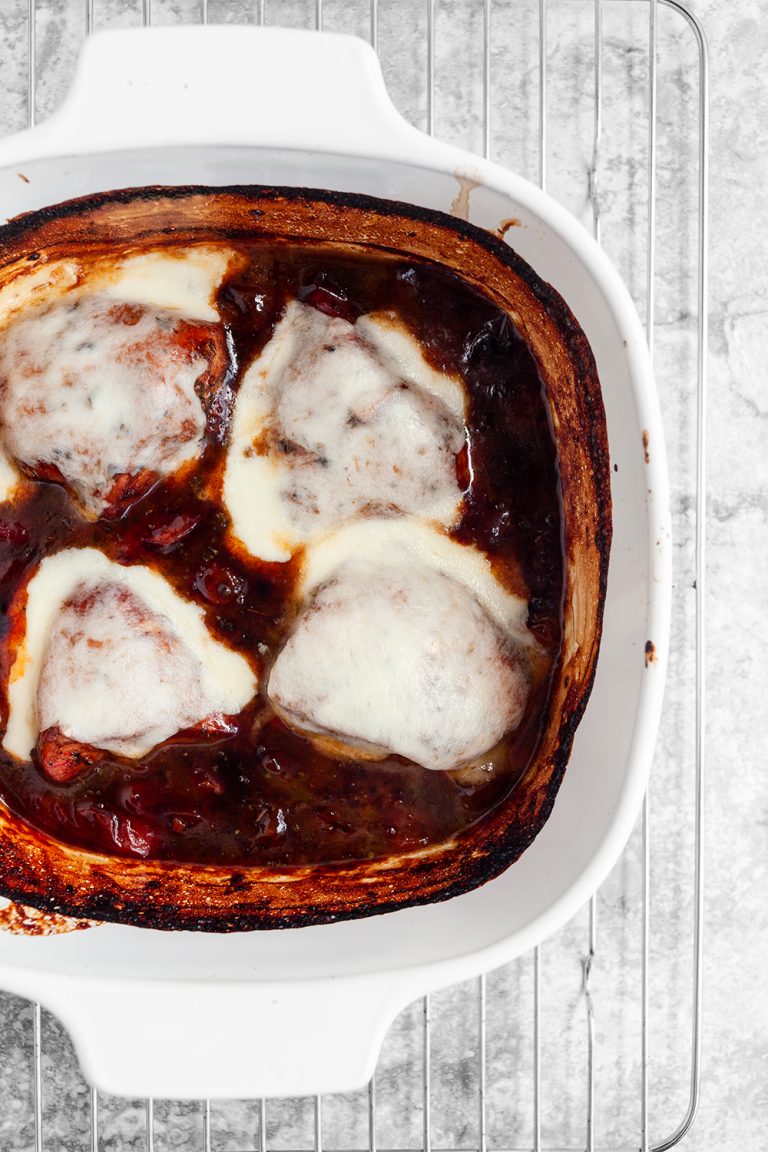 Other tips for making Balsamic Chicken:
You can enjoy our Balsamic Caprese Chicken recipe in so many ways! Get ready to be mesmerized and even more hungry. 
Switch out the chicken breasts for chicken thighs for a richer main dish. 

Substitute brown sugar for coconut sugar. 

Use Italian seasoning or a pizza topper if that's readily available instead of oregano. 

Add basil to the chicken or your side of salad to boost the flavor. 

This one gets us excited - stuff the chicken breasts with cheese and tomatoes!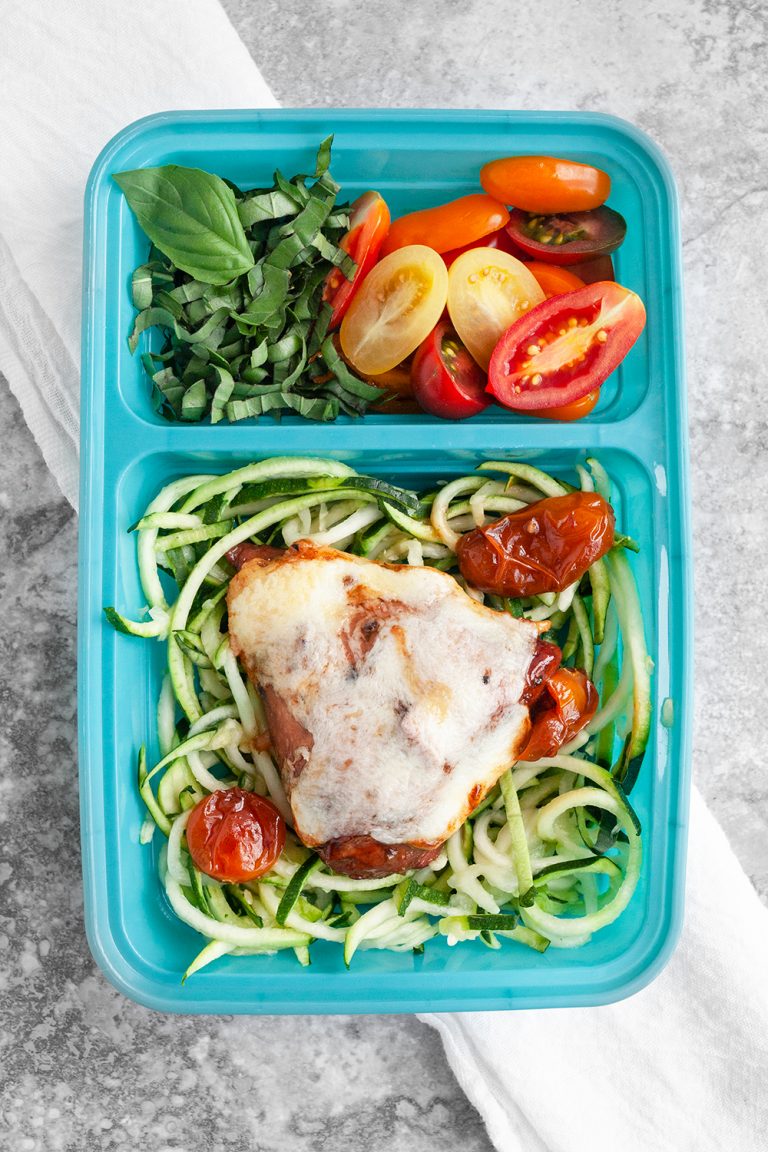 Balsamic Caprese Chicken Ingredients:
1 lb. Boneless Skinless Chicken Breast (divided into four portions)
4 Slices of Fresh Mozzarella Cheese (1" thick)
2 C. Zoodles (raw or lightly sautéed)
1 C. Balsamic Vinegar
5 C. Grape Tomatoes (halved lengthwise)
½ C. Packed Fresh Basil Leaves (then cut into ribbons)
¼ C. Coconut Sugar
2 Tbsp. Extra Virgin Olive Oil
1 Tbsp. Roughly Chopped Garlic
2 tsp. Dried Oregano
1 tsp. Himalayan Pink Salt
1 tsp. Ground Black Pepper